9 Easy Crochet Dishcloth Patterns (Beginner Friendly)
If you're looking for some new easy crochet dishcloth patterns, look no further. These patterns are easy to follow and create beautiful dishcloths that you'll love using in your kitchen!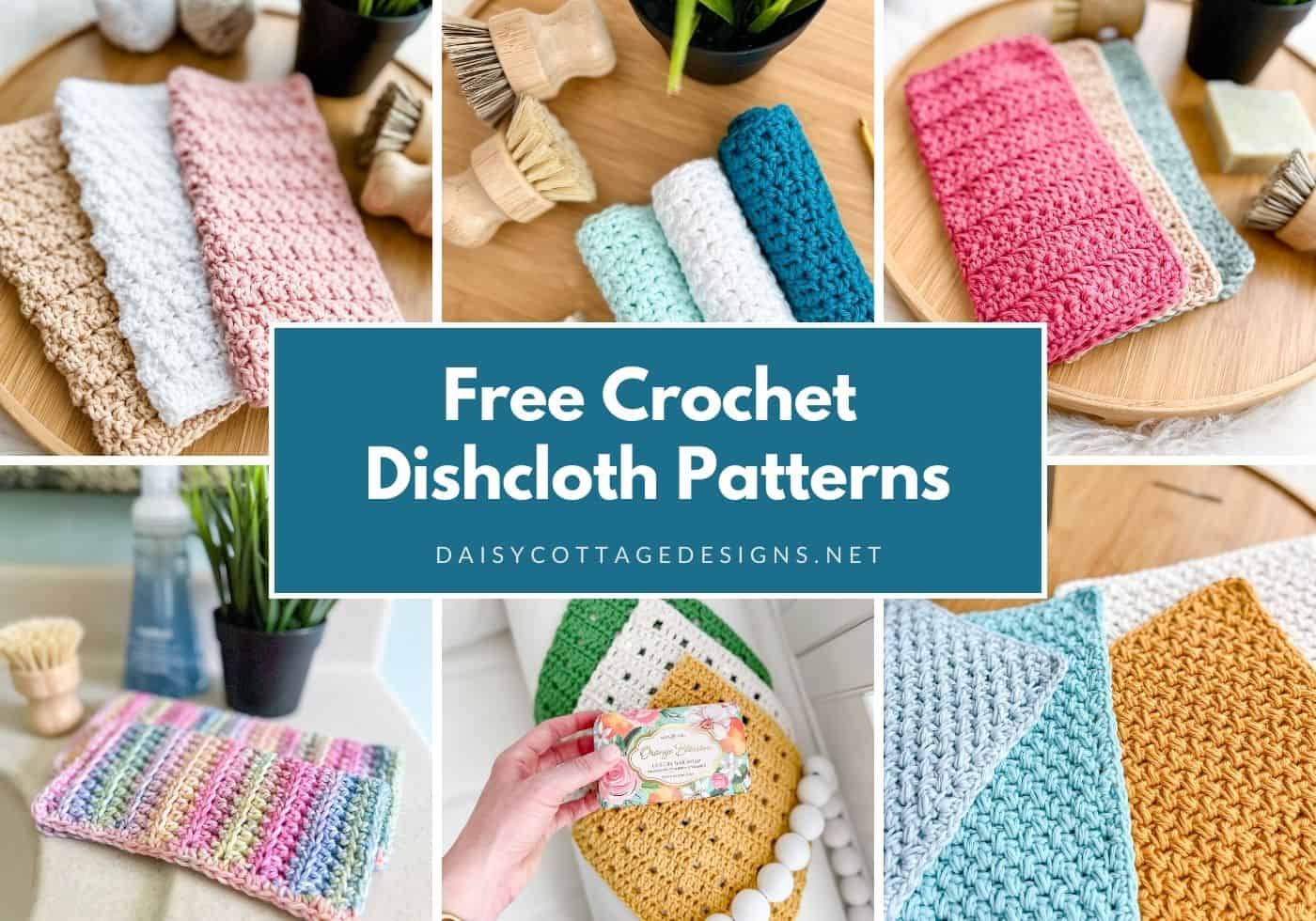 Dishcloths are some of my favorite crochet projects. Why?
They're practical.
They make great gifts!
They're quick to make!
I love making dishcloths to break up a larger project. If you're in the middle of a huge blanket, it can be nice to take a break and make something that can be finished in under an hour.
So, grab your favorite crochet hook and some cotton yarn, and let's make some dishcloths!
Are crochet dishcloths good?
I love crocheted dishcloths and I've noticed that most others love them, too!
They clean counters and dishes well.
They're easy to wash.
They hold up well – some say they last 10+ years.
Many people decide to make at least one for each day of the week. Then, after you use your dishcloth for the day, you can toss it in the washer and start with a fresh cloth the next morning.
What makes a good crochet dishcloth?
Here are the qualities that I think are important for making the best crochet dishcloths:
High-quality yarn. You want a yarn that's going to hold up wash after wash. My favorite yarns for dishcloths all are durable. Lily Sugarn Cream is a classic option, but there are many more to choose from, too!
A stitch with great texture. While any crochet stitch will work fine for a crochet dishcloth, I love to use a textured stitch for extra scrubbing power when I'm washing dishes.
Flexibility. Don't crochet too tightly. While a dense stitch works just fine for crocheted dishcloths, you do want your finished project to be easy to wring out – this makes your cloths dry much more quickly.
If you crochet on the tight size, consider going up a hook size.
How big should a crocheted dishcloth be?
This is really up to personal preference, but most people like their dishcloths to be between 8″ and 9″ square. I personally find that 8″ is my favorite, but some like oversized dishcloths for drying dishes.
What crochet stitch is best for dishcloths?
If I had to pick just one crochet stitch, I'd have to say half double crochet stitches in the back loop only. However, I enjoy using a combination of different stitches in my dishcloth crochet projects.
When I'm crocheting dishcloths, I love mixing stitches to create great texture, learning a new crochet stitch, and playing around with different techniques.
Single crochet stitches around the edge will give your dishcloth a nice, polished look.
How many chains do you need for a dishcloth?
As a general rule, starting with a chain of 28 to 32 is perfect for me. If you want to make an oversized dishcloth, you might find you need to start with a few more.
What materials are needed to crochet a dishcloth?
Thankfully, you don't need many supplies to make a set of crocheted dishcloths.
To get started, you'll need the following items.
Crochet Hook – these are my favorite hooks!
Worsted Weight Cotton Yarn
Tapestry Needle
Scissors
While many patterns call for a size H (5.00 mm) crochet hook, I've found that I like to use an I/9 (5.50 mm) hook most of the time.
Do you need special yarn for dishcloths?
The short answer is no. Nothing "special" is needed. However, you do want to be sure you're using a cotton yarn. Cotton blends work fine, but 100% cotton will be the most durable.
What yarn is best for crochet dishcloths?
I have lots of favorite yarns for dishcloths. I'll list them below. If you'd like to read about each one to compare, you can find more detailed information about my favorite cotton yarns.
These range from smooth to scrubby yarn. You can't go wrong with any of them!
What patterns are best for crochet dishcloths?
I'm so glad you asked 😉 The patterns below are my absolute favorites. Best news? They're all free crochet patterns!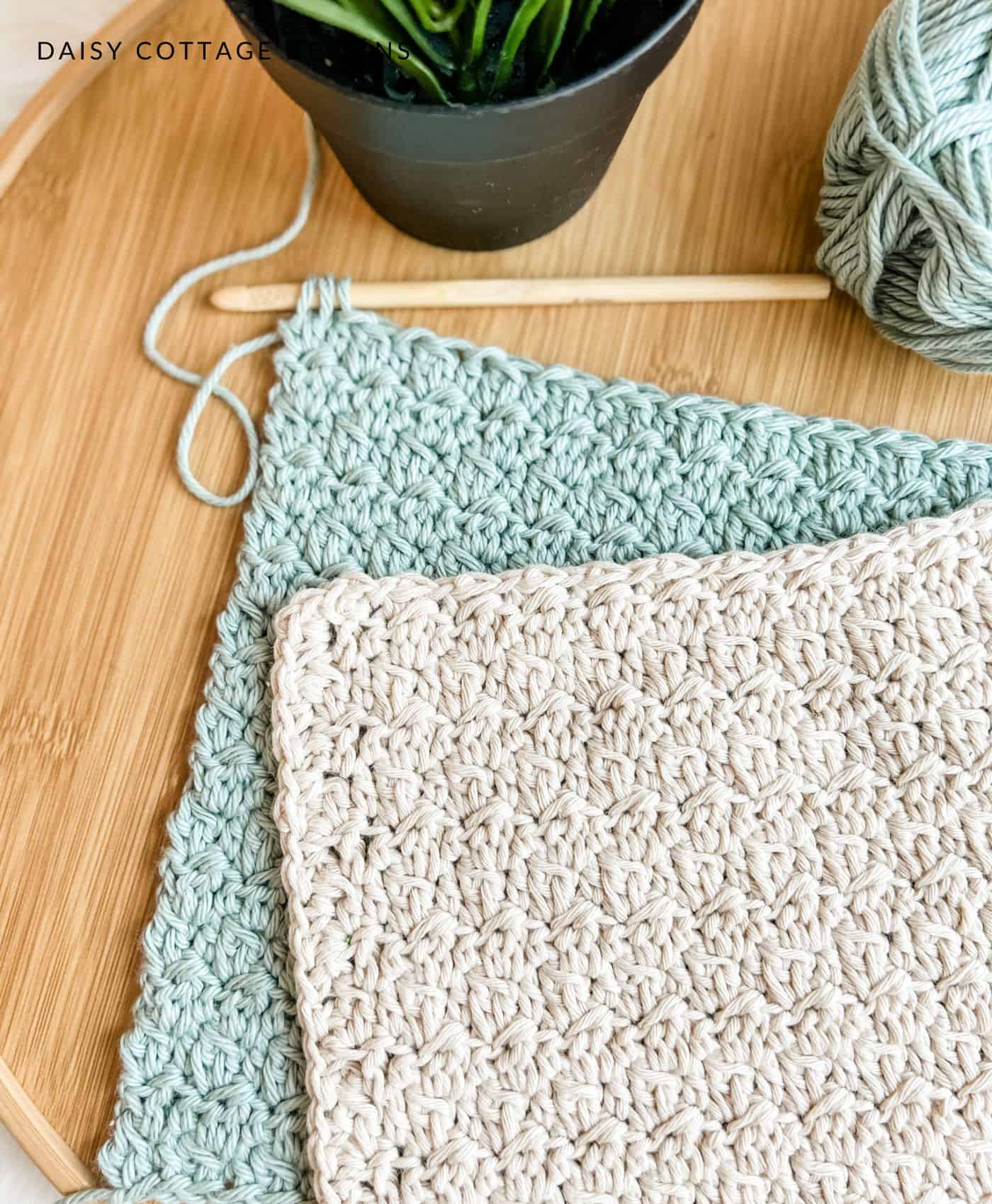 This dishcloth uses a combination of cluster stitches and half double crochet stitches to create gorgeous texture. These are great for any skill level, and video instructions are included.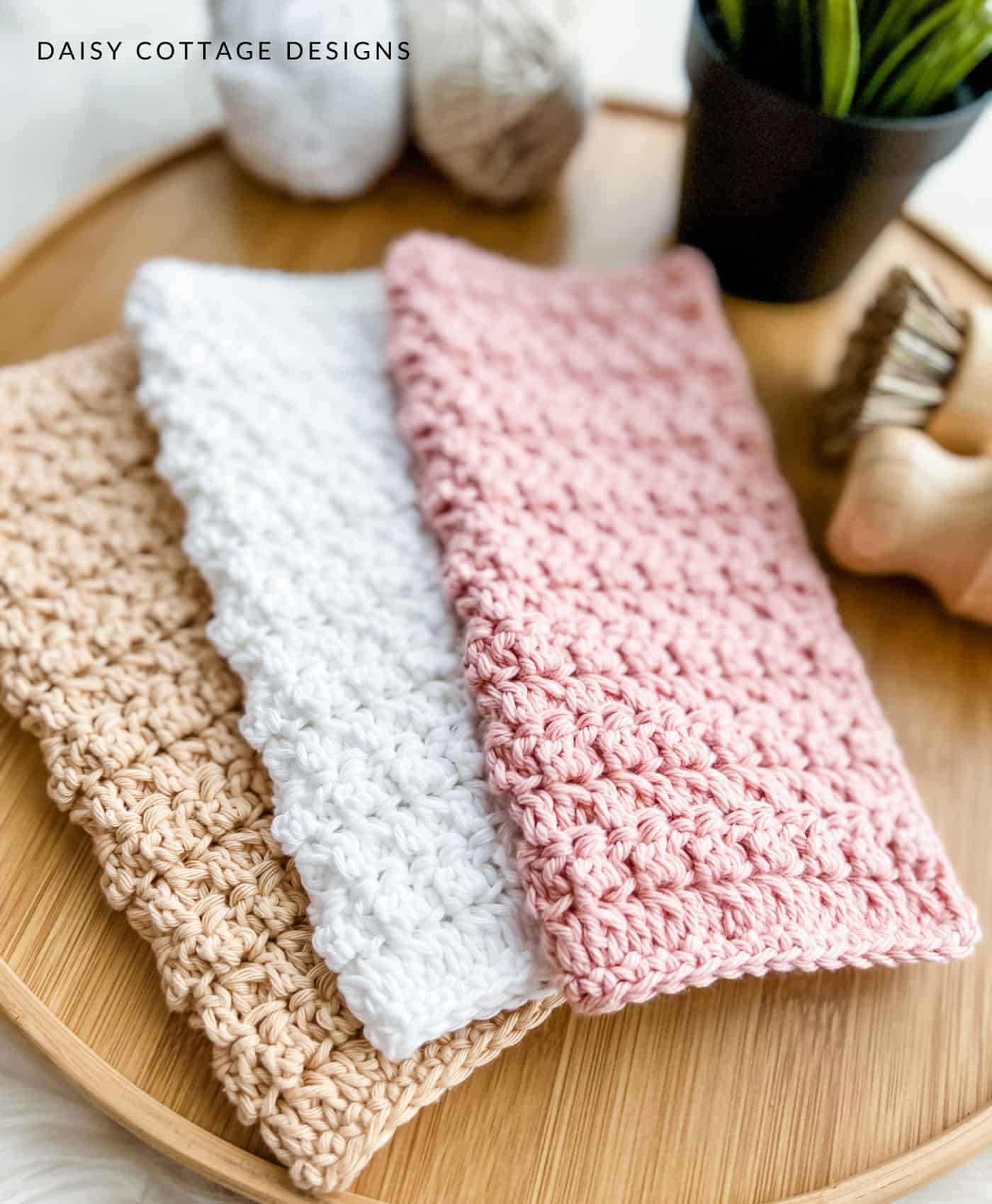 This is the perfect textured dishcloth. By alternating between the back and front loop, you'll create a beautiful, nubby cloth that's perfect for using in the kitchen.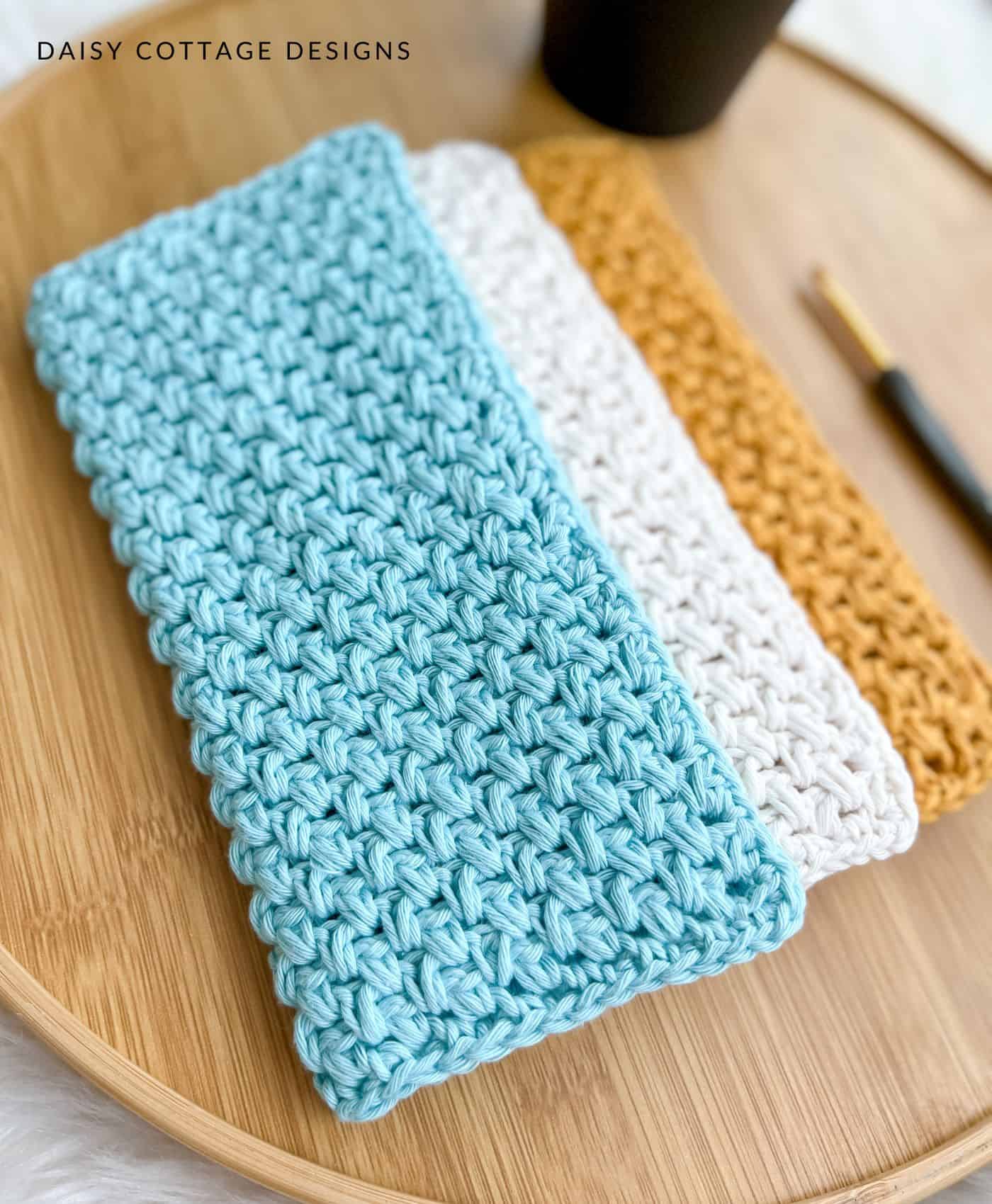 Originally published as a washcloth pattern, this cloth works just as well in the kitchen. The video tutorial will teach you how to make a new crochet stitch (the modified mini bean stitch) that even beginner crocheters can master.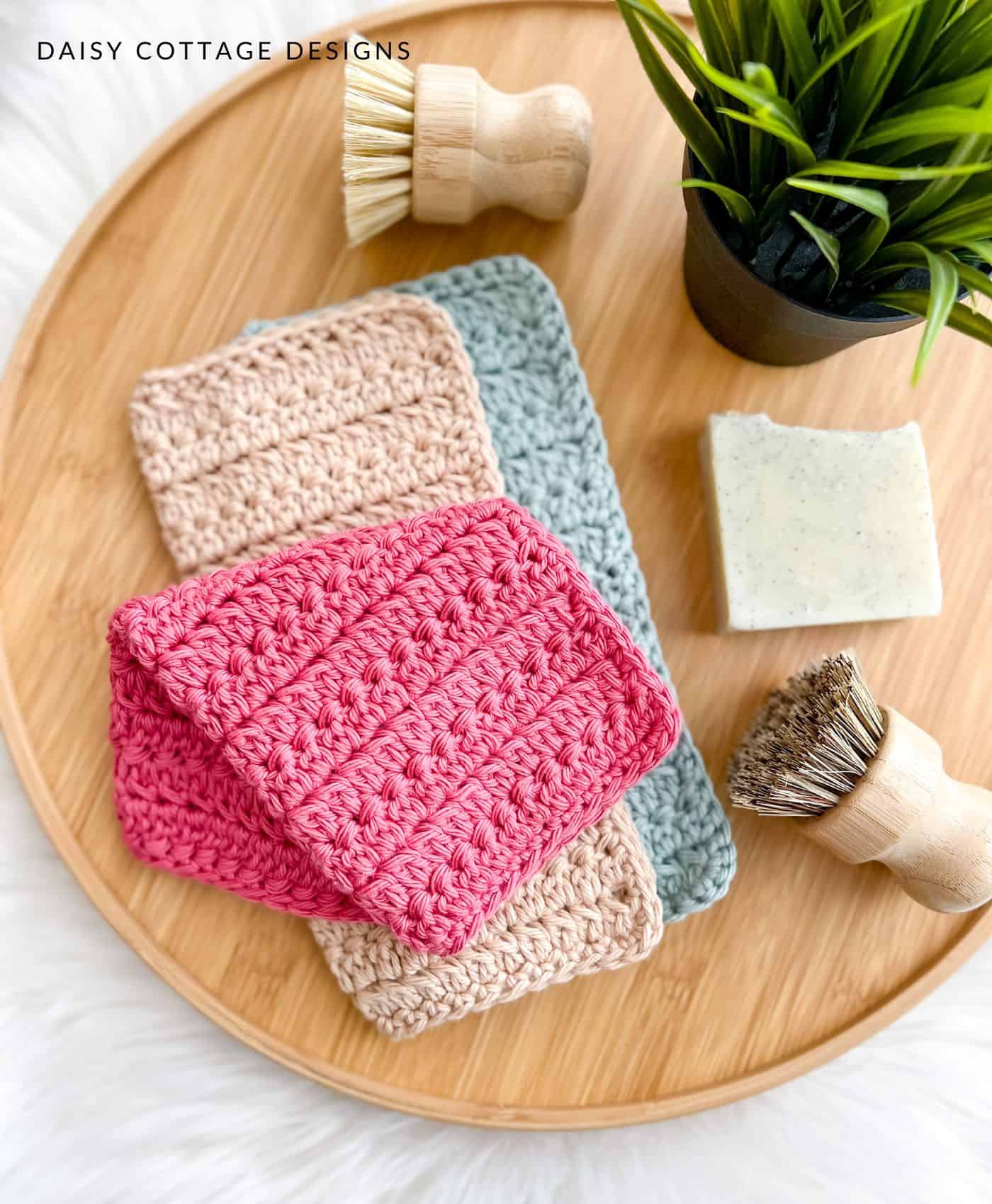 While this set of dishcloths looks intricate, the pattern actually uses very simple stitches. From the first stitch to the last, you'll enjoy making this easy pattern. Make a set for yourself or give them as a gift!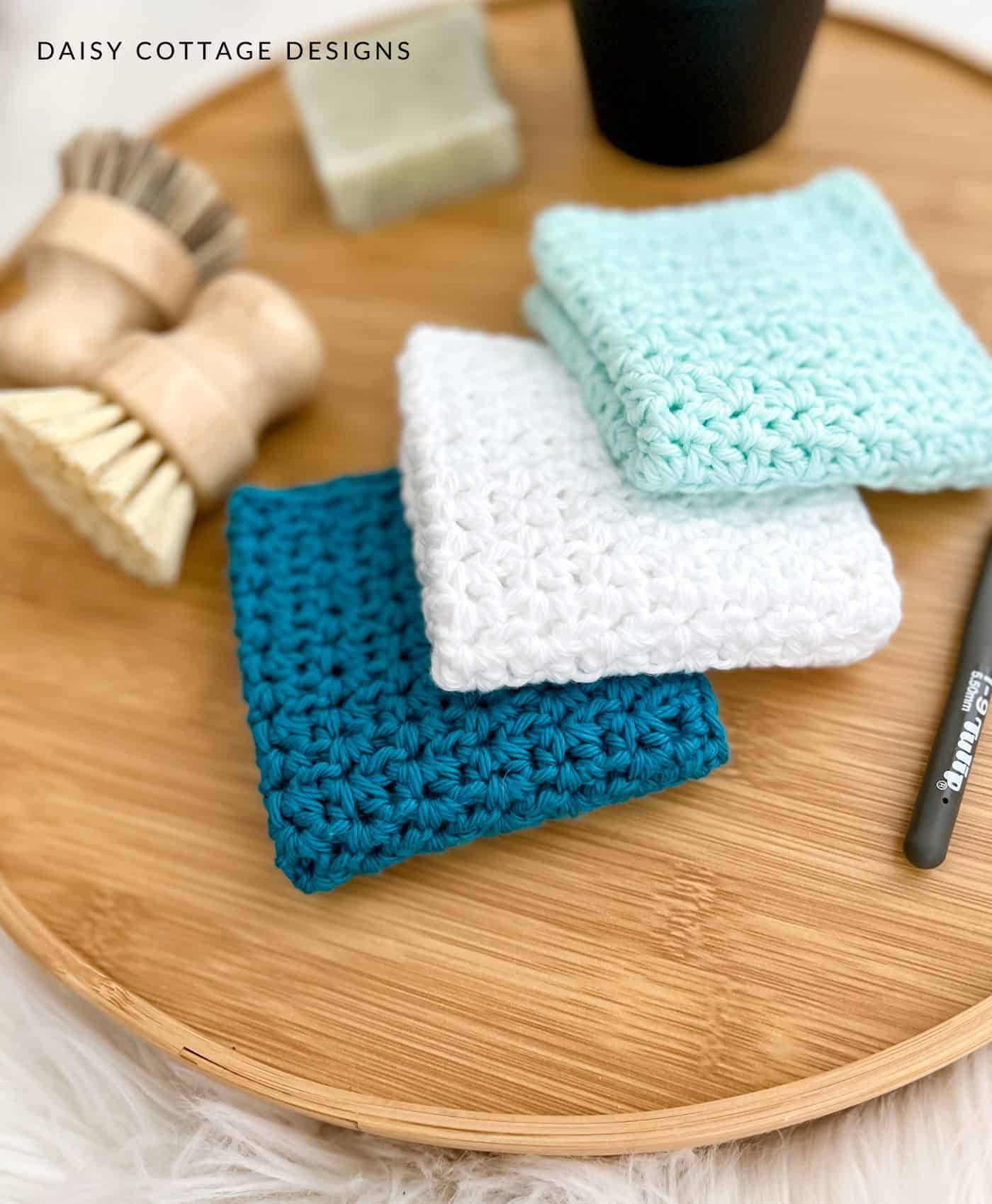 This 8 inch crochet dishcloth pattern uses a hdc v stitch to create a flexible cloth that will make washing dishes a pleasure.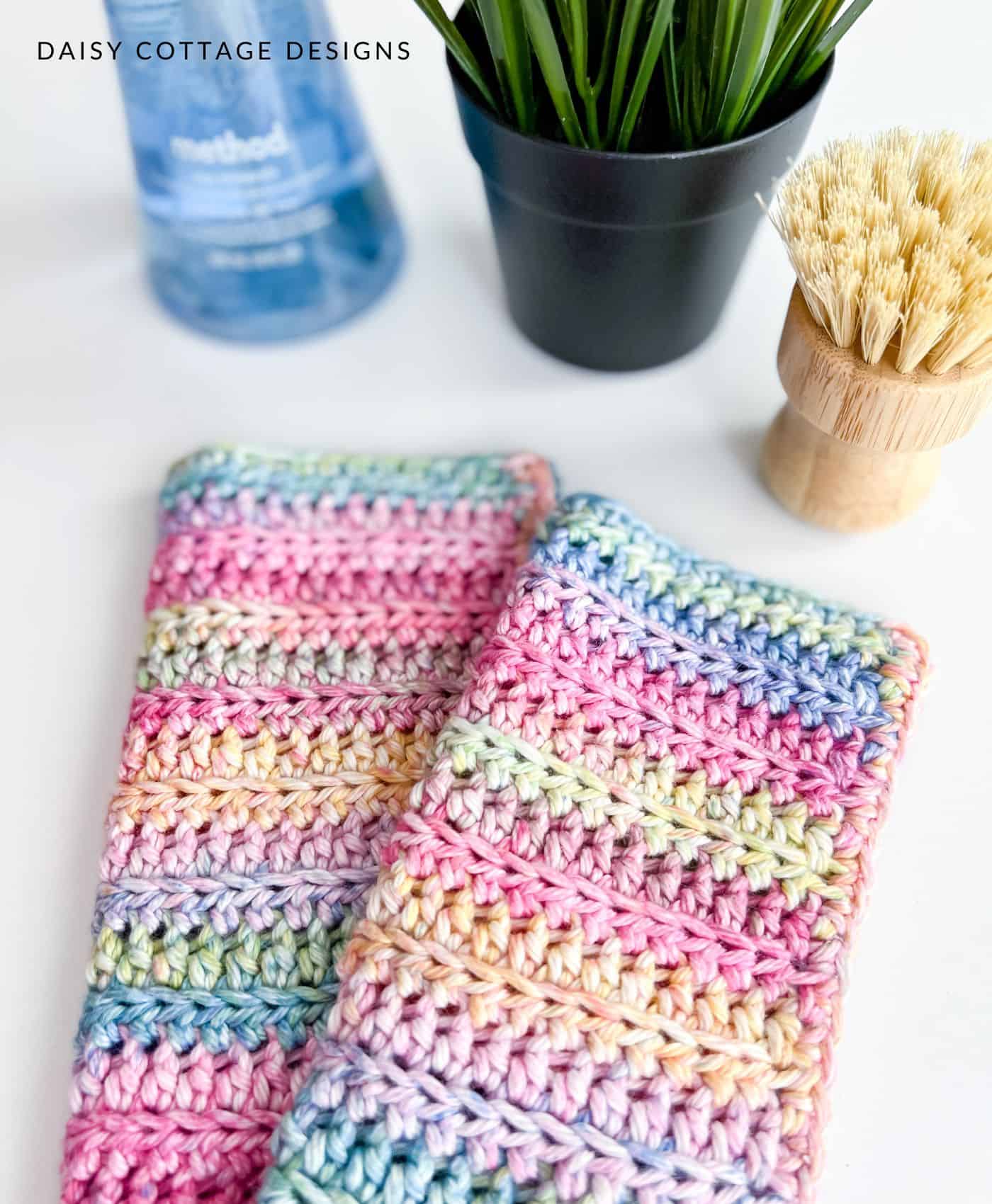 This pattern is absolutely perfect for even the newest crocheter. It utilizes one simple stitch with a tiny twist. You'll work your hdc stitches in the back loop only. This adds the texture and flexibility that are essential for the best dishcloths.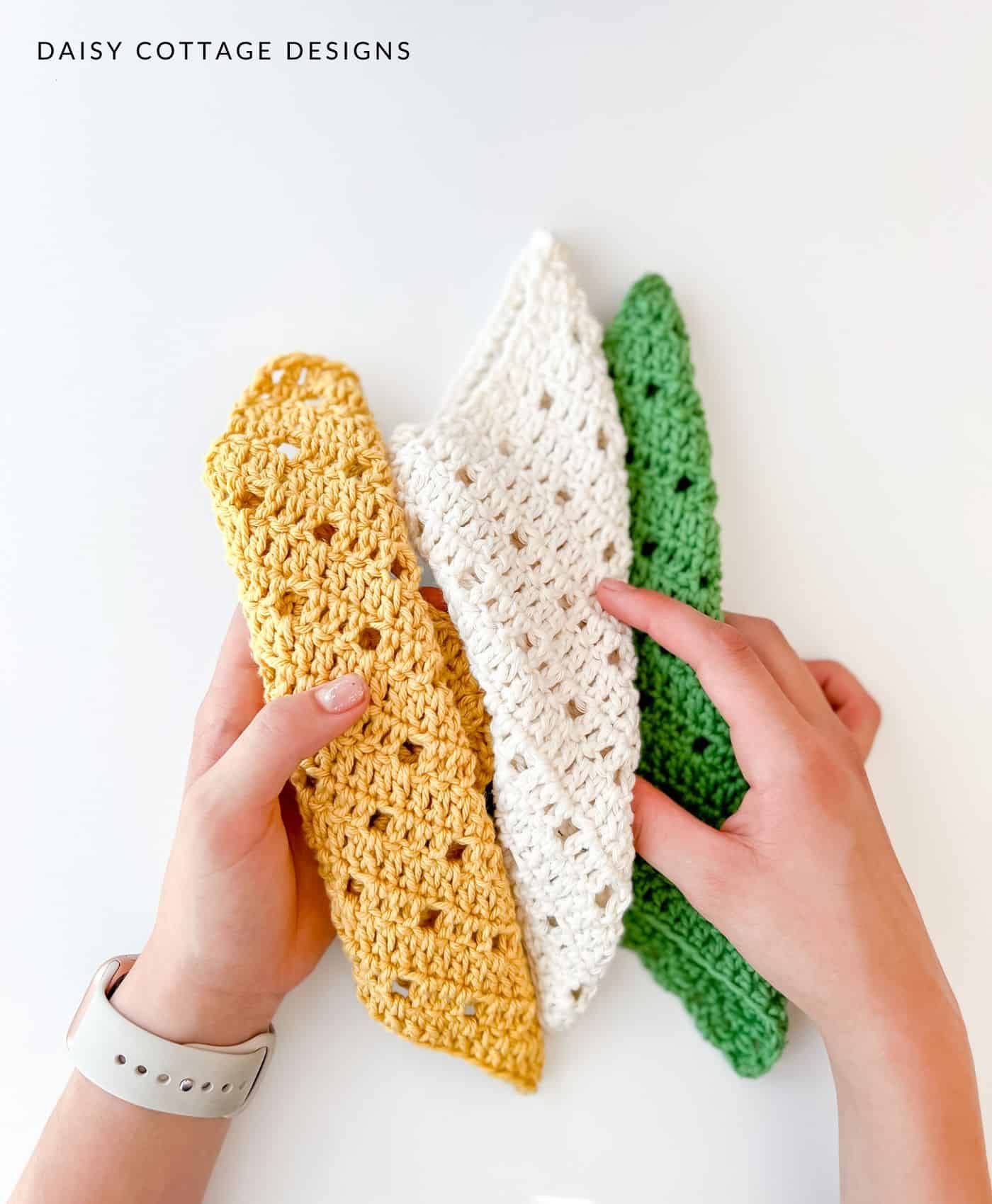 Believe it or not, this beautiful dishcloth doesn't use any special stitches. If you can double crochet and chain, you'll be able to make a set of these in no time!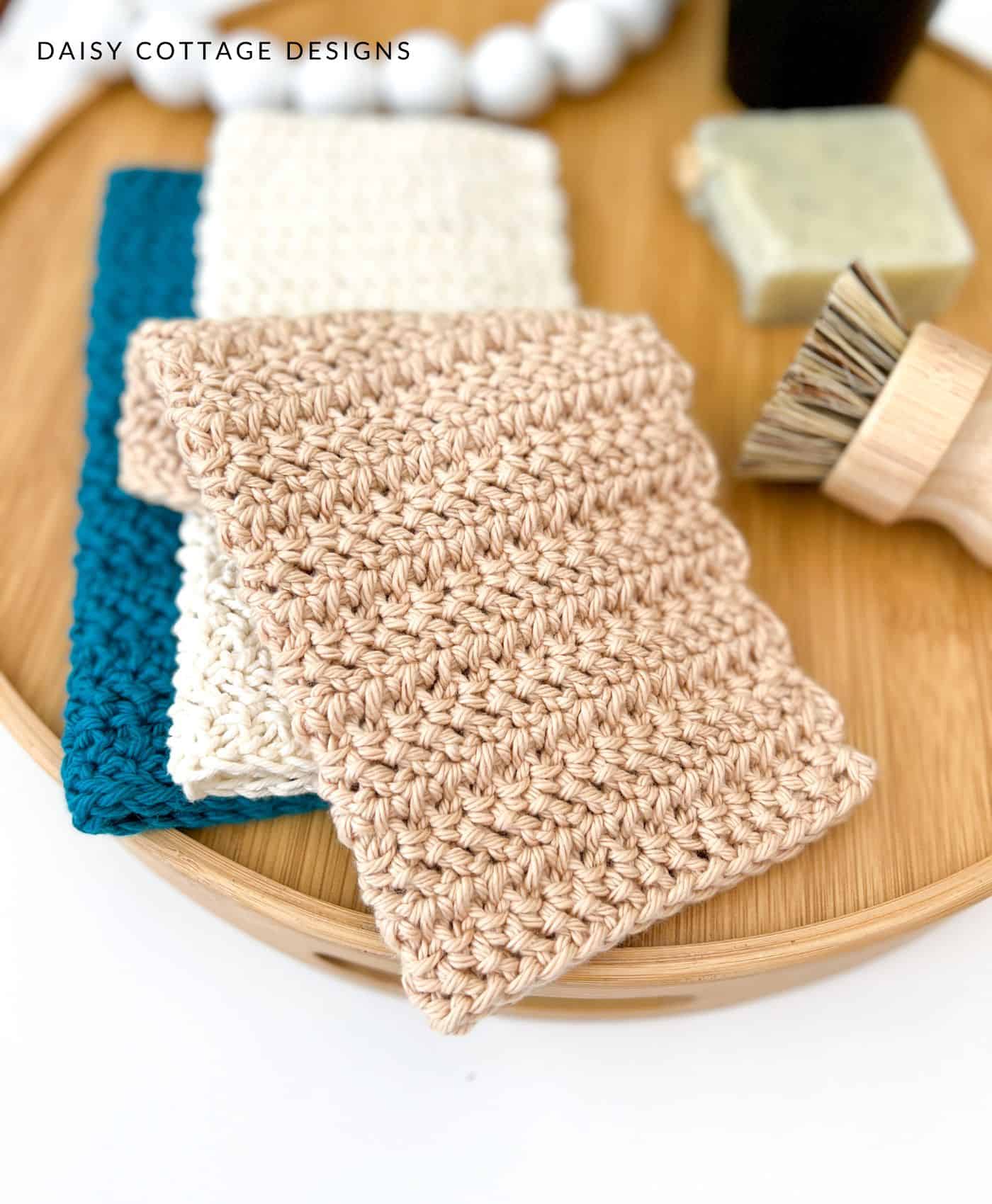 This post is a stitch tutorial with a free dishcloth pattern included. The herringbone double crochet stitch is one of my favorites, and it's absolutely perfect for dishcloths. It has just the right combination of texture and flexibility.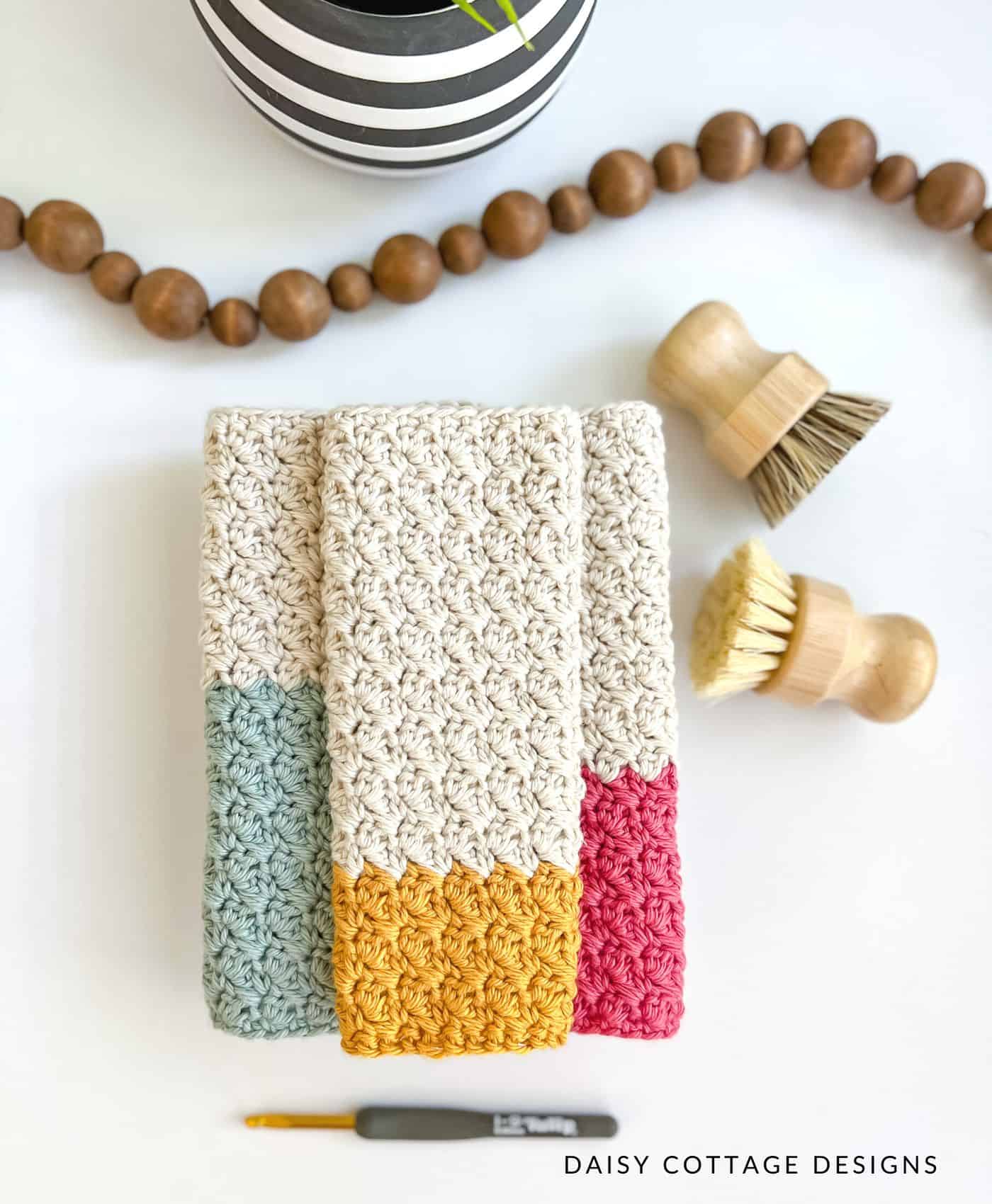 Learn a new stitch and make some beautiful color block dishcloths. These are super simple to make, and they're also very functional. Plus, there are notes for how to use this stitch for other projects, too.