Easy Crochet Dishcloth Pattern (A Quick Project!)
This easy crochet dishcloth pattern is perfect for beginners (or any crocheter!). Quick to finish, a set of these cloths makes a wonderful gift!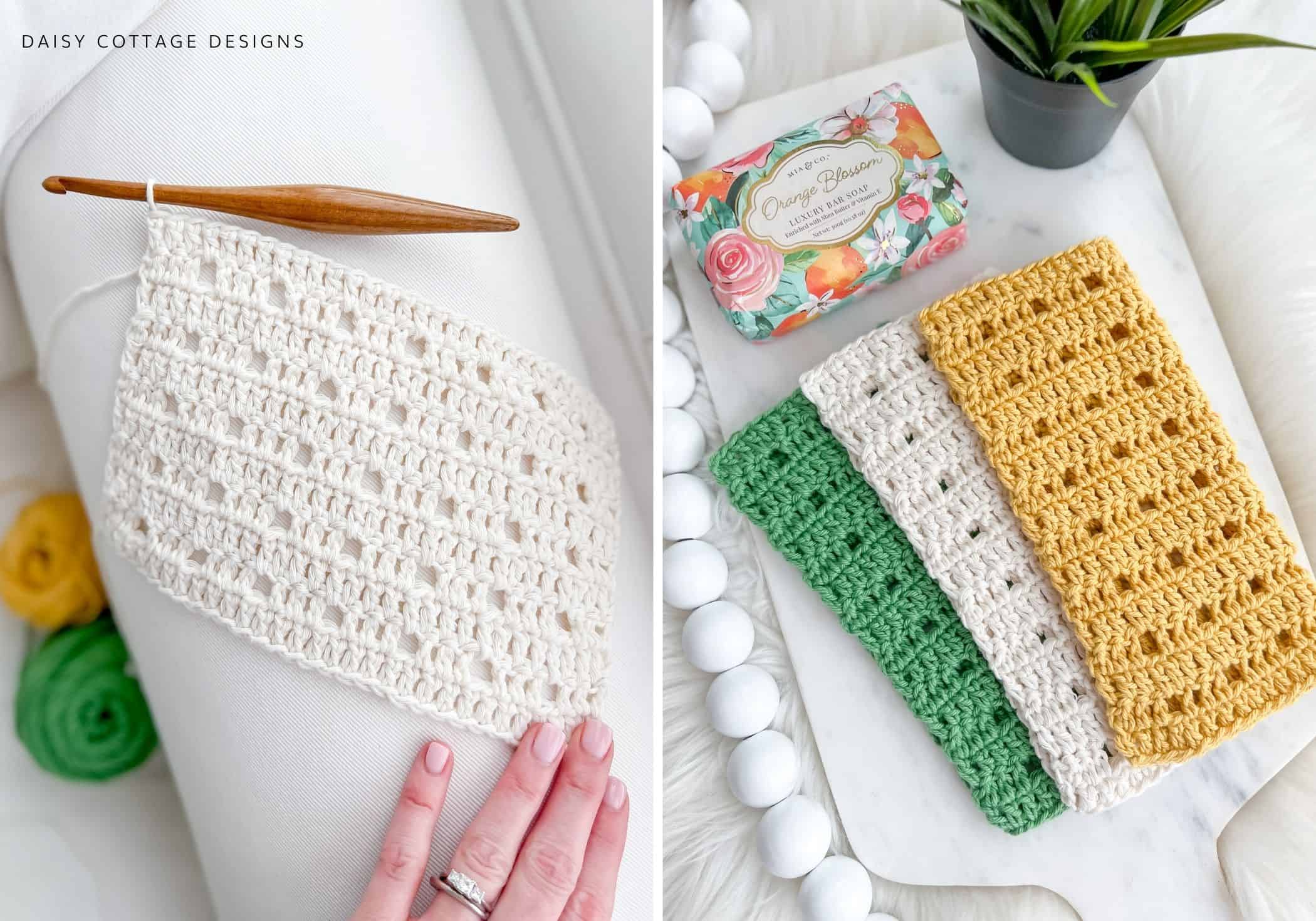 This month's easy crochet dishcloth pattern is a cheerful addition to my 2022 collection. If you're new here, I've written 6 other washcloth or dishcloth patterns since December. Two of these patterns were featured today in my Designer Feature at Oombawka Design Crochet.
This free, easy dishcloth/washcloth pattern uses only double crochet stitches and the chain stitch. The simple stitch pattern is easy to learn even if you only know the crochet basics. In fact, it's a perfect project even if you just started crocheting this week.
If you need a quick gift for a friend, make a set of these square dishcloths or washcloths (each in a different color) and pair it with a pretty soap from a local shop. Whether you need a quick birthday gift or a housewarming gift for a new neighbor, it's sure to put a smile on the face of whoever receives it.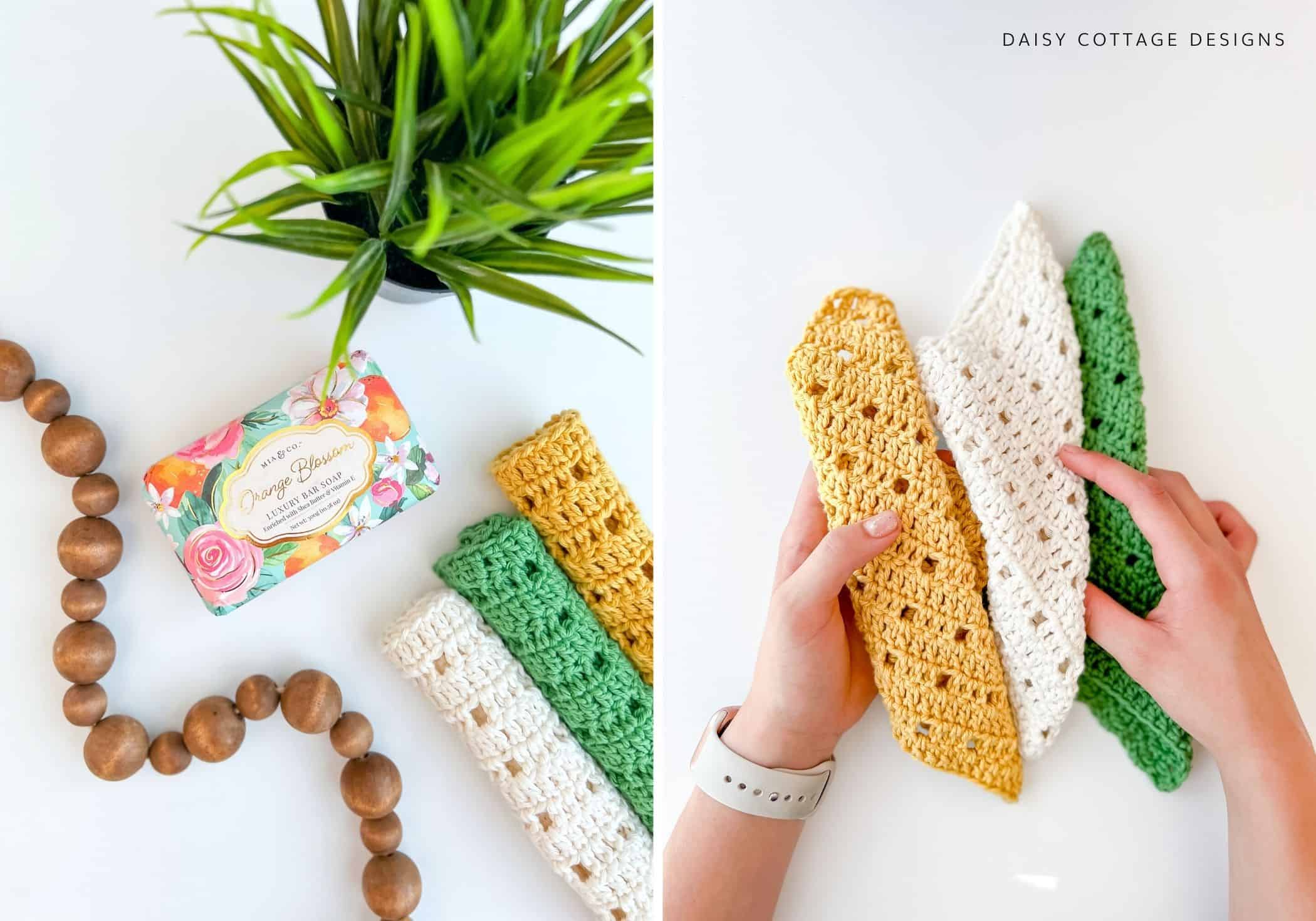 You'll notice that I use the terms dishcloth and washcloth interchangeably. The difference is only in how the cloths are used. They both use your favorite cotton yarn and basic crochet stitches.
One is used for washing dishes and the other is used in the shower or bath.
Ready to make this free pattern?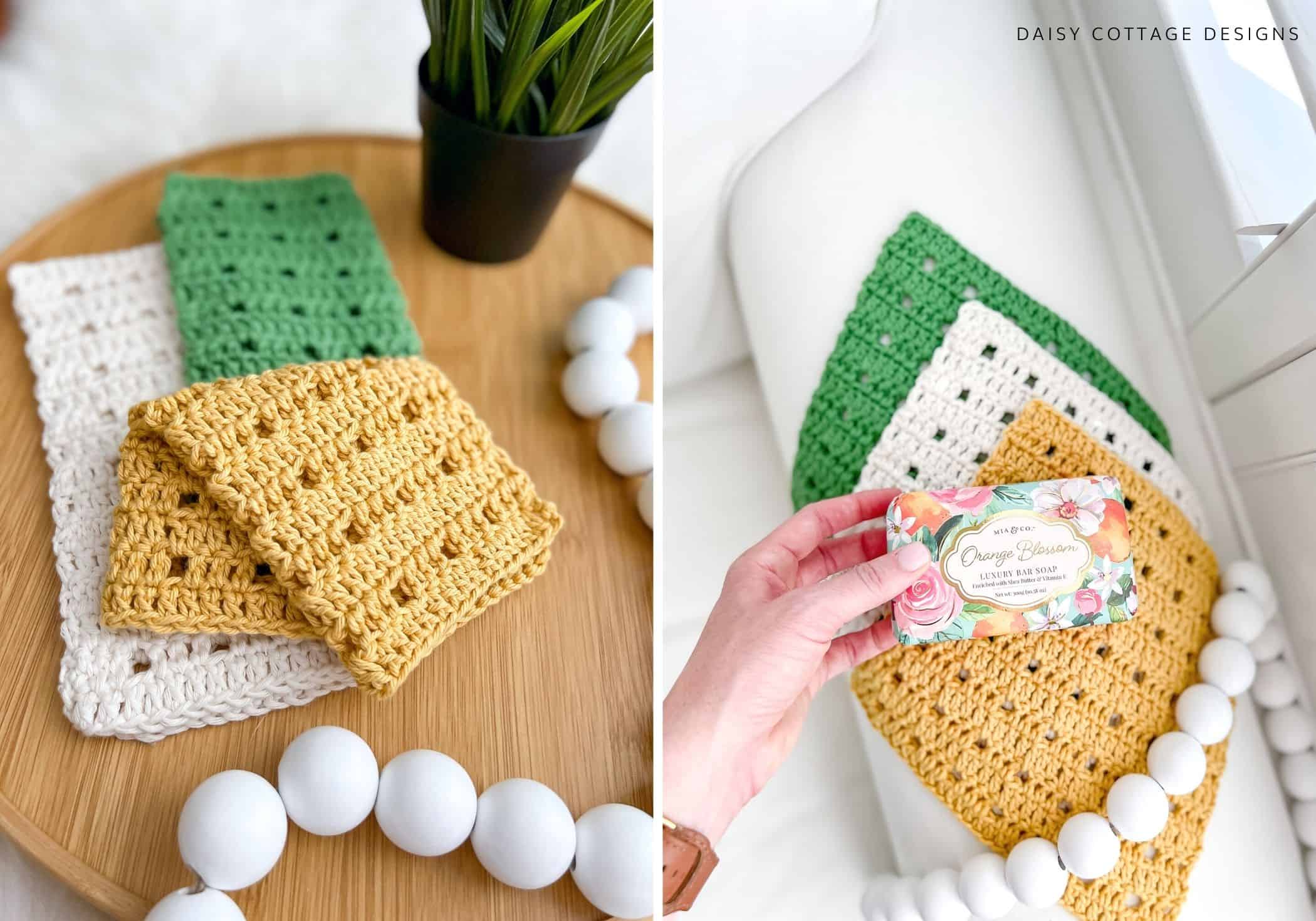 Easy Crocheted Dishcloths Pattern
(Also called the All Squared Away Cloth Pattern)
If you can't make this right now:
Share it with a friend who crochets!
Skill Level:
Beginner and up – only basic crochet knowledge is needed!
Dishcloths are a great way to learn a new crochet stitch or technique!
Materials:
I/9.5.5 mm Crochet Hook
Worsted Weight Cotton Yarn or Cotton Blend Yarn (Find a list of my favorites here.)
I'm using Dishie Yarn in the colors
If you'd like to use a different brand of yarn, you'll need approximately 80 yards for each cloth. These don't use much yarn!
Tapestry Needle & Scissors
If you prefer an ad-free PDF version of the pattern, it's available here.
Pattern Notes:
As written, this cloth measures around 8 inches square.
Ch 2 counts as a stitch only on the first row
I made these without a border, but I've included an optional border below. 
Remember, don't use acrylic yarn for dishcloths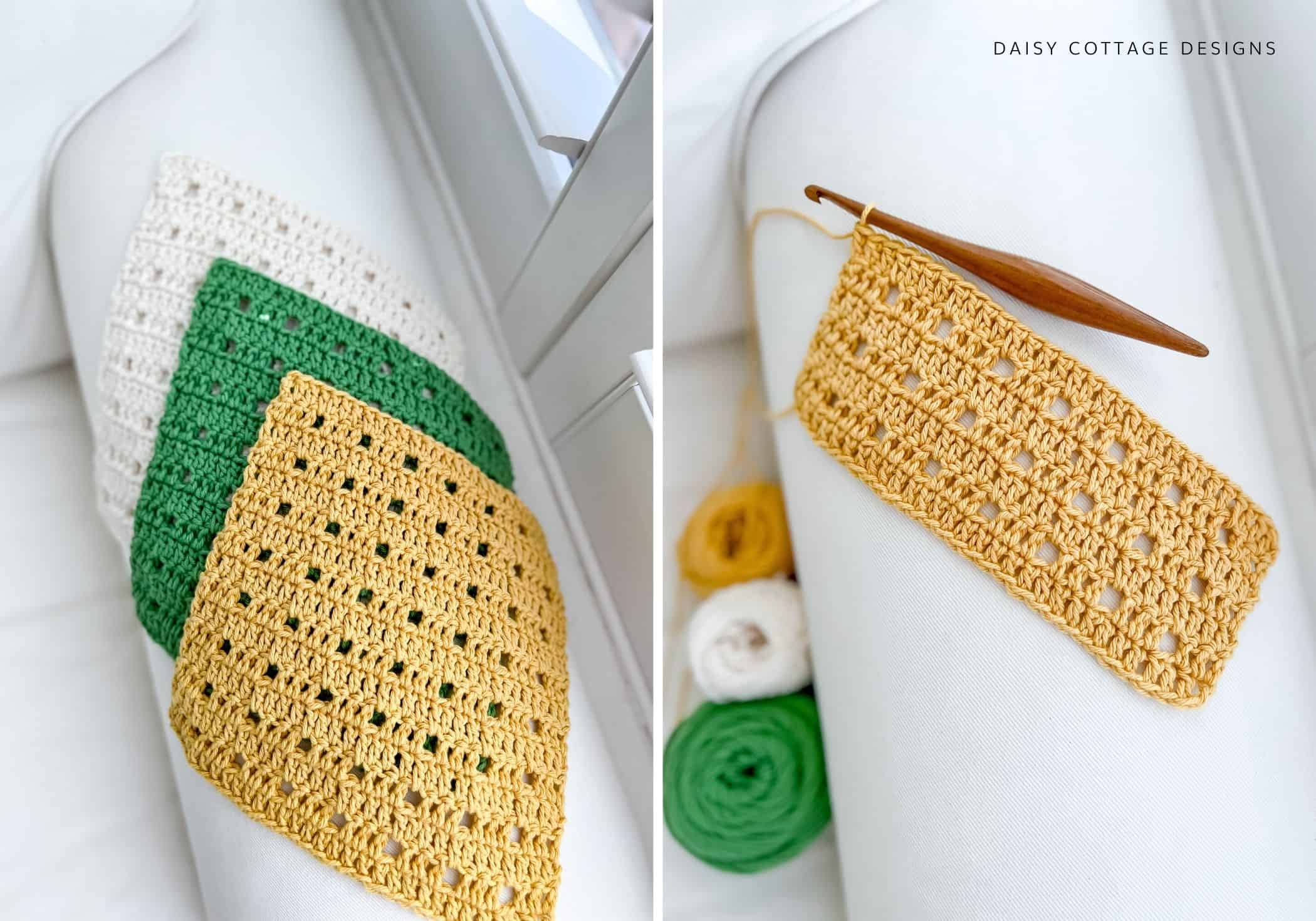 Dishcloth/Washcloth Instructions
Ch 32
Row 1: dc in the third chain and in each chain across (31 dc stitches including the ch 2). Ch 1, turn.
(note: I like to crochet into the back bump of the chain)
Row 2: dc in the first stitch (don't skip a stitch because your ch 1 does not count as a stitch) and in the next two stitches. *ch 1, skip a stitch, dc in the next three stitches* across. (You will have 24 double crochets and 7 ch 1 spaces at the end of this row). Ch 1, turn.
Row 3: dc in the first stitch and in each stitch and ch 1 space across. (31 dc stitches). Ch 1, turn.
Repeat rows 2 and 3 for a total of 17 rows.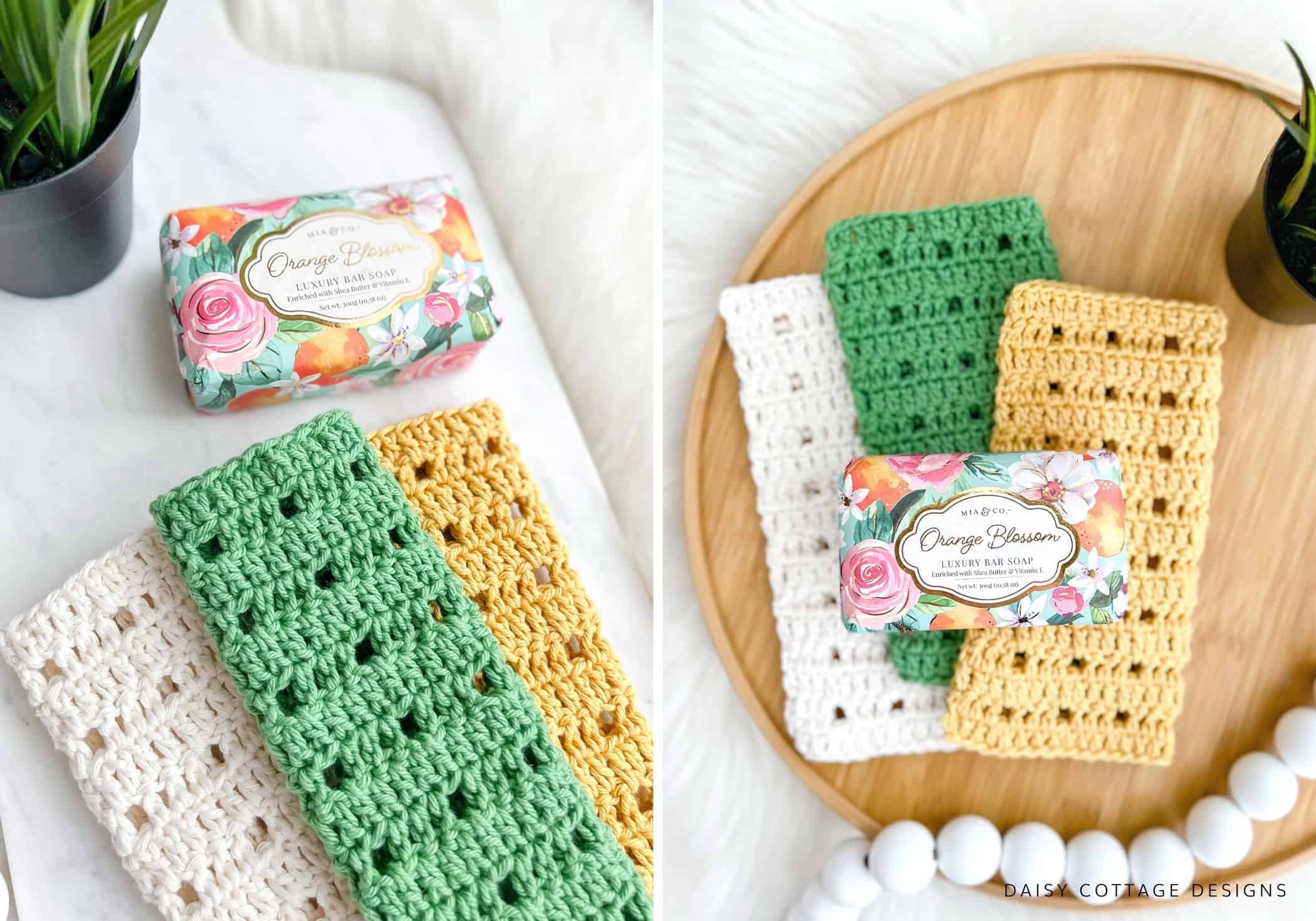 Optional Simple Single Crochet Border (photos show cloth without a border):
Single crochet evenly around the entire cloth. Work *3 sc* in each corner.
How to Make This Dish Cloth in Different Sizes
To adjust the size of this easy crochet washcloth pattern, make the foundation chain a multiple of 4 until you reach the width you want.
Work until your project is the desired length and then proceed to the border.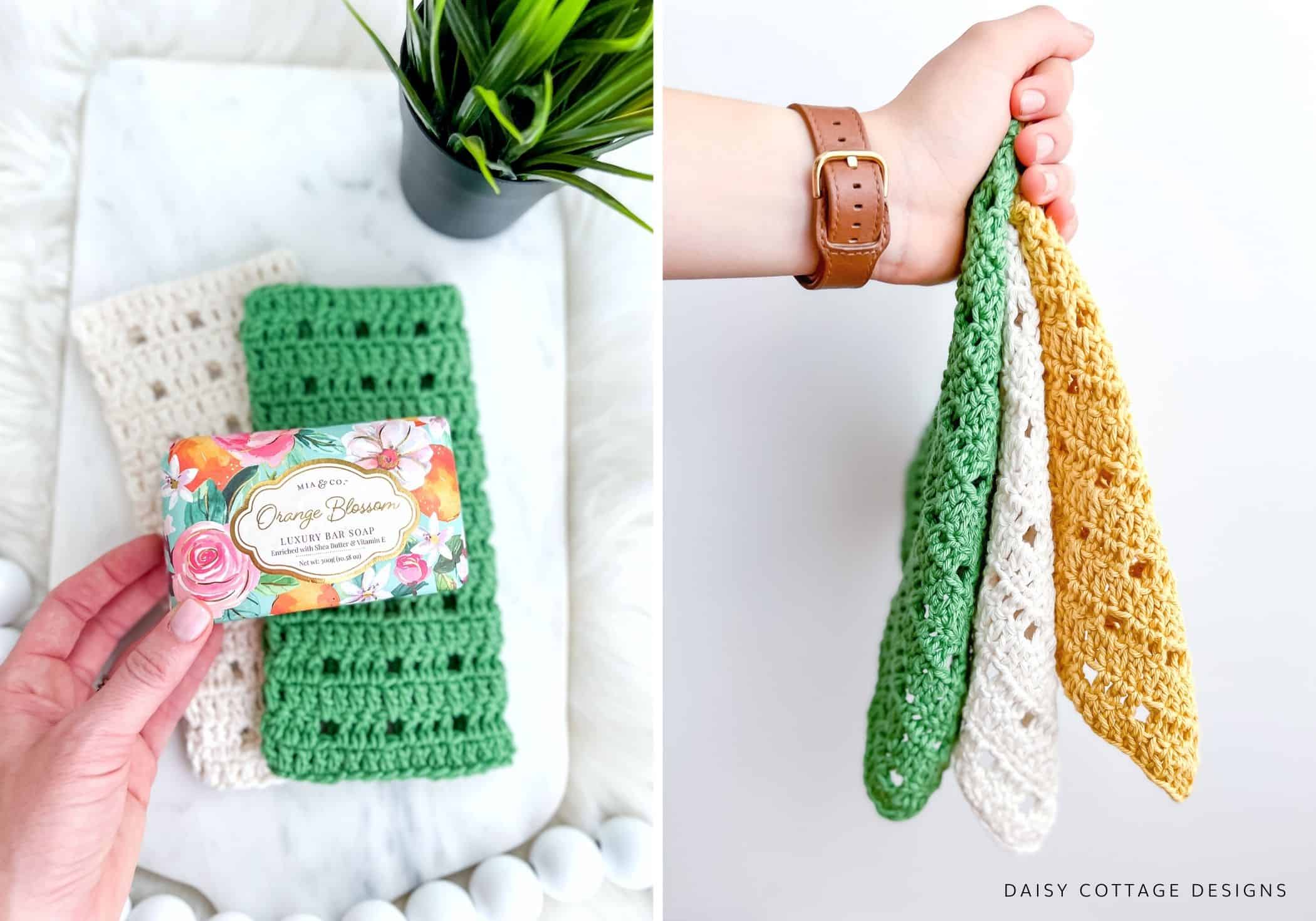 Care Instructions
This washcloth is definitely be machine washable. Just to double check, read the care instructions on your yarn label. I toss all my crochet dishcloths into the washing machine and the dryer without any problems.
If you'd like to give these as a gift, you can let your friends know how to care for these cloths using these gift tags.
Other Easy Washcloth Patterns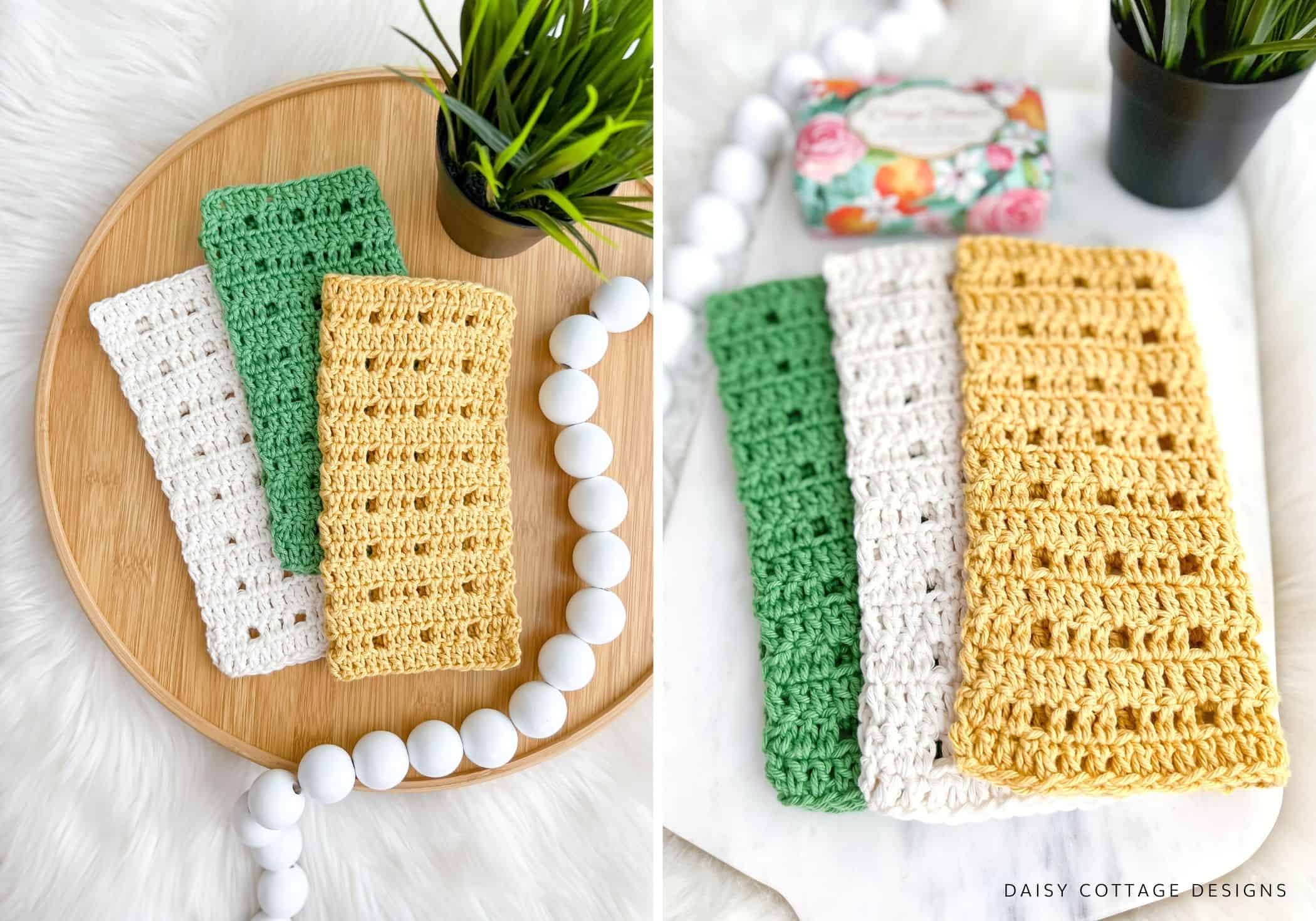 What's the Best Yarn for Crochet Dishcloths?
Read all about the best yarn for crochet dishcloths. While Lily Sugar and Cream is a great place to start, cotton yarns have come a long way.
Give Them Away!
I know I sound like a broken record, but crocheted cloths really do make great gifts!
I love making sets of 3 in pretty color combinations whenever I have a little bit of extra time. Then, I set them aside for the times I need a quick, wonderful gift.
Adding a pretty bar of soap (for washcloths) or a nice wooden dish scrubber (for dishcloths) takes the gifts up a notch for very little extra cost.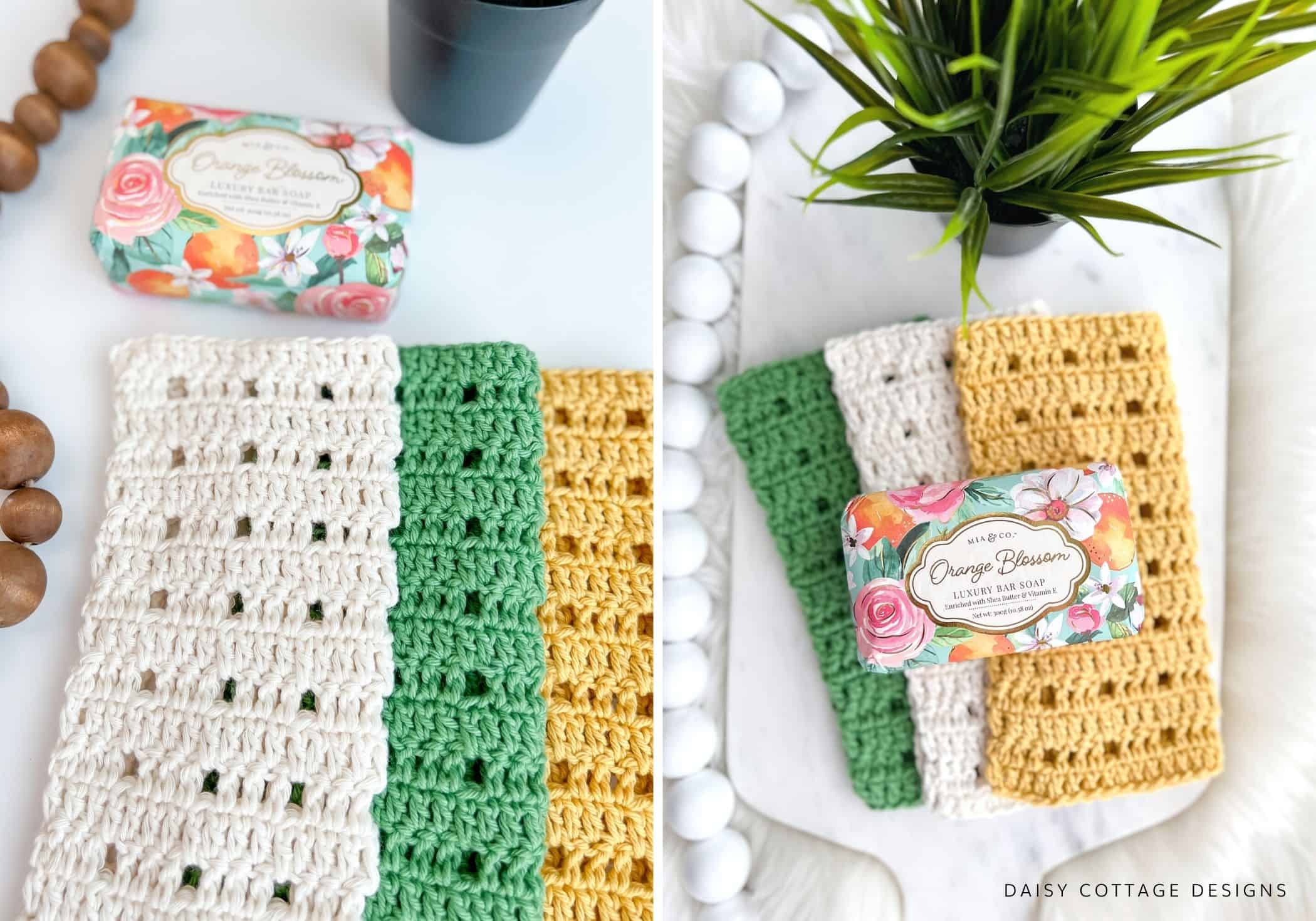 You're Welcome to Sell Your Finished Items
I'm often asked if I allow people to sell items they make using my a free crochet pattern on my site. The answer is always DEFINITELY! A link back to the pattern is not required but always appreciated.
Also, always remember to take your own photos. 📸