The Best Yarn for Crochet Dishcloths in 2022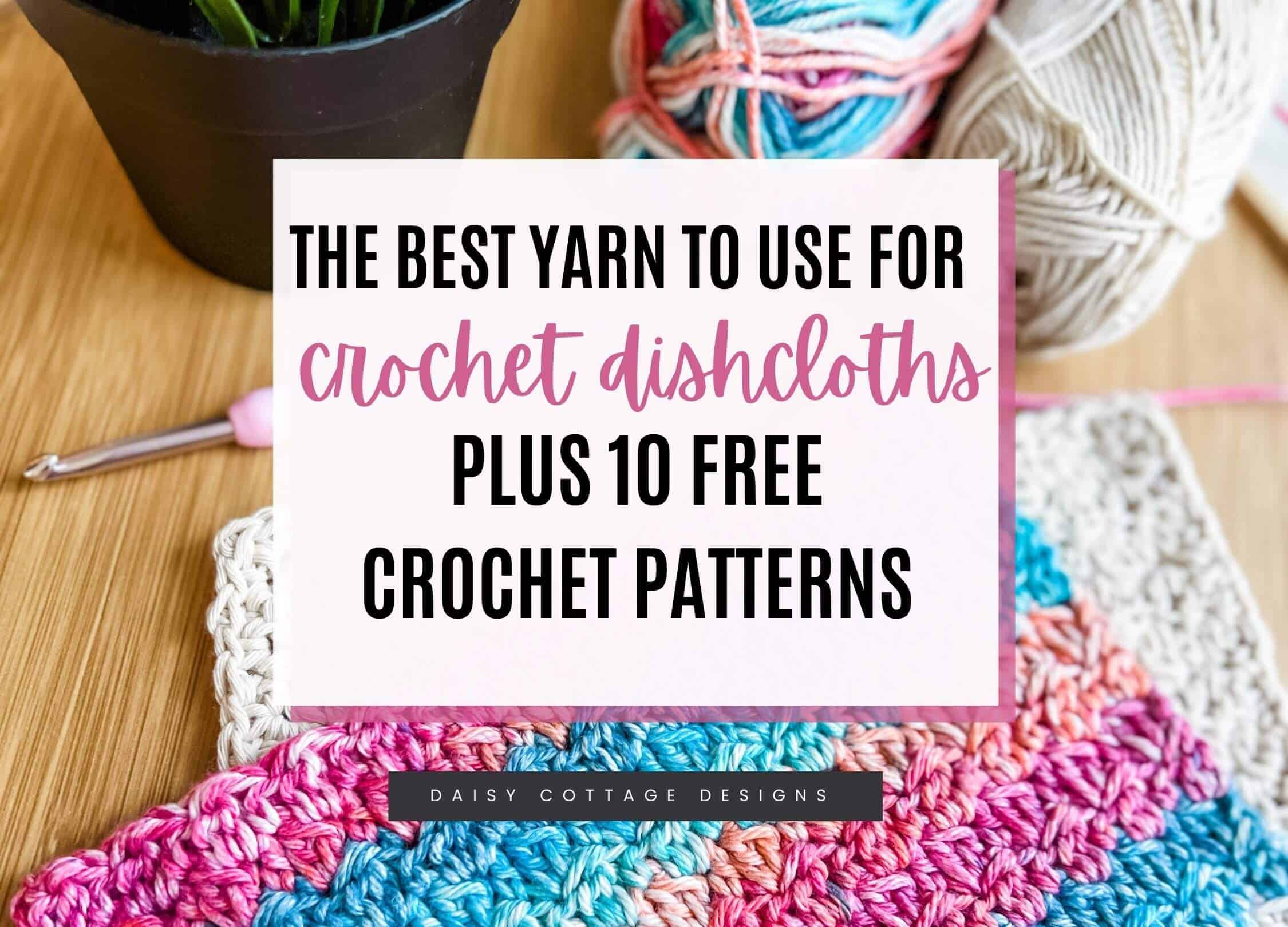 Recently, a friend sent me a photo of some crochet dishcloths she was making. In that conversation I had to admit that I had never made my own crochet dishcloths before. I've used them a few times and enjoyed them.
Why had I never thought to make some? 
After that chat, I knew I needed to crochet some for my own kitchen. I grabbed my crochet hook and some cotton yarn that I had on hand and went to work.
I knew I needed a little bit of texture (isn't it the texture of the crochet stitches that helps get things clean?) so I decided to use a combination of double crochet cluster stitches and half double crochet. 
Here's the crochet dishcloth pattern I designed.
Now to the important question…
What kind of yarn should you use for Crochet Dishcloths?
Believe it or not, I have a variety of yarn types lying around my crochet space (and even my entire house). From acrylic yarn to yarn blends to natural fibers, I have it all. So. much. yarn.
Which of those yarns are the best choice for dish cloths?
First of all, you do not want to use acrylic or wool yarn for dishcloths. Acrylic yarn is not absorbent enough and wool yarn does not hold up well when it's wet.
100% cotton yarn is an excellent choice for crochet dishcloths.
Cotton yarn is absorbent and will hold up well when you toss it into the washing machine.
Want to refer back to this guide later? Pin it so you can come back and find the information.
9 Best Cotton Yarn Choices for Crochet Dishcloths:
These favorite cotton yarns are easy to find online or in your local craft stores. I've even seen Peaches N Cream at Walmart.
Can You Use a Cotton Blend Yarn?
A cotton blend yarn is another good option for machine washable dishcloths. One thing to keep in mind is this: be sure that the cotton content is higher than the other fibers. Look for an 80/20 or a 70/30 percent cotton yarn.
This is important because it is the cotton in these yarns that allows it to hold moisture.
Cotton Blend Yarn Choices for Crochet Dishcloths:
What about Scrubby Yarn Options?
While we never would have though of using polyester yarn for crochet dishcloths or dishtowels a few years ago, there are now quite a collection of synthetic yarns that are a good choice for dish scrubbing.
They don't make a lovely dishcloth, in my opinion, but I love the fact that dishes can be scrubbed without the possibility of scratching.
Here are some Scrubby Yarns to Try for Crochet Scrubbers:
Why make crochet dishcloths?
Besides the fact that there are a myriad of free dishcloth crochet patterns all over the internet, there are 7 reasons I think everyone should make crochet dishcloths.
7 Reason to Make Crocheted Dishcloths:
They make great gifts – especially housewarming gifts!
A dishcloth is a great project to master basic crochet stitches like the double crochet.
It's a fantastic way to practice new stitch patterns that use more complicated combinations.
Dishcloths are a fun way to play with different yarn.
They're super quick to make – you can make one in 45 minutes or less!
Work on a crochet dishcloth to break up long-term projects.
These cloths make great cleaning rags.
What is a good size and how much yarn will I need for a finished dishcloth?
Most measure 7"-9" square. Play around with different sizes and see which you like the best.
A good starting chain for dishcloths is somewhere between 25 and 35.
You'll need approximately 90-100 yards of worsted weight yarn for each dishcloth.
What are the best dishcloth crochet patterns?
Now that you know the best type of yarn to use for your crochet project, what are the best patterns? I love finding a pattern with textured stitches, but test a few out to see what you think.
10 Patterns You Don't Want to Miss: