The Best 11 Crochet Pattern Books
By
Lauren
on February 18, 2023
Do you love crocheting? In this post I share 11 of the best crochet pattern books that every crocheter will love having on her bookshelf!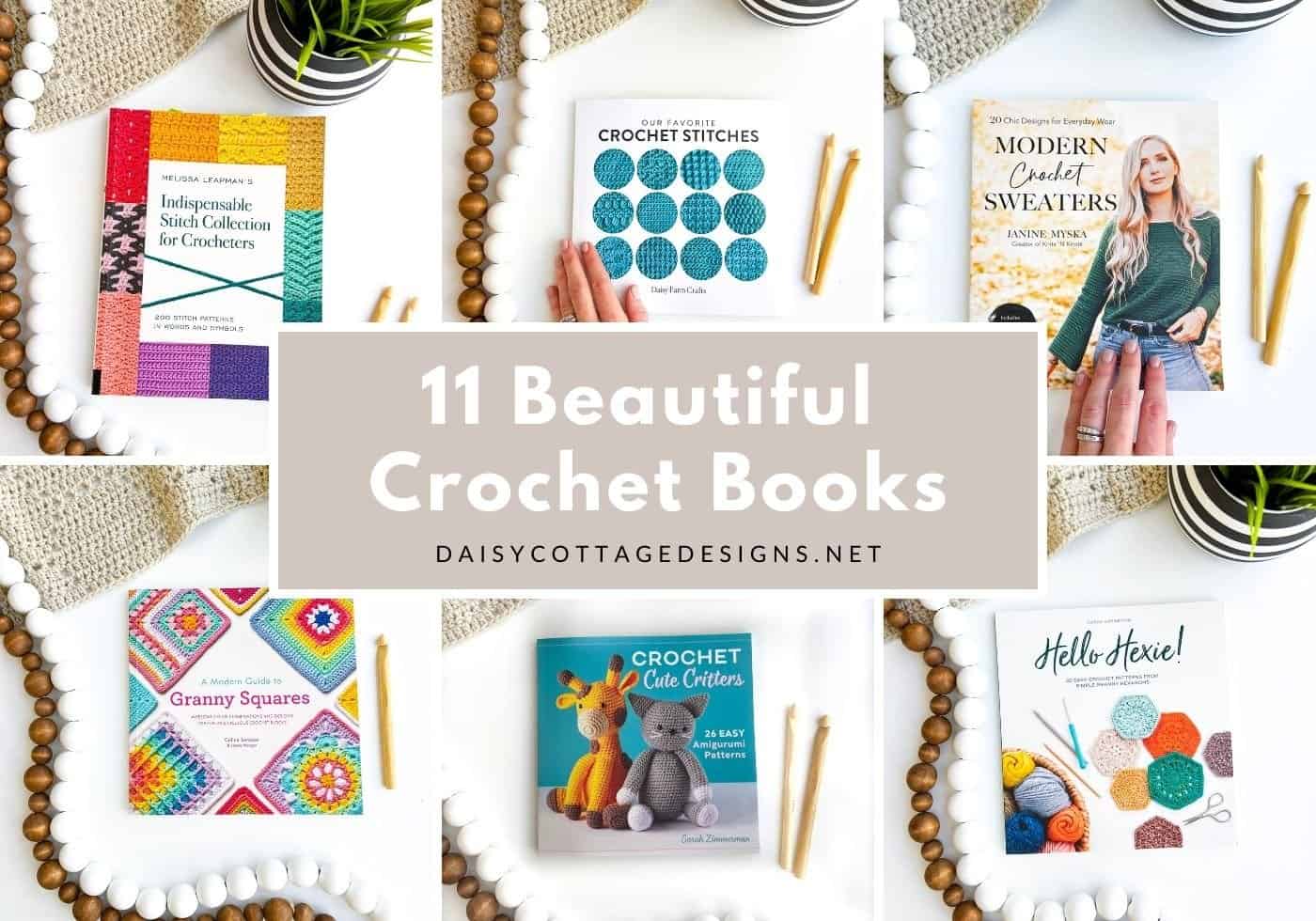 With all the crochet patterns available on websites and Etsy, I know not everyone feels the need to have a collection of crochet books stashed somewhere in the house. 
But, if you're anything like me, sometimes you want to be able to physically flip through a book featuring your favorite hobby. I have a whole shelf of crochet books, and I love looking through them for inspiration. 
While I wouldn't recommend every one of the crochet books that are sitting on my shelf, I have narrowed to my favorite 11. If you want to have a few in your collection, you can't go wrong with any of these.
Not only are these books helpful, they also look fantastic sitting on the coffee table.
Crochet Stitch Books
Without a doubt, my favorite crochet books are stitch dictionaries. These books give you a close-up look at various crochet stitches and provide step-by-step instructions for making each one. 
You'll get stitch counts and (usually) charts for each stitch. If you're  thinking of dabbling in pattern designing, these books are a must! I find myself reaching for these over and over again. 
Here are a few of my favorites: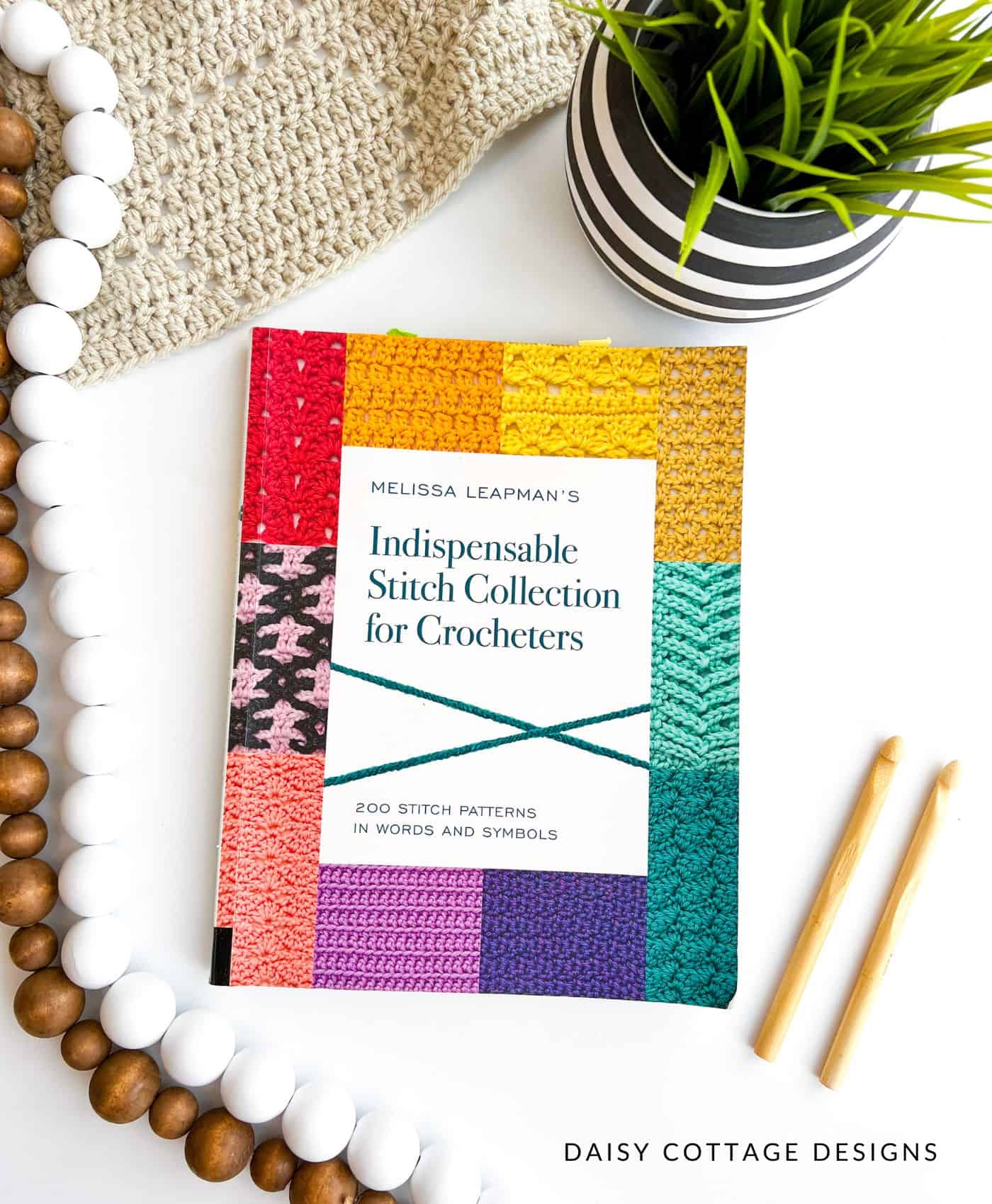 This book is a great stitch dictionary. Featuring 200 stitches and beautiful photos, it's a fun one to have. I find myself reaching for this book often. The instructions are easy to follow.
I keep this book in my travel bag to peruse on flights and in hotels.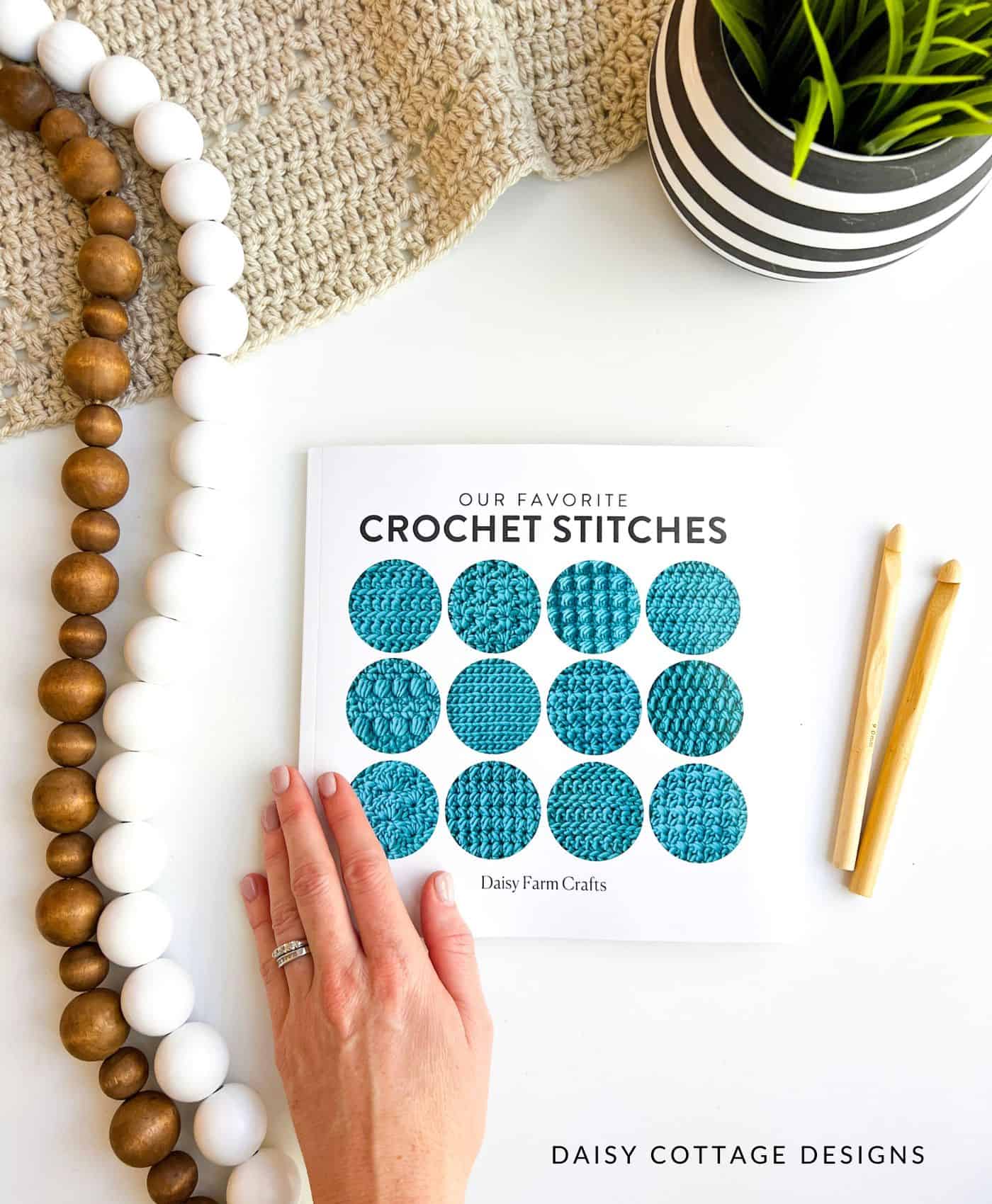 I'm sure all of my crochet-loving friends are familiar with Daisy Farm Crafts by now (yes… people do confuse us from time to time). If you love the patterns created by this mother-daughter duo, you'll also love this little book.
This book is broken down into 4 sections – basics, combos, classics, and clusters & bobbles. Each section features gorgeous stitches.
The only tiny issue I have found with this one is that the photos are taken using a super bulky yarn, and sometimes the look can seem a bit different when using worsted weight yarn.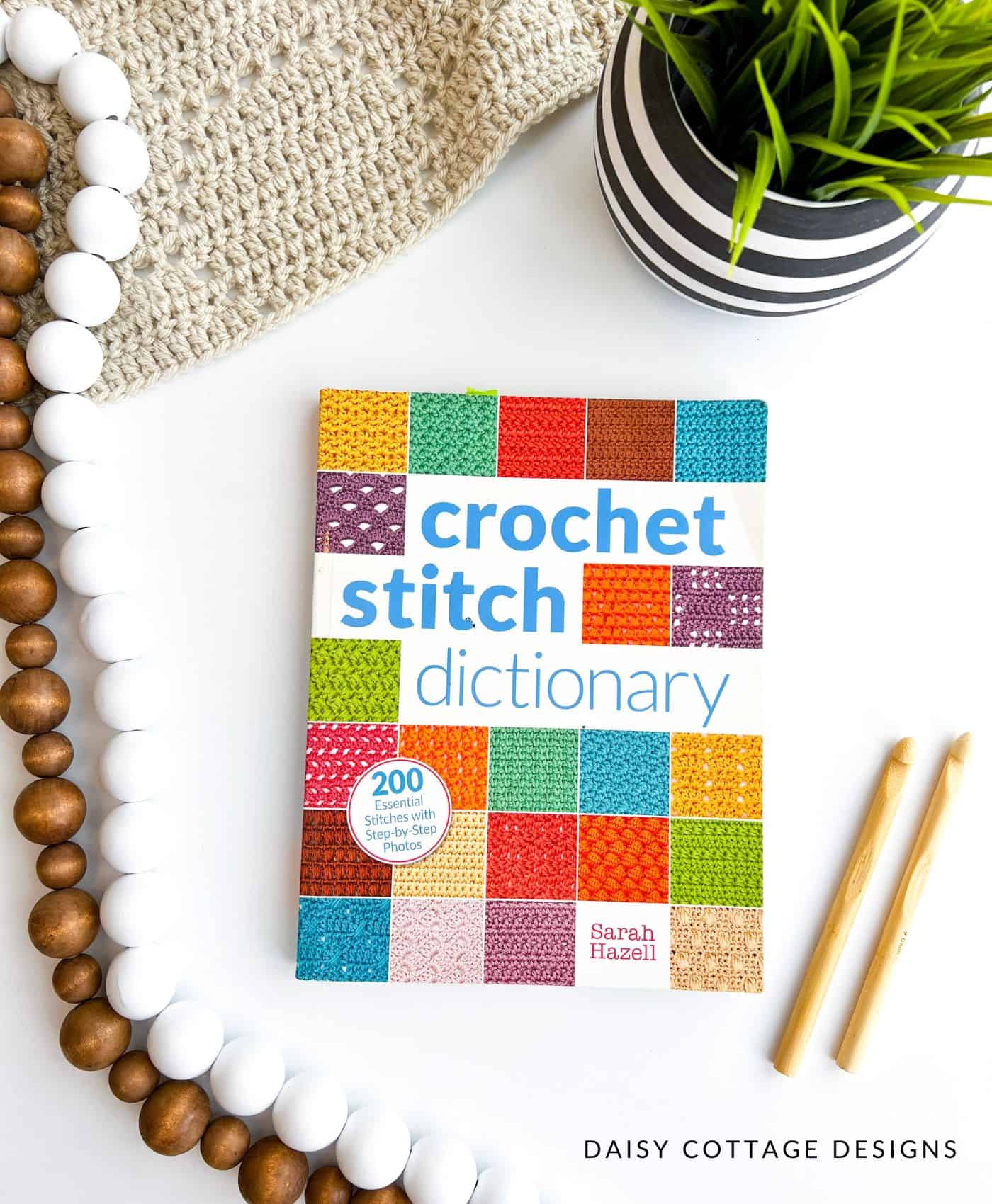 This stitch dictionary is a book I find myself reaching for over and over again. The pages are dog-eared, there are sticky notes scattered throughout with notes for future patterns, and the corners are getting worn.
This book includes written instructions, charts, and process photos that are easy to understand.
I highly recommend having this book in your collection.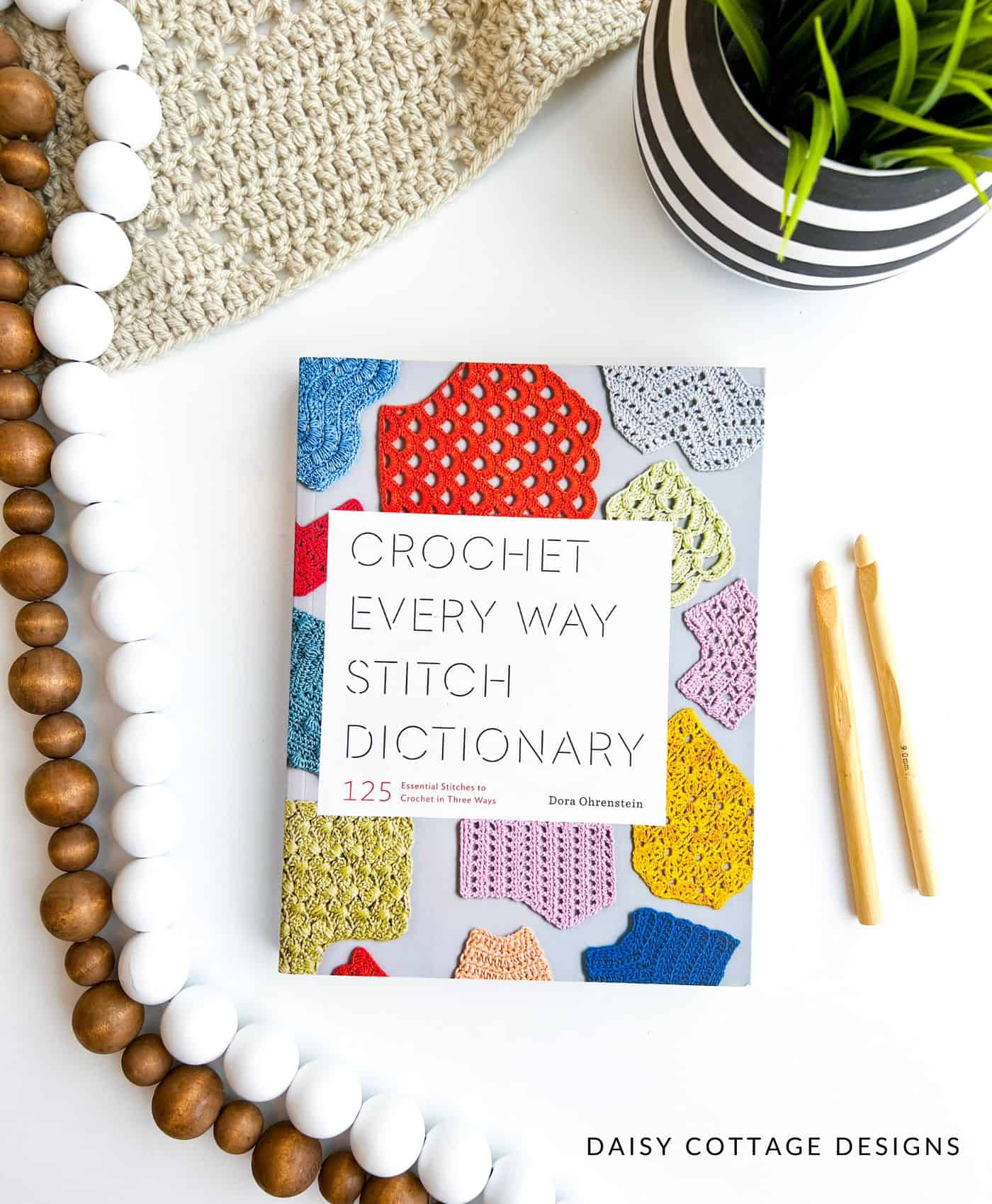 While this book features many of the same stitches, it's full of information on increasing, decreasing, and other modifications you might need if you're wanting to design things like garments and sleeves.
This book features both charts and written instructions.
Other Crochet Books
Crochet stitch books are the books I find myself reaching for most often, but I also love having pattern books in my collection, as well. Many of these books offer helpful tips and beautiful color combinations that can provide inspiration to all crocheters.
In addition, it's always fun to help support fellow crocheters who have invested the time to get a book published!
Here are my favorites!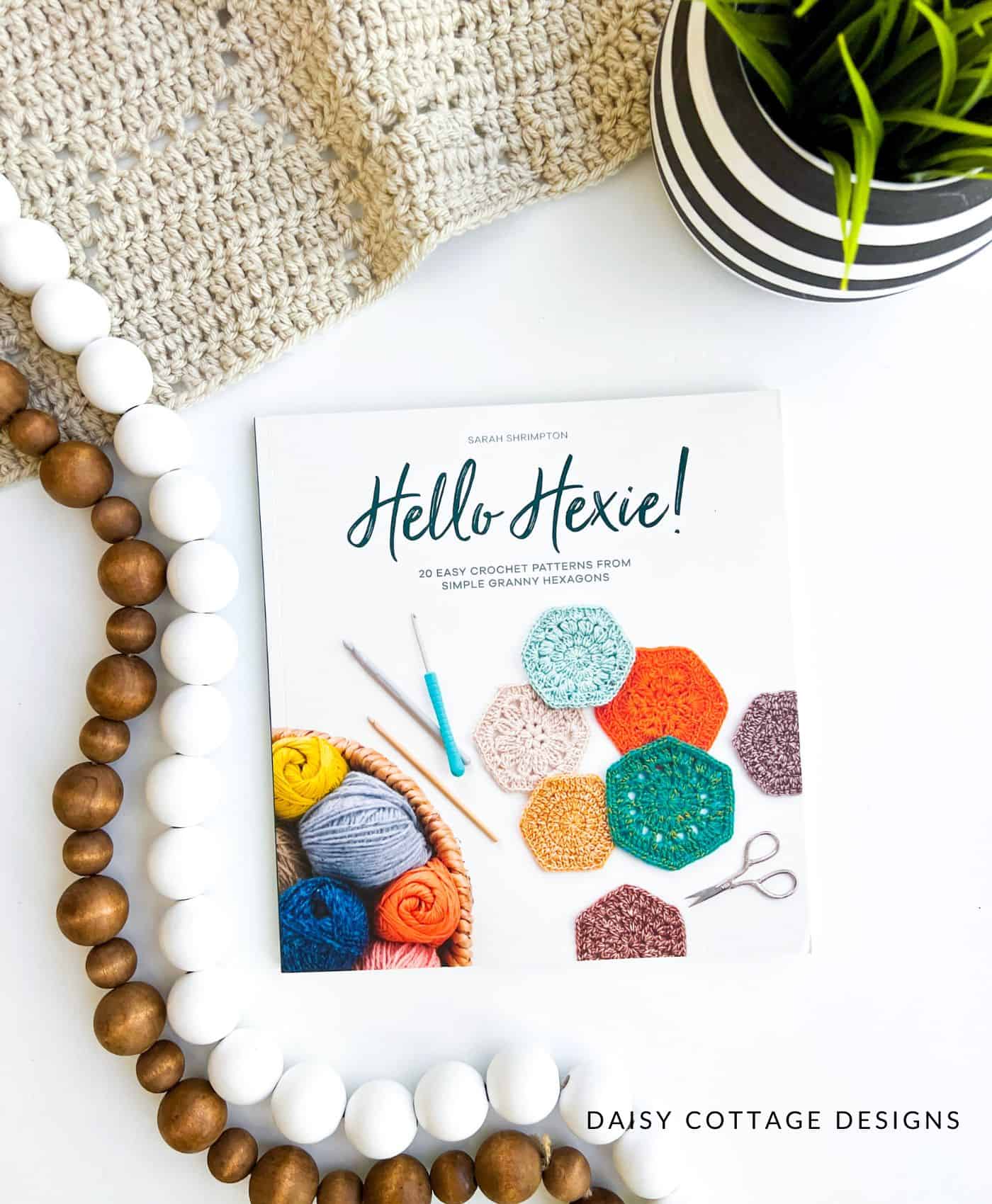 This beautiful book caught my eye and I had to have it. Thankfully, it did not disappoint.
The book provides 10 different hexagon motifs – from solid to granny – and 20 easy patterns that you can make using them. From baby blankets to socks and everything between.
I love flipping through this book and getting inspired!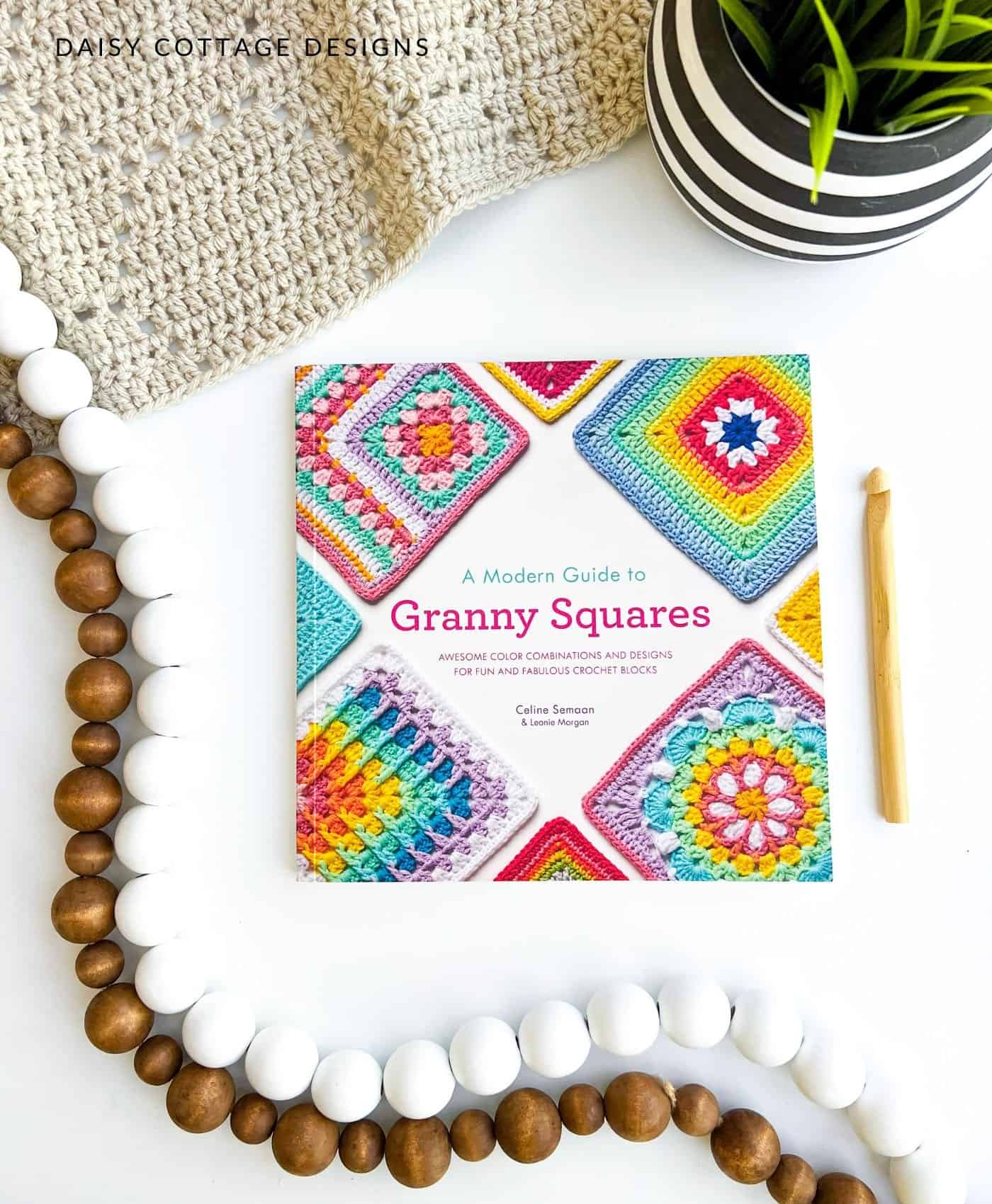 This book offers more than 40 unique granny square designs. Not only that, you'll find inspiration for putting these adorable squares to good use. Pillows, wall hangings, blankets, and more inspiring projects will help get your creative juices flowing. The possibilities truly are endless.
Because this book is so beautiful, it will look great sitting on your coffee table!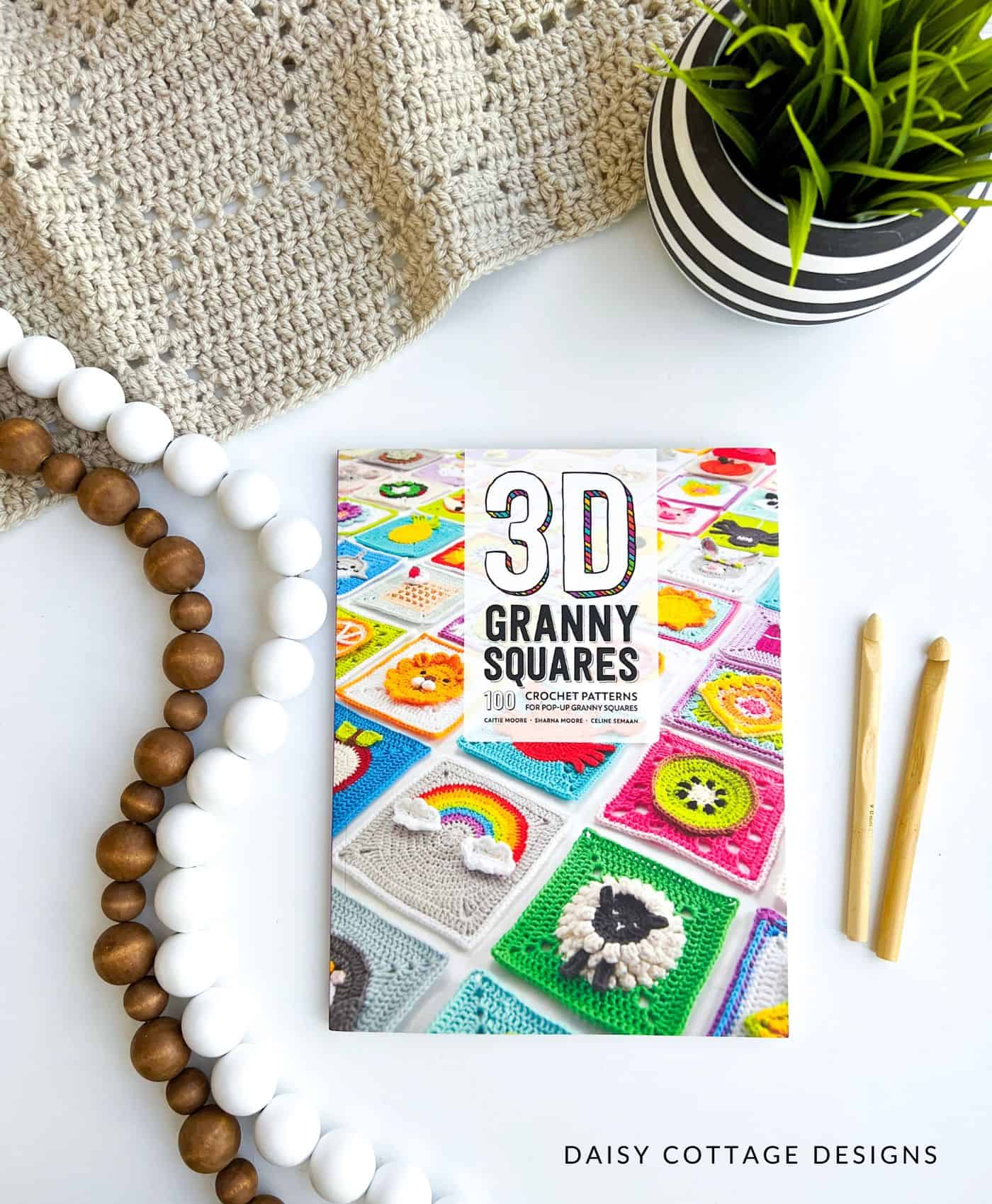 I love the project in this book so much! Whether you're looking to make a thematic baby blanket or a set of coasters for a friend who's moving into a new house, there's going to be something for everyone in this book.
Featuring more than 100 pop up granny square patterns, you'll find patterns featuring fruits, animals, and nature. Make pillows, blocks, blankets, and more using these colorful, fun patterns.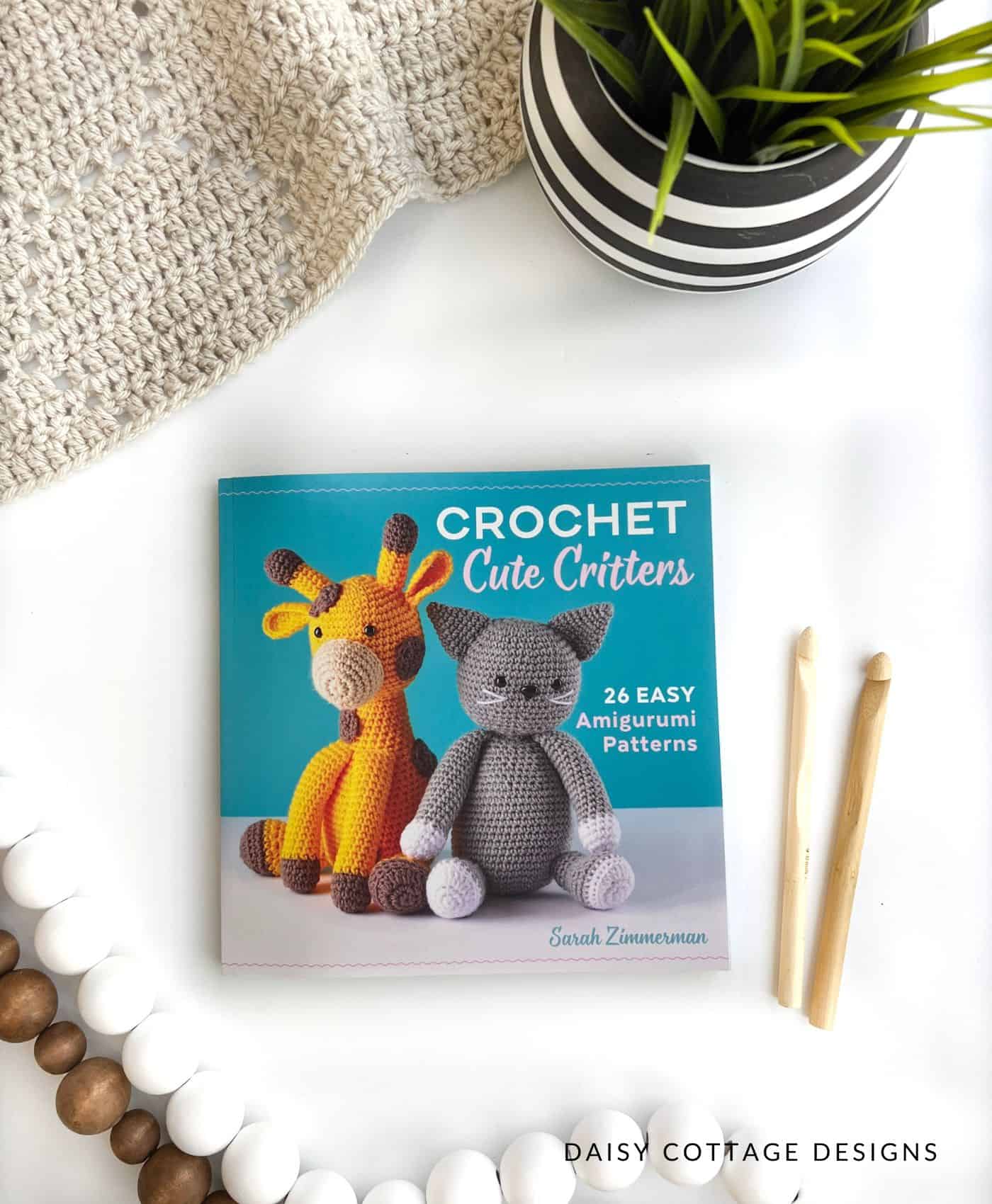 Sarah Zimmerman from Repeat Crafter Me has always had some of the most fun crochet patterns for kids, and this book is no exception! Step-by-step instructions make these amigurumi patterns easy for crocheters at all skill levels.
Whether you've been crocheting for years or not, you'll love creating your own stuffed animals. Many of the animals in this book start with the same basic shapes, so once you've made one, the others will be that much easier!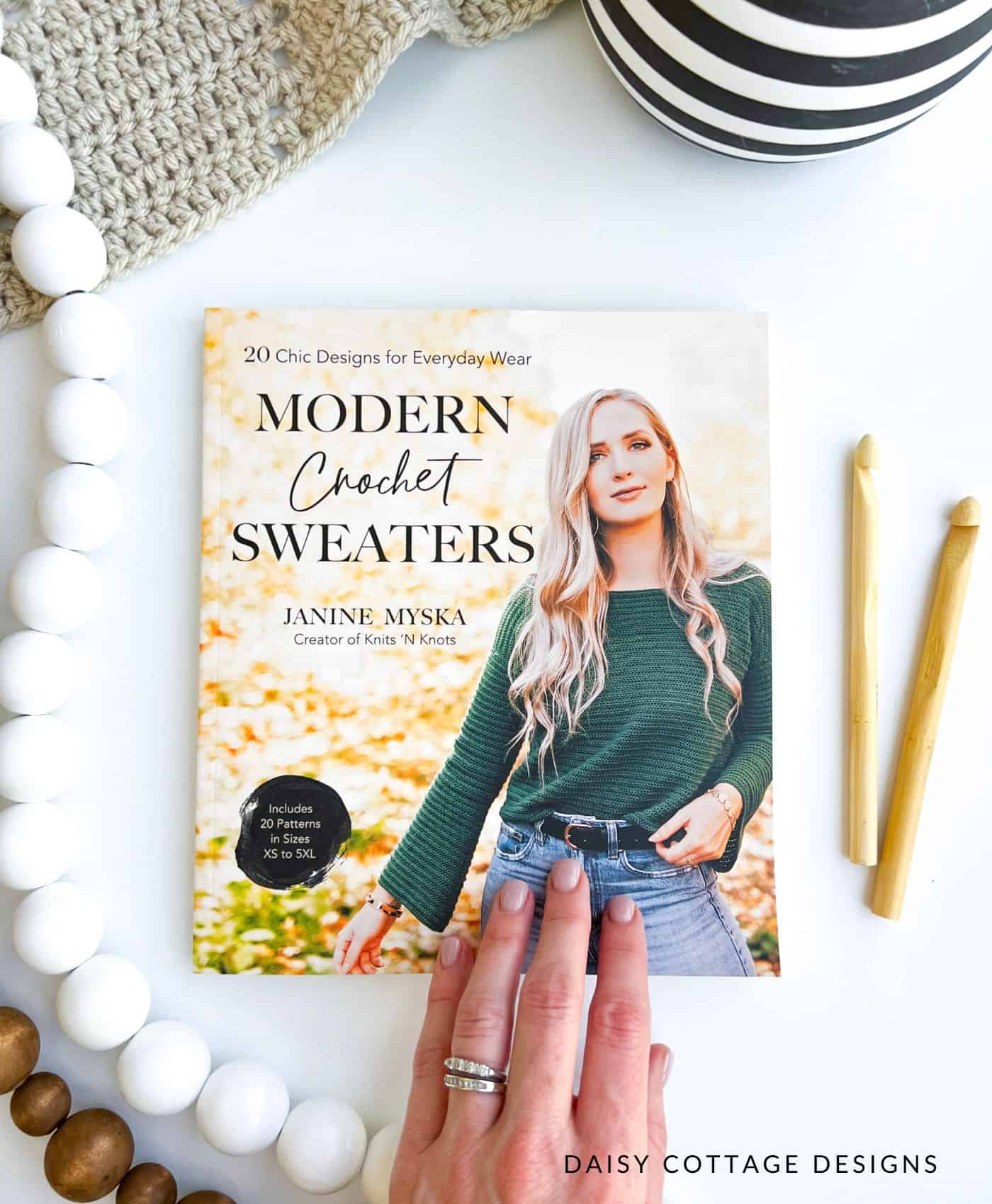 When I saw crochet "influencers" sharing this book on Instagram last year, I knew I was going to need it in my collection. I haven't made a crocheted sweater yet, but the Timber Lodge Striped Pullover has definitely caught my attention. If I lived in a colder climate, I'm sure I would have made it by now.
There are 20 designs included in this book and they're all absolutely beautiful.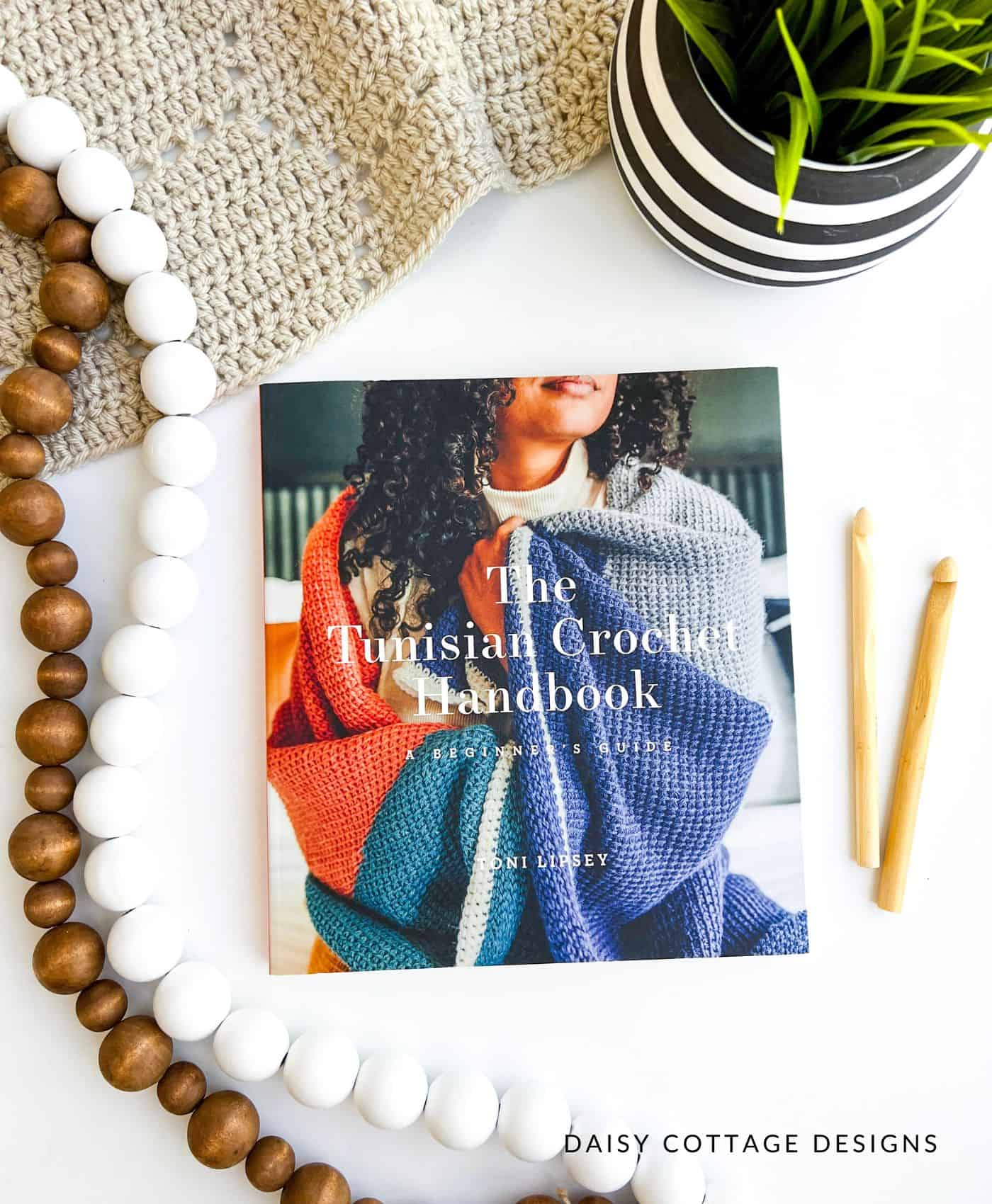 I have had "learn to tunisian crochet" on my to do list for the last several years, but I haven't gotten around to it. I ordered this book in the fall. Every time I see it, I'm reminded that I need to take the plunge.
This book features clear instructions, beautiful photos, and 20 projects that are perfect for you and your home.
Hopefully 2023 is the year I finally learn Tunisian crochet!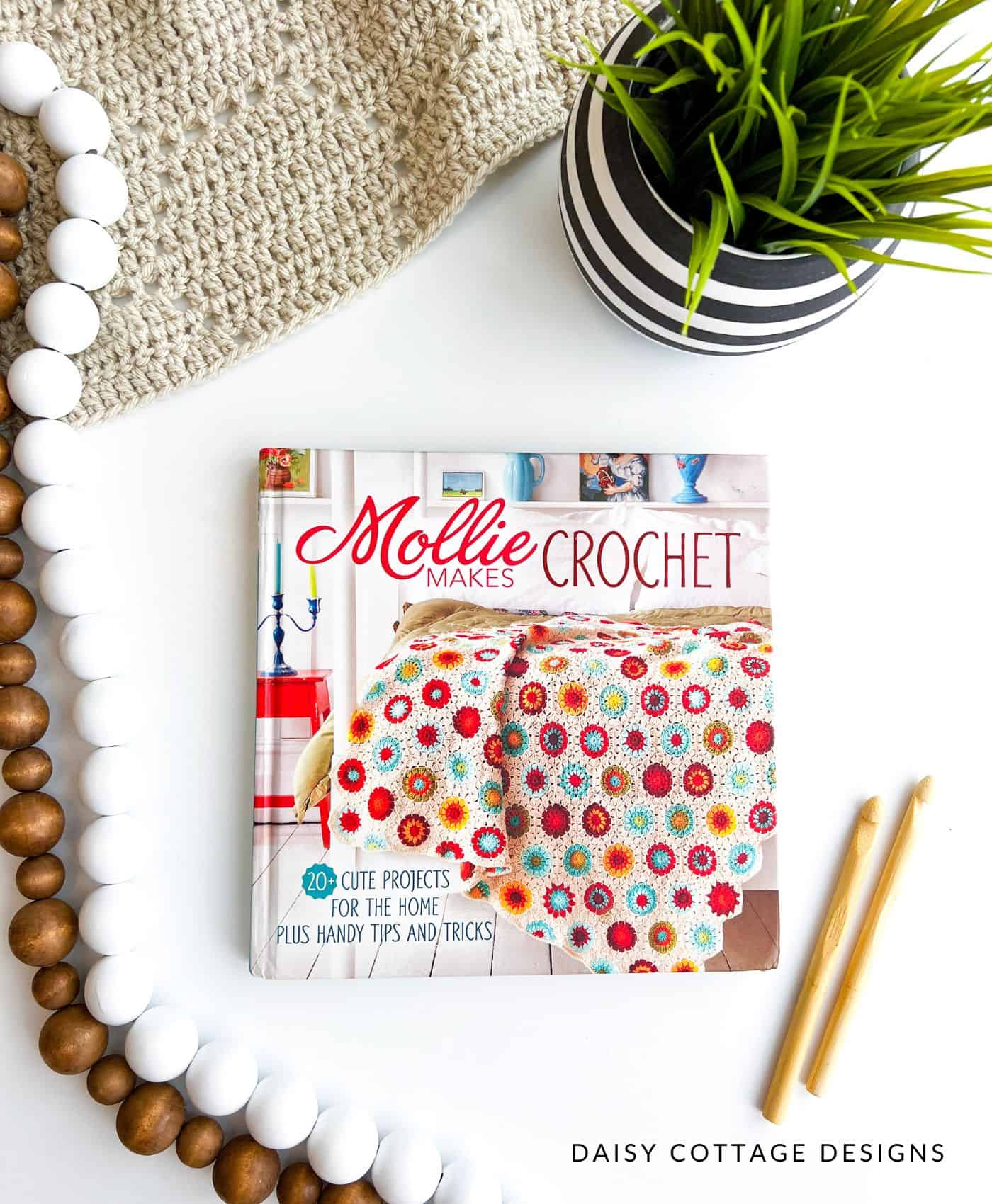 Last but not least is this colorful beauty. Believe it or not, this was the first crochet book I ever purchased for myself. I was drawn to the beautiful photos and bright colors.
I still love having this book and find myself smiling anytime I look through it. If you're looking for a pretty coffee table book, I highly recommend this one!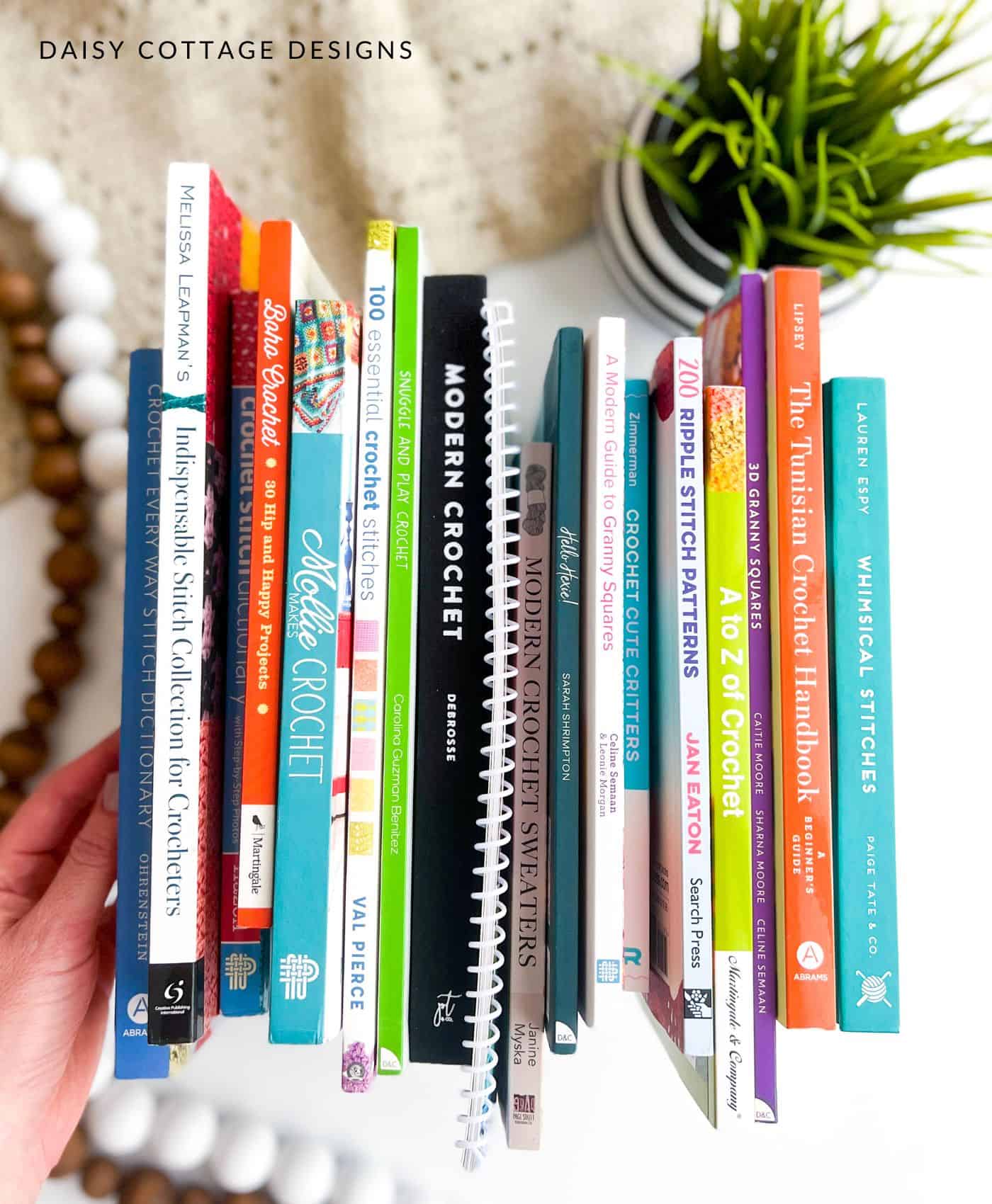 I hope you've enjoyed perusing this list. Do you have a favorite crochet pattern book that I don't? If so, let me know what's missing from my collection.