How to Crochet the Suzette Stitch (Easy Tutorial & Pattern)
Learn how to crochet the Suzette Stitch using written and video instructions. This beautiful, reversible stitch is perfect for dishcloths, blankets, and more!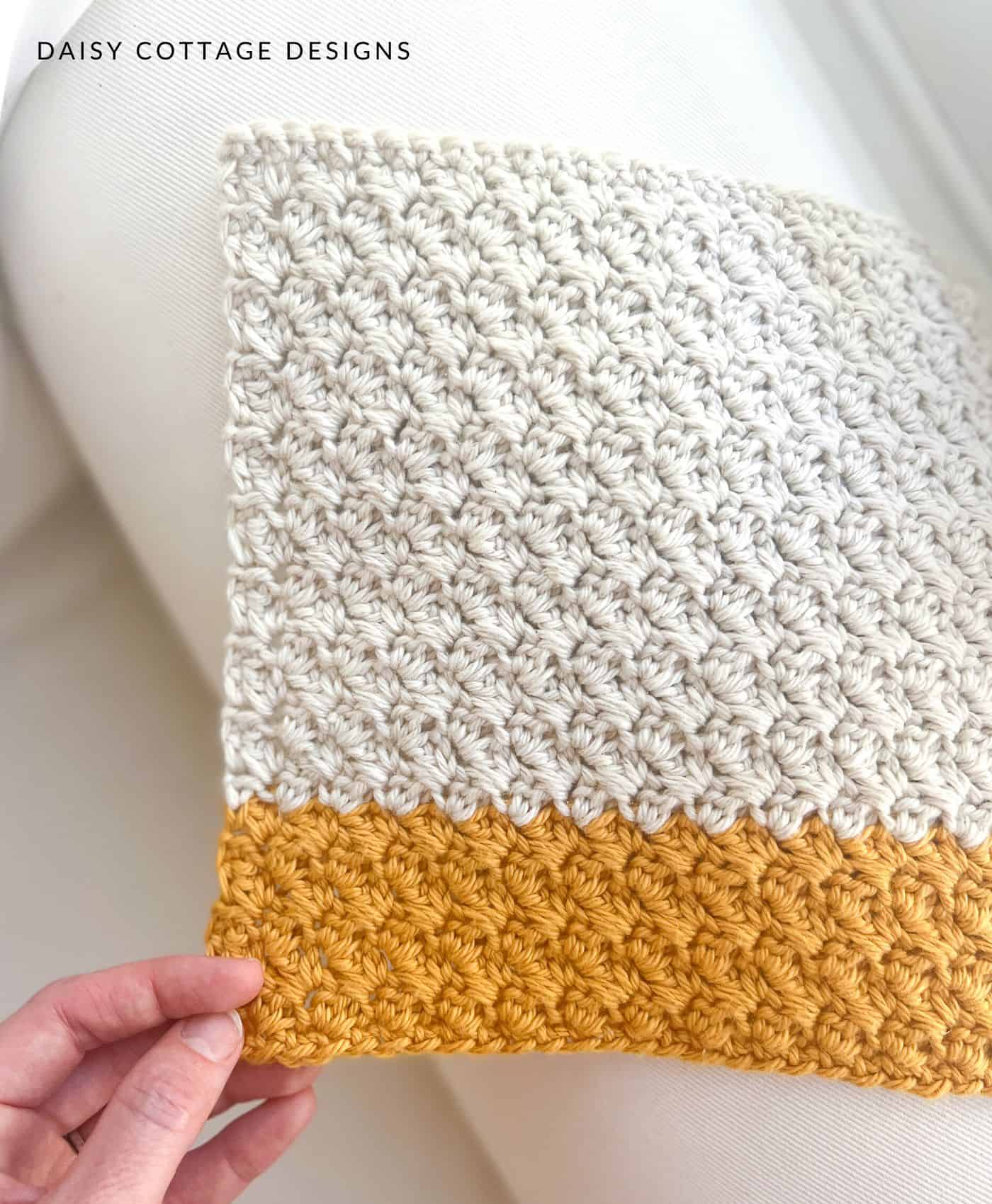 I'm always on the lookout for a beautiful new crochet stitch to try. This simple combination of double and single crochets is called the Suzette Stitch. While it's simple to make, this easy crochet stitch has beautiful texture.
Believe it or not, I think it might be in my list top 5 favorite stitches.
The Suzette Stitch would be perfect for crochet dishcloths, baby blankets, and so much more. Can't you picture a beautiful scarf using this stitch?
It's a closed stitch, but when you use the proper size hook, it has a lot of movement. In the crochet world, we might also say it has great drape.
Grab your favorite hook and some yarn and learn a new stitch with me!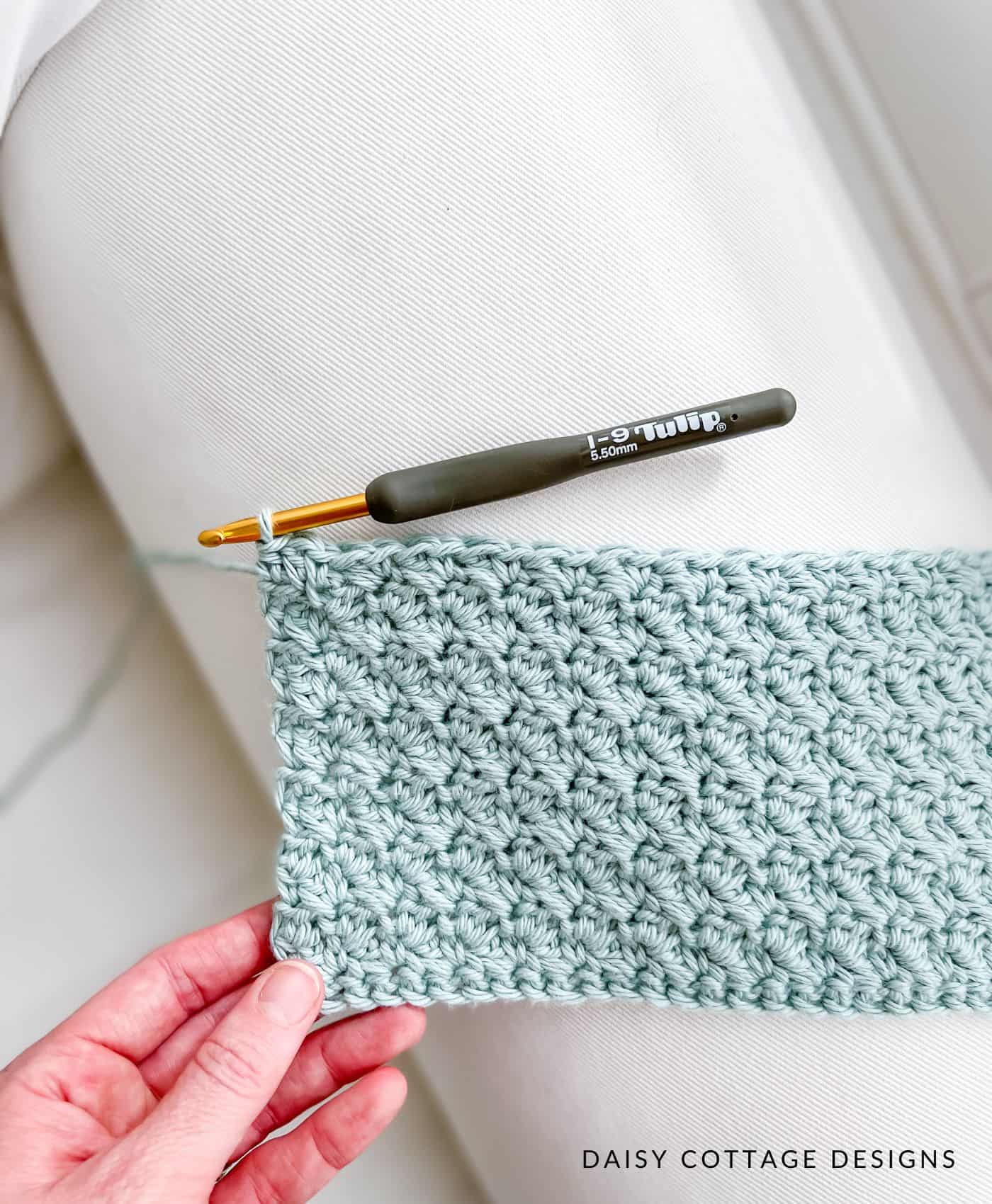 What is the suzette stitch?
As with the Lemon Peel Stitch, this pattern alternates between single crochets and double crochets. With this stitch, though, you work the single crochet and the double crochet into the same stitch and then skip the next stitch.
Sound a little confusing? Don't worry!
I'll walk you through exactly how to make this stitch below. I promise, it's not hard at all!
Even a beginner crocheter can enjoy the Suzette Stitch Pattern!
Suzette Stitch Video Tutorial
If you prefer video tutorials, you can watch the video above. Consider subscribing to my YouTube channel to stay up to date on new crochet patterns.
---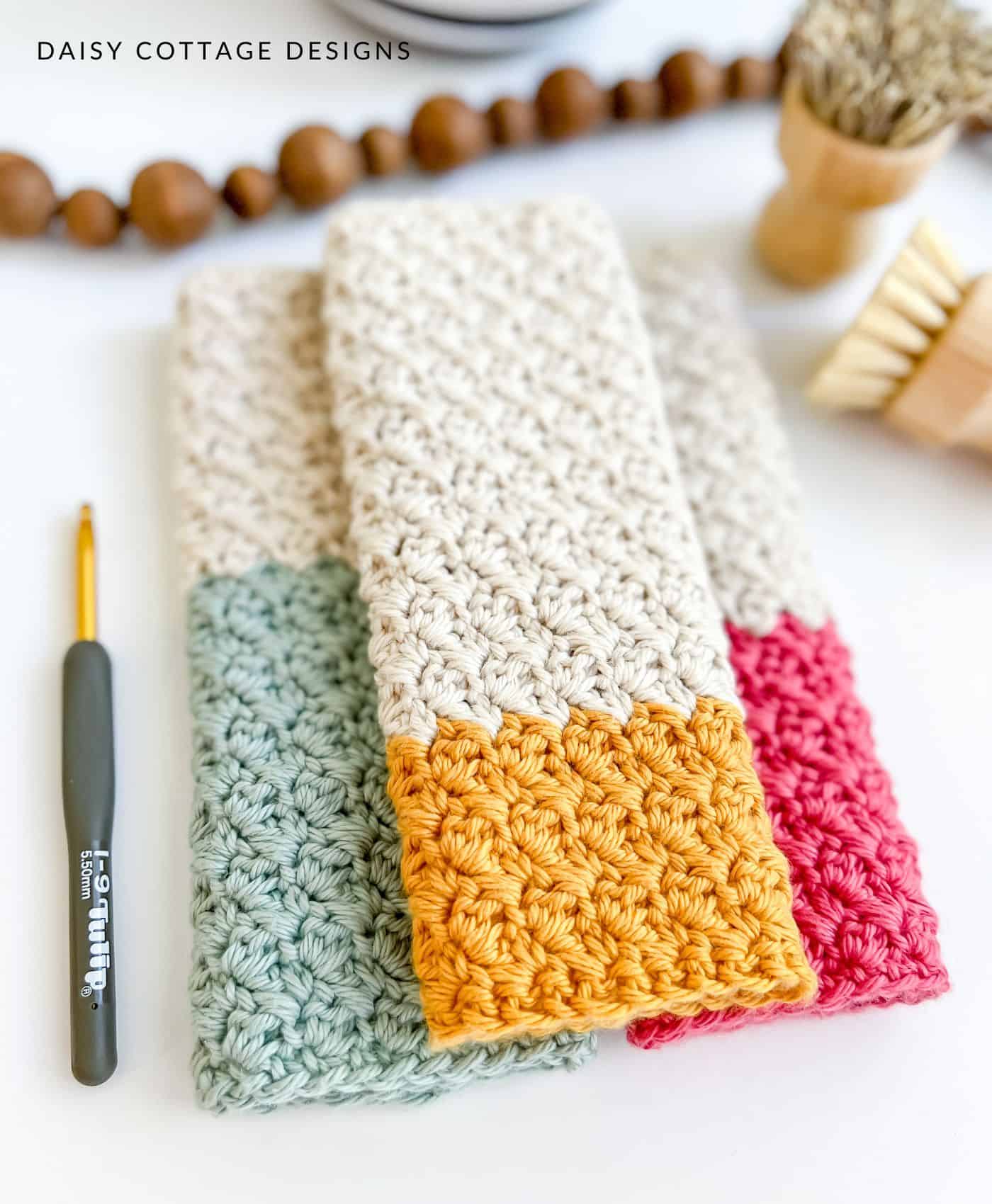 Suzette Stitch Crochet Tutorial (Plus a Dishcloth Pattern)
Whenever I find a new stitch tutorial that I want to try, I grab cotton yarn from my stash and start with a chain of about 30.
That way, my "swatch" turns into a dishcloth rather than something that I have to frog (unravel) or toss into a basket of random crochet clutter.
While you learn this new stitch, you'll actually be making a dishcloth!
Skill Level: Beginner
Materials:
Hook Size: I/9 (5.50 mm)
85-90 yards of worsted weight yarn. If you're making a dishcloth, use 100% cotton yarn. If you're just making a swatch, any type of yarn will do.
I used Hobby Lobby I Love This Yarn! in the following shades:
Yarn Bee's Cotton Et. Lin in the shade Parchment.
Tapestry Needle & Scissors
Pattern Notes:
Finished squares measure approximately 8.5-9 inches square.
Ch 1 does not count as a stitch.
To adjust the size, chain an odd number of stitches.
This pattern uses US terms
You can find a video tutorial for this stitch here.
Please use #daisycottagedesigns to share your work with me on Instagram! I'd love to see it.
If you prefer ad-free PDF patterns, you can purchase a printable copy on Etsy.
Special Stitch:
Though you won't notice any "special stitches" used in this pattern, the combination of stitches is referred to as the Suzette Stitch. Less often you'll hear it referred to as the Thicket Stitch.
Abbreviations:
ch – Chain
st – stitch
sc – single crochet
dc – double crochet
hdc – half double crochet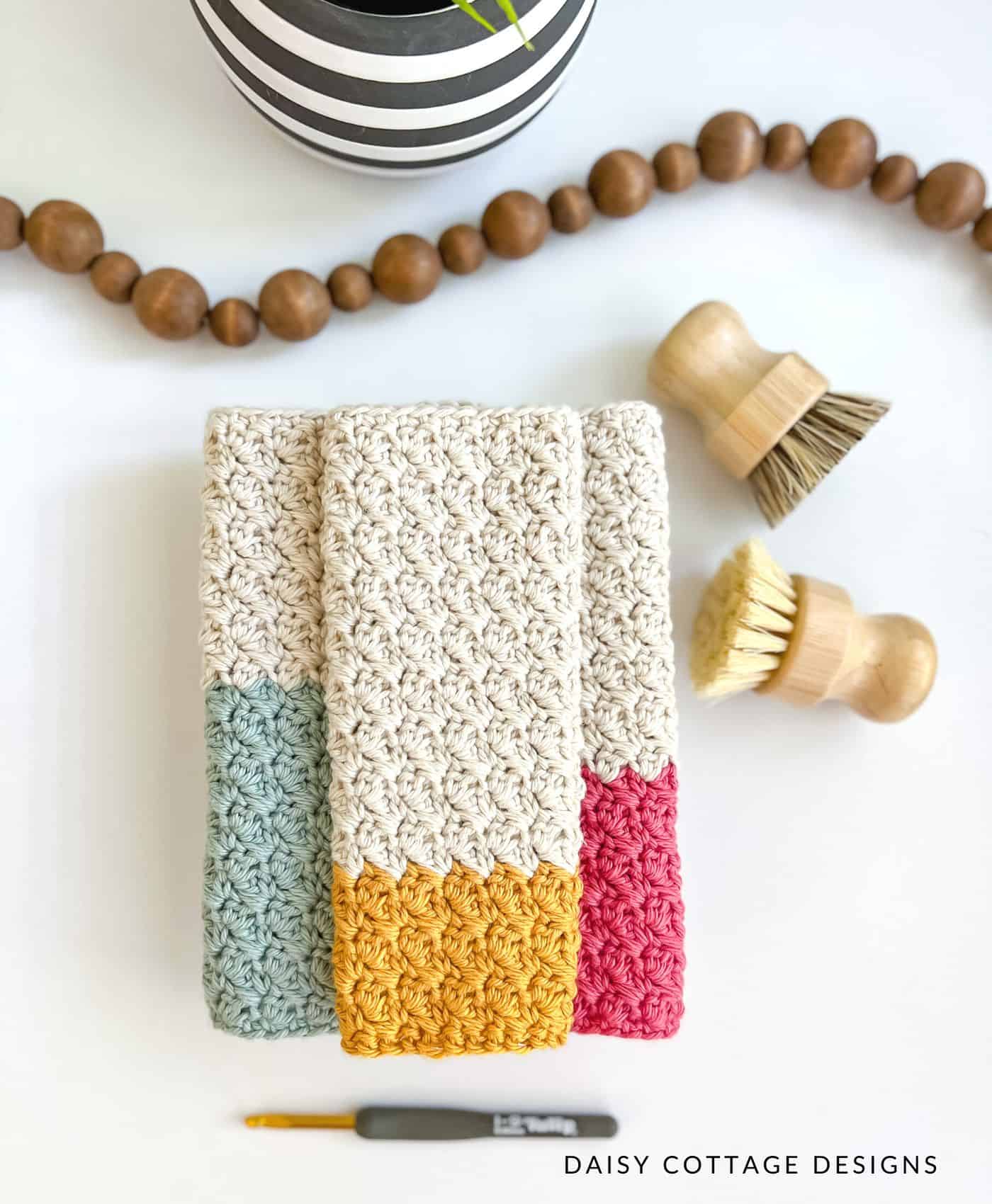 Suzette Stitch Dishcloth Pattern
Chain 31 or any odd number of stitches.
Row 1: sc in the 2nd ch from the hook and in each ch across to the end of row. Ch 1, turn.
(You should have 30 single crochet stitches)
Row 2: hdc in the first stitch (don't skip anything). *skip a stitch, work a sc and dc in the next stitch* across. End with a hdc in the final stitch. Ch 1, turn.
(You should have a total of 30 stitches. 14 single crochet, 14 double crochet, and a half double crochet on each end).
Row 3: hdc in the first stitch. *skip a stitch, work a sc and dc in the next stitch* across. End with a hdc in the final stitch. Ch 1, turn.
Note: you will be working into the sc stitches from the previous row.
Rows 4-26: Repeat row 3.
Row 27: sc in the first stitch and in each stitch across.
If you're making something other than a dishcloth you may have a different number of rows. Regardless, your final row should be all single crochets.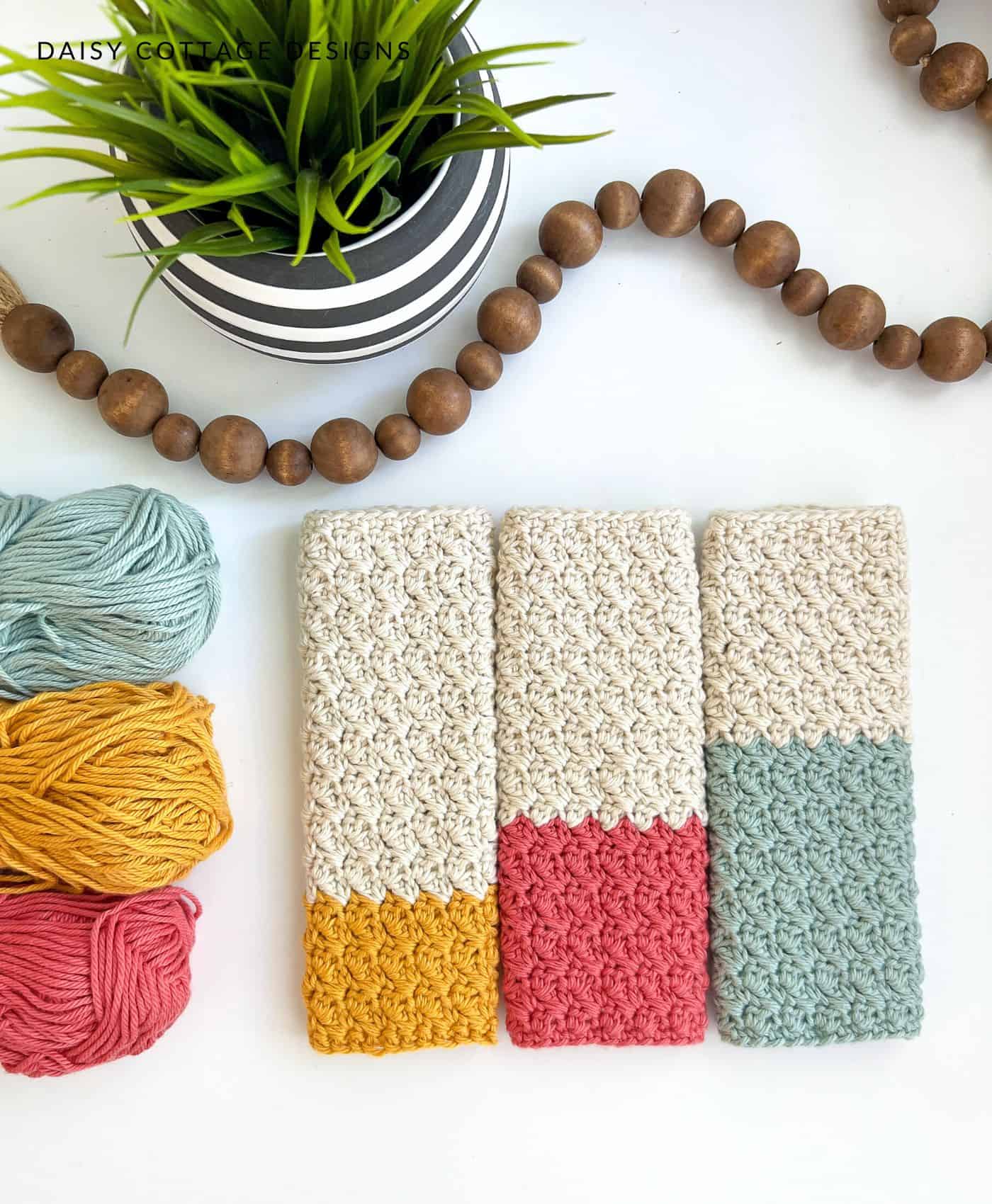 To create the dipstick/color-block effect shown in my photos, follow these row counts:
Mustard: work the first 7 rows in mustard and the remaining 20 rows in cream.
Red: work the first 11 rows in red and the remaining 16 rows in cream.
Teal: work the first 15 rows in teal and the remaining 11 rows in cream.
Need a little help changing colors? Learn how I seamlessly change colors.
Optional Border (not shown in photos):
Single crochet evenly around the entire project working three sc in each corner. Sl st to the top of the first stitch to join.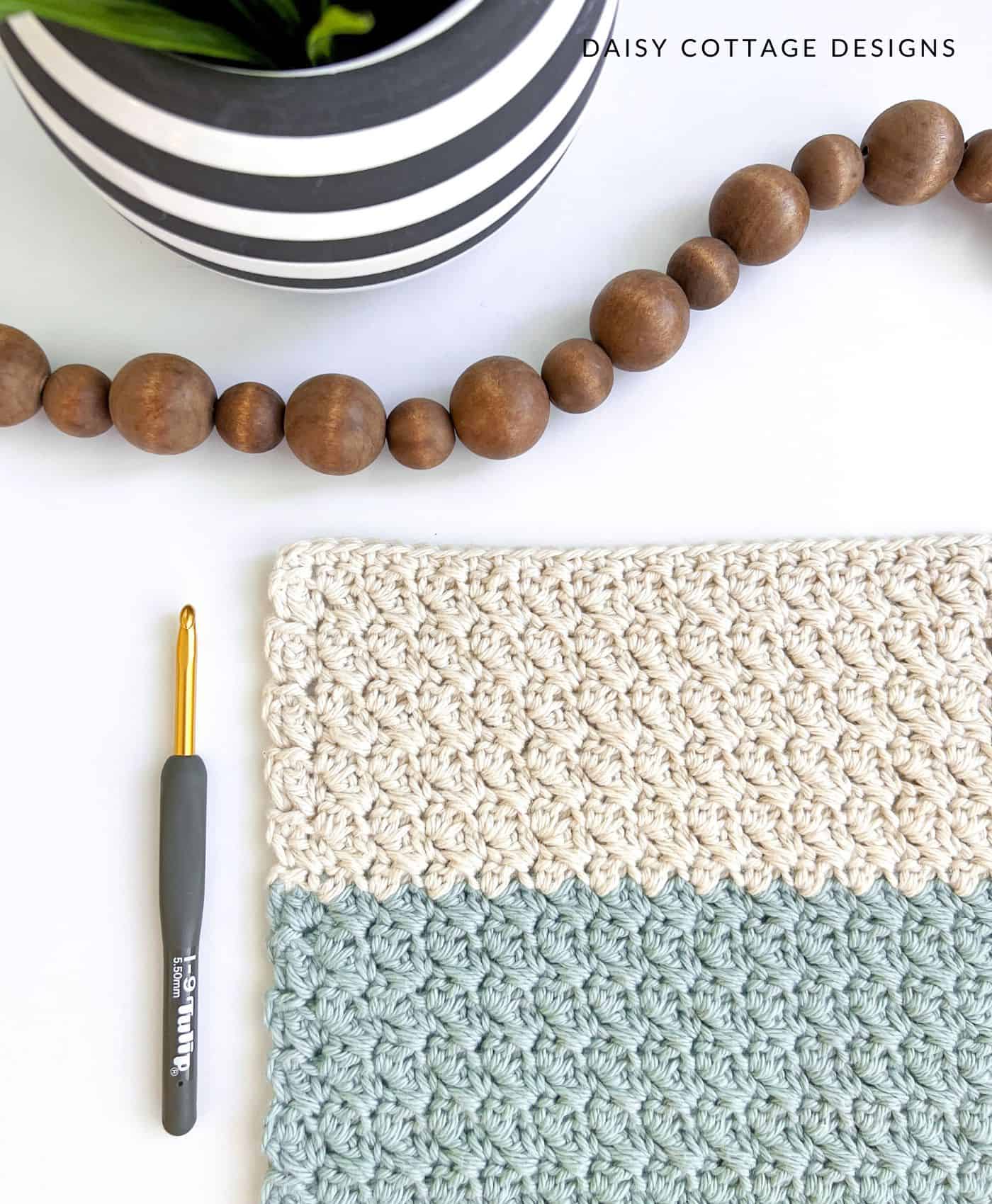 Other Project Ideas Using the Suzette Stitch
This perfect stitch is very versatile. If you've fallen in love and you'd like to make something else with it, grab your favorite yarn and make one of these other items.
I've given suggested size information below, but feel free to experiment. Remember, crocheting is an art, not a science!
Dishtowel – I'd start with a chain of 51 and crochet until my towel was 18 inches long.
Scarf – making a scarf using the Suzette Stitch would be gorgeous and it's on my "to make list." I'd start with a chain of about 27 and work until my project was about 70 inches long.
Baby Blanket – I'd start with a chain of 101 and work until my blanket was square.
Washcloth – simply follow the directions above. A dishcloth and a washcloth are exactly the same when it comes to crochet 😊
If you make one of these projects, be sure to work your last row using the single crochet stitch.
This stitch looks beautiful using stripes, but there's plenty of visual interest to work your project all in one color.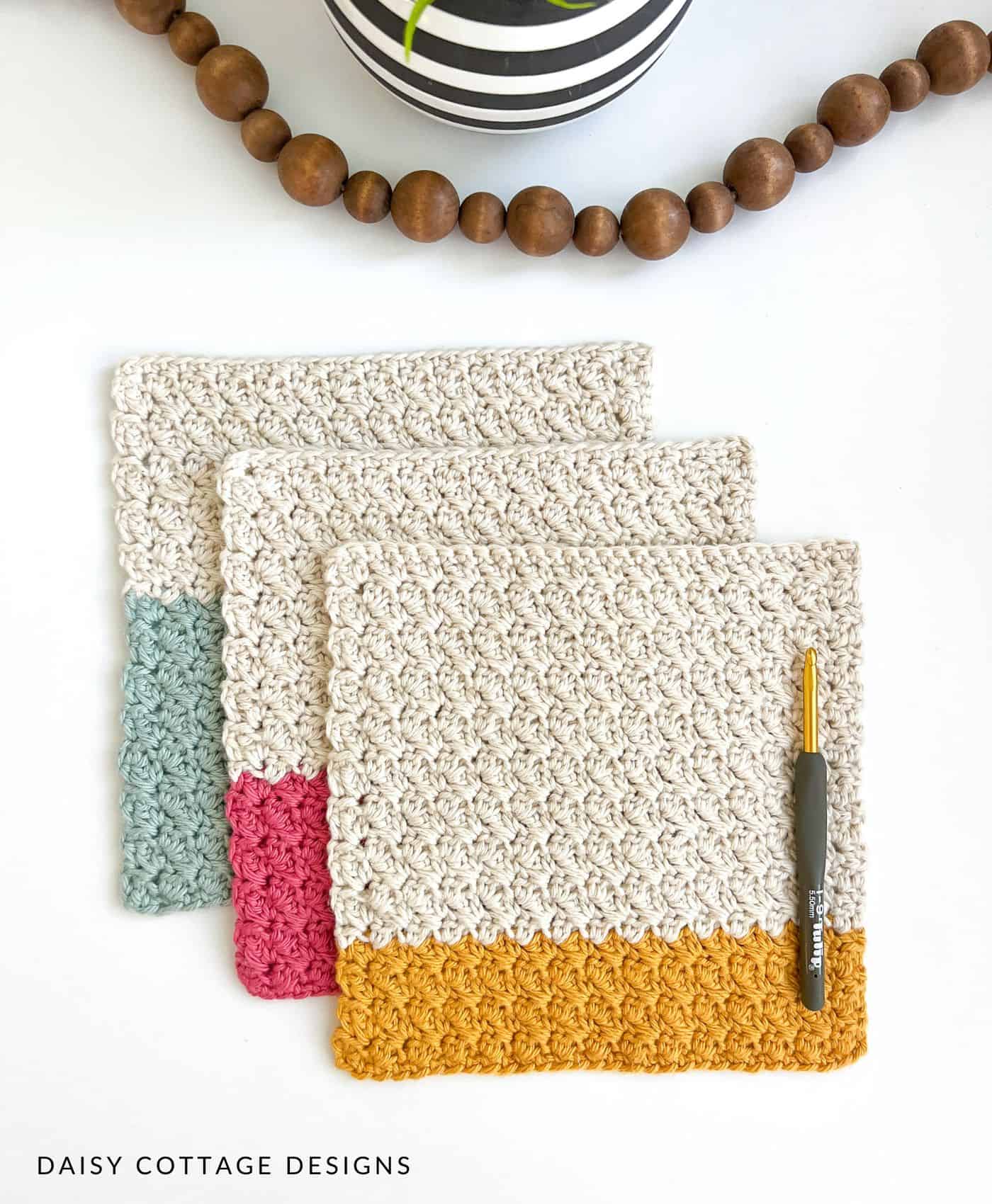 Other Stitch Tutorials
If you've mastered this stitch and you're ready to try another easy crochet stitch pattern, try one of these: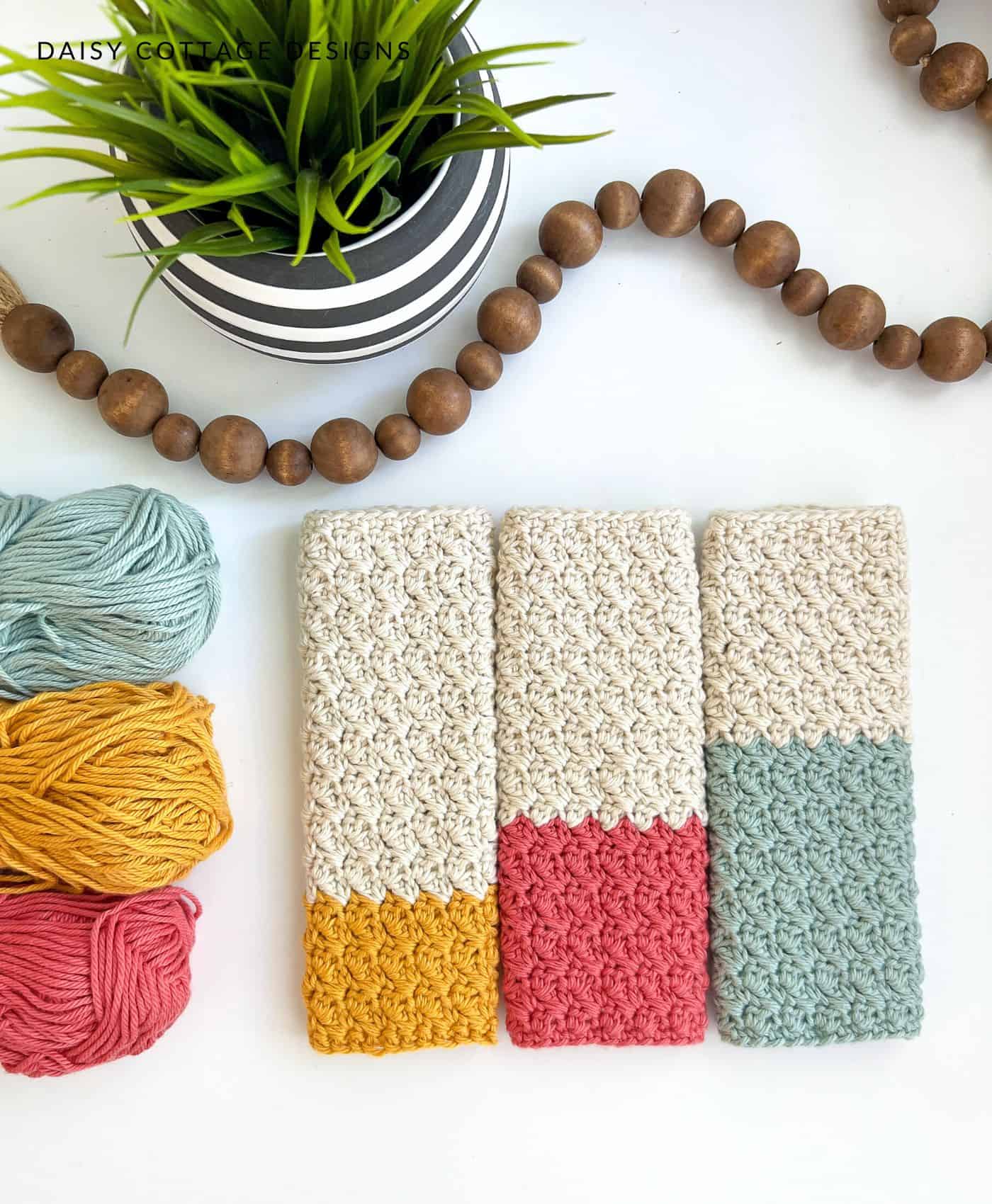 Share Your Work!
From the first stitch to the last, I hope you enjoyed learning this crochet stitch tutorial. I know it's a beautiful stitch that I'll be using over and over again.
If you did enjoy it, I'd be thrilled if you'd share a photo of your work with me. You can share it on Facebook or Instagram using #daisycottagedesigns.
You're welcome to sell items you make using the Daisy Cottage Designs Patterns, but please be sure to take your own photos for your listings.