Simple Crochet Dishcloth Pattern, The Lined Simplicity Cloth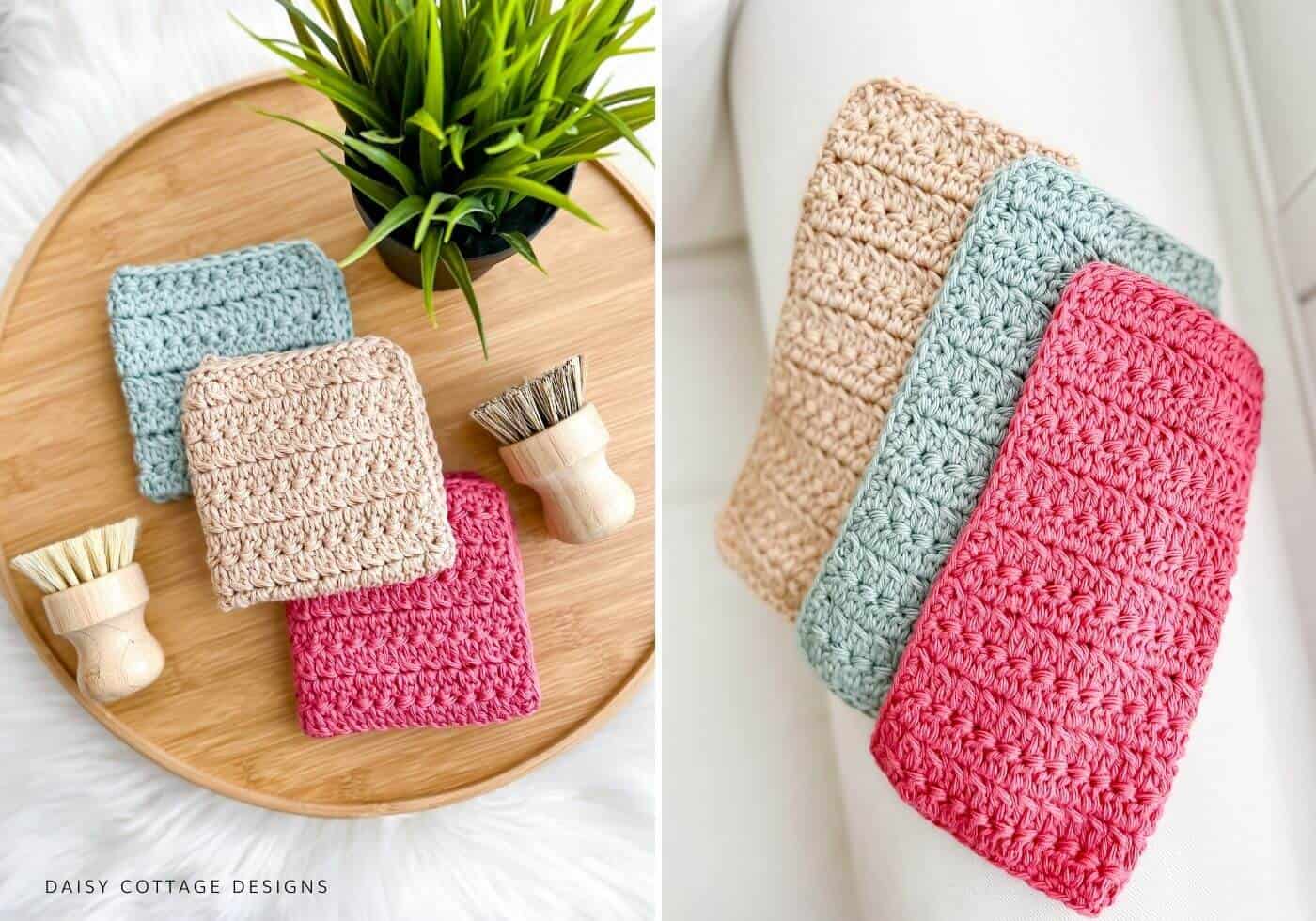 You might have noticed a trend here on the Daisy Cottage Designs website… One of my goals for 2022 is to post a dishcloth or washcloth pattern each month. It is a nice goal for me, and it gives me a break when I'm designing a larger crochet project.
On top of that, I truly do love making these crochet dishcloths and have high hopes of making a beautiful patchwork blanket with them one day. I'm also planning to make a Tunisian crochet dishcloth. Maybe before the end of 2022?
Time will tell.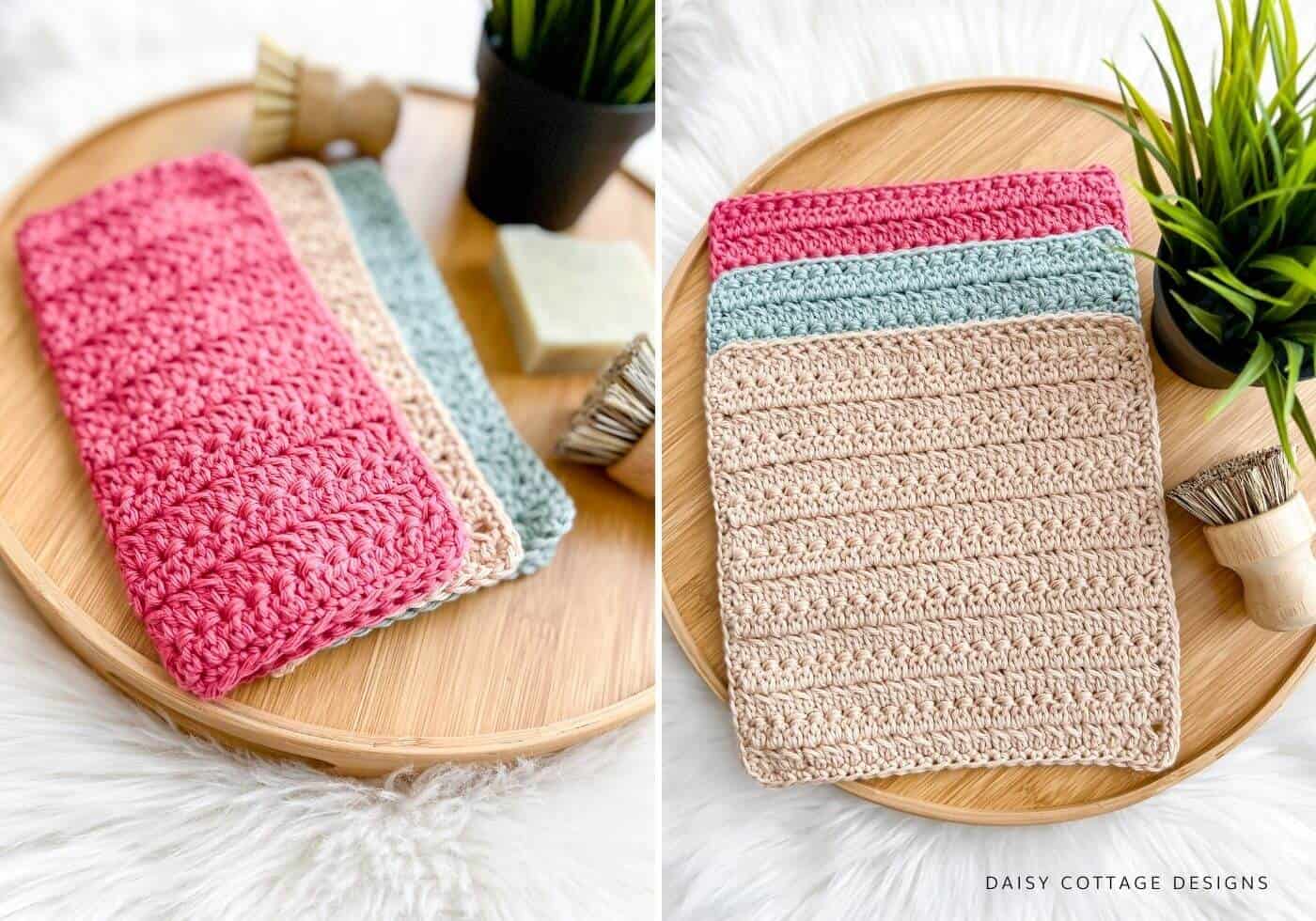 In the meantime, I'm enjoying the therapeutic process of making and writing the patterns for these beautiful cloths.
They're easy for me to make while I'm sitting at the table supervising my daughters as they work on schoolwork, and they're very easily packed to take on the go. If I have more time, they're also a great way for me to practice a new crochet stitch.
This particular crochet stitch is a favorite of mine. While it's not difficult to make, the stitch combinations create a great texture that makes it look much more time-consuming than it is. Even if you're among the large number of beginner crocheters in the world, you won't have a hard time with this easy pattern. If you've mastered the basic crochet stitches, you're going to do great!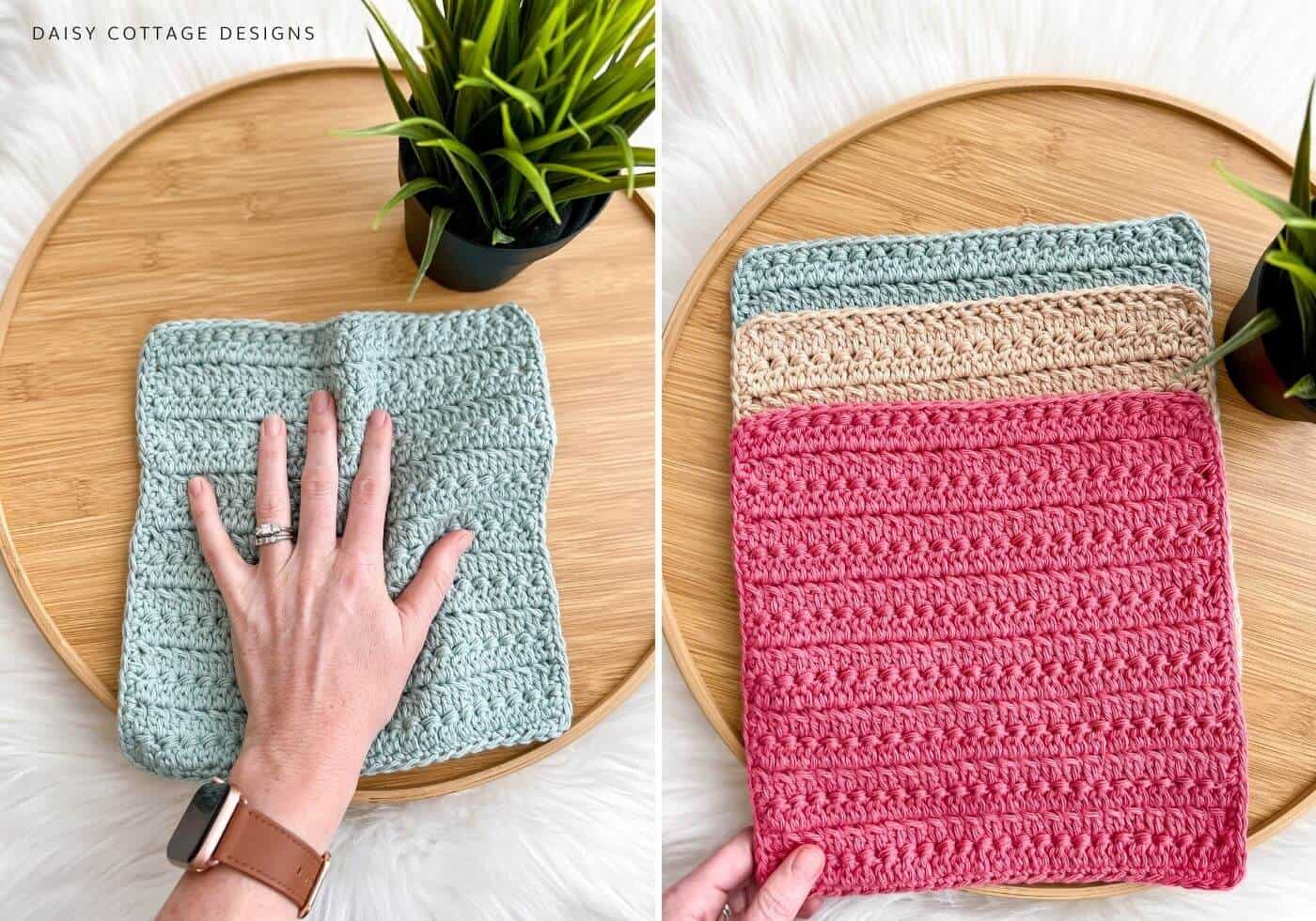 Is your skill lever higher? No problem. You'll still love making this free crochet washcloth pattern.
I know I sound like a broken record, but crochet dishcloths really do make great gifts. Receiving a useful handmade gift paired with a nice handmade soap is such a thoughtful present. These can easily be whipped up in coordinating colors so you can have a stash of gifts ready to grab from when the need arises.
There's only one problem: I've had several people tell me "they're too pretty to use." Don't let this stop you from giving a set of these as a hostess gift. Your friends will get over it and think of you every time they use them.
If you make them for a housewarming gift or some other occasion, tie this gift tag on to create the perfect gift.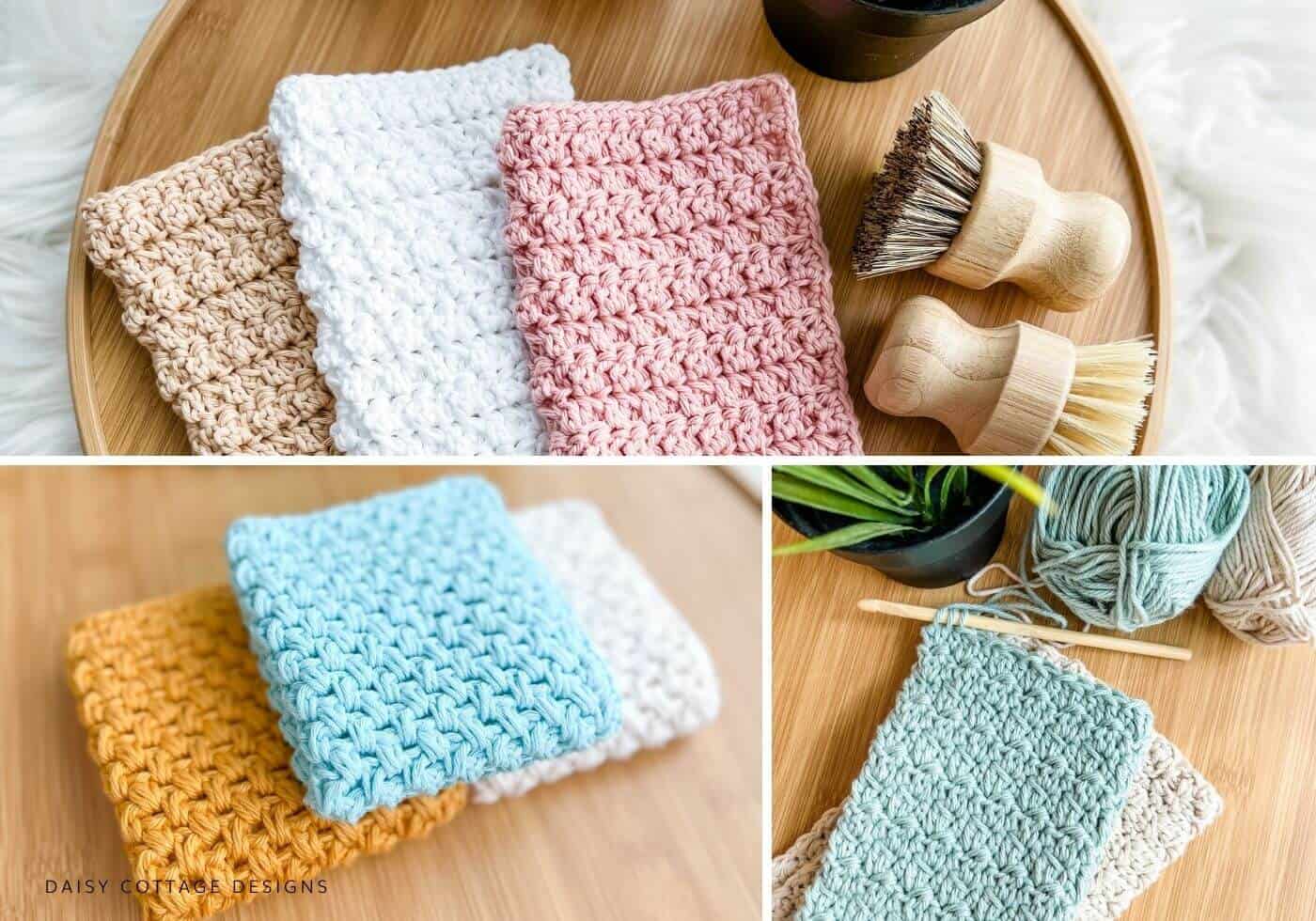 Looking for more free dishcloth crochet patterns? Try more new stitch patterns.
But that's enough chatter. Who's ready for the free crochet pattern?
Simple Dishcloth Crochet Pattern
If you're not ready to make this pattern now,
Materials:
I/9/5.5 mm Crochet Hook
85 yards of worsted weight yarn (100% cotton or a cotton blend) – this is a great project to work through your yarn stash or to try out a new yarn.
I used Hobby Lobby I Love This Yarn! in the following solid colors:
Find out more about my favorite cotton yarns here.
Tapestry Needle & Scissors
Pattern Notes:
Finished cloths measure approximately 9 inches square. If you want to make this into a dish towel, just keep crocheting until it's 15-18 inches long.
Ch 2 does NOT count as a stitch
Do NOT work into the turning chain at the end of each row.
To make this cloth larger, simply increase your starting chain and crochet until your work is square.
If this is a new crochet stitch pattern for you, this video tutorial will get you started.
Please use #daisycottagedesigns to share your work with me on Instagram! I'd LOVE to see it.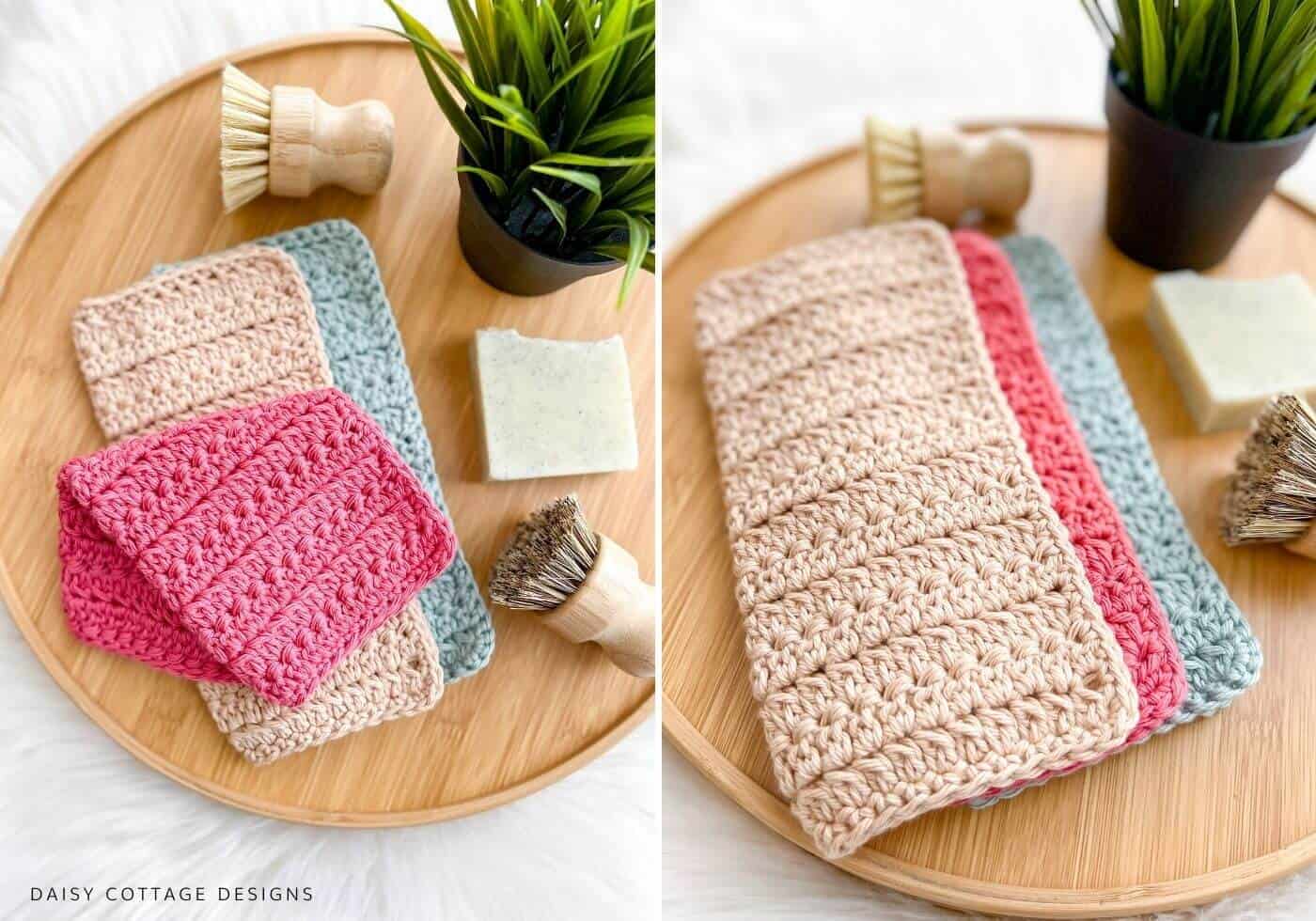 Special Stitch:
DC2Tog: yarn over, insert hook into stitch, pull up a loop. Pull through two loops. Yarn over, insert hook into same stitch, pull up a loop. Pull through two loops. Pull through 3 loops
This variation of the double crochet stitch is an easy stitch with a pretty texture. Just remember, you're working the entire dc2tog in the SAME stitch.
Chain 24.
Row 1: dc in the third ch. dc2tog in the next ch and in each chain across. Ch 2, turn. (You should have 1 dc and 22 dc2tog stitches at the end of row.)
Remember: the each dc2tog is worked in ONE stitch.
Row 2: dc in the first stitch (remember, don't skip anything). Dc2tog in the next st and in each stitch across. Ch 2, turn.
Rows 3 – 15: Repeat row 2.
Simple Single Crochet Border:
Single crochet evenly around the entire project working three sc in each corner. Cut yarn and weave ends.
Whether it's your first crochet project or your hundredth, I hope you enjoy this crocheted washcloth. Regardless of your skill level, you have any questions, please feel free to send me an email or reach out to me on Instagram.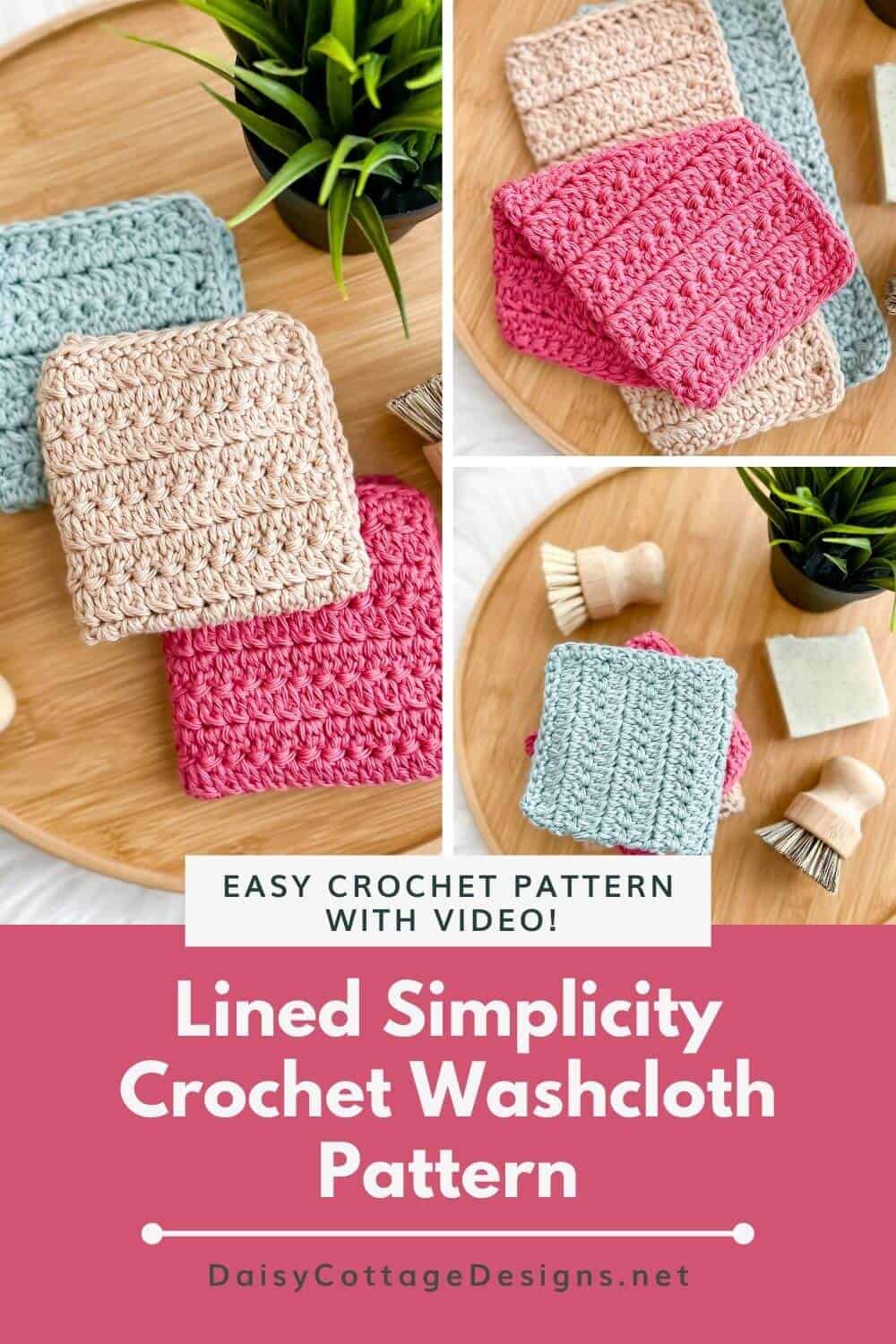 Please remember to tag me if you share your work on social media! Use #daisycottagedesigns on Instagram so I can find your projects.