Seaside Cottage Washcloth Crochet Pattern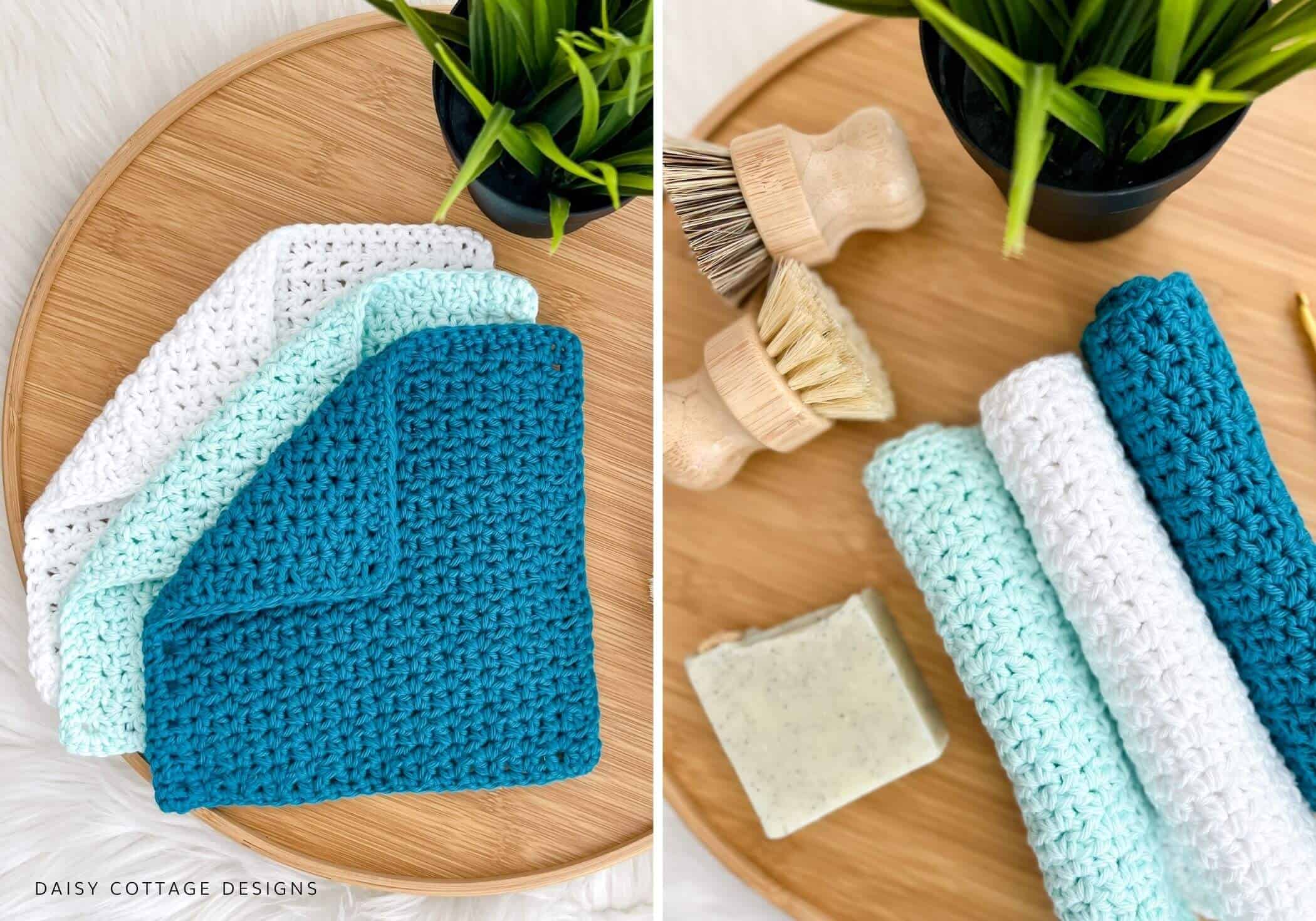 It's obvious that I've fallen in love with writing washcloth crochet patterns (or dishcloth patterns – these are perfect for either). There's really nothing quite like a crochet project that can be finished in less than an hour.
If you like to crochet on-the-go, small, repetitive projects are the perfect pattern choice. In fact, I designed and made these crochet patterns as our family drove back home from Tennessee.
The work up quickly and have great texture.
The Ad-Free, Print-Friendly Version of this pattern is available here. The free version is at the bottom of this post!
If you prefer the free version, it's provided in full in this post.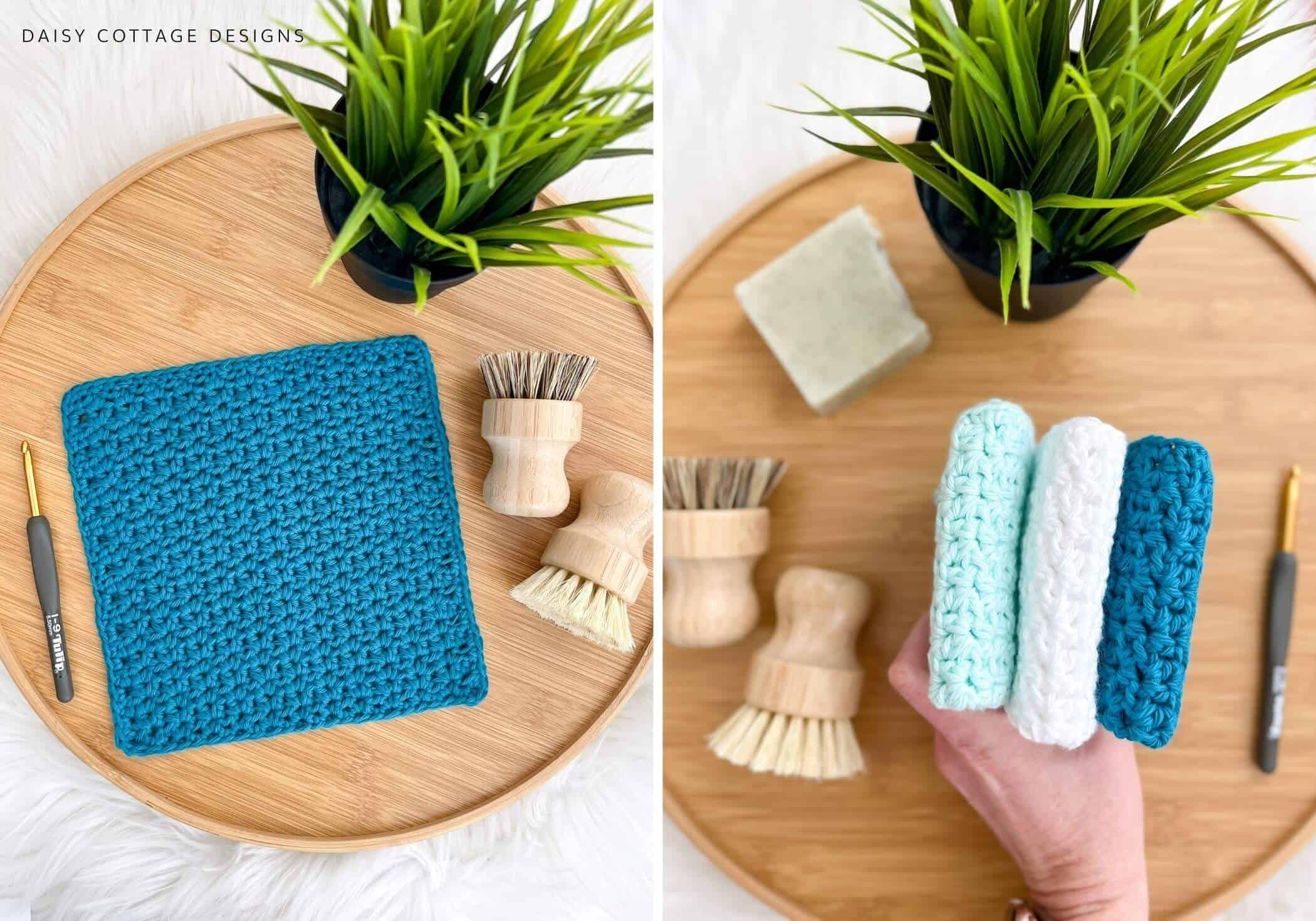 Crochet Dishcloth FAQ:
Before we get to the pattern, let me answer a few questions for you.
"Do people really use crochet washcloths and dishcloths?"
The answer is YES! Here's what a few crochet fans had to say:
"Crocheted cotton dishcloths are the best! They clean dishes better than any dishcloth I have ever used…" – Marion D.

"I delivered mail for 21 years and one of my older gentleman customers made me washcloths and dying towels to hang on the dishwasher handle and I've had them for over 10 years and they still look brand new. Best Christmas gift!" – Cynthia M.

"I made so many I threw out all my store bought ones I'd had and use my crochet ones only. They're fantastic!" – PaigeMarie S.

"Personally, I like them. I feel like they have great scrubbing power!" – Lauren B. (yours truly)
Can I use Acrylic Yarn for Dishcloths?
Sadly, you can't. You're going to want something absorbent and durable. Cotton or a cotton blend yarn is the way to go.
Do I have to use 100% cotton yarn?
The short answer is no.
The more complete answer is this: it's almost always best to be sure that there is more cotton in the yarn than any other fiber.
What size dishcloth is best?
The consensus seems to be that between 8-9 inches is best.
I've got you covered, though. I always let you know how to adjust the size of your cloth so that you can experiment and find the size that's just right for you.
My preference: I prefer a cloth closer to the 8 inch mark, but I've written both to please the masses.
How do I care for crocheted washcloths and dishcloths?
The safest bet is to go with the instructions on the yarn label, but… I never even check that.
I toss my crocheted dishcloths and washcloths in with whatever other towels I'm washing (on hot) and then toss them in the dryer.
If you want them to keep their perfect shape ever time, take them out of the dryer before they're 100% dry, and lay them out flat to dry.
If you are giving these as gifts and you want to let your friends know how to care for them, grab this tag!
Enough questions… let's get to the pattern!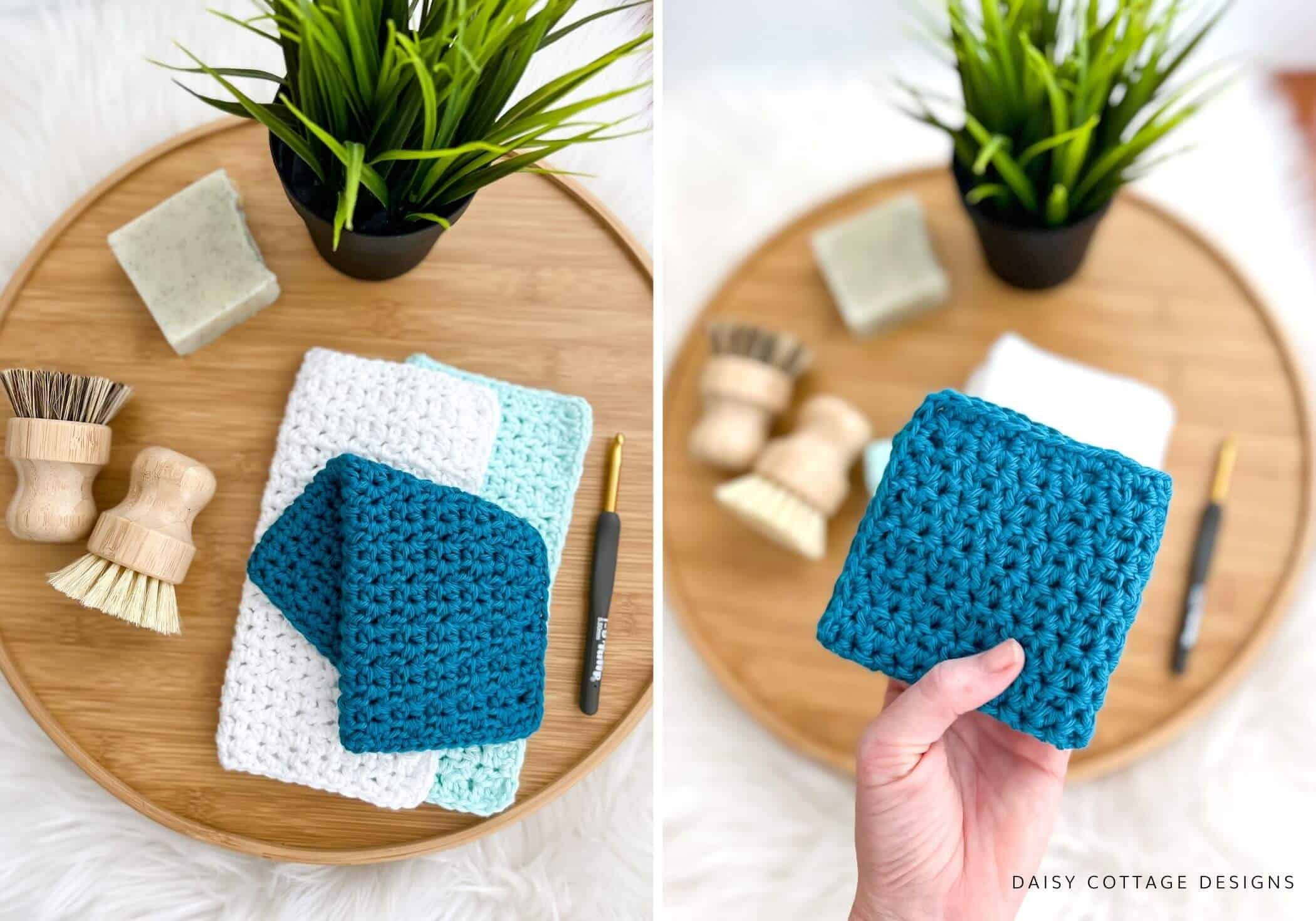 Seaside Cottage Washcloth Crochet Pattern
If you can't make this pattern now:
Buy the Ad-Free, Print-Friendly PDF here.
Text the link to a friend who also loves to crochet!
Materials:
I/9 (5.5) Crochet Hook
Approximately 85 yards of worsted weight yarn per cloth (100% cotton or a cotton blend)
I used Hobby Lobby I Love This Cotton! in the following shades:
Tapestry Needle & Scissors
Pattern Notes:
Finished cloth measures approximately 8 inches square.
You do NOT work into the turning chain at the end of each row
To make this washcloth/dishcloth bigger, chain until you reach the width you want. Be sure to end with an even number of chains.
A video tutorial for this stitch is available here.
Special Stitch:
hdc V stitch: hdc, ch 1, hdc in the same stitch.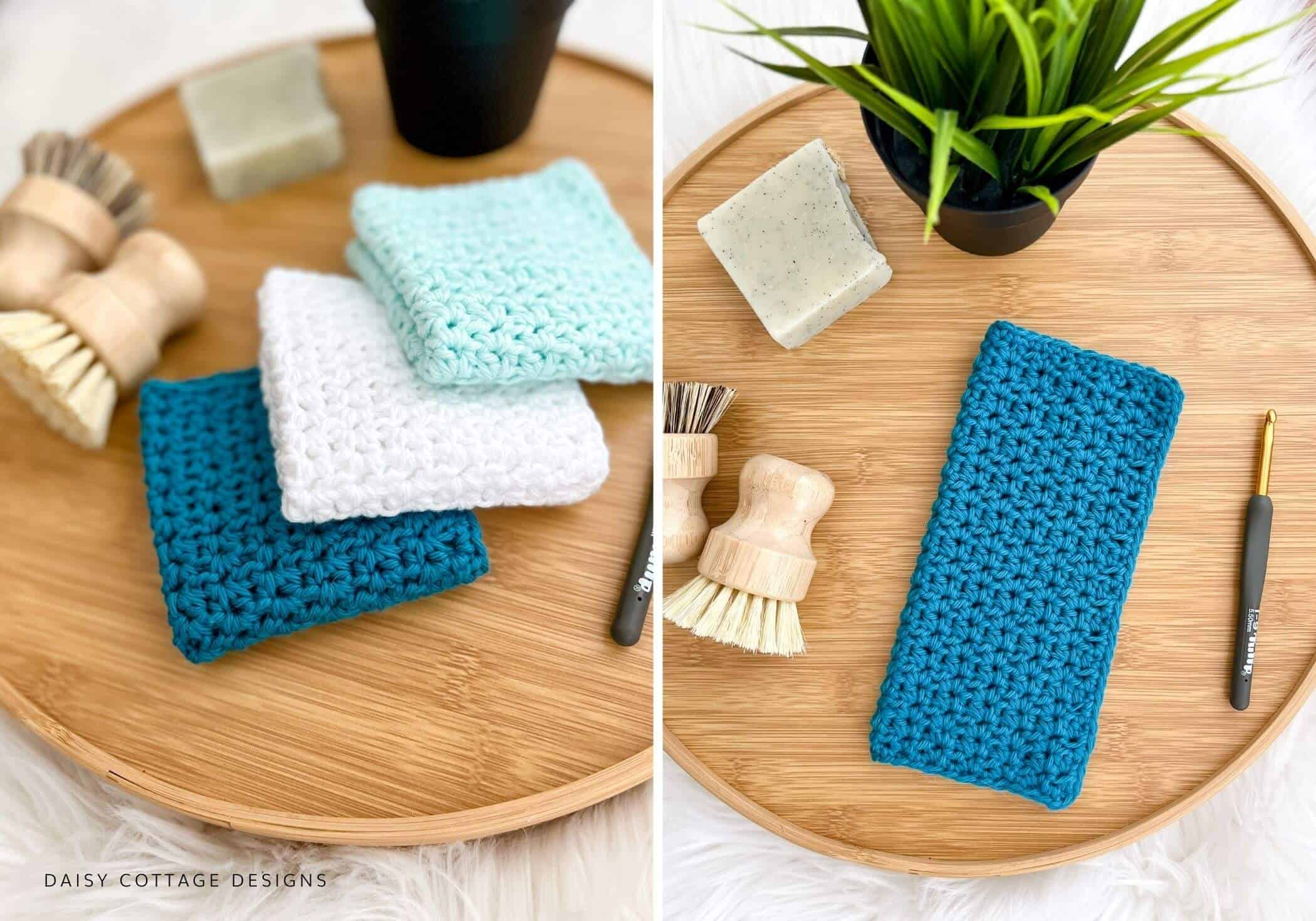 Instructions:
Ch 28
Row 1: sc in the second ch from the hook and in each ch across. (27 sc). Ch 1, turn.
Row 2: hdc in the first stitch, skip the next stitch, hdc v stitch in the next. *skip 1 stitch, hdc v stitch in the next* to the last stitch. Hdc in the last stitch. Ch 1, turn.
Row 3: hdc in the first stitch, hdc v stitch in each ch 1 space across. Hdc in the last stitch. Ch 1, turn.
Rows 3-23 (or until your project is square): Repeat row 3.
Border:
Single crochet evenly around the entire cloth.
Work *sc, ch 2, sc* in each corner.
Want to make more crochet dishcloths and washcloths?
I have released one (or more) every month this year! Here they are for you.