Easy Crochet Blanket Patterns (Perfect for Beginners!)
You don't need to know a lot of fancy crochet stitches to make a beautiful crochet blanket. Here you'll find easy crochet blanket patterns, as well as tips and tricks for making the perfect crochet afghans.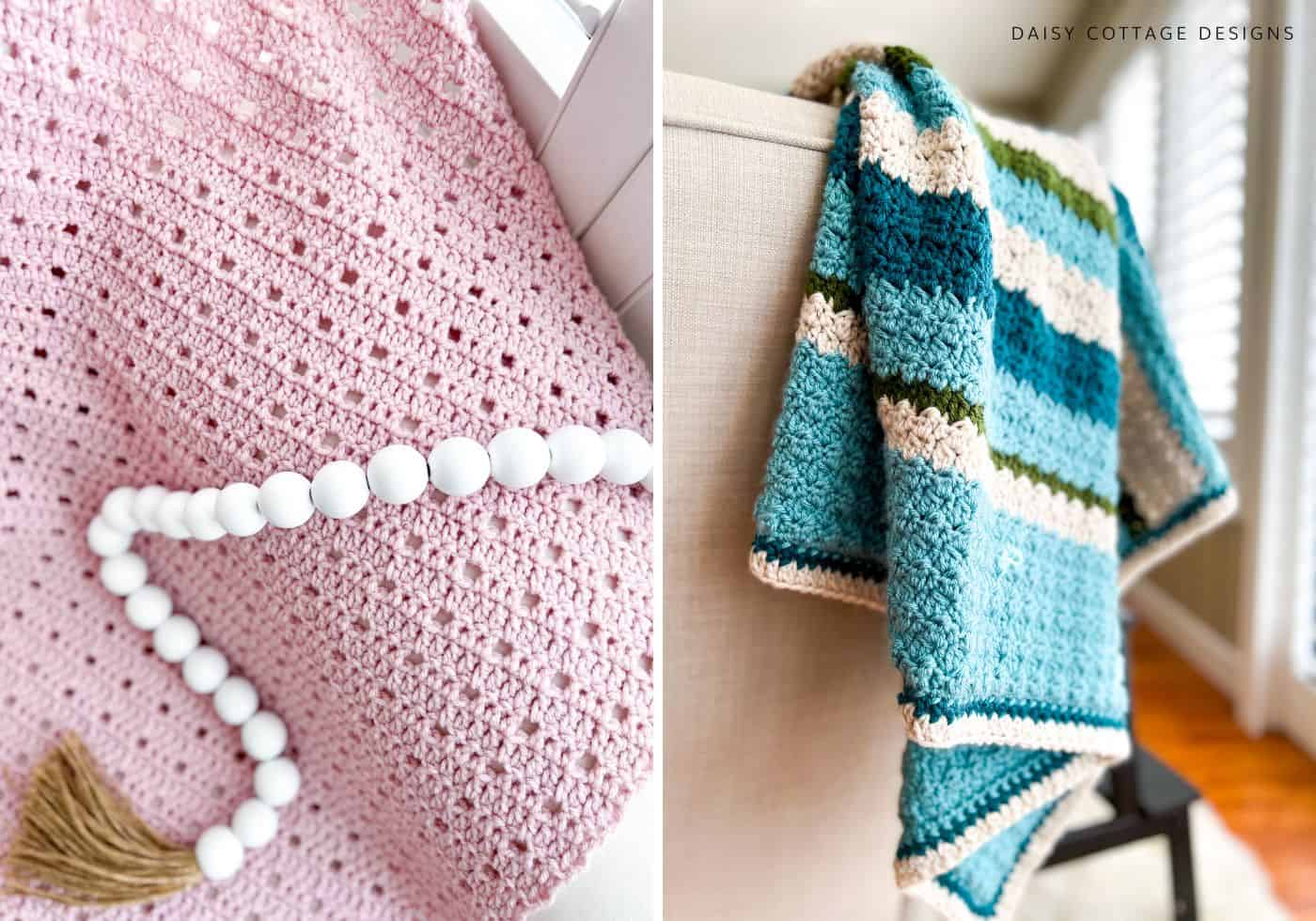 Are you a beginner crocheter who's looking for the perfect pattern to use for your very first crochet blanket? I've got your back! Below you'll find a list of easy crochet blanket patterns that are just right for everyone – even beginners.
Even if you're not a confident, experienced crocheter, you can still use these free crochet blanket patterns to make gorgeous afghans or baby blankets that will be treasured for years to come.
When I was learning to crochet, I got frustrated by the "beginner" patterns that weren't as pretty as most of the crocheted afghans I saw on Pinterest. Once I started designing, I was sure to create beautiful stitch patterns with clear instructions that could be followed even by the newest crocheter. 
So, grab that new crochet hook and some yarn and let's get crocheting! 
Materials You'll Need to Make Easy Crochet Blankets
Thankfully, there aren't many items you need when it comes to crocheting. However, having the right tools on hand before you start your first crochet blanket will set you up for success!
Crochet Hooks: I really recommend starting with an ergonomic hook. This will help you stay consistent with your tension and prevent your hand from cramping. This is a nice starter set, but any crochet hooks will do just fine! 
Yarn: You'll need a couple skeins (a fancy word for balls) of yarn. Find my favorites here. 
Metal Yarn Needle & Scissors: Also called a tapestry needle, you'll use a large-eyed needle to weave in the ends on your blanket. Get a metal needle rather than one made of plastic. I promise, it's the better way to go. Scissors are for trimming the excess bits of yarn when you're finished so make sure they're sharp! 
Ruler or Tape Measure: This is helpful when checking gauge (some patterns list how many stitches there should be per inch). 
Pattern: Head to Etsy and search "easy blanket crochet patterns" or find a free pattern online.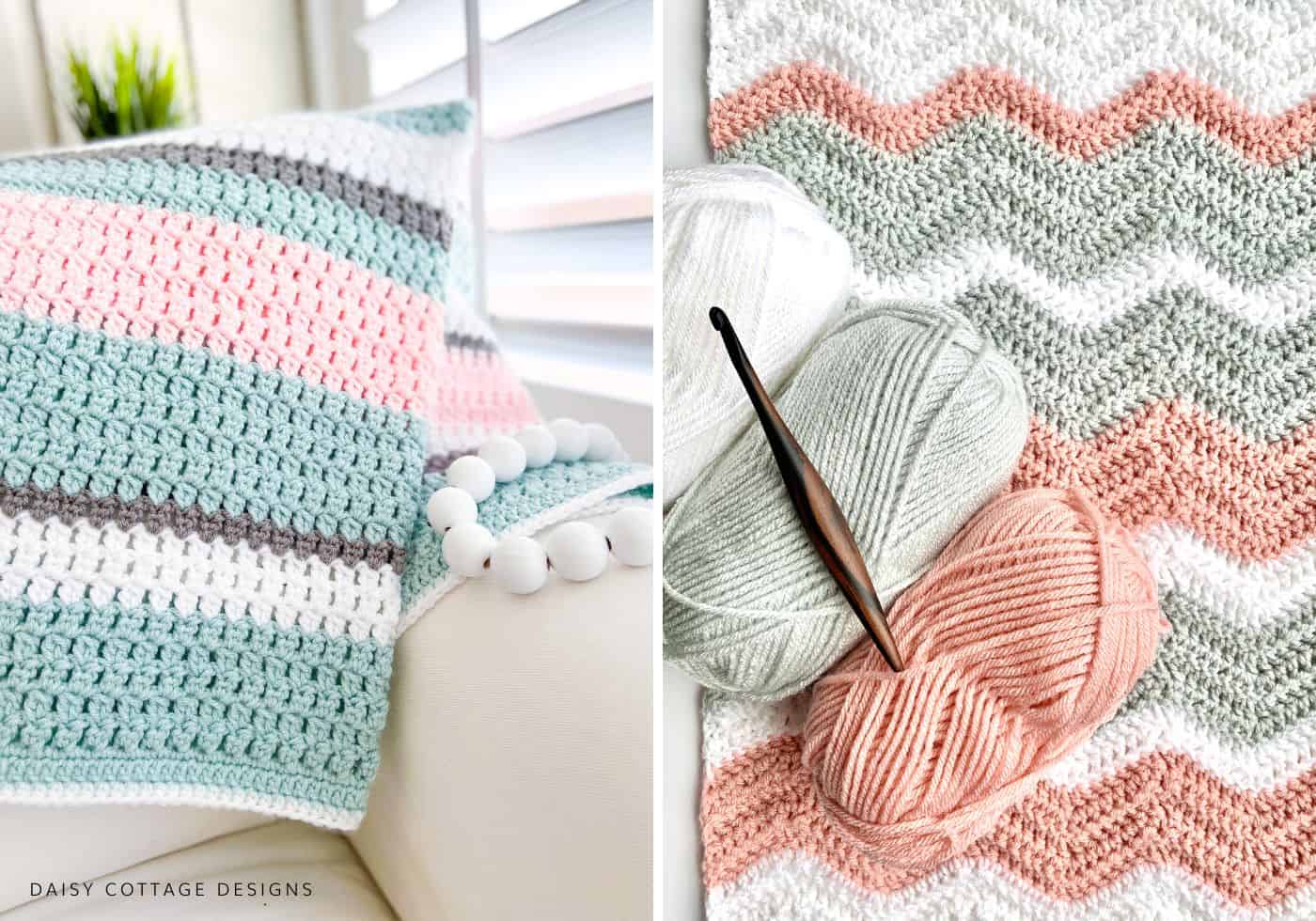 How to Crochet an Easy Blanket Pattern
The simplest blankets are made using one of the basic stitches – single crochet, half double crochet, or double crochet – in back and forth rows. This is a fine place to start, but you might not get the exact results you want.
If this is what you feel up to, let me walk you through the steps.
Step 1: Choose a medium weight (worsted weight) acrylic yarn in a medium shade (don't go too dark or too light) and an I/9 5.5 mmcrochet hook. 
Step 2: Choose the stitch you want to use. Double crochet stitches will work up the most quickly, but half double crochet stitches look the best, in my opinion. 
Step 3: Chain until your blanket is the width you want. For a baby blanket, you'll probably want to chain somewhere between 100 and 150 stitches. For a small throw blanket, chain somewhere between 150 and 200. 
Step 4: Crochet the first row using the stitch of your choice (before starting, check YouTube for step by step instructions on the stitch you choose). 
Step 5: Continue working back and forth in rows until you reach your desired length.
Step 6: Cut your yarn and weave the ends. Find out how to do that here.  
If you want to make blankets that are more than one color, find out how to effectively change colors in crochet.
Let me be honest with you, though. If you can make one of these blankets, you are ready to make any of the blanket patterns below. It might seem a little bit intimidating at first, but I'll walk you through the steps and all of them have video tutorials.
How to Pick the Best Yarn for Blankets
It can be a little shocking when you go on your first yarn shopping trip. There are so many types of yarns – thick ones, thin ones. Cotton ones, wool ones. Solids and stripes. Fleece and Velvet. How do you know what yarn to choose?
I really recommend starting with a pattern that uses worsted weight yarn. This medium weight yarn will work up quickly without being hard to handle. Once you're comfortable working worsted weight yarn, then you can try something a little thinner (like a double knit yarn) or a little thicker (like a bulky yarn).
I also think it's a good idea to start with an acrylic yarn or some sort of blend. Most acrylic yarns glide on the hook and most are very affordable. If you decide it's not your favorite, you haven't spent an arm and a leg.
You can find the lowdown on my favorite yarns for crochet blankets and pick one of my go-to yarns if you don't already have some skeins on hand.
Tips for Perfect Crochet Blankets
The most common questions I hear from new crocheters are along these lines: Why aren't my edges straight and neat? Why is my blanket bigger on one end? Why doesn't my blanket look neat?
Here are my top tips for making sure your blankets look as good as possible right off the bat.
Count your stitches. The most common reason your edges aren't straight is that you're putting too many or too few stitches in your rows. Sometimes you might have put your first stitch in the wrong place, or maybe two stitches were worked in the same spot in the rows. Be sure you didn't accidentally skip the last stitch, too. Rows that are off even by just one or two stitches can really impact your blanket size.

Use stitch markers. Mark the first stitch of your row. That way, when you're crocheting the next row, you know where to work your final stitch and you won't be left wondering if you've gotten to the end or if there's one more stitch.

If you have long rows, consider placing a stitch marker every 10 to 20 stitches so you don't lose track of where you are and so you can easily count the number of stitches you have when you get to the end of the row.

Keep your tension even. If you've done everything I've mentioned above and your crochet blanket is still getting wider or narrower, you might be changing your tension throughout the project. Some of us get a little looser as we go, while others get a little tighter. Pay close attention to the way you form your stitches, pull your yarn, etc. and try your best to keep it consistent.

Try blocking. If you're unfamiliar with blocking, it can fix almost all minor tension mistakes. First, dampen your afghan. After this, manipulate the stitches by pulling and tugging a little bit here and there to make your edges perfectly straight. When you've got everything just the way you want it, pin it down onto foam mats or a layer of towels and let it dry completely.

This is especially helpful for making sure square blankets stay perfectly square.
Easy Crochet Blanket Patterns
These easy crochet blanket patterns are some of the simplest yet most beautiful free crochet blanket patterns. Don't be intimidated by the look, just jump right in and ask questions if you need to!
I'm going to do my best to list them in order of difficulty, but that is tough because that can be very subjective. Remember, they all have video tutorials to help you be successful!
This easy crochet blanket is written in 5 sizes (baby lovey through twin bed), and is a simple combination of stitches. Using double crochet stitches mixed with chains (abbreviated ch), this blanket has a fun texture and a lot of visual interest.
To make the baby blanket size shown, you'll need 2 large skeins of yarn and an J/10/6.00 mm hook.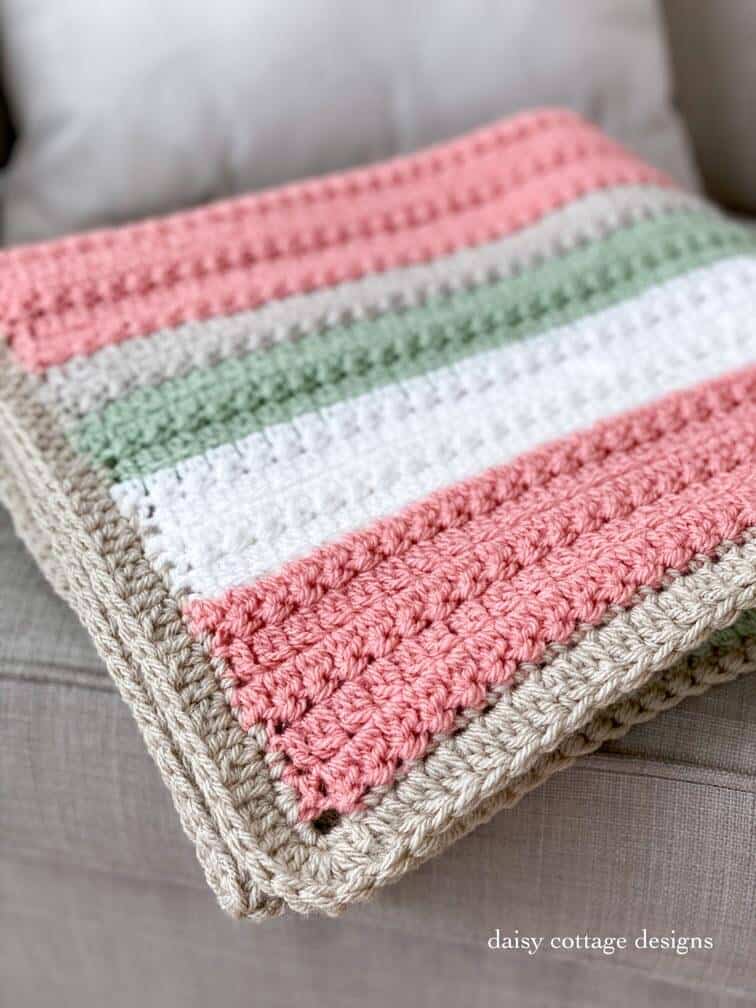 2. The Textured Stripes Blanket
This simple pattern was published in 2020 and quickly became the most visited pattern on my website. It uses a very simple cluster stitch (I walk you through it step-by-step) that creates a gorgeous texture.
This crochet baby blanket pattern has one repeat row and will look beautiful with stripes or in one color. 
Note: If the thought of changing colors scares you, let me show you how to change colors the proper way.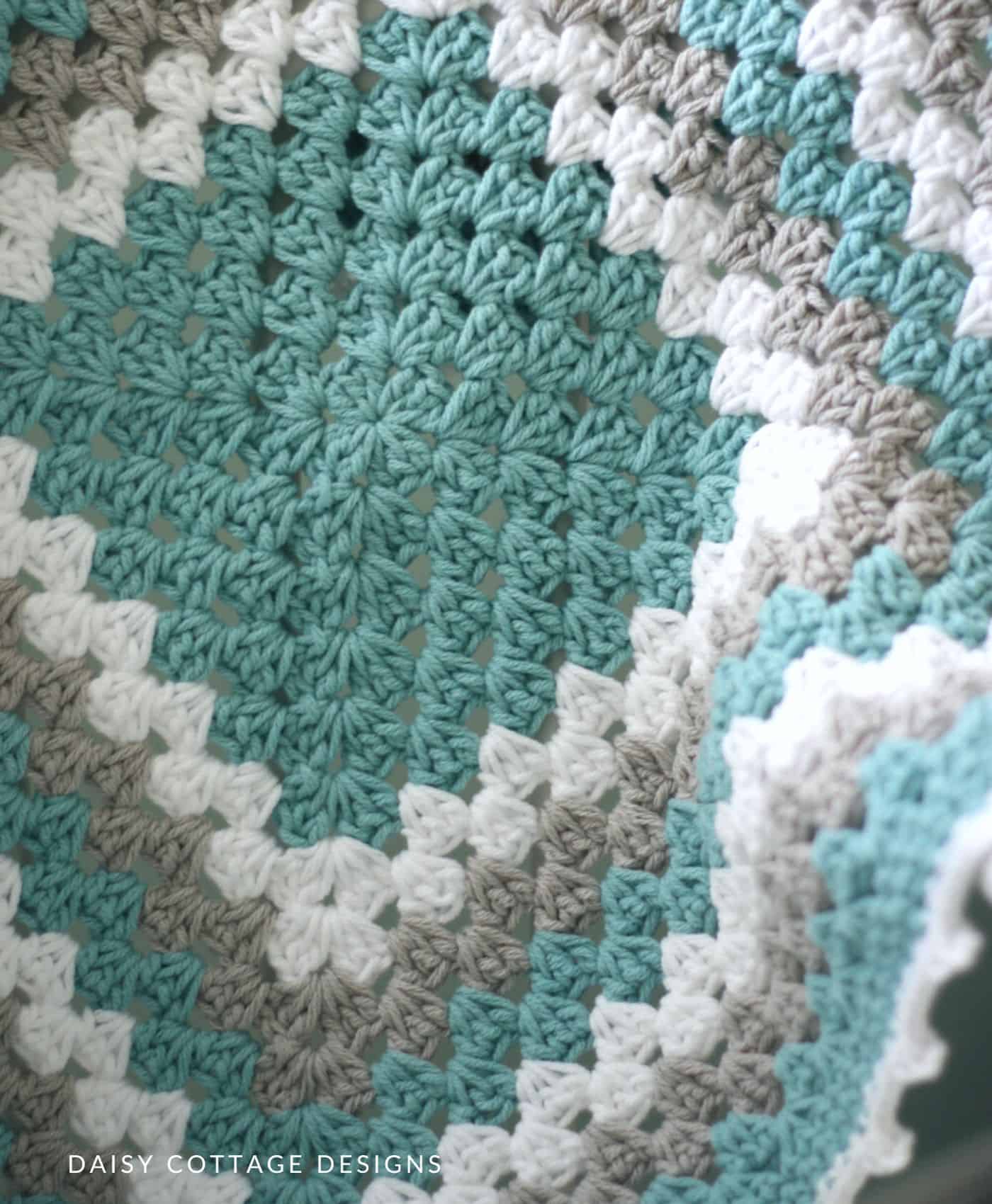 3. The Classic Granny Square Blanket
The granny square is an iconic crochet pattern. While you might think it's difficult to make, it isn't! This simple crochet blanket is small and makes a wonderful gift for baby showers. Even a new crocheter will be able to make it in a flash.
One of the neatest things about a granny square blanket is you can make them as big or as small as you want by following the same basic pattern.
Note: I do not have my own video on this one. But, there are plenty of videos out there to help you with a granny square blanket.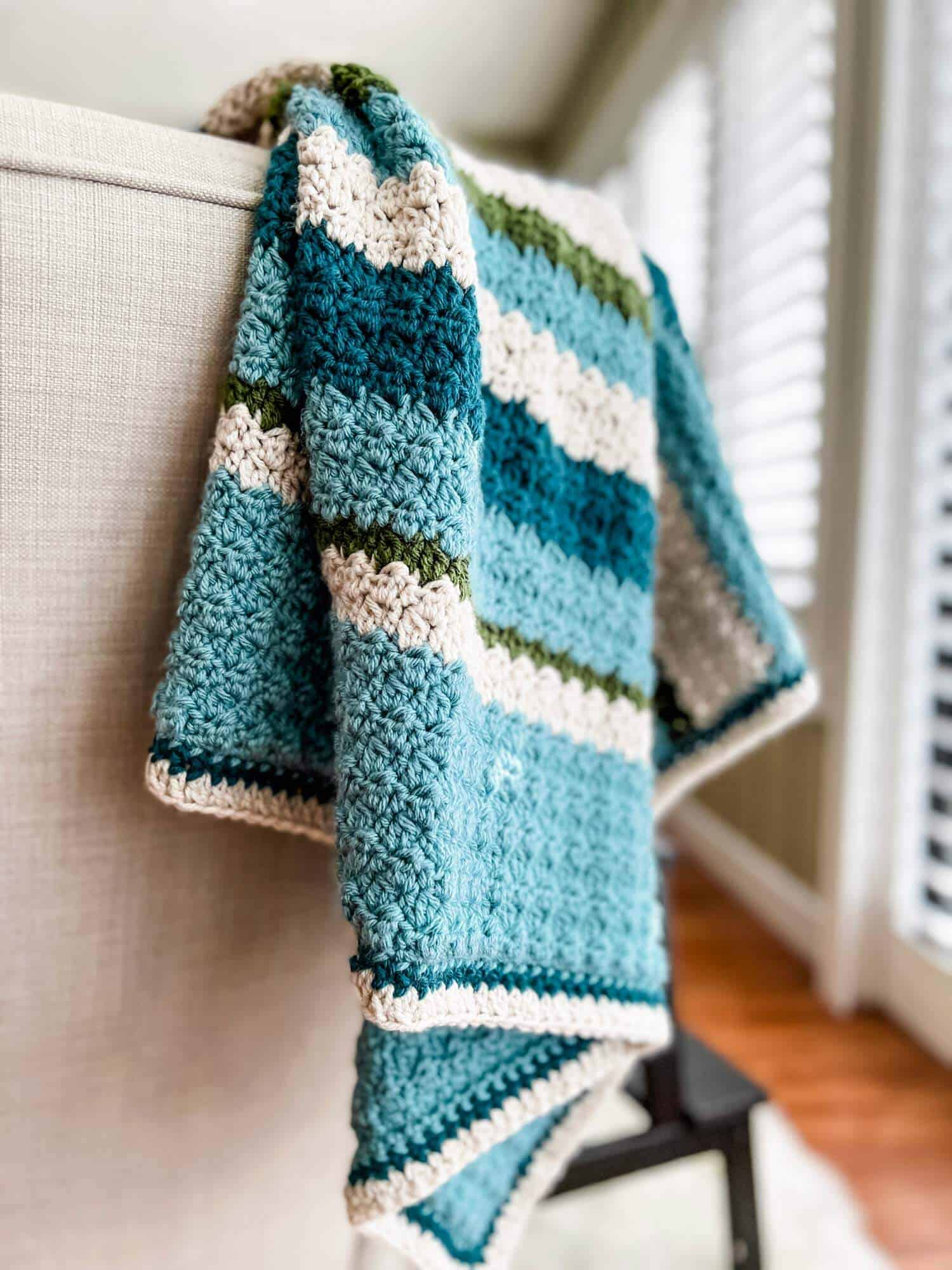 4. Easy Striped Blanket Pattern
If you can make a double crochet and a half double crochet, you can make this blanket. It uses a mixture of stitches to create a little more visual interest and texture. This is a beautiful crochet throw pattern that you will love making.
This blanket has a permanent home in our living room, and everyone in our family loves cuddling under it.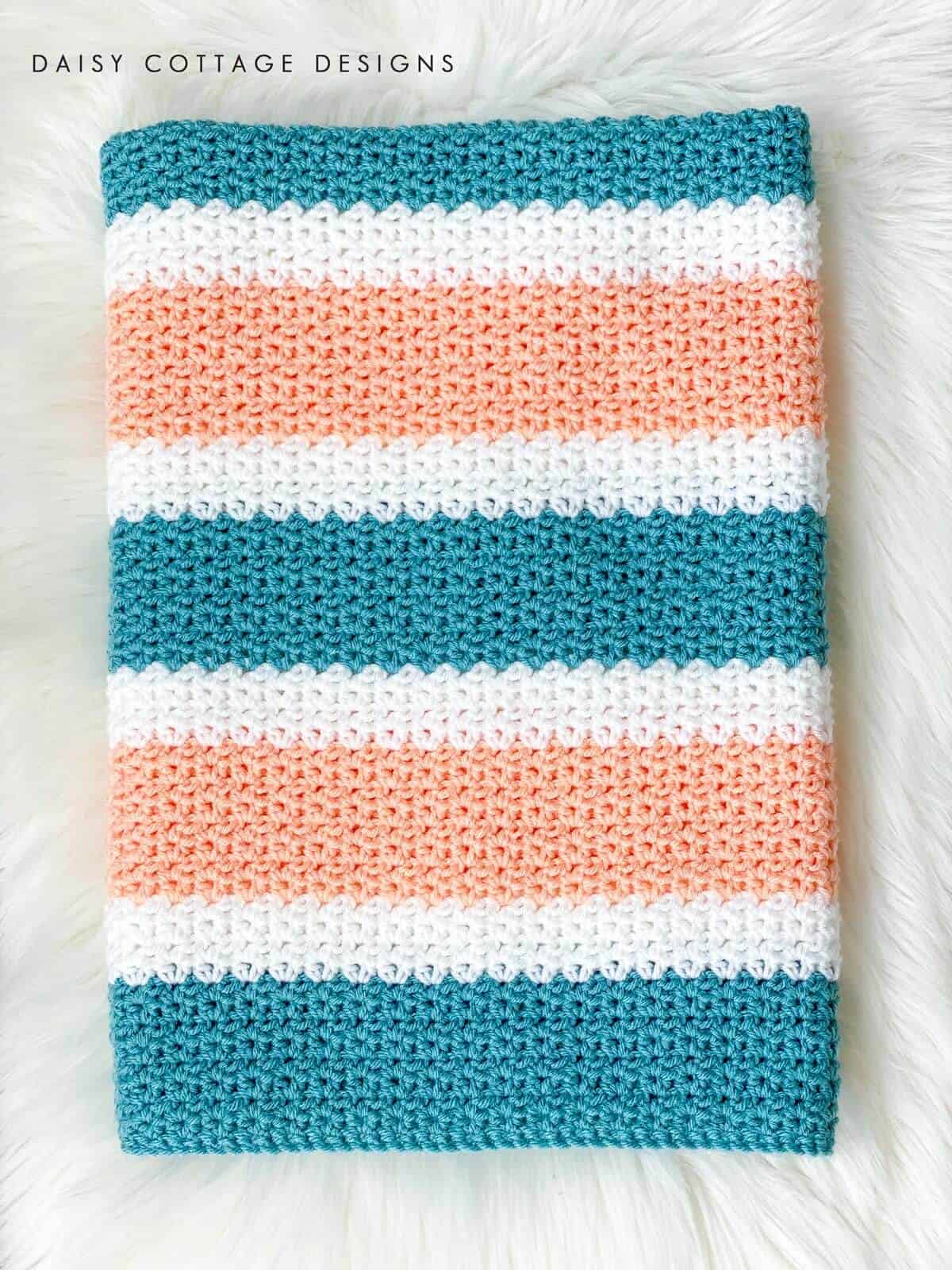 This blanket is a mixture of half double crochet stitches and chains. It's a beautiful, relaxing stitch that is easy to work.
It's the perfect home decor piece or baby shower gift. Instructions are given to make this blanket in any size you want. The optional fringe is a fun extra detail.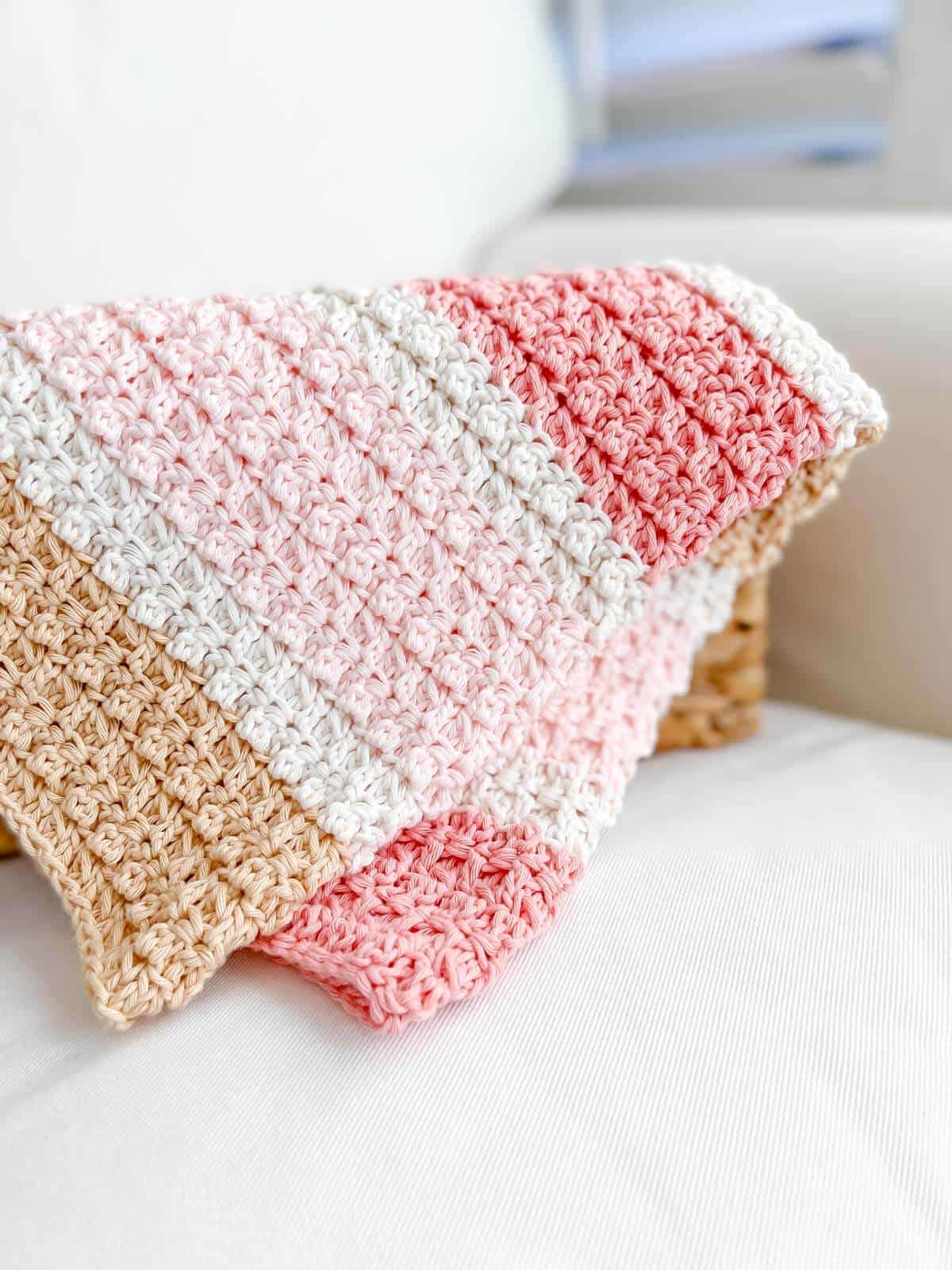 6. Strawberry Cone Crochet Blanket
This blanket has the best texture. It's created by working the stitches into the back and front loops. Sound hard? It's NOT, I promise.
The video tutorial will walk you through where to insert your hook so you'll be able to easily create this beautiful blanket.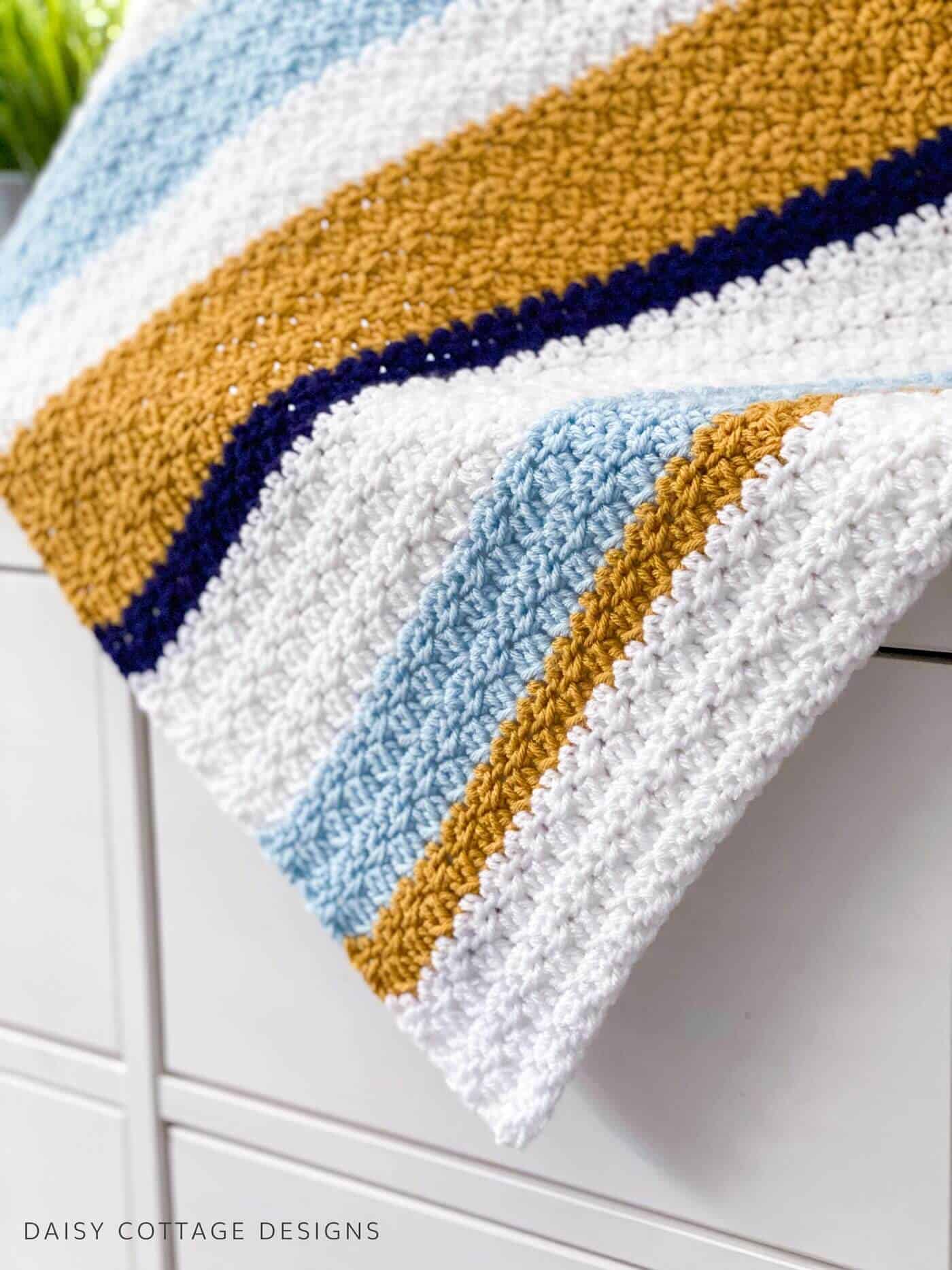 7. The Sand & Sea Throw Blanket Crochet Pattern
This simple blanket is a beautiful pattern that's easier than it looks. One of my best friends made this last year as her first crochet project ever and it turned out beautifully. 
It's a lovely blanket that can be made in various sizes.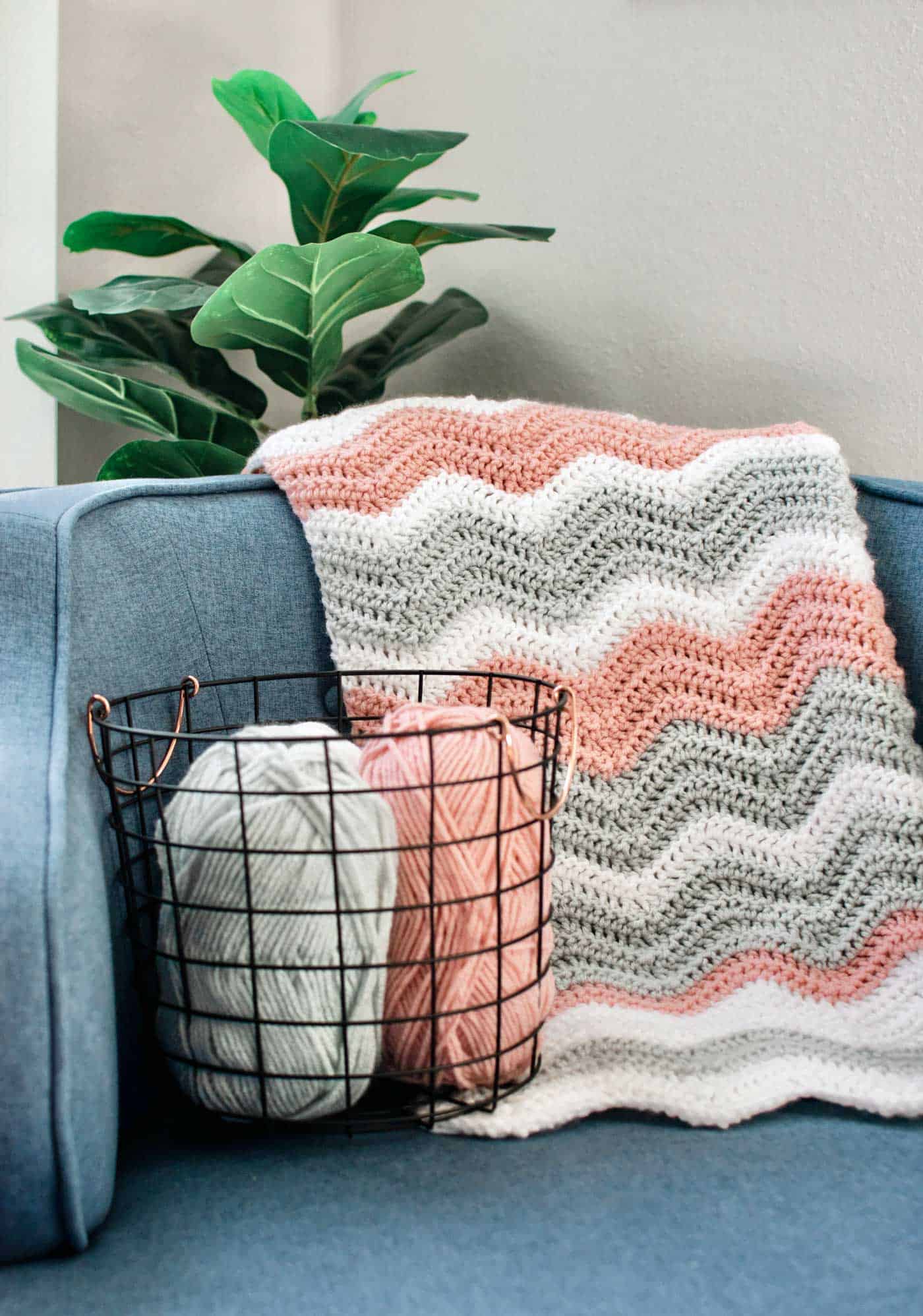 A ripple blanket can seem a little bit daunting at first, but once you get the hang of it it'll become one of your go-to blankets. It's a classic pattern that uses mostly basic crochet stitches.
The video tutorial in this pattern will answer any questions you might have and I know you'll be well on your way to making a beautiful ripple in no time.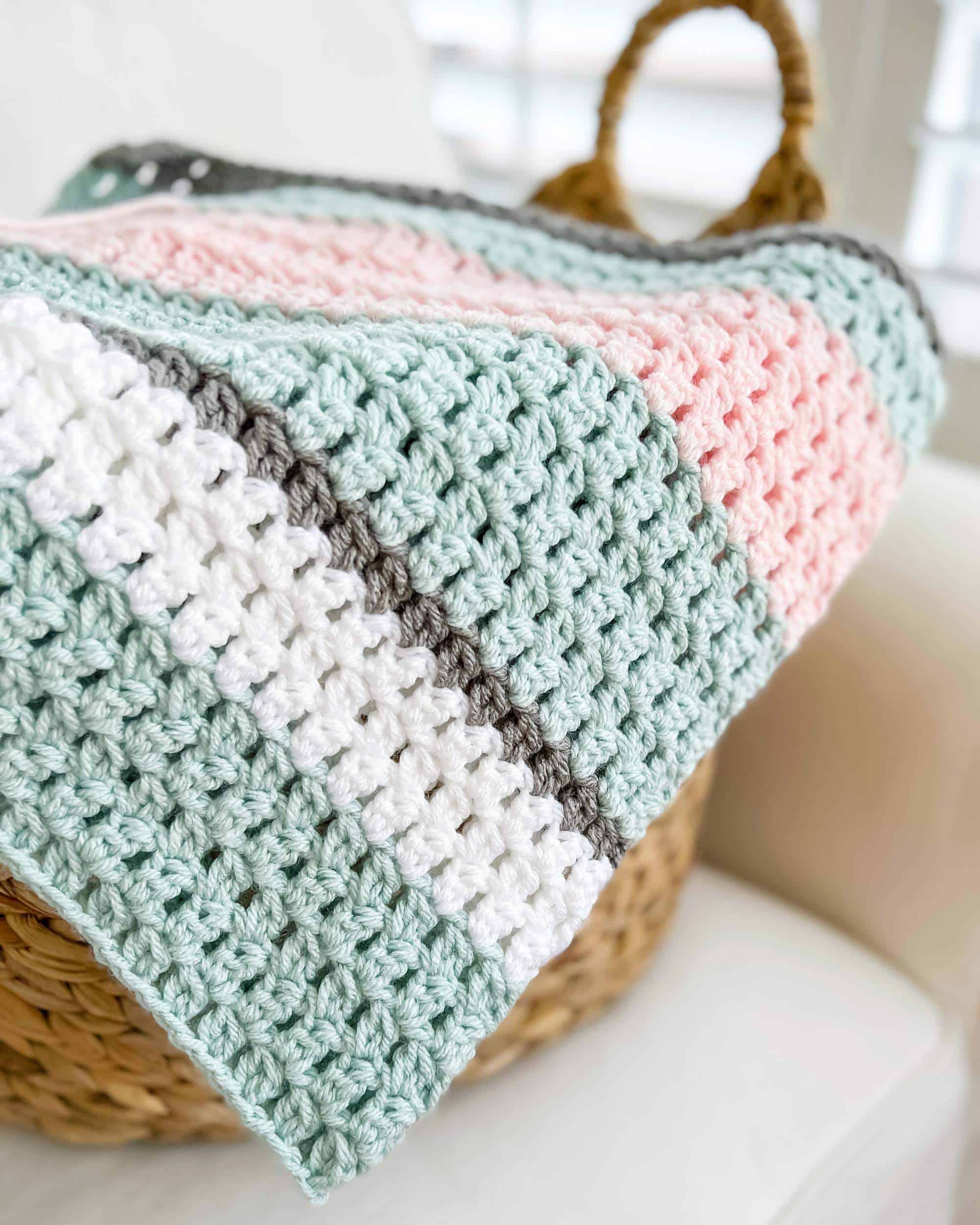 This blanket is a simple, single row repeat that involves double crochet clusters and chains. The tall stitches work up quickly, so you'll have a beautiful blanket in short order.
If you can make a double crochet, I'm confident you can make this blanket after watching the video tutorial! You can do this!
A Quick Pep Talk:
I understand that these might not be your typically "beginner crochet blanket patterns," but I truly believe that even the newest crocheter can make these gorgeous blankets if you will take some time and learn the stitch.
Just because it's not just a one stitch repeat doesn't mean that it's tough! I've gotten messages from lots of new crocheters showing me their finished projects. I know you can be one of those people, too!
Ready for More Crochet Patterns?
If you enjoyed these easy crochet blanket patterns, you're going to love all the other easy-to-follow crochet patterns here at Daisy Cottage Designs. From flowers to tote bags and everything in between, there's a pattern for you no matter what you feel like crocheting. They combine simple stitches to make beautiful crochet patterns and that's the best thing for new crocheters.
If you're looking for the best patterns to learn new crochet stitches, let me recommend starting with these patterns. I love working dishcloths when I'm learning a new stitch. These small projects are quick and will help you gain confidence.