11 Top Yarn Choices for Crochet Blankets
If you've ever looked for the best yarn for a crochet blanket, you've found that the options are almost endless. So what's the best yarn for a crocheted blanket? Read on to find my favorites!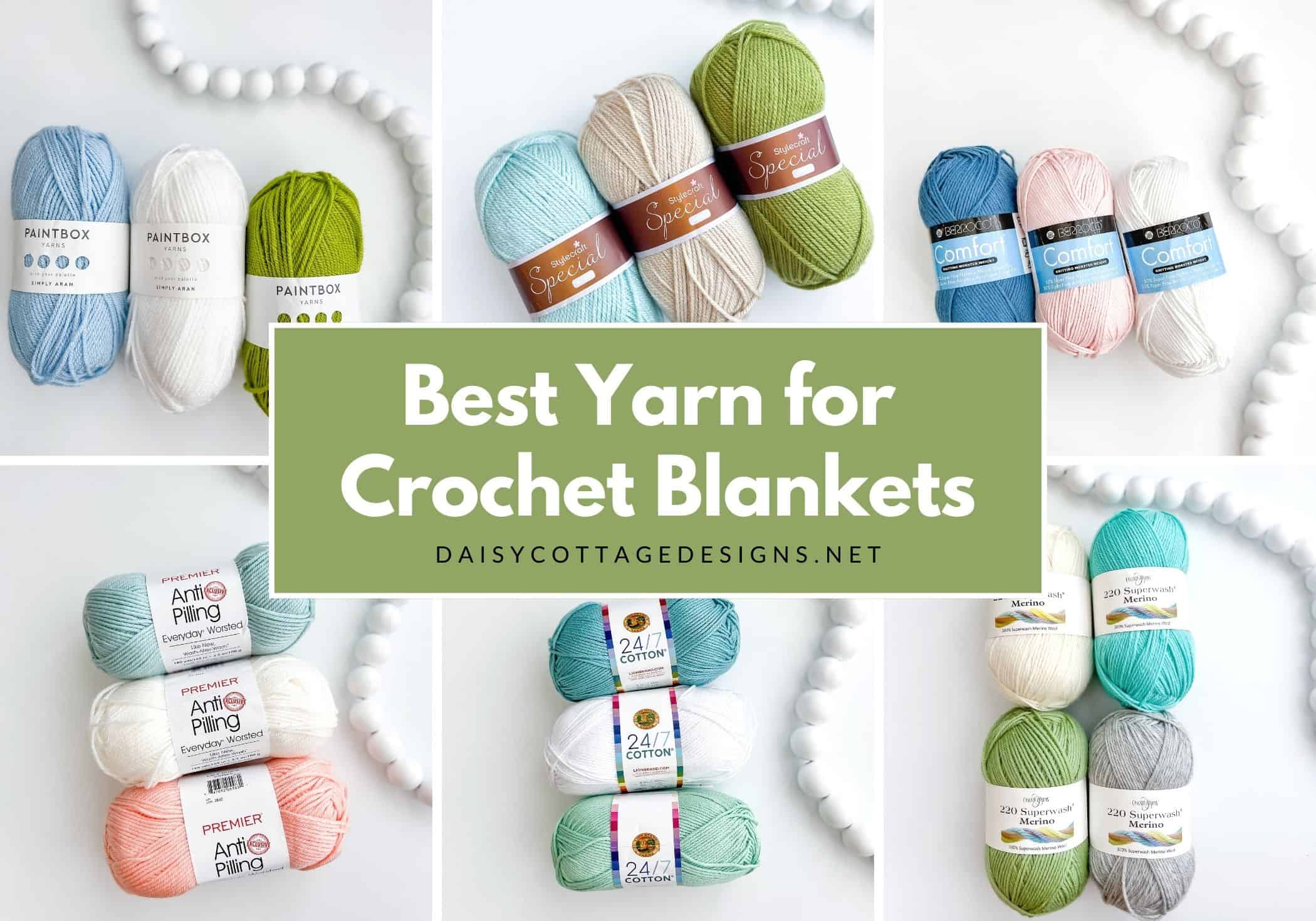 Have you ever walked into a yarn store and been overwhelmed by the all the yarn you see on the shelves? Three aisle of yarn in a variety of weights (worsted, sport, fingering, bulky), fibers (acrylic, wool, cotton, blends), and colors (solid, variegated, striped, prints) get you all confused.
You just wanted 3 skeins of pink yarn, but now you're overwhelmed as to what yarn you should choose.
Maybe you've been crocheting for 25 years and you already have a favorite go-to yarn, but you'd like to find out what other brands crocheters love. Or perhaps a yarn company has discontinued your favorite worsted weight yarn and you need to find a new go-to.
Either way, I'll let you know my favorite yarns for blankets down below. 
This post contains affiliate links.
My 11 Favorite Yarn for Blankets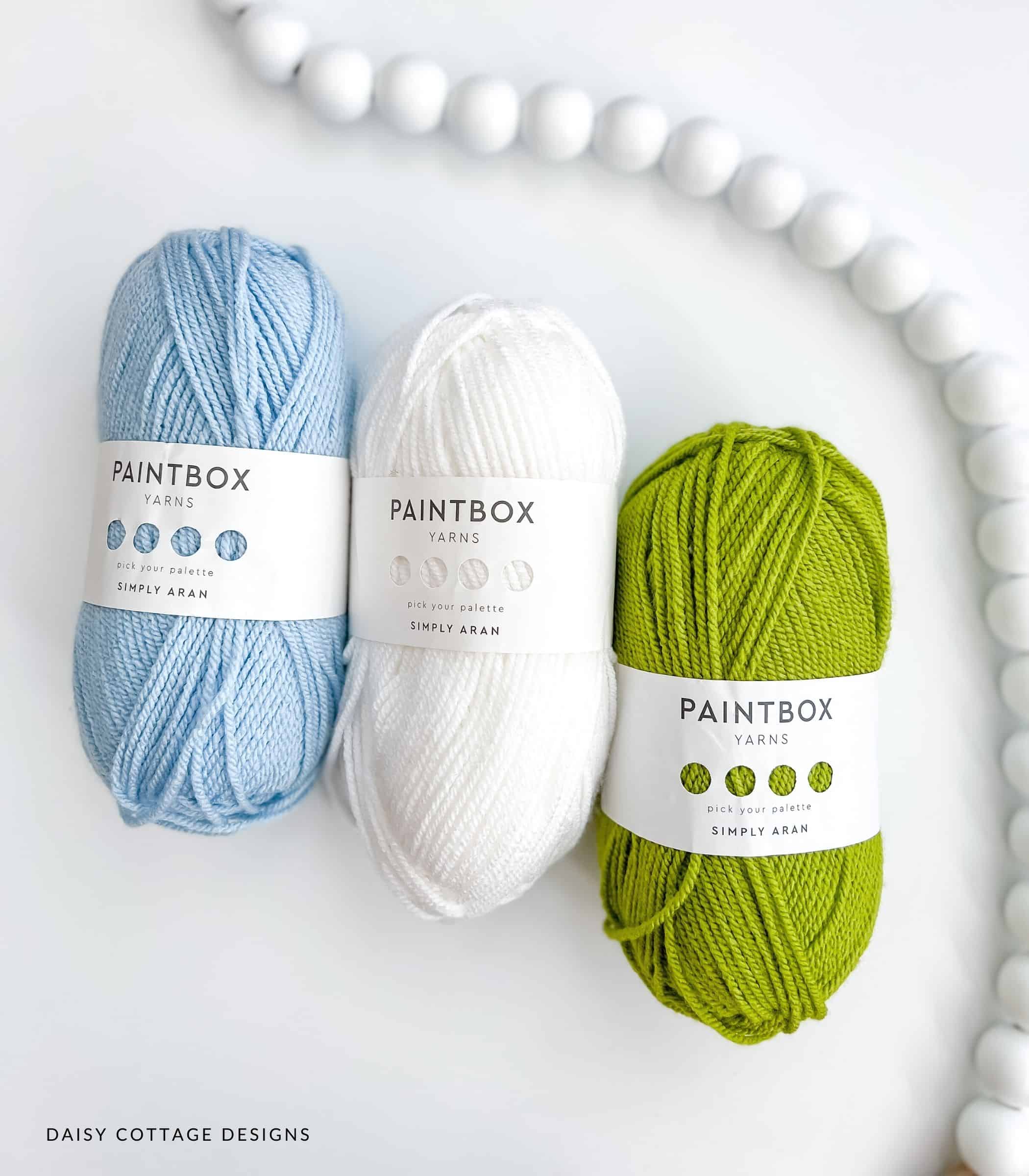 This soft yarn comes in a wide array of colors. It's a personal favorite of mine. I've used it on many blankets with fantastic results. It washes well and has a great price point.
Don't let the word aran throw you off. This is a worsted weigh (medium) yarn.
It's available exclusively from Lovecrafts.com so you won't be able to run and grab this one quickly. But, their shipping is fast, and I know I will continue reaching for this yarn for many of my crochet blankets.
I also like the Simply Chunky. The Simply bulky seems to split a little bit, but I haven't worked with it enough to have a strong opinion.
I made the Easy Crochet Baby Blanket using Paintbox Simply Aran.
Colors Shown: Duck Egg Blue (235), Paper White (200), and Lime Green (228)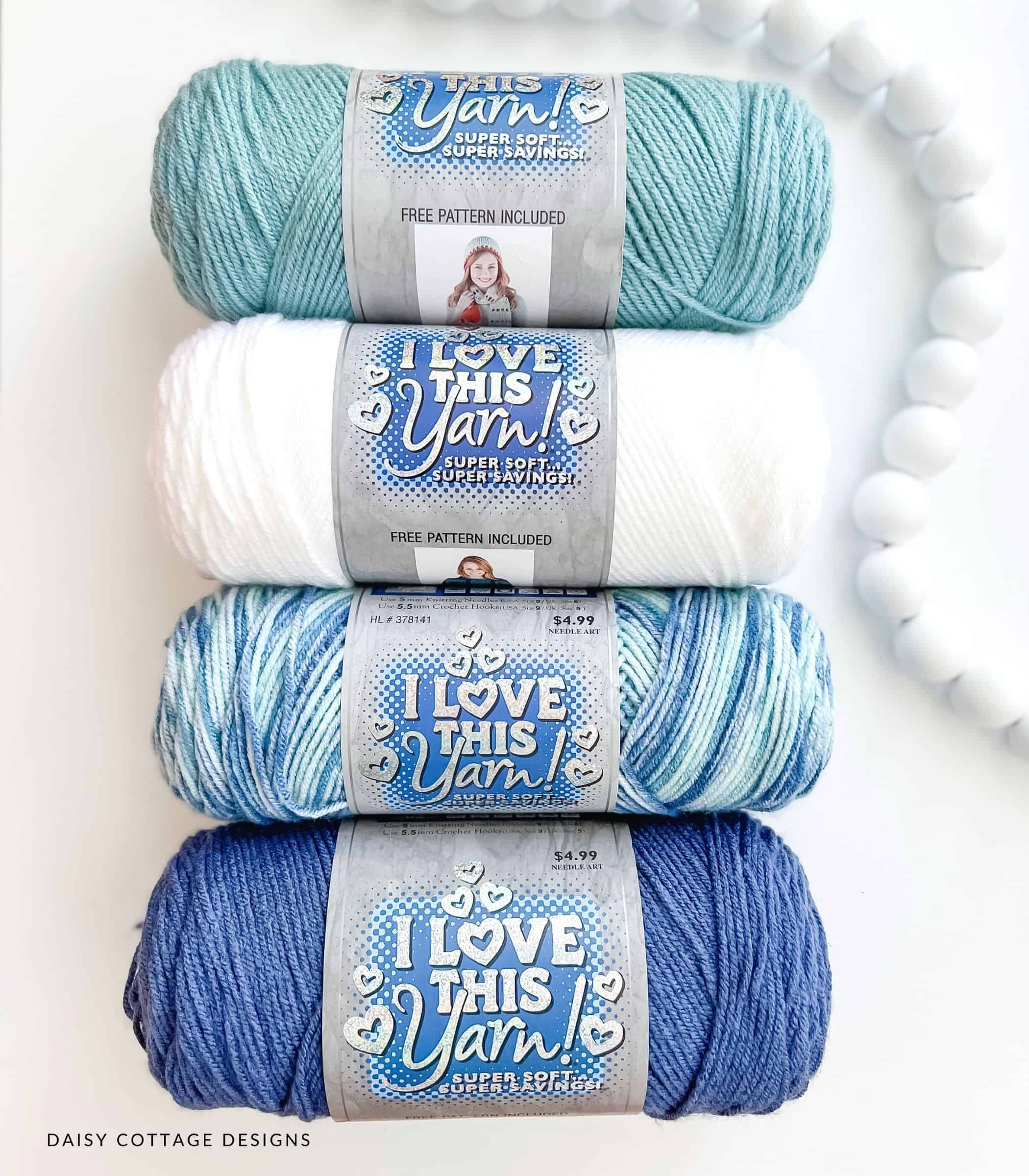 Another yarn that's easy to grab for many people, this yarn glides on your hook. Most shades are very soft, but occasionally one will be a little more scratchy. Tossing your finished blanket in the washing machine on delicate and tumble drying it on low does help eliminate the little bit of scratchiness.

This worsted weight yarn comes in about 60 shades. I've used it on many blankets with great success, and I'm confident you'll enjoy it, too!
The Zig Zag Crochet Blanket and the Modern Baby Blanket both use this yarn.
Colors Shown: Sea Blue, White, Oasis Beat, and Dark Country Blue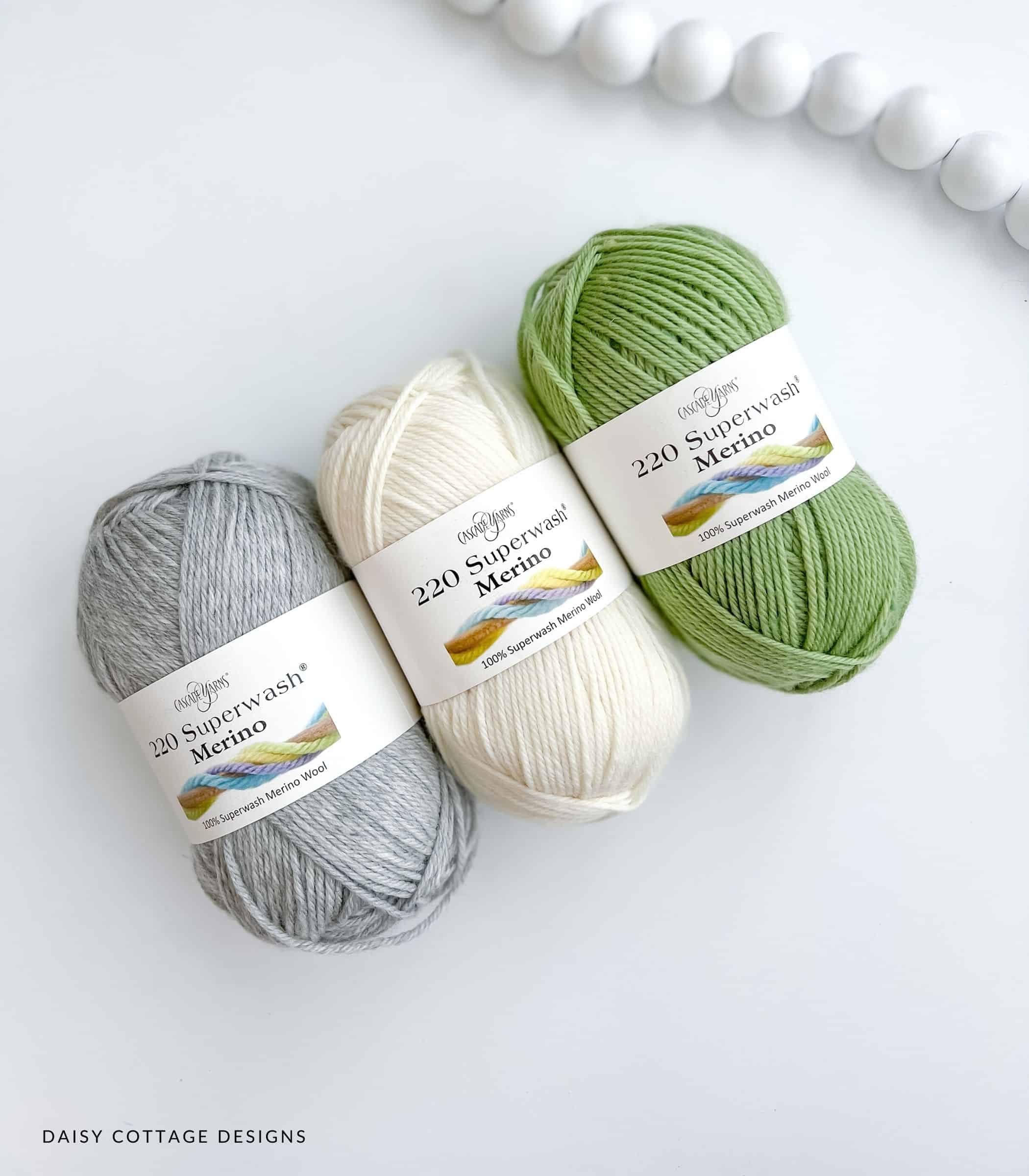 I was on vacation in Michigan and I discovered this yarn in a little yarn shop. This yarn is a little bit of a splurge, but it doesn't enter into the ridiculous zone.
While this yarn is categorized as a DK (double knit) yarn, I find that it's as thick as some worsted weight yarns. The texture and stitch definition I get when I use this yarn make me wish I could afford to use it on every project.
This yarn comes in 59 beautiful shades, so you can find it in just about any color palette. It would be a great yarn to use on an heirloom piece like a wedding gift or something else that's extra special like that.
I made the Wavy Crochet Blanket using this yarn.
Colors Shown: Silver Heather (26), Cream (01), and Celery Heather (42)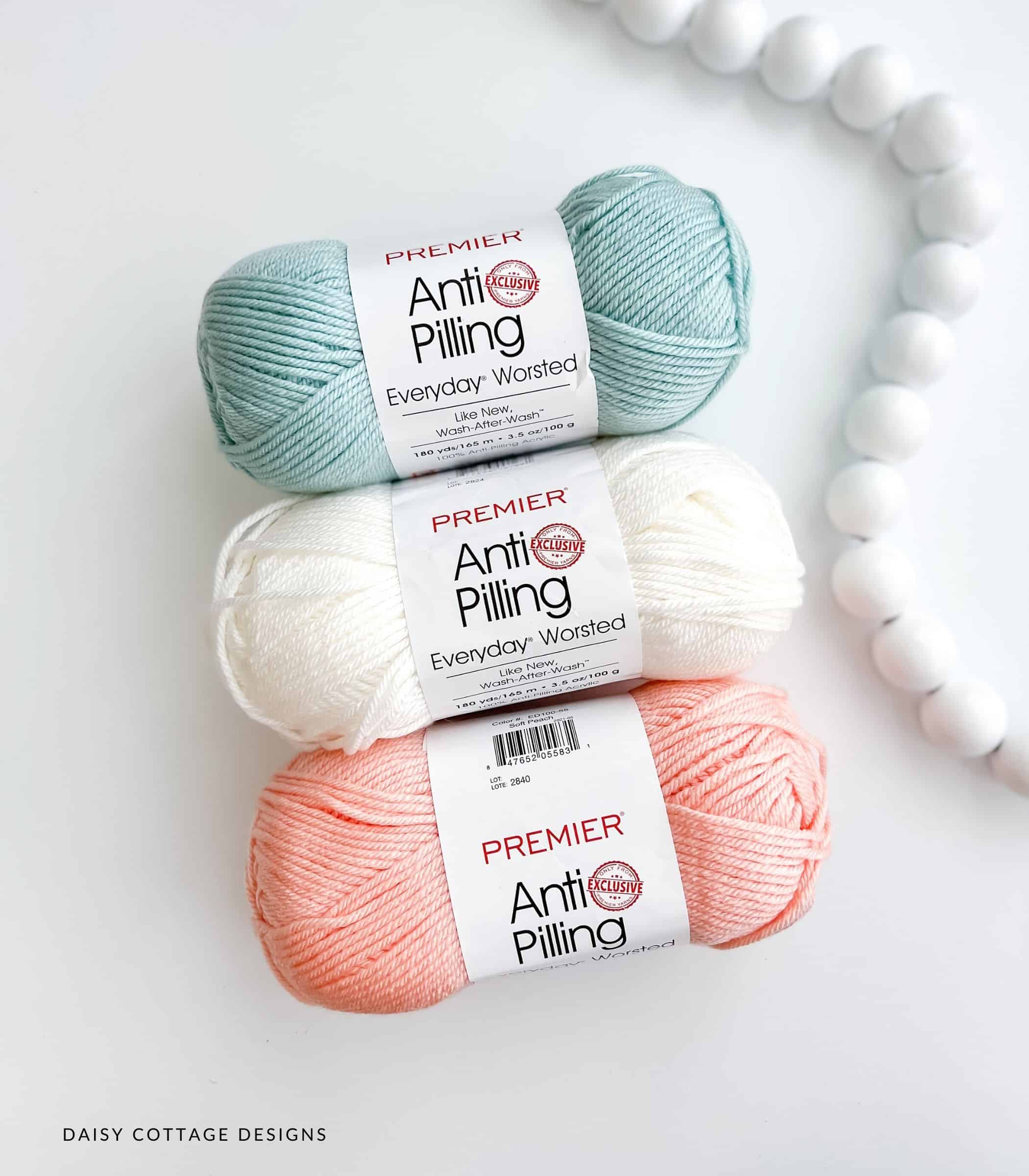 I was pleasantly surprised by the softness of this #4 (worsted) yarn. I had seen it used in a few projects, and I recently bought it to give it a try. I love it. I wish there were a local store that had all the colors in stock, but I know I'll be placing an order for more colors soon.
This yarn reminds me of a slightly softer version of Vanna's Choice Yarn. I think you can purchase it on Amazon, but I bought it directly from the Premier website.
I really want someone to make this textured crochet blanket with the shades shown above!
Colors Shown: Spa, Snow White, and Soft Peach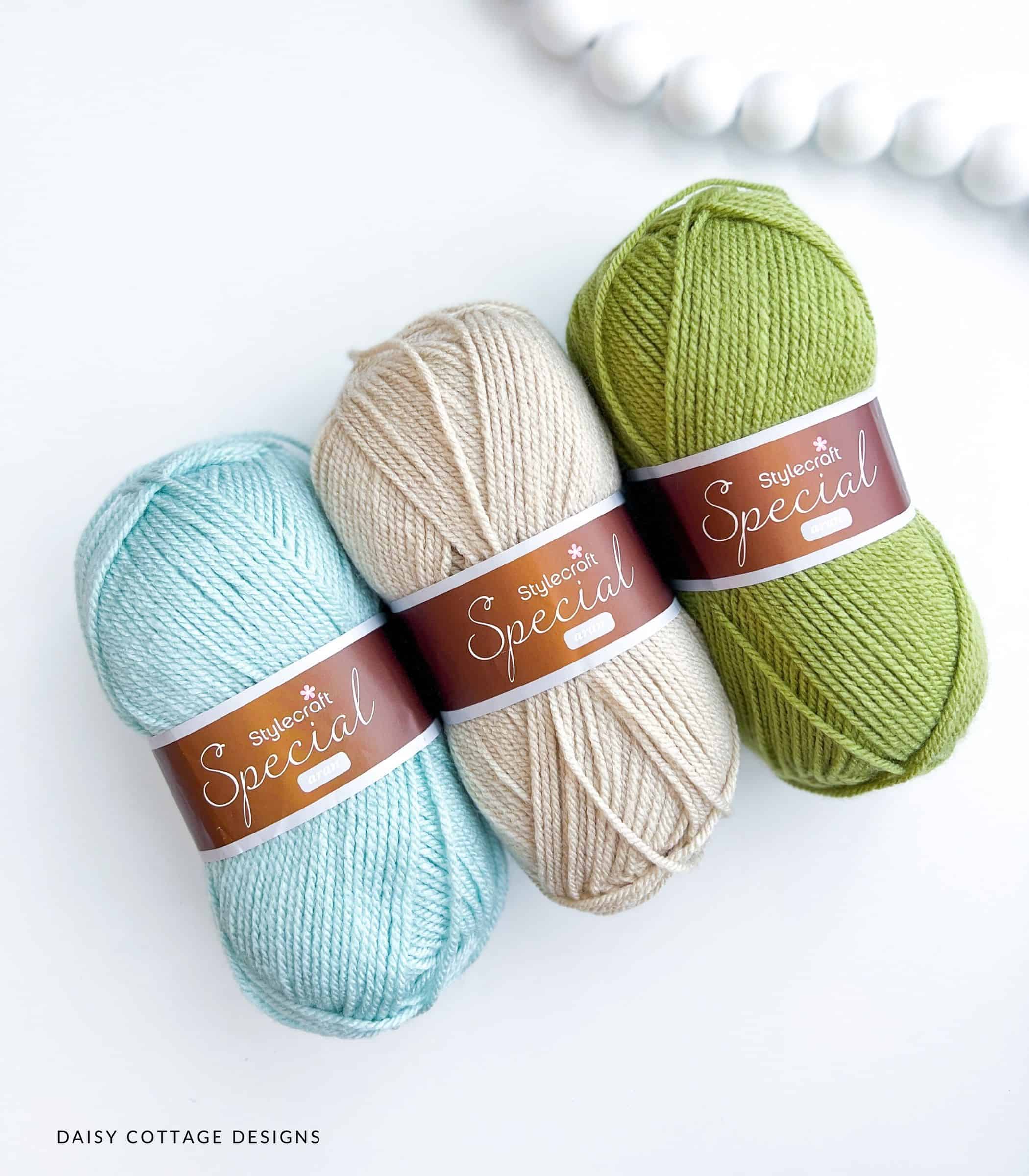 This is another yarn that has to be ordered online if you live in the US, yet I find myself ordering it over and over again. It's soft, comes in a wide variety of colors, and you can purchase it in Aran and DK weight.
I've mixed this into projects with Vanna's Choice, Hobby Lobby I Love This Yarn, and Paintbox Simply Aran. I find that they're all pretty similar.
Colors Shown: Duck Egg, Parchment, Meadow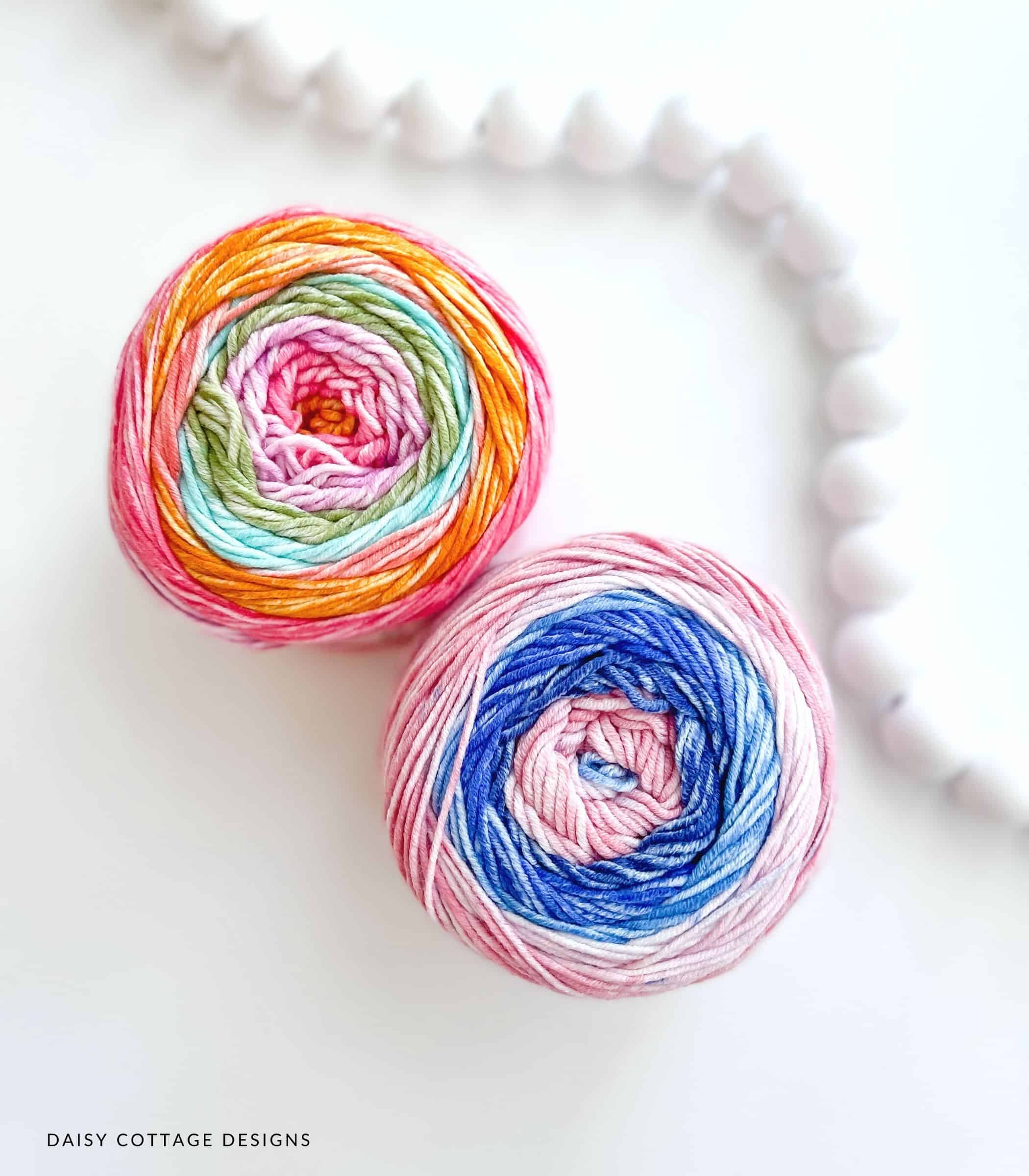 If you hate weaving ends, Lion Brand Mandala might be a great choice for you. This self-striping yarn comes in a wide variety of lines and colors. The done-for-you palettes are all beautiful.
The yarn is actually surprisingly nice to work with, too. There are certain varieties that I like more than others, but overall, they're all lovely.
My personal favorite is the Mandala Ombre in the shade Tranquil (on the left in the photo). I used it on the Rainbow Moss Stitch Blanket, and it's still one of my absolute favorite projects!
Colors Shown: Tranquil and Serene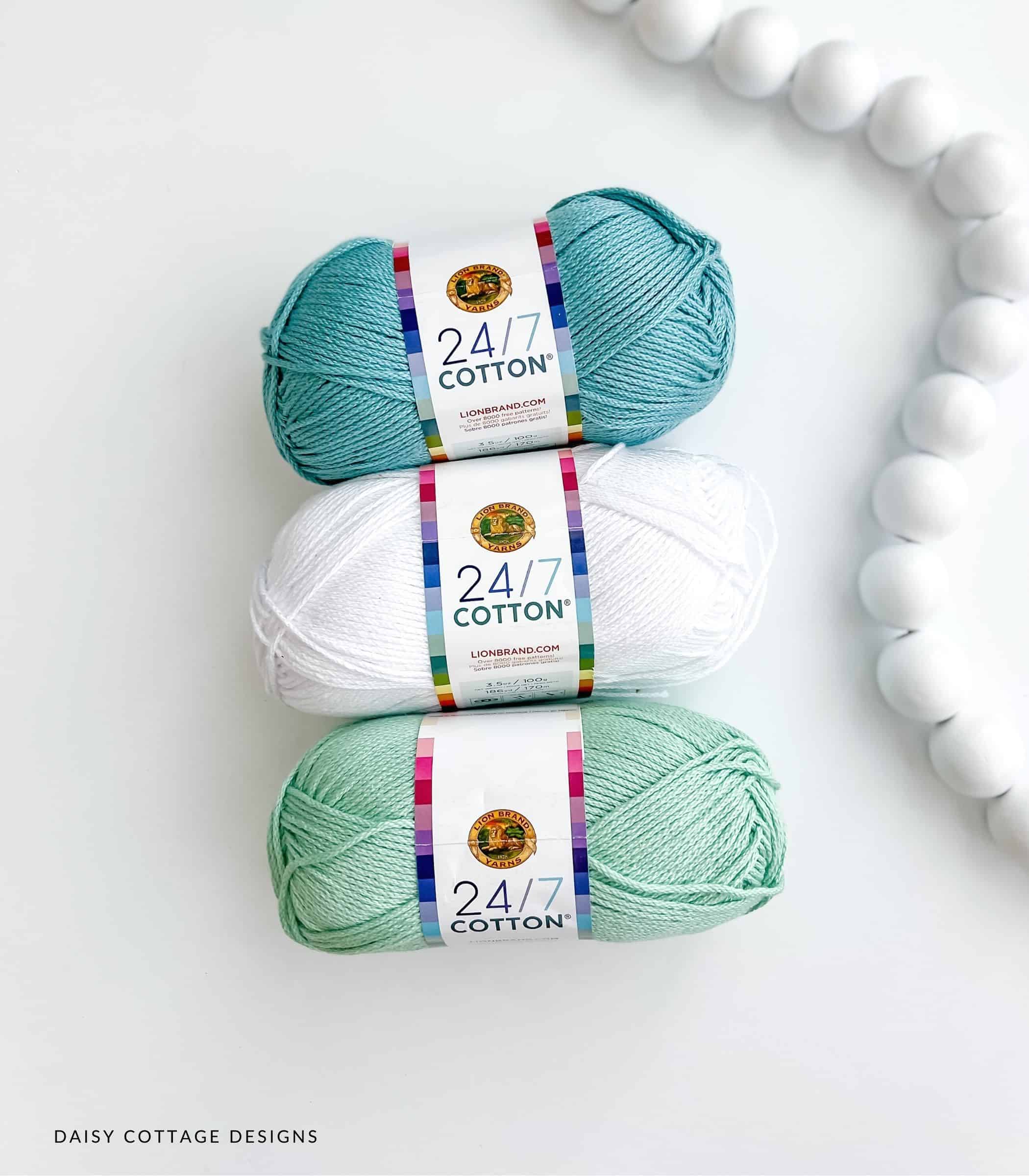 During the hottest months of the year, it's always nice to switch from acrylic or wool yarn to a cotton yarn. Cotton yarn creates a breathable fabric that won't make you sweat while you're working underneath it.
When I first started crocheting, I worked almost exclusively with cotton yarn; and I still find that I love working with it as much as possible.
This cotton has a different texture than Lily Sugar N Cream or Dishie Cotton. It has more of a sheen which gives a more polished look.
Colors Shown: Succulent, White, and Mint
​The "famous" Daisy Cottage Designs ripple was made using this classic yarn. While it doesn't have as many color options as some of the other yarn options, I love a lot of the shades offered.
Vanna's Choice used to be readily available in the craft stores in my area, but I have found that it's getting harder and harder to find it in stores. I almost always purchase it online now.
Colors Shown: Brick, White, and Honey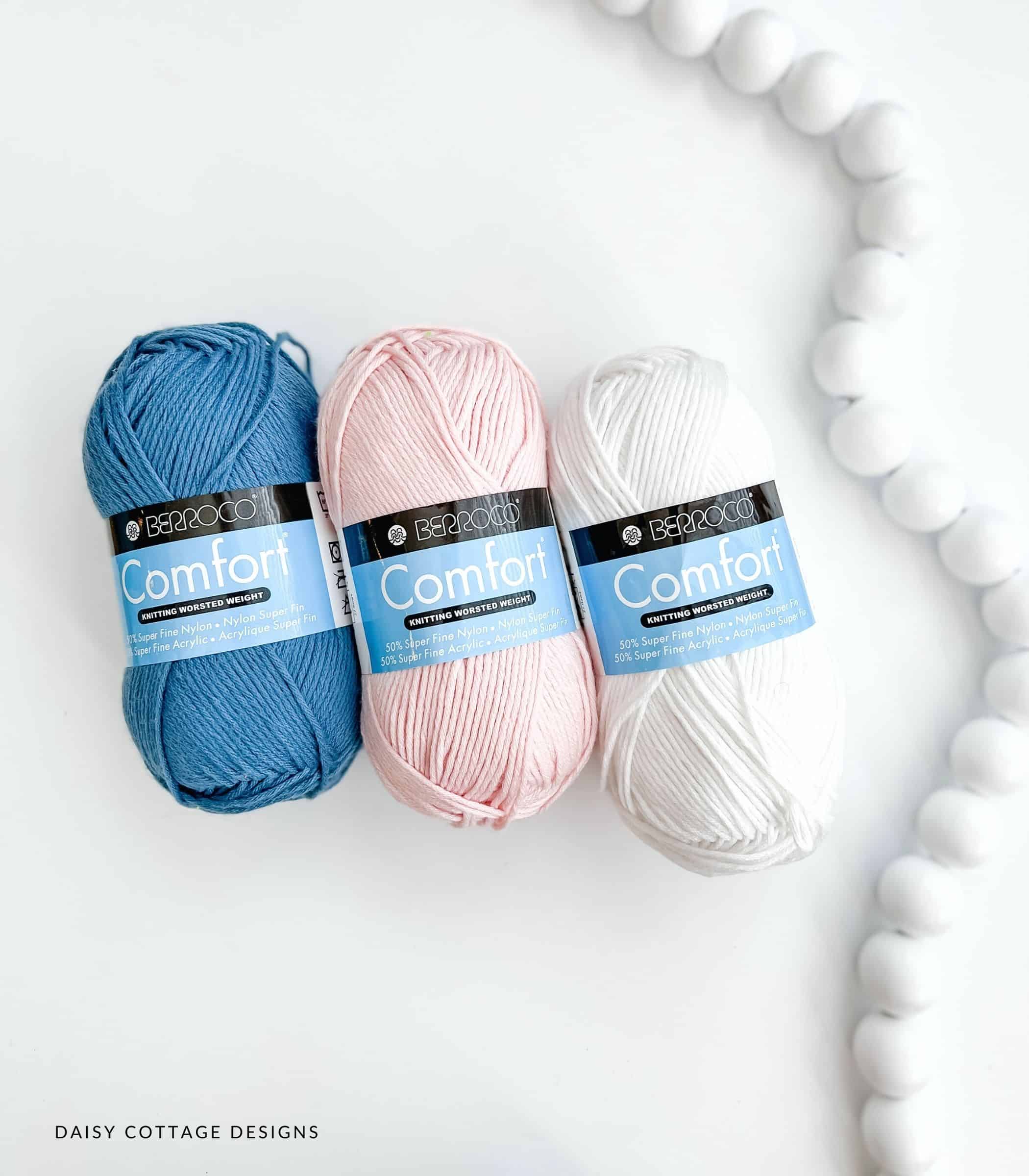 This yarn is one of the softest yarns I have ever worked with. It's one of those yarns that I had sitting in my stash for a long, long time before I actually picked it up. When I finally worked with it, I couldn't believe how good it felt on my crochet hooks.
I love this yarn so much, and have a blanket on one of my hooks right now using this yarn. While it doesn't come in as many shades as some of the other brands, it does come in 42 shades with great variety.
This yarn is pricier than some of the others, but I truly believe it's worth it.
Colors Shown: Cadet (9747), Pretty Pink (9705), and Chalk (9700)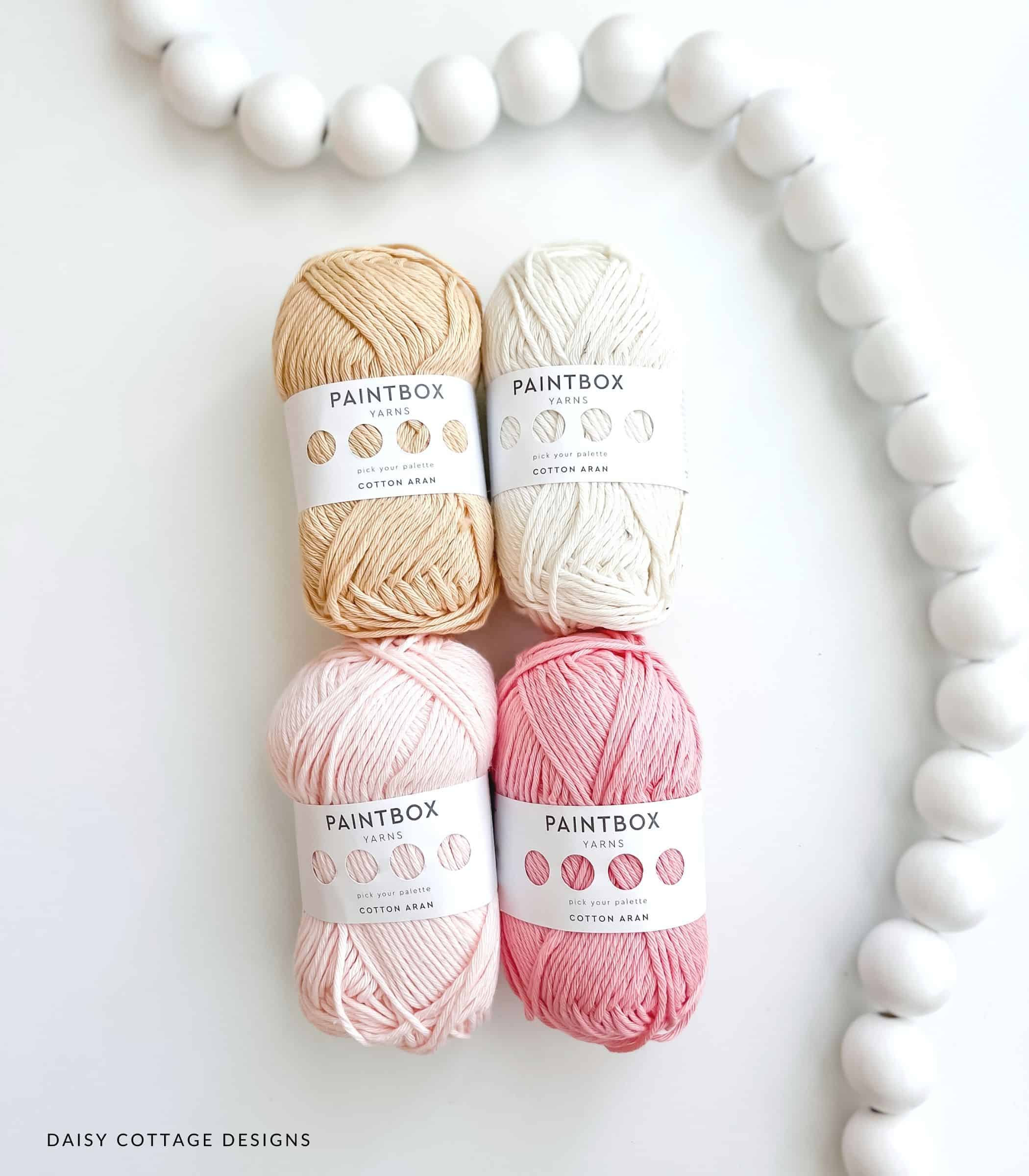 I enjoy this yarn for everything from dishcloths to blankets. Cotton yarn tends to create a durable fabric that still has a beautiful drape and texture. One of my favorite things about crocheting with cotton yarn is the stitch definition it provides. There is just something about crocheting with cotton yarn that makes your stitches look a little bit more perfect than usual.
I made this baby girl blanket using Paintox Cotton Aran, and it's been a fan-favorite.
Colors Shown: Light Camel, Light Champagne, Blush Pink, and Ballet Pink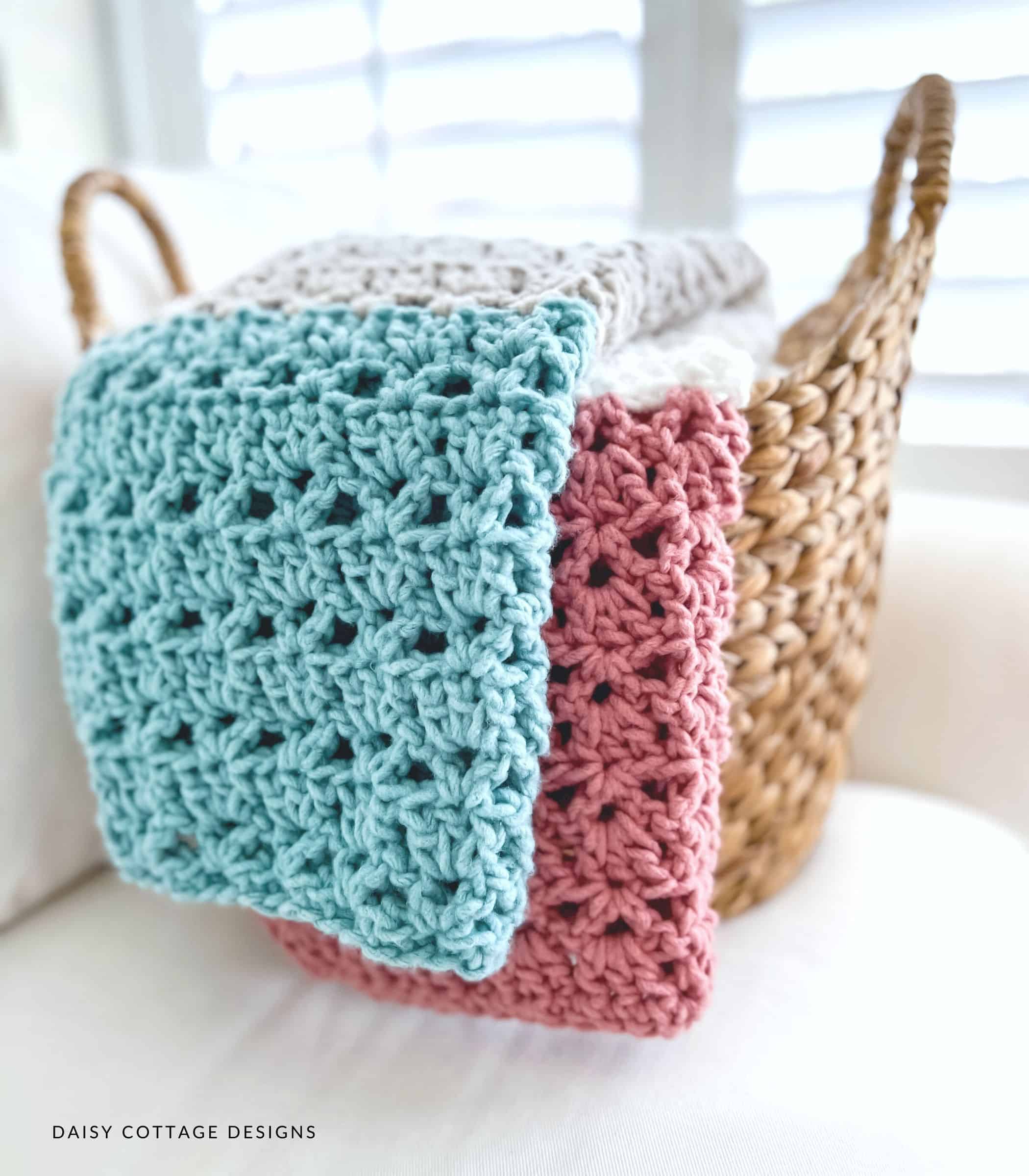 I grabbed this yarn on a whim when I was in the craft store one day. I ended up making a blanket with it that very night. It's thick so it works up very quickly, but it's also like working with a cloud it's so soft.
I have three daughters, and the youngest two were literally trying to cuddle with the balls of yarn. I made this Three Hour Crochet Blanket using that yarn, and I want to purchase some more colors and work with it using other stitch patterns.
Colors Shown: Dark Eucalyptus, Balsam, Rose Hip & White Noise.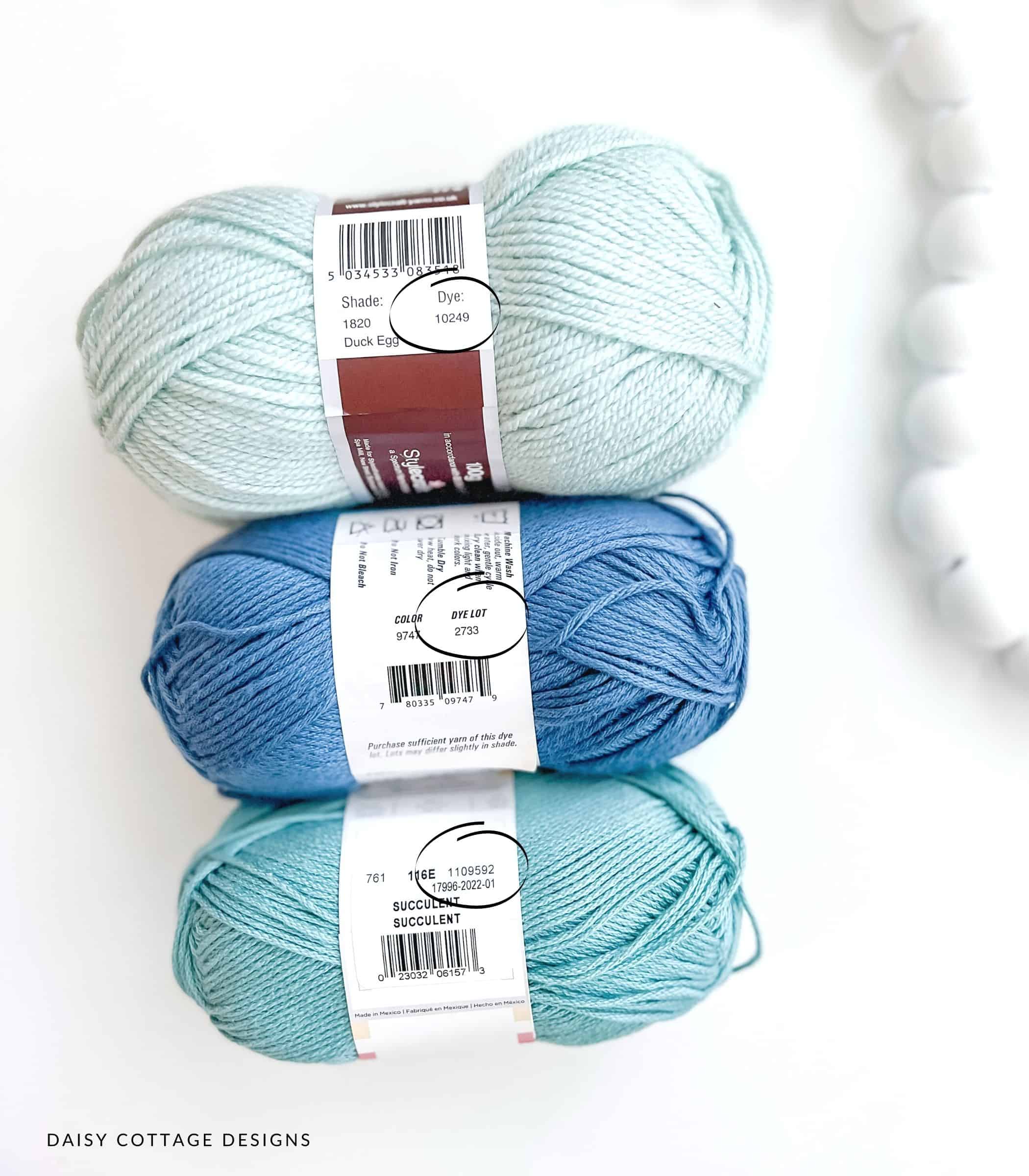 Be Aware of Dye Lot
When purchasing yarn for a crochet blanket, be sure to check the dye lot on the yarn packaging (dye lot on each skein is circled in the photo above). If the dye lots on a solid colored project do not match, you'll probably notice a difference when you switch to a new skein of the same color.
Sometimes the differences between lots are very minimal, but sometimes the differences are very noticeable. To avoid any accidental ombre, check the yarn label and make sure the lot numbers are the same between skeins.
When you purchase yarn online, chances are you'll receive yarn from the same dye lot. If you're worried about this, you could leave a note upon checkout.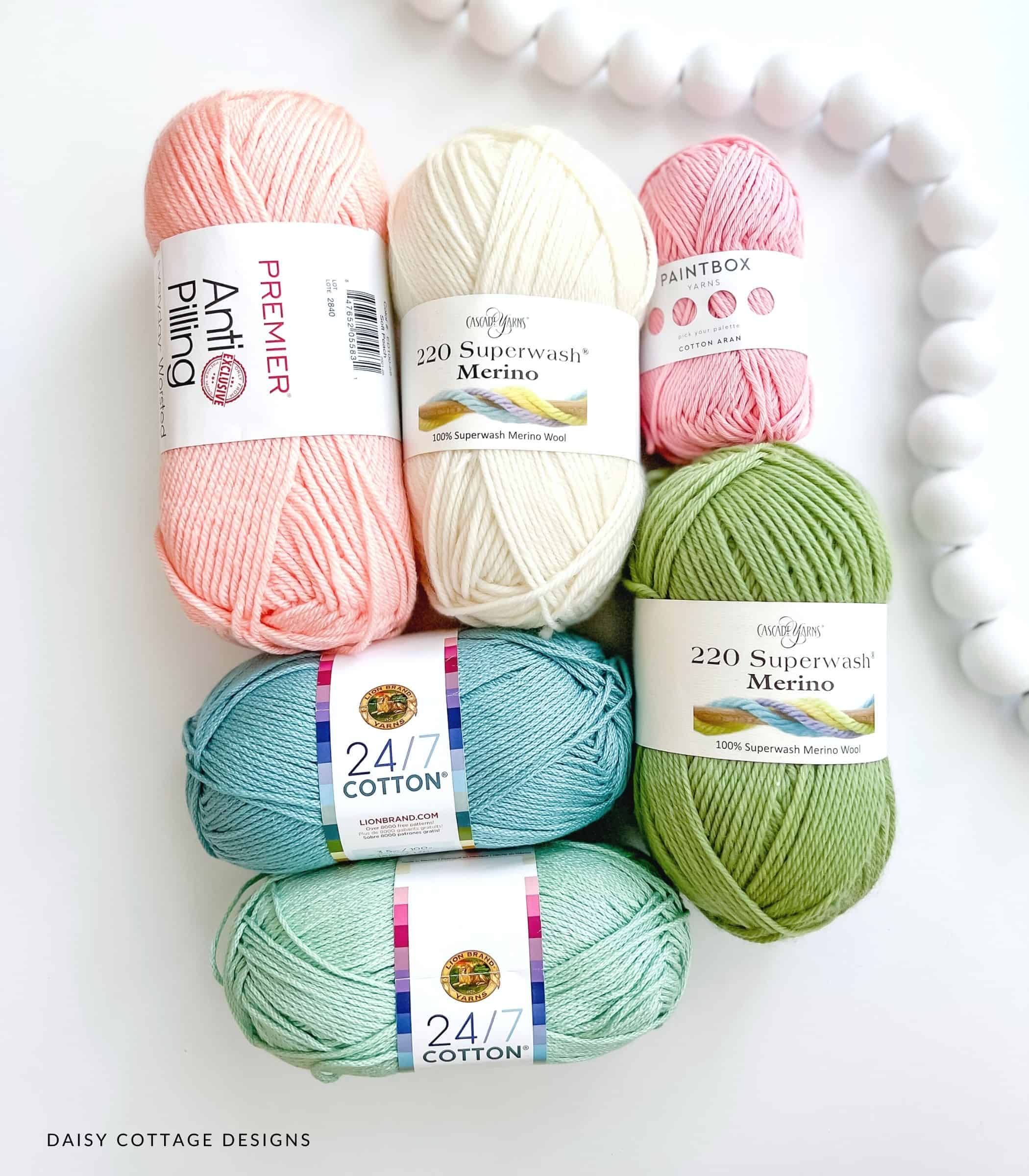 What to keep in mind when choosing yarn for crochet blankets?
When selecting yarn for your next afghan or baby blanket, there are several things you need to consider.
Availability: I love finding a yarn that I can run to the craft store and pick up on short notice.

Do I order yarn online? Absolutely! Just this week I've received orders from several different online yarn stores. However, I think it's important to find a yarn you love that's available locally so you can pick something up whenever you have a project that you need to start on right away. (Of course, most of us can just run to our yarn stash).

Yarn Weight: First, what yarn weight does the pattern call for? Does it call for worsted weight or a bulky weight yarn? Are you looking for a lightweight (dk weight) yarn?

While you can usually make a pattern in any weight yarn, be aware that using a jumbo yarn will give you a much different finished look and size than using a medium yarn will.

Fiber Content: There are many different yarn types – acrylic yarn is probably the most easily accessible. It's typically soft and durable. Cotton yarns are also ready available at most local craft stores. These are great to use in the warmer months because they're not as hot. Wool yarns tend to be a bit more expensive, but many of them are a dream to work with.

While some people worry about using wool on articles for babies, studies have shown superfine merino wool is highly unlikely to cause any adverse reactions (source).

Price Point: With the cost of everything going up, many of us are looking for budget-friendly options in every area of life, yarn included. While some yarns made from natural fibers like alpaca wool can be upwards of $20 a skein, there are many less expensive options that will give you beautiful results.

Care: When crocheting blankets, it's really nice to use a yarn that is machine washable. I believe this is especially important for baby blankets. We all know that new mothers are not going to want to have to wash a blanket by hand every time it gets soiled.

Check the yarn label prior to starting your blanket so you know what type of care that yarn calls for. Then, be sure to let the recipient know just how to wash the crochet blanket using these crochet care labels.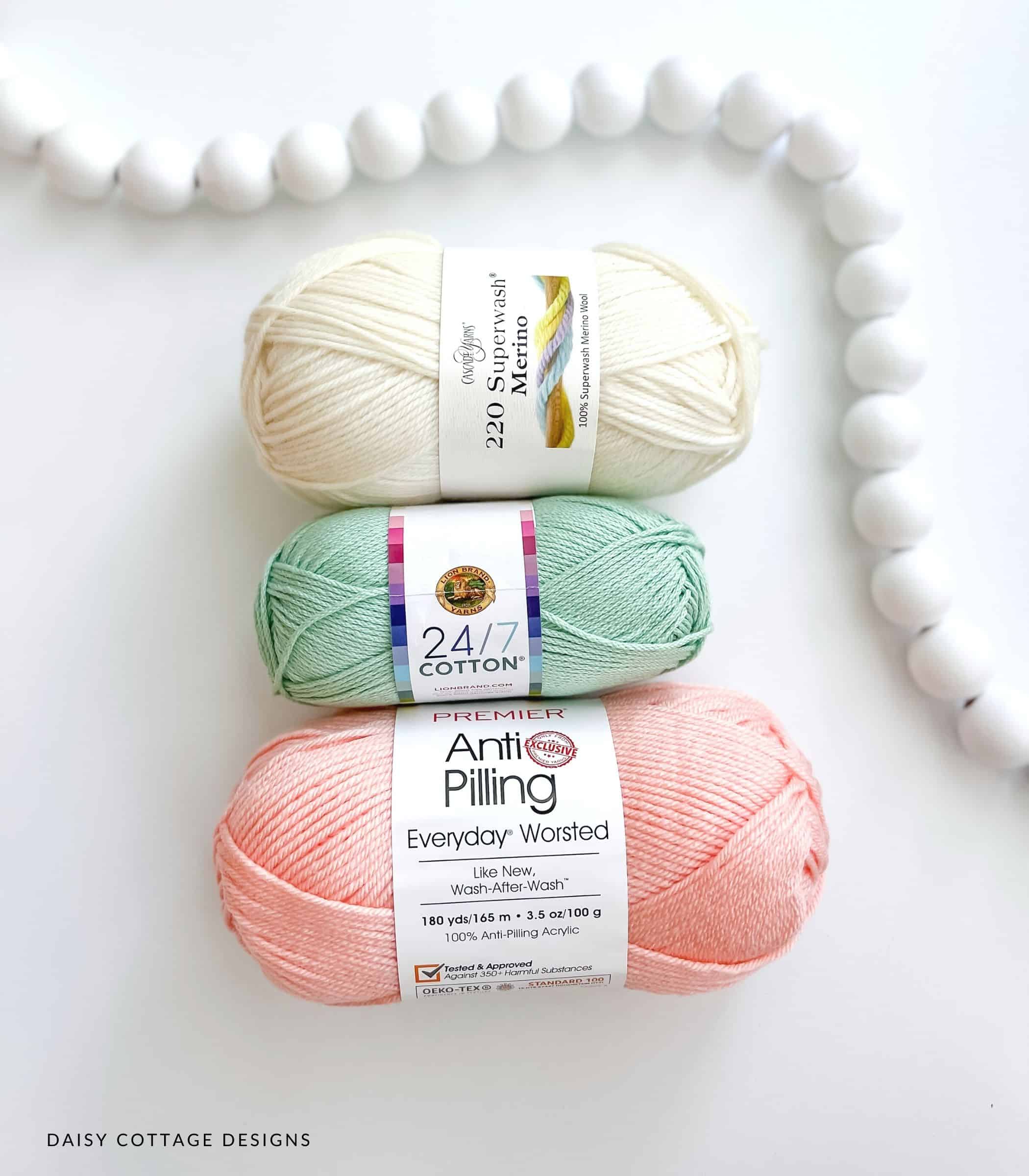 What fiber is best?
I generally prefer working with acrylic yarn. I find that I can find it in just about any color I need and the price of a blanket is manageable.
In the hot summer months, I do enjoy working with cotton yarns rather than synthetic fibers. These tend to be cooler and much more breathable. Cotton is also a natural fiber that is good for sensitive skin.
Working with wool yarn is enjoyable from time to time, but I don't find myself reaching for it too often.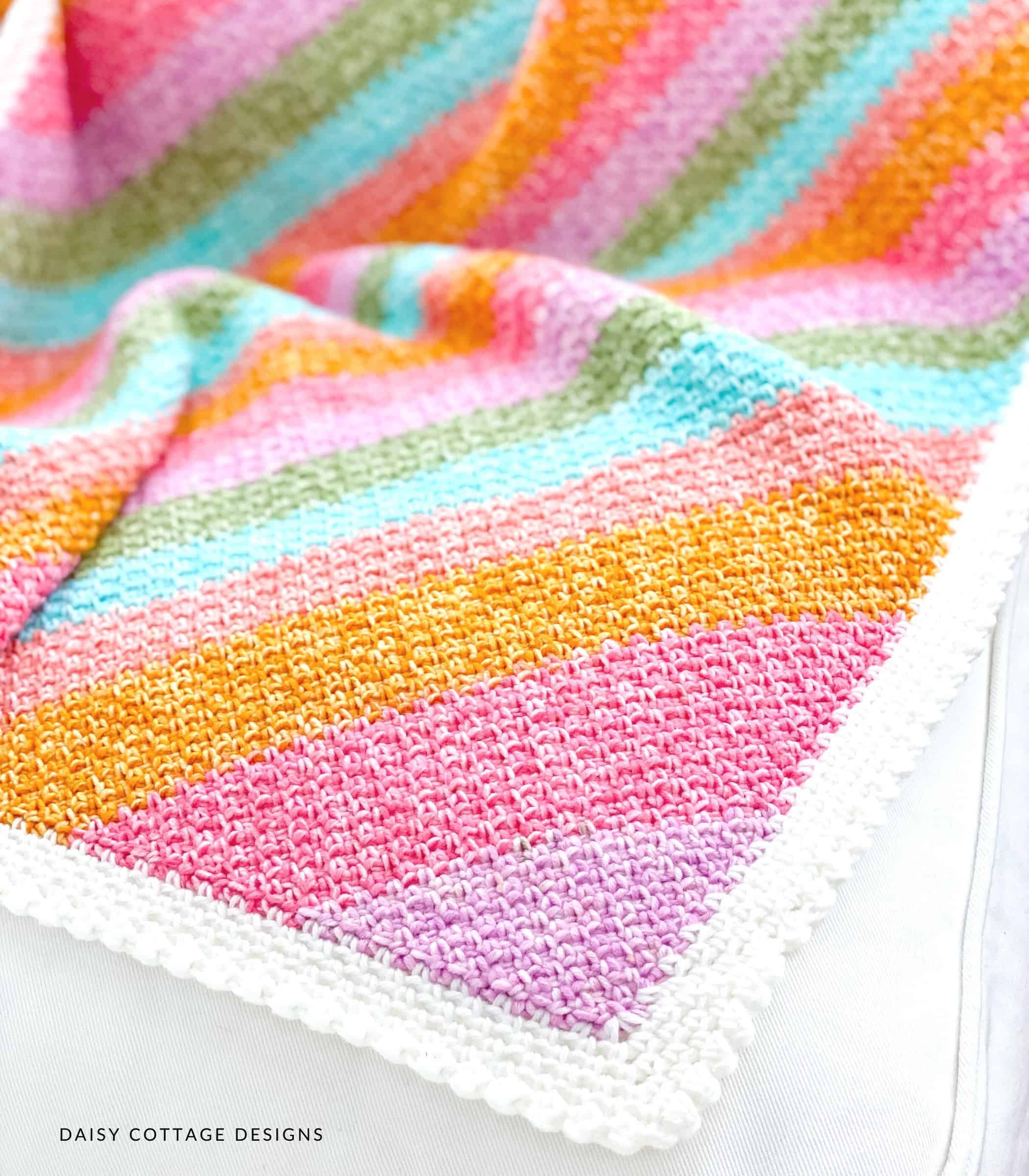 What weight yarn is best for blankets?
This is a matter of preference and there are benefits to each yarn weight, I think.
A sport or dk weight blanket typically has a great drape (flow), but it will take longer to make the same sized blanket than if you're using a medium weight yarn (also called worsted and aran).
Worsted weight yarn is my go-to. It's readily available, has more color options in my local stores, and still provides great stitch definition.
Bulky yarn is great when you're in a time crunch. It works up very quickly and tends to be soft and cuddly. I find the stitch definition isn't as great, and there aren't as many colors so it doesn't tend to be my go-to.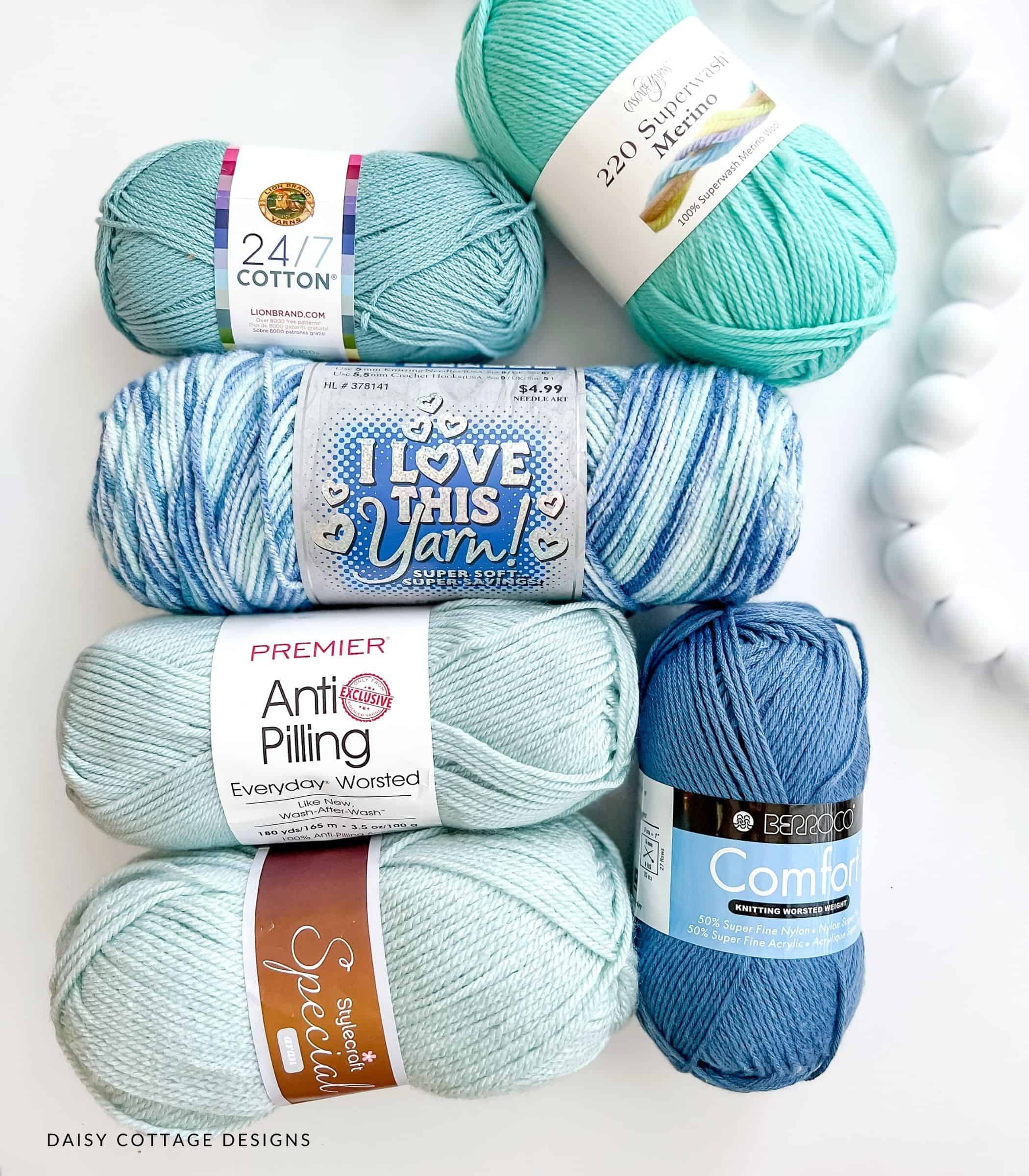 How many yards of yarn will I need for a crochet blanket?
There are a few factors that go into determining how many yards of yarn you'll need for a blanket or afghan: blanket size, stitch density, and yarn weight.
Obviously, the bigger the blanket, the more yards of yarn you'll need. Similarly, the thinner the yarn needed. If your blanket has more of an open lace pattern, you'll use less yarn than you would on a more dense pattern.
If you're using worsted weight yarn, you'll need between 800-1200 yards of yarn for the average baby blanket. If you're using a bulkier yarn, you'll need between 700-800.
If you're using a lightweight yarn and you want to make a throw blanket, expect it to take between 3000-5000 yards. For the same size blanket using a bulky yarn, you'd only need between 1300 and 1600.
If you'd like to see a size chart before you go shopping, I recommend checking out this chart from Lion Brand.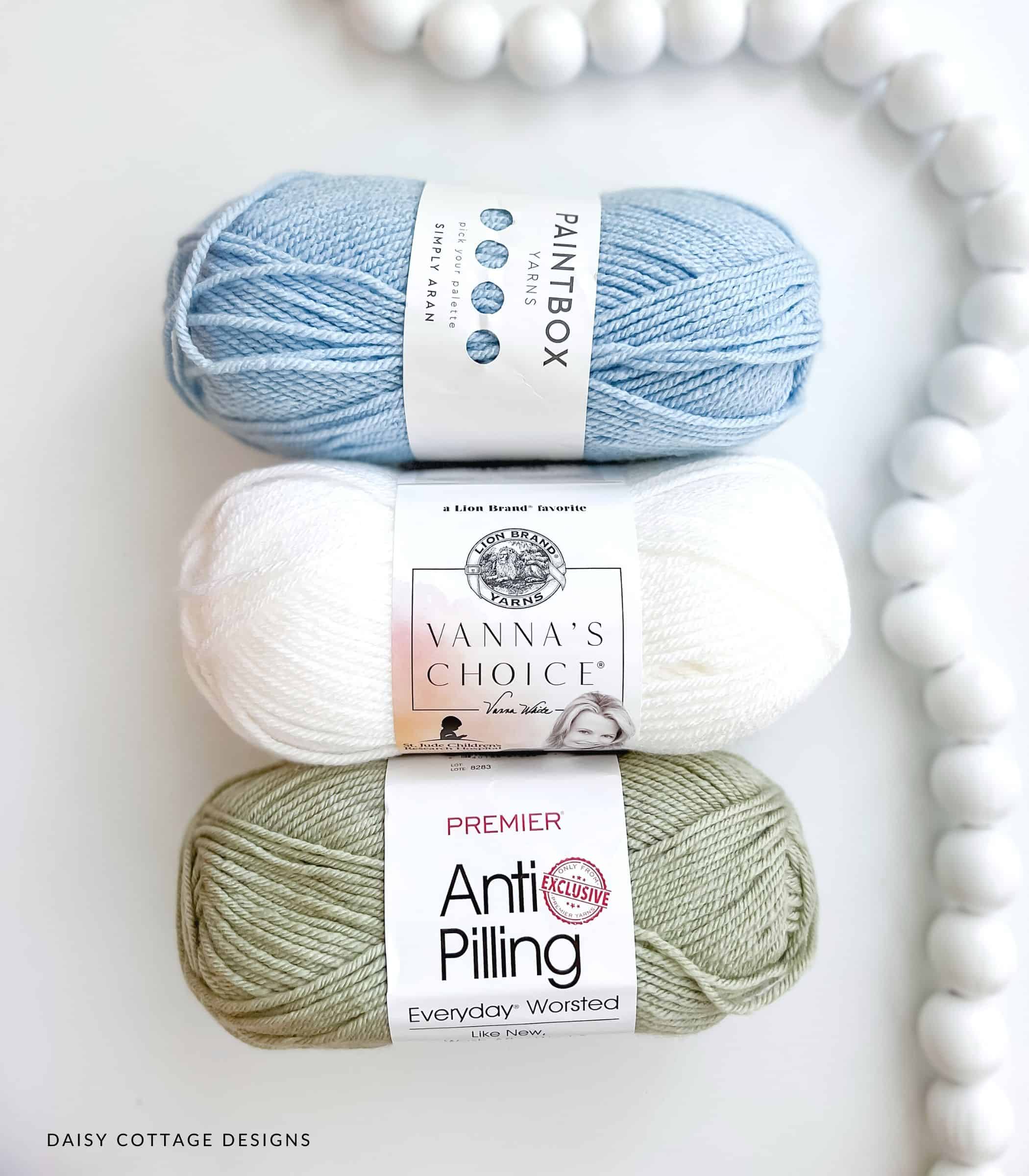 Can I Mix Yarn Brands?
This is a very controversial issue to crocheters! Some people think it's 100% fine to mix yarns of the same weight and texture. I happen to be one of those people.
You want to be sure that you're not using an acrylic yarn with a wool blend. But, as long as you stick with the same fiber, chances are nobody will ever notice that you mixed yarn brands.
So, if you want to mix Vanna's Choice with Paintbox Yarns, go for it. I wouldn't mix Wool Ease Thick & Quick with Paintbox Simply Chunky, though.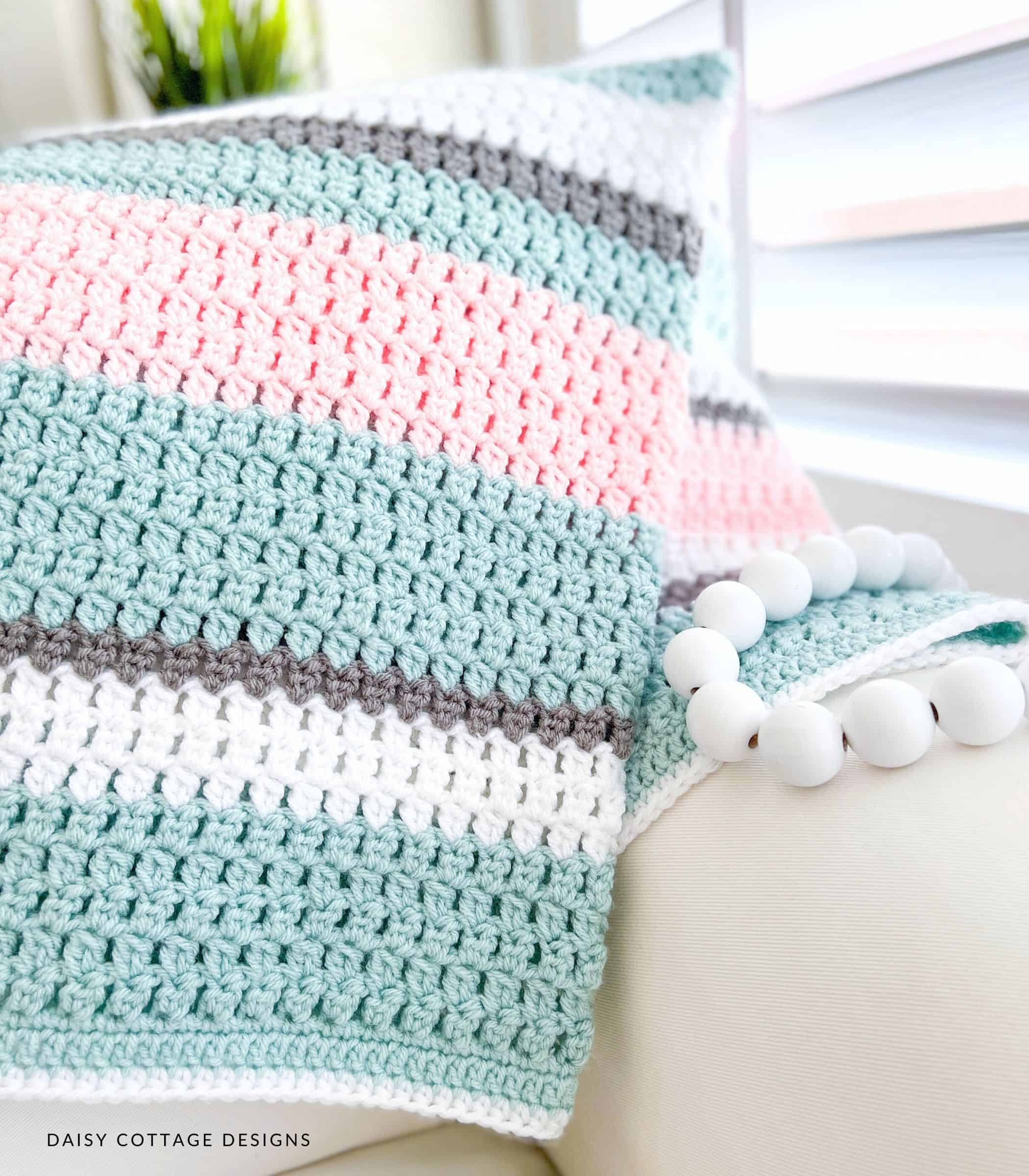 What pattern should I use for my next crochet blanket?
Now that you've got some yarn brands you want to try, what blanket should you make? The following will work well with any of the worsted weight options above.