How to Make a Double Crochet Blanket (For Any Skill Level!)
Sometimes, even the most advanced crocheter wants to sit back, relax, and crochet a blanket that's rhythmic and relaxing. This double crochet blanket pattern is just that. The repetitive, basic stitch, mixed with the occasional chain space, creates the perfect blanket. Whether you're listening to your favorite audiobook or in front of the tv, this blanket uses easy crochet stitches that will allow you to multi task.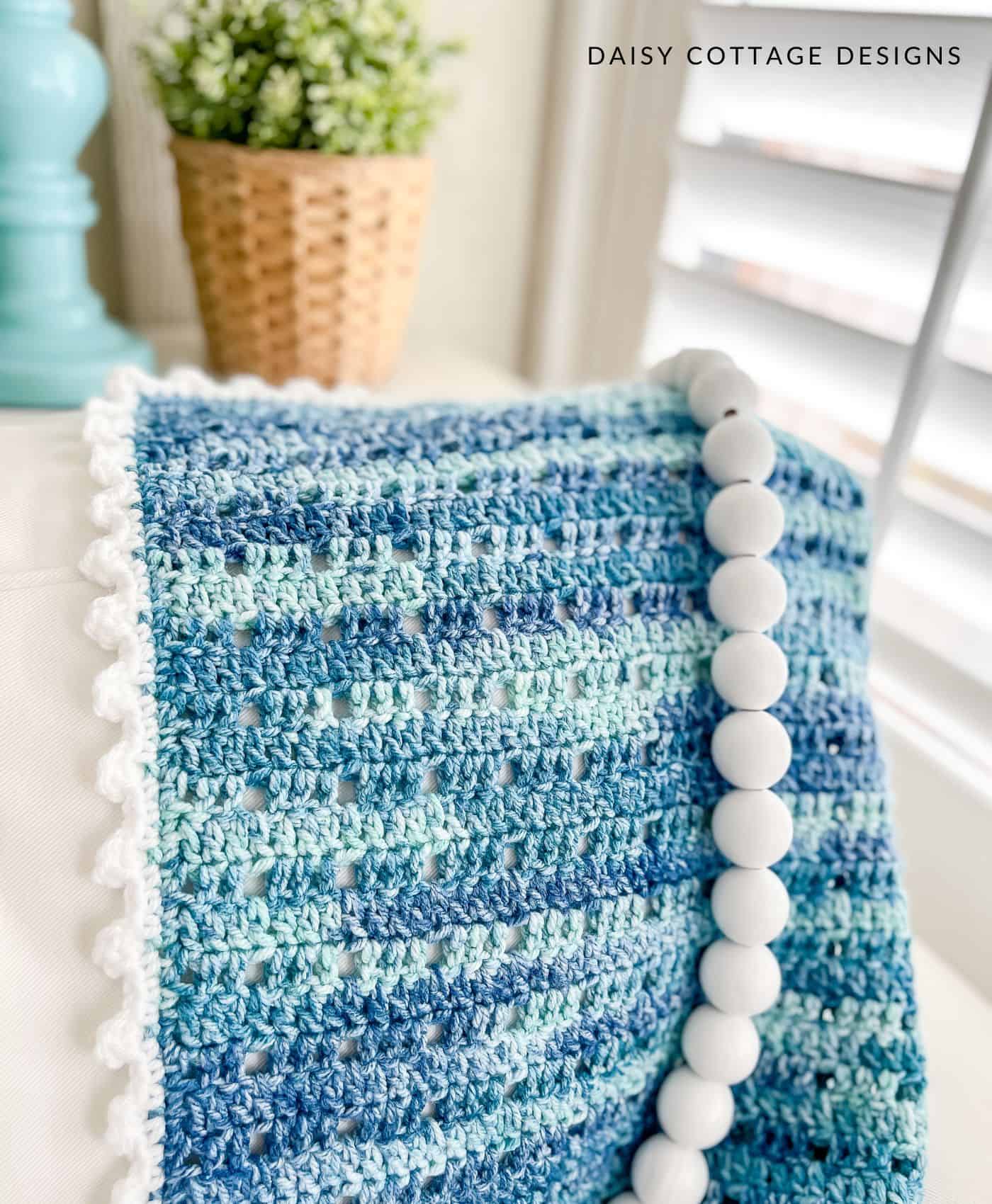 This beginner-friendly crochet pattern is only my second project using variegated yarn (my first was the Rainbow Moss Stitch Blanket). I stayed away from self-striping and variegated yarns for a long time because I like to have control of when to change color.
But, I've fallen in love with (some of) them. When you want a really relaxing project, it's nice to let the yarn do it's thing and watch as the colors unfold. Plus, when you get to the end, there aren't many ends to weave at all.
Either way, I love everything about this yarn and the easy double crochet blanket. From the first stitch to the last, I enjoyed every second of making it and I think you will, too.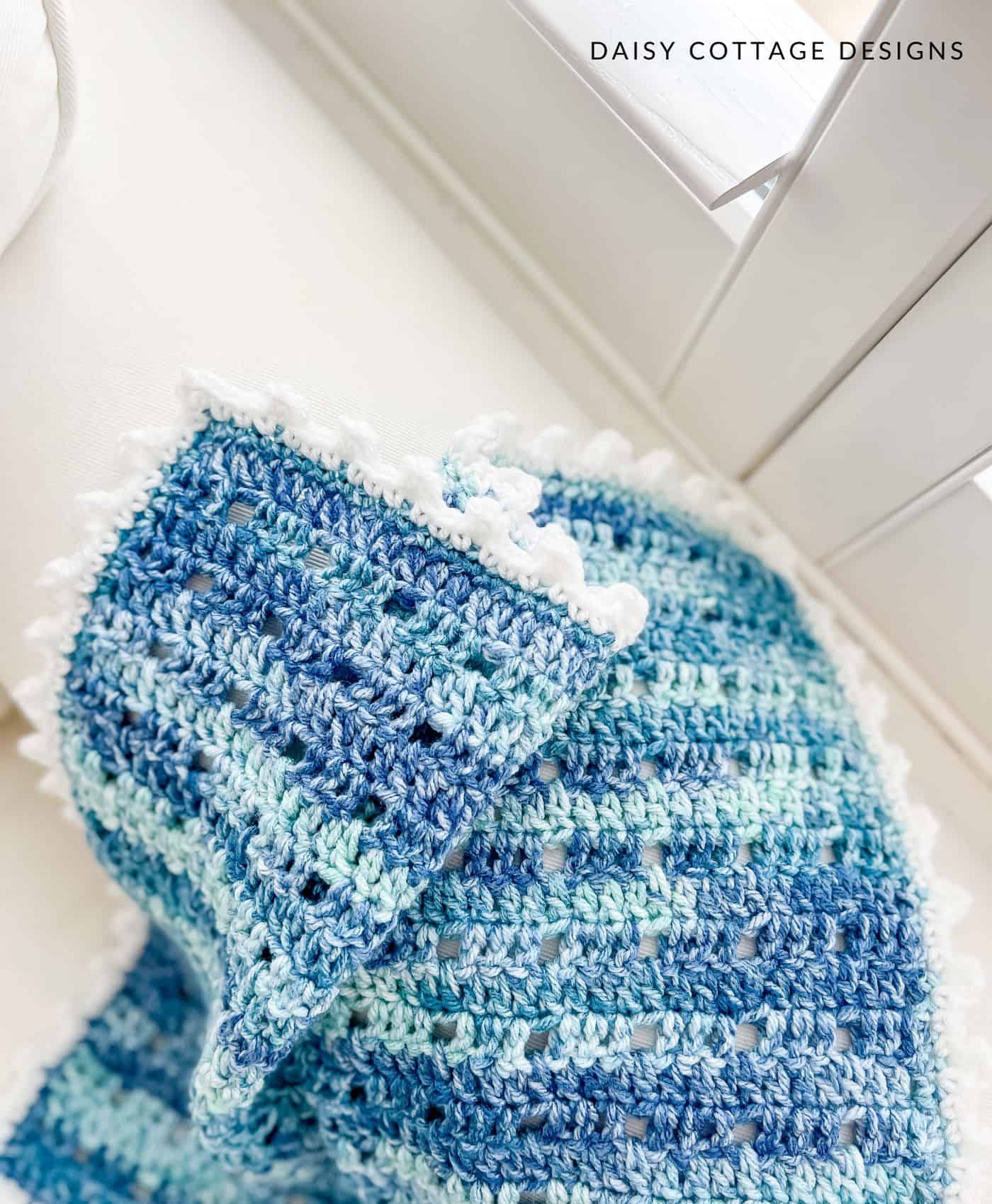 How to Double Crochet
The double crochet stitch is one of the foundational stitches in crochet. Let me walk you through it step-by-step.
Let me first start by telling you how to work a double crochet stitch.
Double Crochet Instructions:
Step 1: yarn over, insert your hook into the stitch.
Step 2: yarn over, and pull your yarn through the stitch (this is called "pulling up a loop). There will be 3 loops on your hook.
Step 3: Yarn over, pull yarn through the first two loops on your hook.
Step 4: Yarn over, pull through last 2 loops on your hook.
If you need more detailed instructions, this video will walk you through it step-by-step. 
I recommend making a "practice swatch" to get the hang of this stitch. You could start with a chain of 10-20 to get the hang of the double crochet.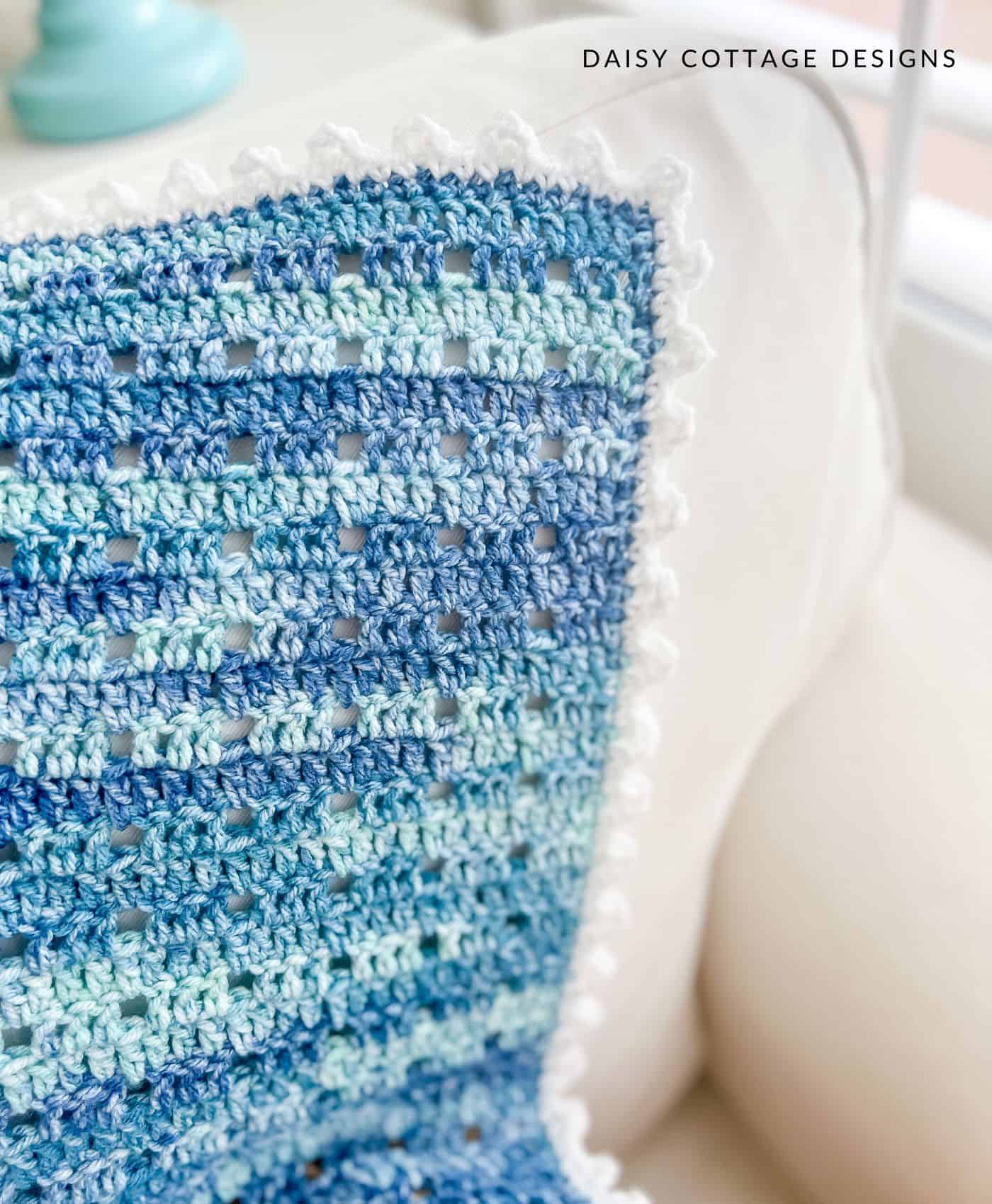 Can You Make a Blanket with Double Crochet?
The answer is definitely yes! Double crochet stitches are perfect for blankets because they're much taller than single crochet stitches, so they work up quickly! In fact, many of my crochet blankets use some variation of the double crochet stitch.
Using one stitch over and over again is relaxing to me, but I like to add in a chain space here and there to keep the visual interest. That's what I've done in the pattern below.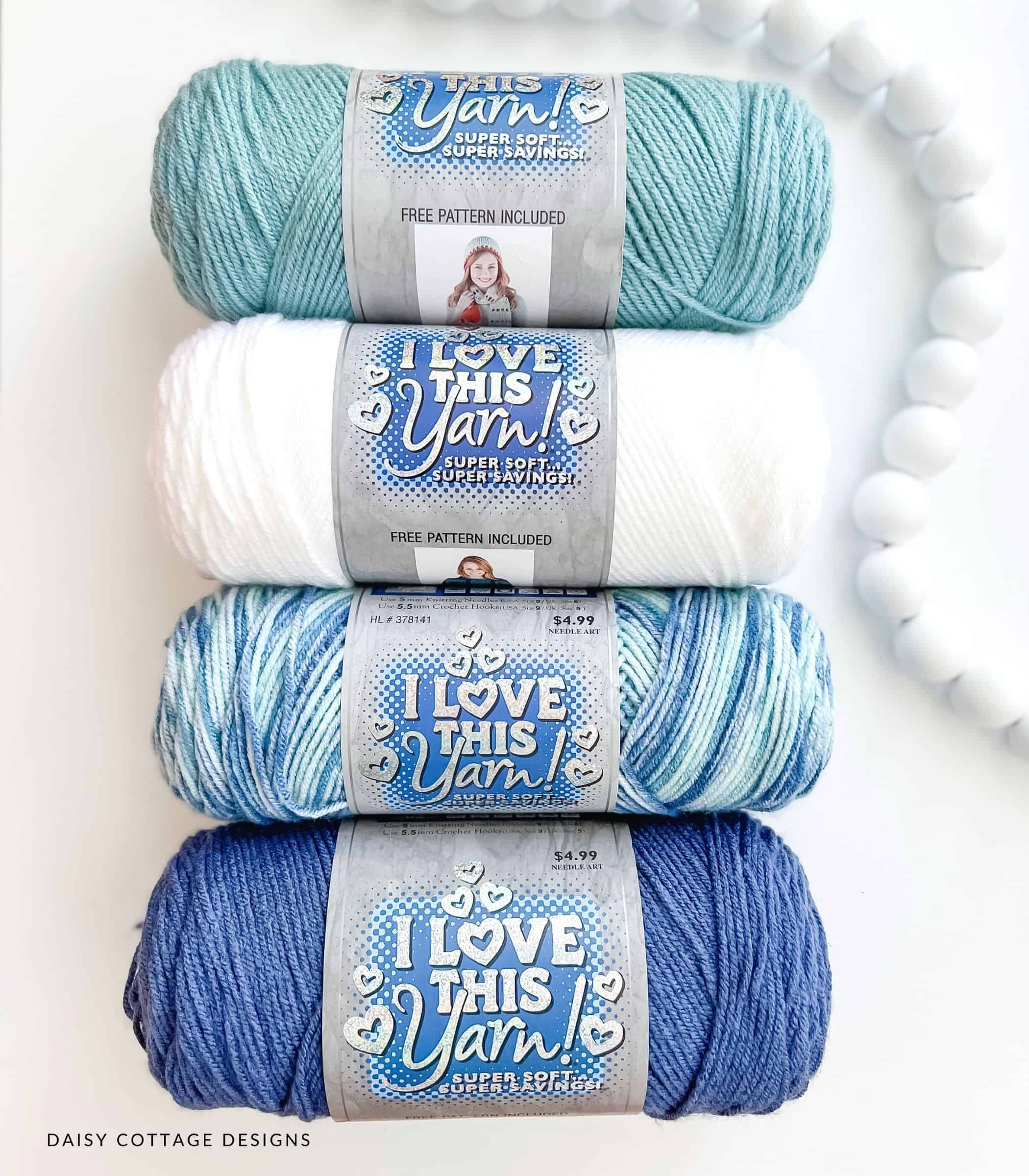 Choosing the Perfect Yarn
I used Hobby Lobby I Love This Yarn in the shade Oasis Beat. It reminds me of a clear blue sky or a beautiful body of water. Adding in the white border didn't help – that could be clouds or white-capped waves.
This acrylic, worsted weight yarn is easy to work with and has a great texture. It comes in a wide array of colors, including a lot of variegated and self-striping options.
If you'd like to use an alternate yarn, these are my 11 favorite yarns for blankets.
Now that you're able to create the stitch and you've chosen your yarn, grab your J/10 crochet hook and let's get started!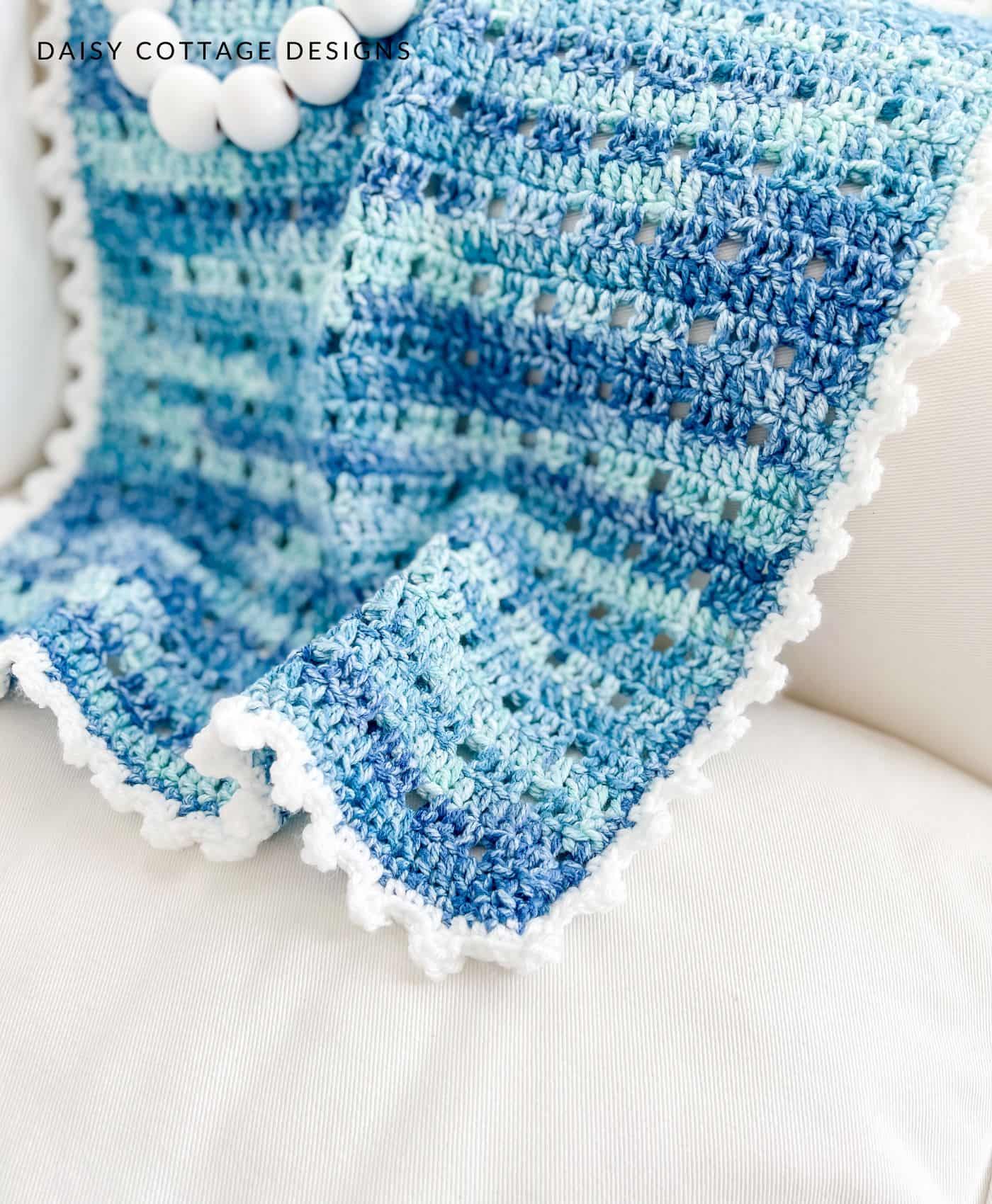 Double Crochet Blanket Pattern
Instructions are for a lap blanket or toddler size double crochet blanket. If you'd prefer to make a double crochet baby blanket or a larger afghan, there will be a section below on adjusting the size of the pattern.
Materials:
Hook Size: J/10 (6.00 mm) Crochet Hook
6 skeins of Hobby Lobby I Love This Yarn in the shade Oasis Beat
If you'd like to use a different brand of yarn, you'll need approximately 1300 yards of worsted (medium) weight yarn.
Tapestry Needle & Scissors
The print-friendly pattern is available here (photos show a different color yarn and different colors)
Pattern Notes:
As written, this blanket measures approximately 36×48 inches . Instructions are given for adjusting the size of the blanket at the end of the pattern. 
You will not work into the turning chains unless otherwise noted.
This blanket was designed using a picot border, but this blanket looks just as beautiful without any border
Gauge: 13 stitches and 8 rows in 4 inches.
You can find a video tutorial here.  
Abbreviations:
sc – single crochet
hdc – half double crochet
dc – double crochet
ch – chain
sl st – slip stitch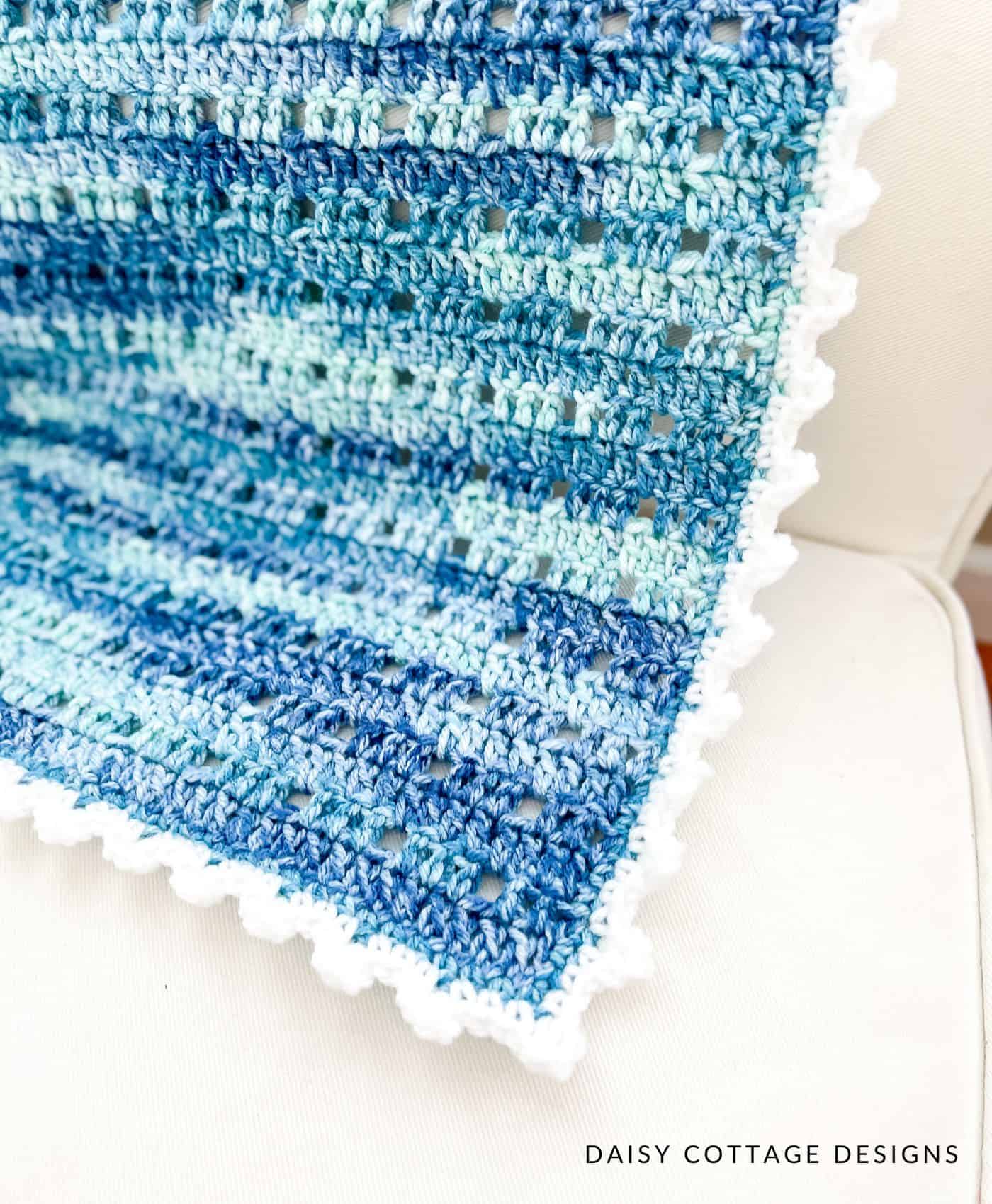 Blanket Instructions
(Video Tutorial available here)
Chain 116. (see the chart below if you'd like to make a different size blanket)
Row 1: dc in the third ch and in each ch across (115 dc stitches including the ch 2). Ch 1, turn.
Row 2: dc in the first stitch (don't skip a stitch because your ch 1 does not count as a stitch) and in the next two stitches. *ch 1, skip a stitch, dc in the next three stitches* across (You will have 87 double crochets and 28 ch 1 spaces at the end of this row). Ch 1, turn.
Note: In row 2, you will work into the top of the ch 2 at the end of the row. In subsequent rows, you'll just work into the last "real" dc at the end of each row.
Row 3: dc in the first stitch and in each stitch and ch 1 space across (115 dc stitches). Ch 1, turn.
Repeat rows 2 and 3 for a total of 89 rows.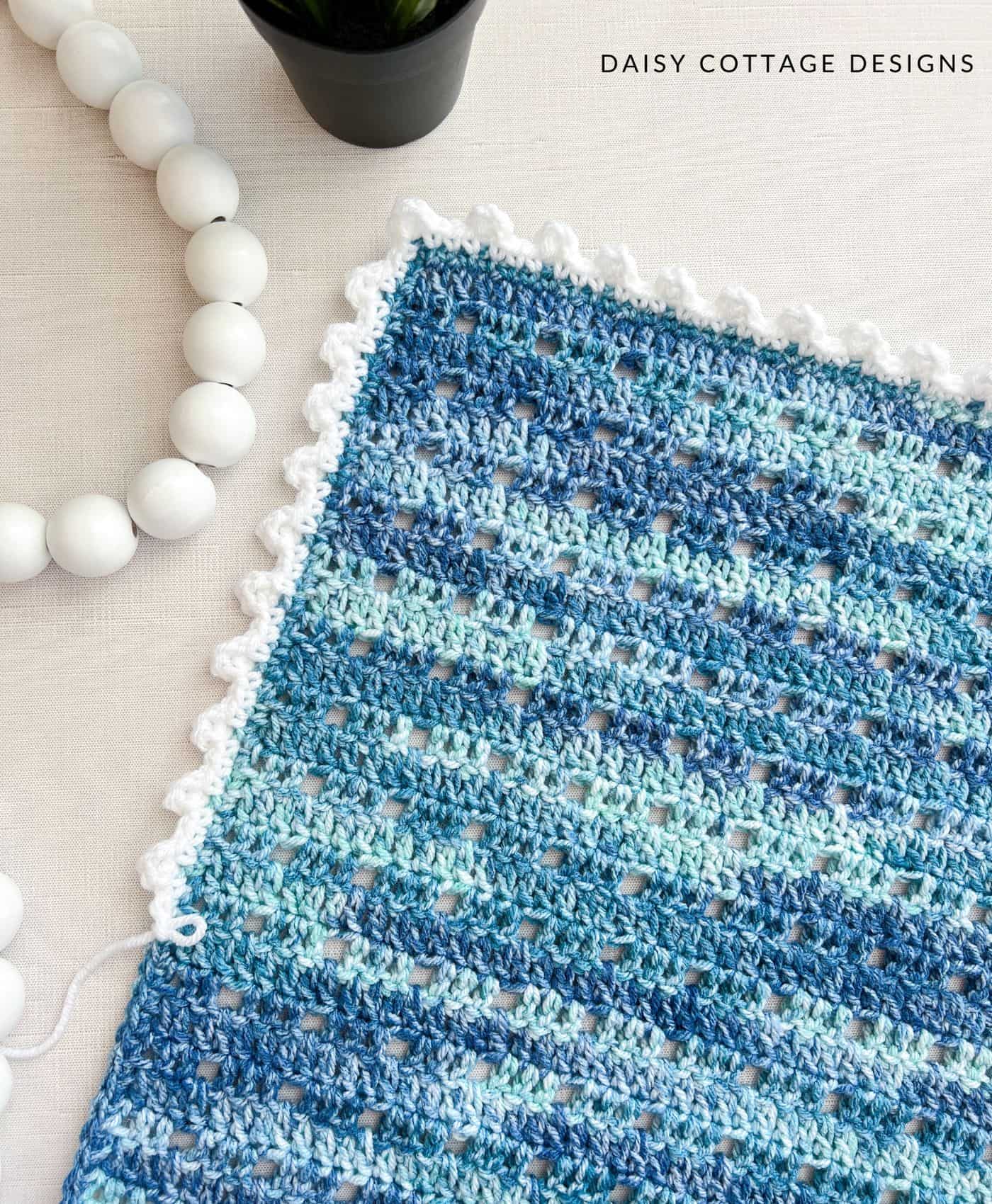 Border (pictured but optional):
Round 1: Using Oasis Beat, single crochet evenly around the entire blanket. Work *3 sc* in each corner. Sl st to the top of the first single crochet stitch to join.
You should have about 99 stitches on the "unfinished" sides of the blanket because it's square.
Cut yarn and weave ends.
Round 2: You'll now be working a picot edging in white.
Join white yarn. *sc in 3 stitches, ch 3, hdc in the first ch* around.
If you've never done a picot border before, more detailed are given below.
Join white yarn using a slip stitch.
Step 1: sc in 3 stitches
Step 2: chain 3 and hdc in the first chain (This is the first chain that you made, not the one closest to the hook.)
Repeat steps 1-2 all the way around the blanket. Sl st to the top of the first stitch to join. Cut yarn and weave ends.
Note: I like to have a picot in each corner so I fiddle with the stitches between picots to make that happen. I used to be really upset if the spaces weren't exact, but I've come to realize that once the blanket is finished, you won't notice an extra sc here or there between picots!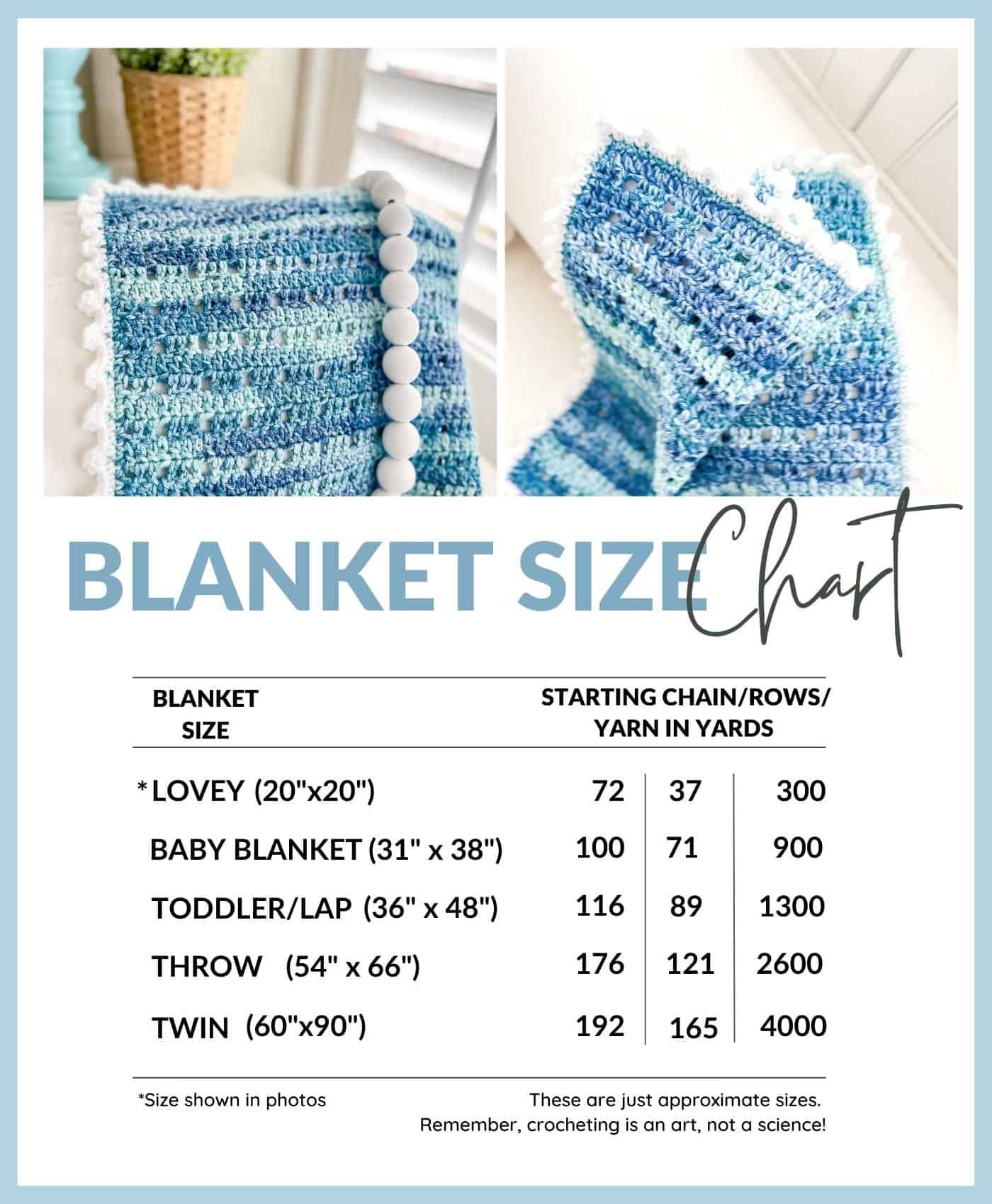 Adjusting the Size of Your Double Crochet Blanket Pattern
Adjusting the size of this double crochet blanket is simple. Simply chain a multiple of 4 until you reach the width you'd like for your blanket.
Then, just work the rows back and forth until you reach the length that you want.
The size chart below shows the starting chain and number of rows for several common blanket sizes.
Please Share Your Work!
If you used this double crochet blanket pattern, I'd love it if you'd tag me in a photo on Instagram or my Facebook page. I love seeing your beautiful creations!
Please note: You're more than welcome to sell items that you make using this pattern on Etsy, at craft fairs, or anywhere else you might sell your items – just be sure to take your own photos!