Crochet Coffee Cozy Pattern
By
Lauren
on December 20, 2016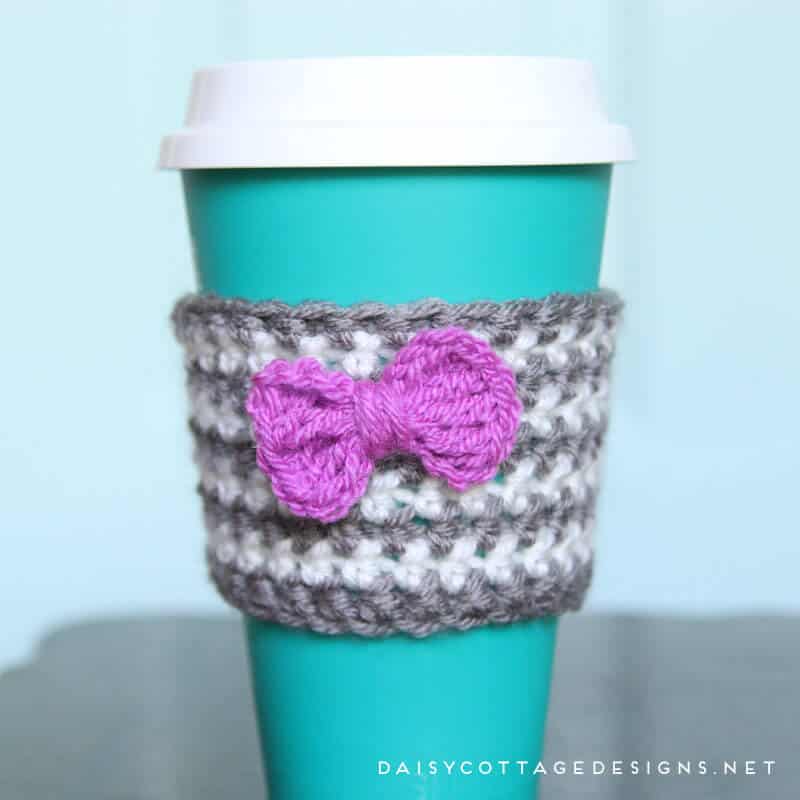 At the end of a project, are you ever left wondering what in the world you should do with the small balls of yarn that are left over? This coffee cozy is a great way to use up those small scraps of yarn that you have in your yarn stash.
Crochet coffee cozies are the perfect gift for friends, neighbors, and teachers. Pair it with a cute coffee cup and a gift card to a local coffee shop, and you have a thoughtful gift that shows off your crochet skills.
Add a cute bow or flower, or leave it plain. Make it all one color, change colors every row, or alternate like I did. Honestly, with a coffee cozy this simple, the possibilities are endless.
If you're new to crocheting, check out my tips, tricks, and patterns for new crocheters. Don't worry, though. This simple cozy pattern is worked using half double crochet stitches so you won't have any problems with it!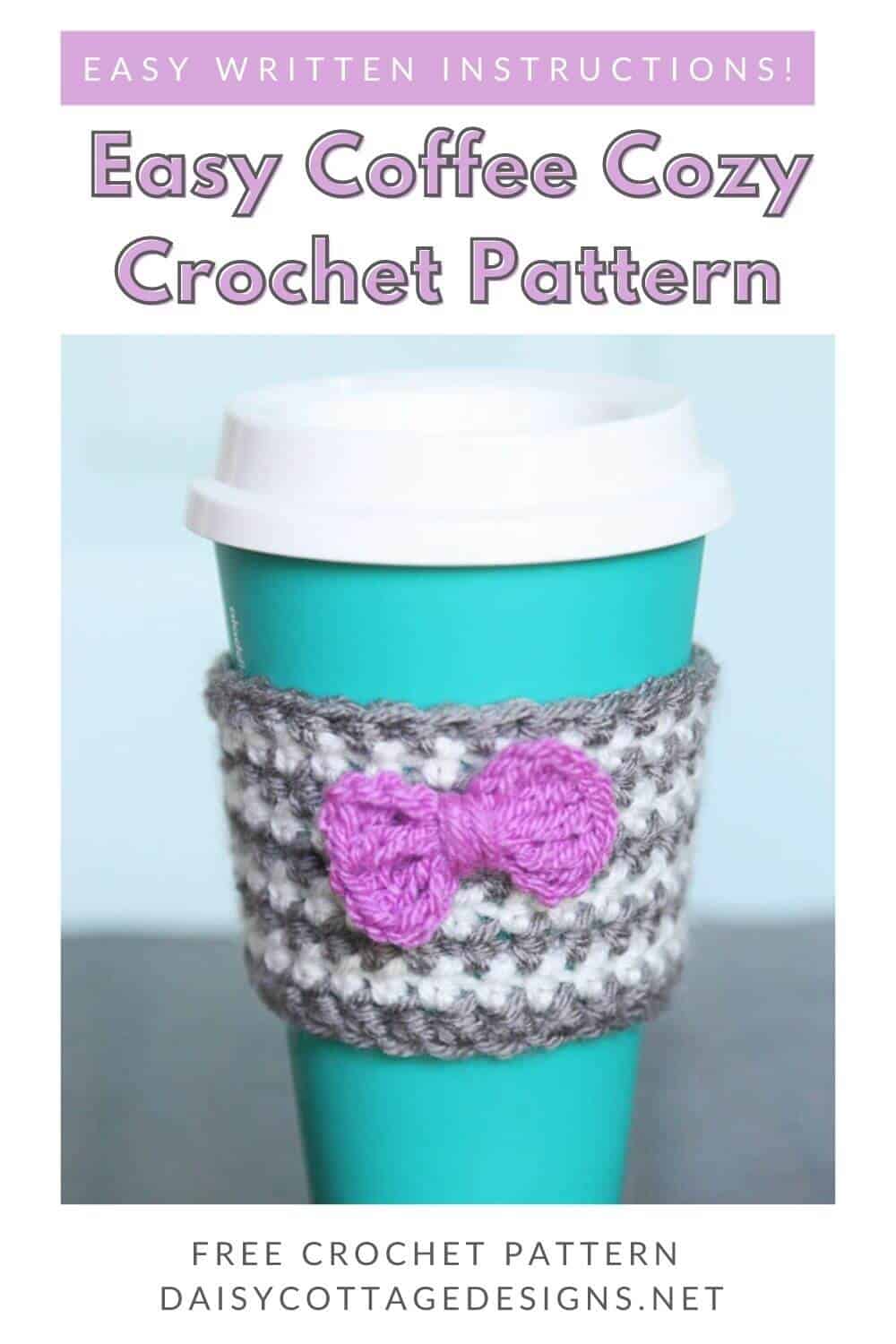 Materials for the Coffee Cup Cozy Crochet Pattern
3 colors of worsted weight yarn
I/9 (5.5) crochet hook
Scissors & tapestry needle
Pattern Notes & Answered Questions
What yarn should I use?While I do recommend using worsted weight yarn for this project, you can use any fiber you'd like. I've used acrylic, but you could totally use cotton yarn or some sort of blend.
What size should a cup cozy be? The coffee cup cozy should be about the same size around as your cup. Simply chain until you can almost wrap your chain around your cup. I find that I want my chain to be a little bit narrower than my cup, just to make sure I have a snug fit. 
You might wonder how long a coffee cup cozy should be. I think this varies by personal preference. I personally want my whole hand to be able to fit on the cozy, but I don't want it to cover most of my cup. Play around with your sizing. 
How long will it take you to make this crochet cup cozy? Not very long! Chances are you'll be done in 30 minutes or less. 
Abbreviations:
hdc: half double crochet
sl st: slip stitch
ch: chain
Ch 26 (or until it's long enough to fit around your cup). If you don't know the exact size of the cup, this is a medium size.
Sl st in the first chain to make a circle. Then continue to the following rounds. 
Round 1: ch 1. hdc in the next stitch and in each stitch around. Sl st to the ch 1 to join. If you're doing stripes, cut yarn and weave ends.
Rounds 2 -9:  Join next color yarn and ch 1. hdc in the next stitch and in each stitch around. Sl st to join. Cut yarn and weave ends.
If you're using a larger cup and want your crochet coffee cozy to be a little longer, just keep adding rows until you're happy with the size.
That's it.
Seriously, how simple was that? Now, you might want to embellish your crochet coffee sleeve with a little bow like I did in the photos. 
If you'd like to do that, you can use this easy bow crochet pattern. Leave a long tail and sew it right to your coffee cozy.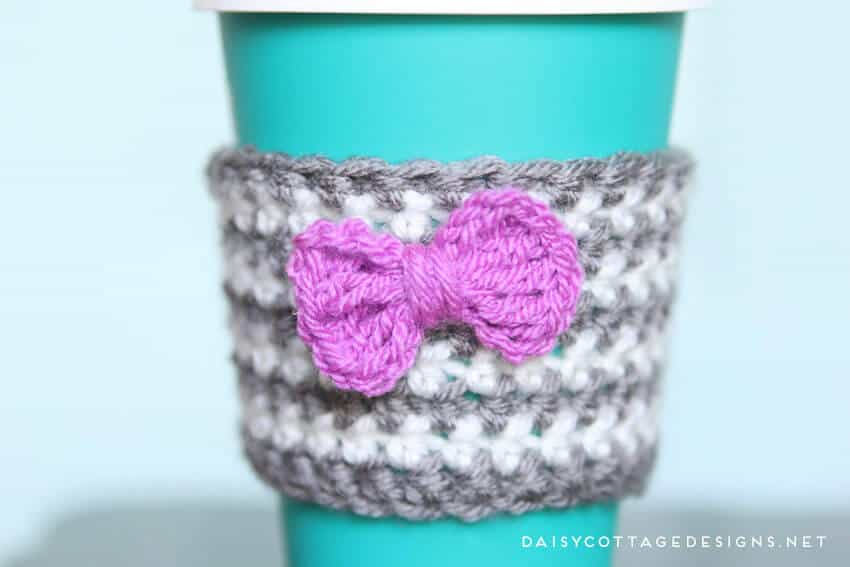 There are many other free crochet patterns on Daisy Cottage Designs that you should check out. If you prefer ad-free PDF patterns, you can find those here.
If you're on Instagram, I'd love it if you'd tag me – @daisycottagedesigns – or use #daisycottagedesigns so I can see your beautiful creations. 
You're more than welcome to sell whatever you make on Etsy (or wherever). However, please remember to use your own photos.