This crochet bow pattern is such an easy little project. Believe it or not, you can whip up one of these baby bows in 5 minutes or fewer. I timed myself: I made one bow in 1 minute and 38 seconds. If you're looking to make a larger bow, you'll love this pattern or this collection of 11 bows.
Besides being quick to make, this little crochet bow is very versatile. Need a baby gift for a friend who's having a boy? You can add it to a chain and make an adorable little bowtie. Is your friend having a girl? Add it to an alligator clip and you've got a great gift!
This crochet bow patternis perfect for determining a stripe pattern in a blanket or hat, too. If you're unsure what order of colors would look best, make one bow in each color, and arrange them until you're comfortable with your selection. You can then use the bows for future gifts, or make a matching set of bow ties or headbands to go along with the baby blanket.  
Crochet Bow Pattern
Can't make this little bow right now? Pin it for later!
Materials:
Very small amount of worsted weight yarn
I/9 Crochet Hook
Needle for weaving ends
Scissors
Notes: 
Directions for the crochet bow pattern:
Ch 5.
Round 1: 4 tc into the first ch. Ch 4, sl st in the same st. Ch 4, 4 tc into the same st, ch 4, sl st in the same st. Cut yarn, but leave a long tail to wrap around the center of the bow.
If you're attaching this to an alligator clip or a headband, wrap the yarn around 7 times, cut yarn and weave ends. Either glue or sew the bow onto your clip or headband.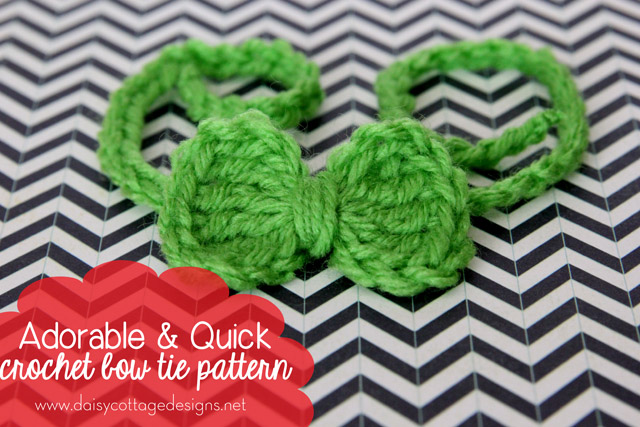 If you're making a bow tie, make a chain measuring 15 inches. Cut yarn and weave ends. Lay chain across the back of the bow tie, then wrap yarn around 7-12 times to secure the tie to the back of the bow and to create the center of the bow.