Easy Crochet Scarf Patterns You'll Love
By
Lauren
on December 23, 2022
Crochet season is in full swing. Cool weather has arrived, and it's the perfect time to break out your favorite hooks and make a cozy crochet scarf. Here are 19 free crochet scarf patterns you'll want to add to your winter wardrobe.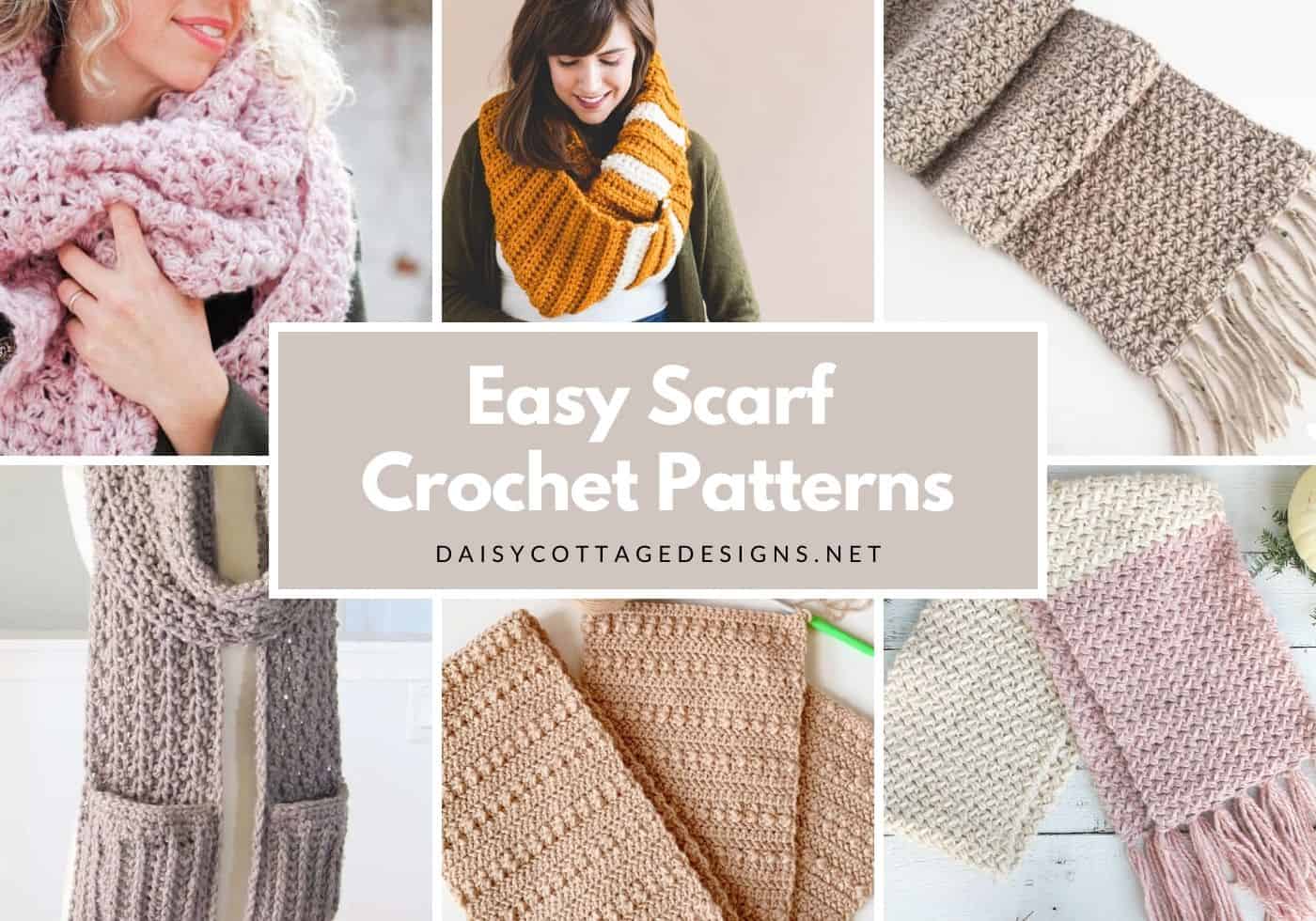 Are you new to crochet? Scarves can be the perfect project for beginners! Yes, I often recommend starting with dishcloths because they're fun and super quick, but sometimes people want something a little more substantial on their crochet hook.
Crochet scarves are wonderful because they often use basic crochet stitches and a simple fringe. While long, they're not often very wide so they do work up quickly.
Not a beginner? No worries. Even though these patterns are beginner-friendly, they're perfect for intermediate and advanced crocheters, too.
Crochet scarves make wonderful gifts, and they're also nice to donate to shelters.
Best Stitches for Scarves
Handmade scarves can be made in a variety of stitches. Whether you want to work back in forth in simple single crochet stitches, or you want to try something with a little more texture, your options are almost limitless.
The Suzette Stitch is a beautiful, warm stitch that is perfect for scarves. Just be sure to use a larger hook than the yarn wrapper calls for, or your gauge might be too tight.
Best Yarn for Crochet Scarves
Many people love to use a chunky or bulky weight yarn for their crochet scarves. Lion Brand Wool Ease (Thick & Quick) is a favorite among lots of crocheters. It works up quickly and is nice and warm. 
If you prefer working with a worsted weight yarn, you could easily use the Wool Ease worsted option. 
Thankfully, any yarn will do to make a beautiful scarf. I'd stay away from cotton yarn, though, unless you live in a place that doesn't get too cold. Acrylic and wool will create a more comfy scarf.
Free Scarf Crochet Patterns
You'll find something for everyone in this collection of easy crochet scarf patterns. From infinity scarf patterns to cowls, you're sure to find something you love. Whether you want to crochet something for yourself to go with your favorite outfit or make a chunky scarf for your best friend, you'll find what you're looking for.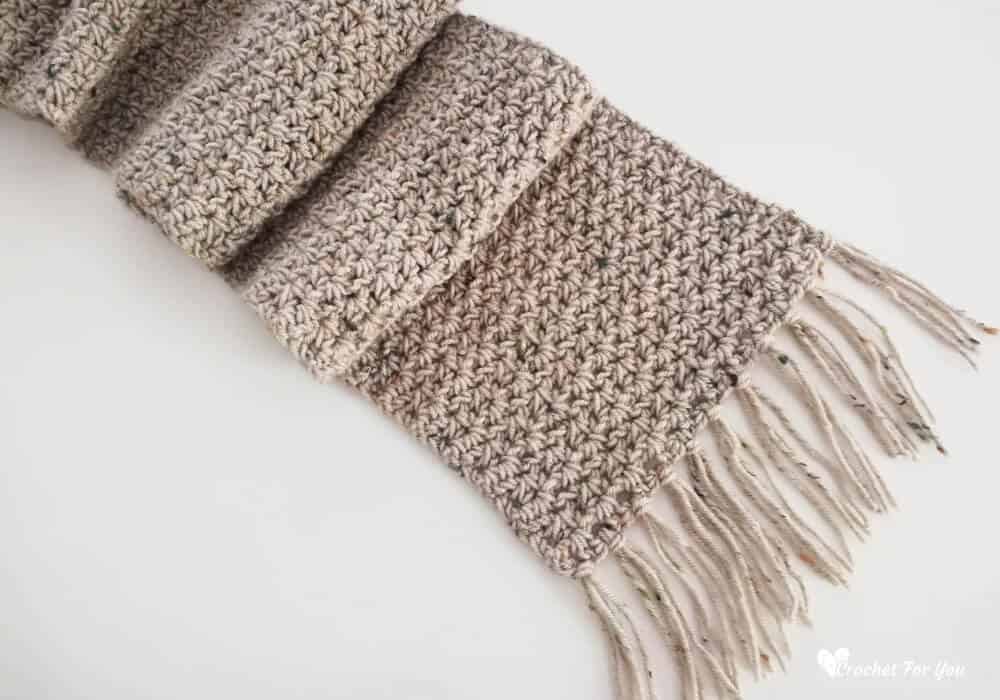 It doesn't get more classic than this beautiful scarf. This stitch has wonderful drape, but provides warmth on cold days. You'll love making and wearing this beautiful scarf.
The hdc v stitch is one of my favorite stitches (I used it in this blanket), so I was thrilled to see it used in the scarf.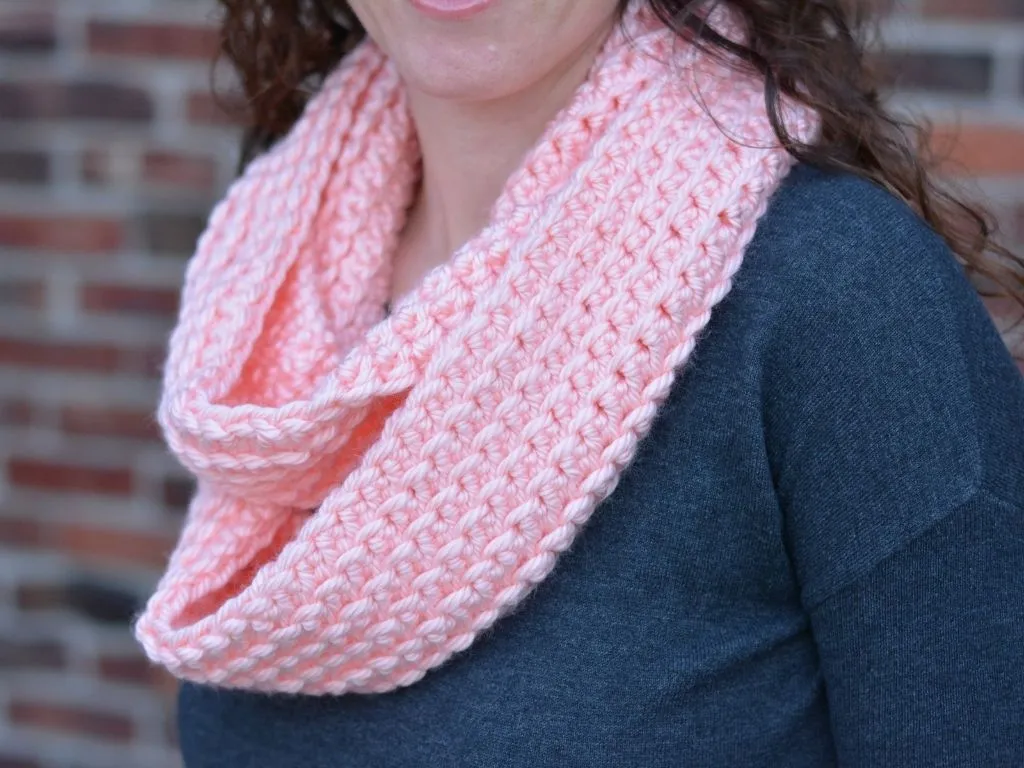 This beautiful scarf uses super bulky yarn and is worked in the round. No turning needed! It's a great beginner project, and will work up quickly since it calls for chunky yarn. 
I love the ridged look of this stitch, and think that it would make a wonderful gift.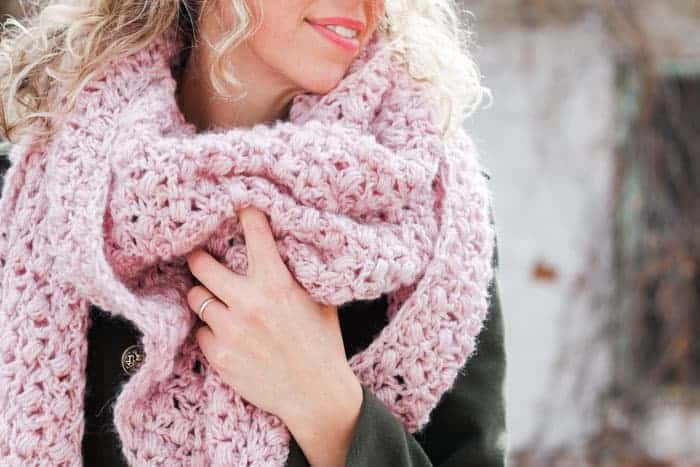 This triangle scarf looks so cozy and soft to me, and I love the tassels that finish off the corners of this scarf. This pattern uses Lion Brand's Touch of Alpaca yarn.
I love a traditional scarf, but the triangle option is a wonderful variation if you're looking for something that's a little cozier.
This super scarf is beautifully color blocked and perfect for cold days. If you have a friend who's always cold, this might be just the thing to make her.
This would also be fun to make in team colors for sports fans or college students!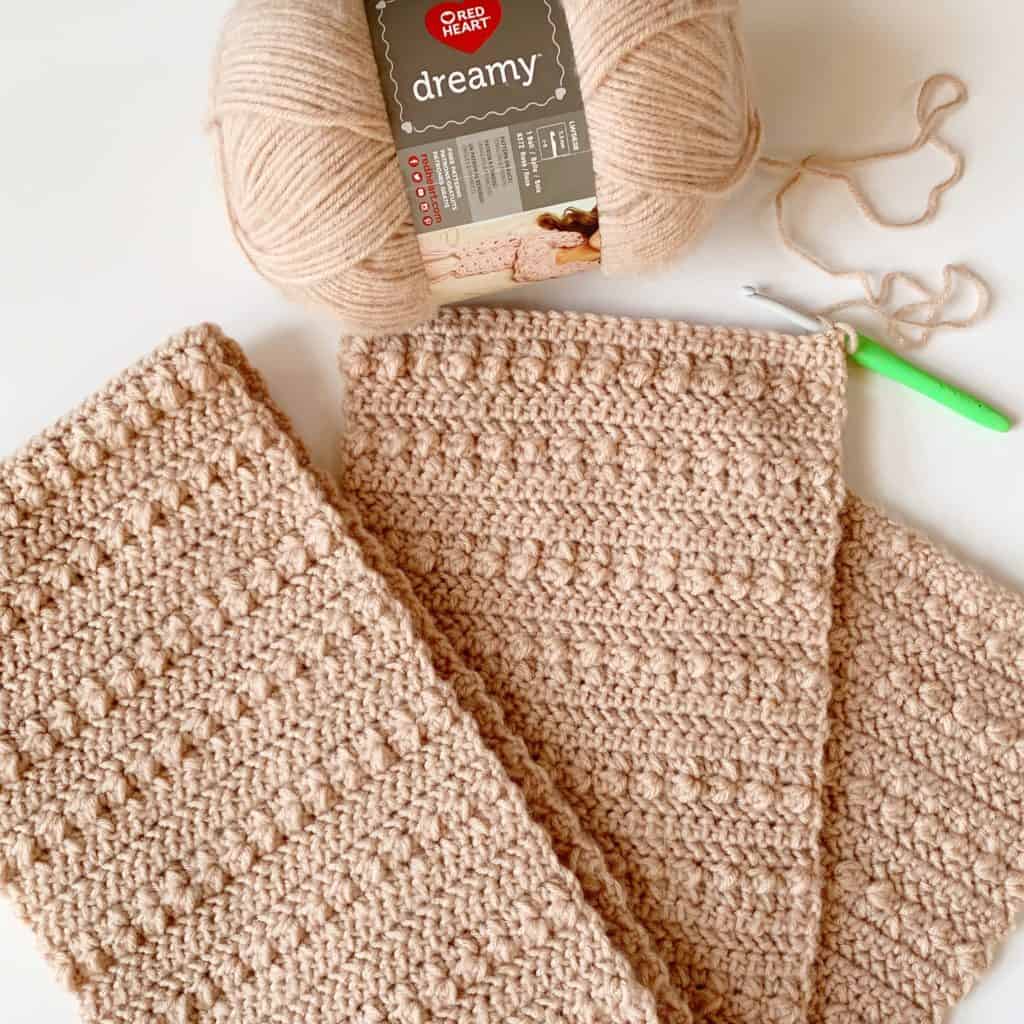 I love the texture of this beautiful scarf. It reminds me of the Cobblestone Pathways blanket. It has subtle stripes and visual interest without having those pesky color changes – it's all worked into the stitch pattern.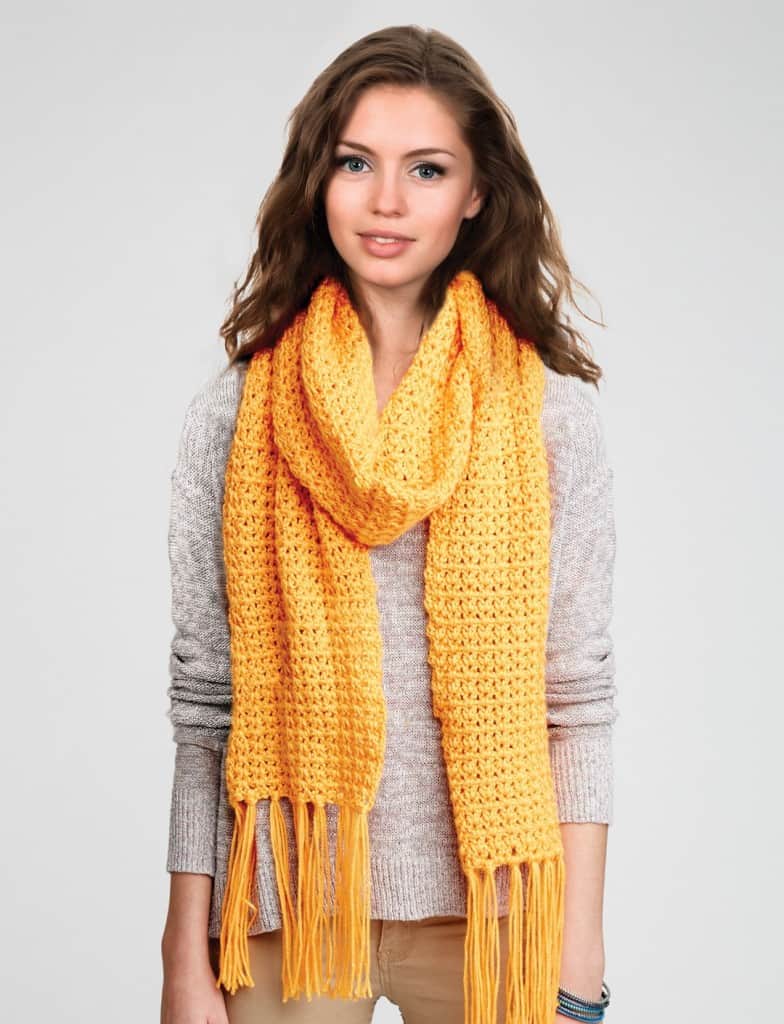 This scarf is another classic option. You can't go wrong with this versatile stitch. Simple to make, you'll love the finished result.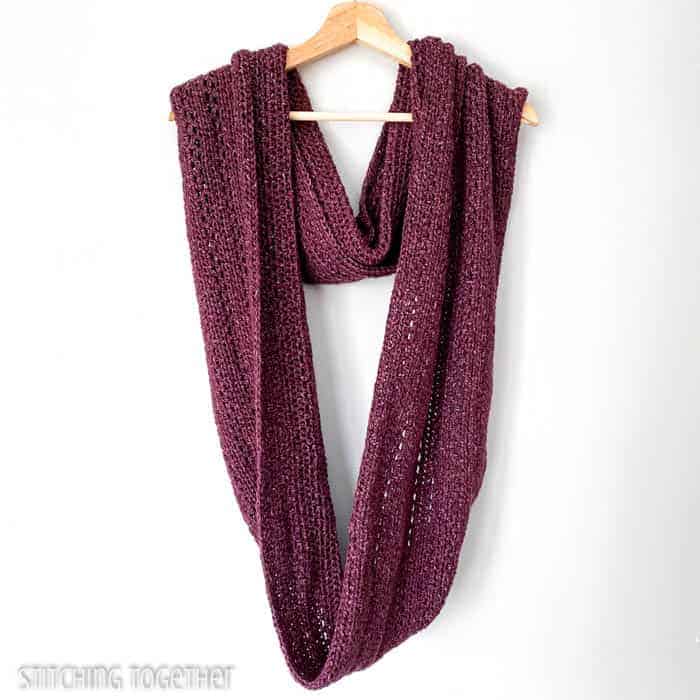 This scarf is easy to make and absolutely beautiful. The simple stitches work together to create a gorgeous scarf that you'll love waring.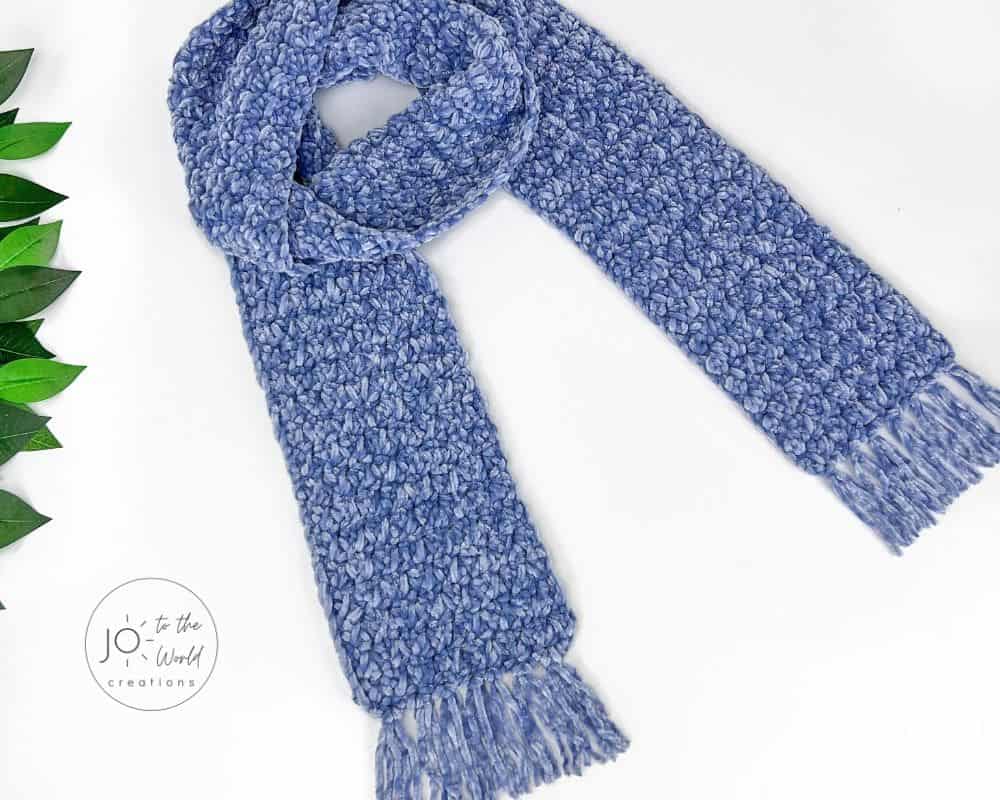 I love the color of this scarf. This scarf uses one skein of yarn and can be made in 3 hours or less! It's the perfect, quick gift for your cold natured friends.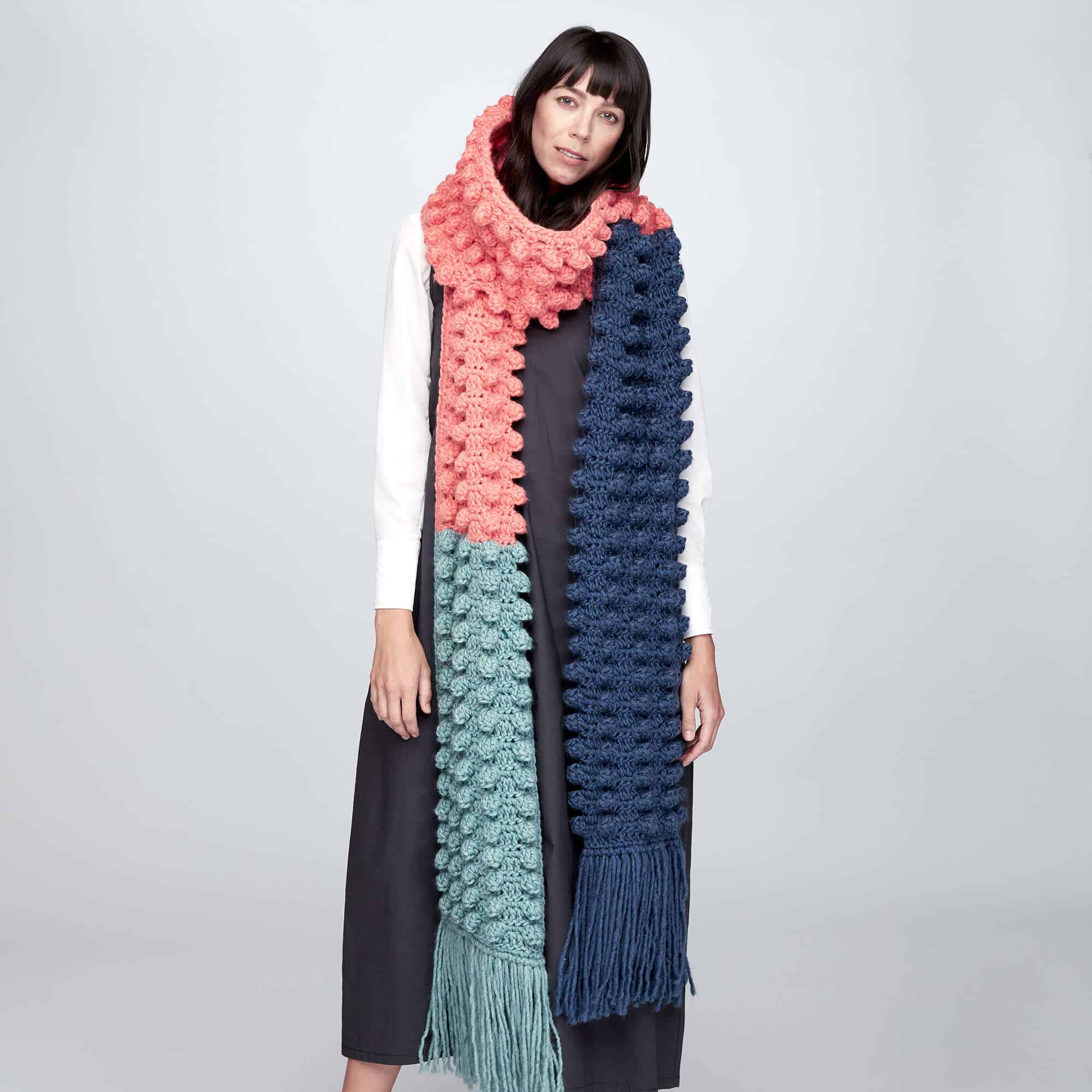 This scarf is massive and would be a huge time commitment and labor of love, but it's so funky and fun! I love the bright colors and stitch. I even have a hat pattern that would pair with it perfectly.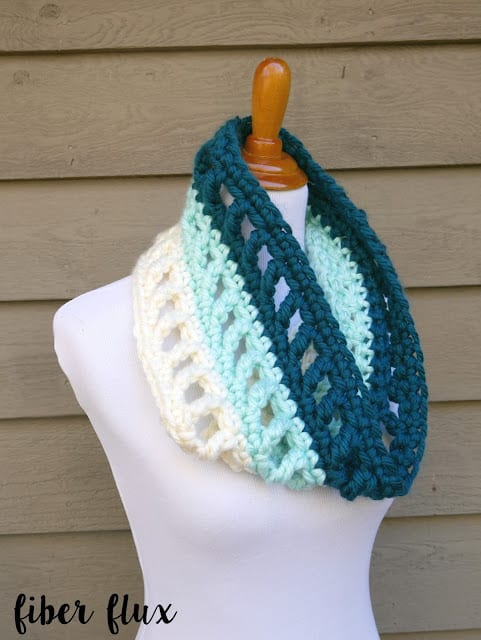 While the last scarf would take a long time to make, this pattern could be worked up in no time. The instructions are easy for this free crochet pattern and the results are beautiful.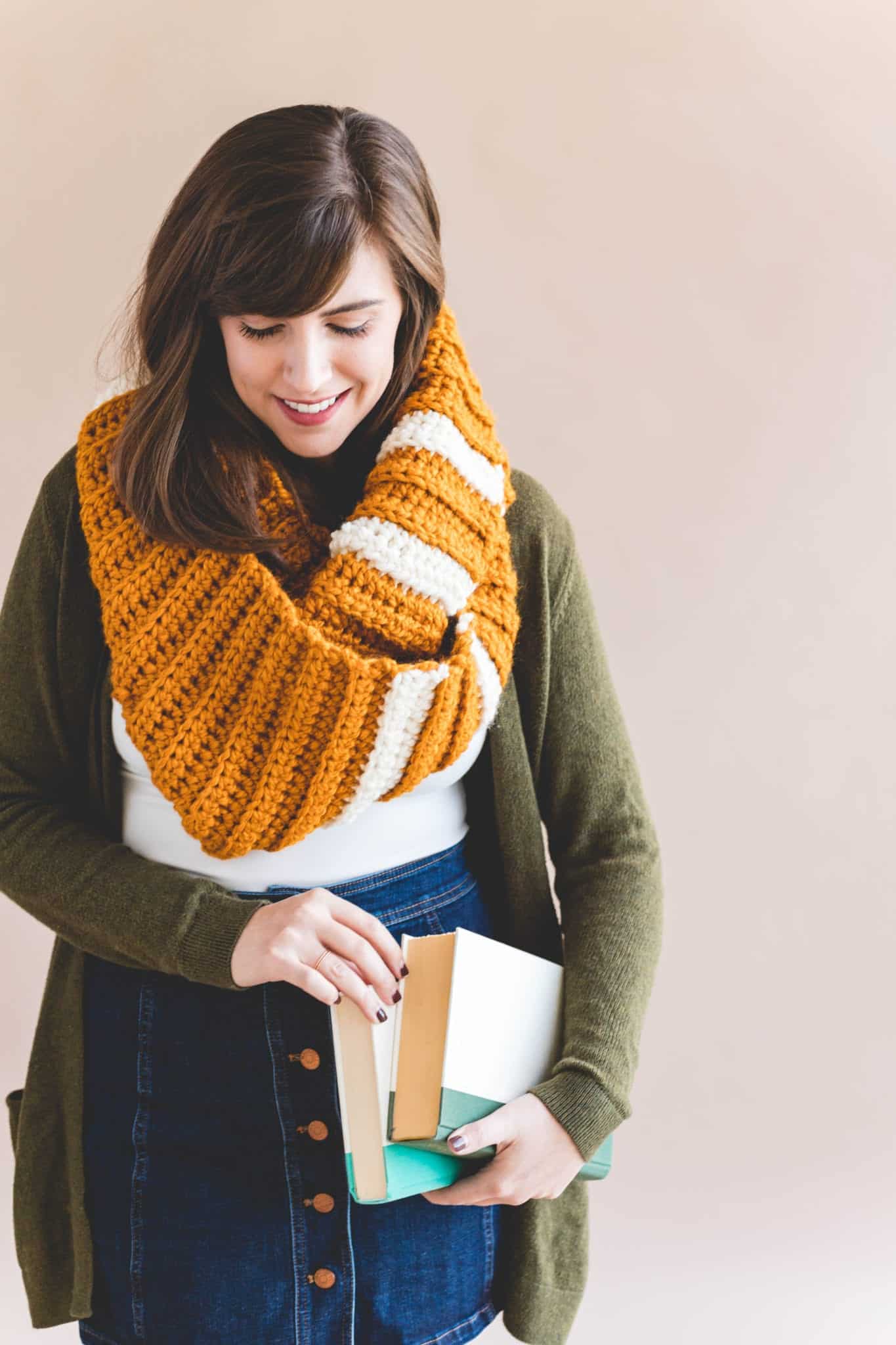 While Sewrella spends most of her time hand-dying beautiful yarn rather than writing free patterns, there are still so many beautiful crochet projects on her blog. The stitches on this scarf are worked into the back loop only (BLO), creating a beautiful ribbed look.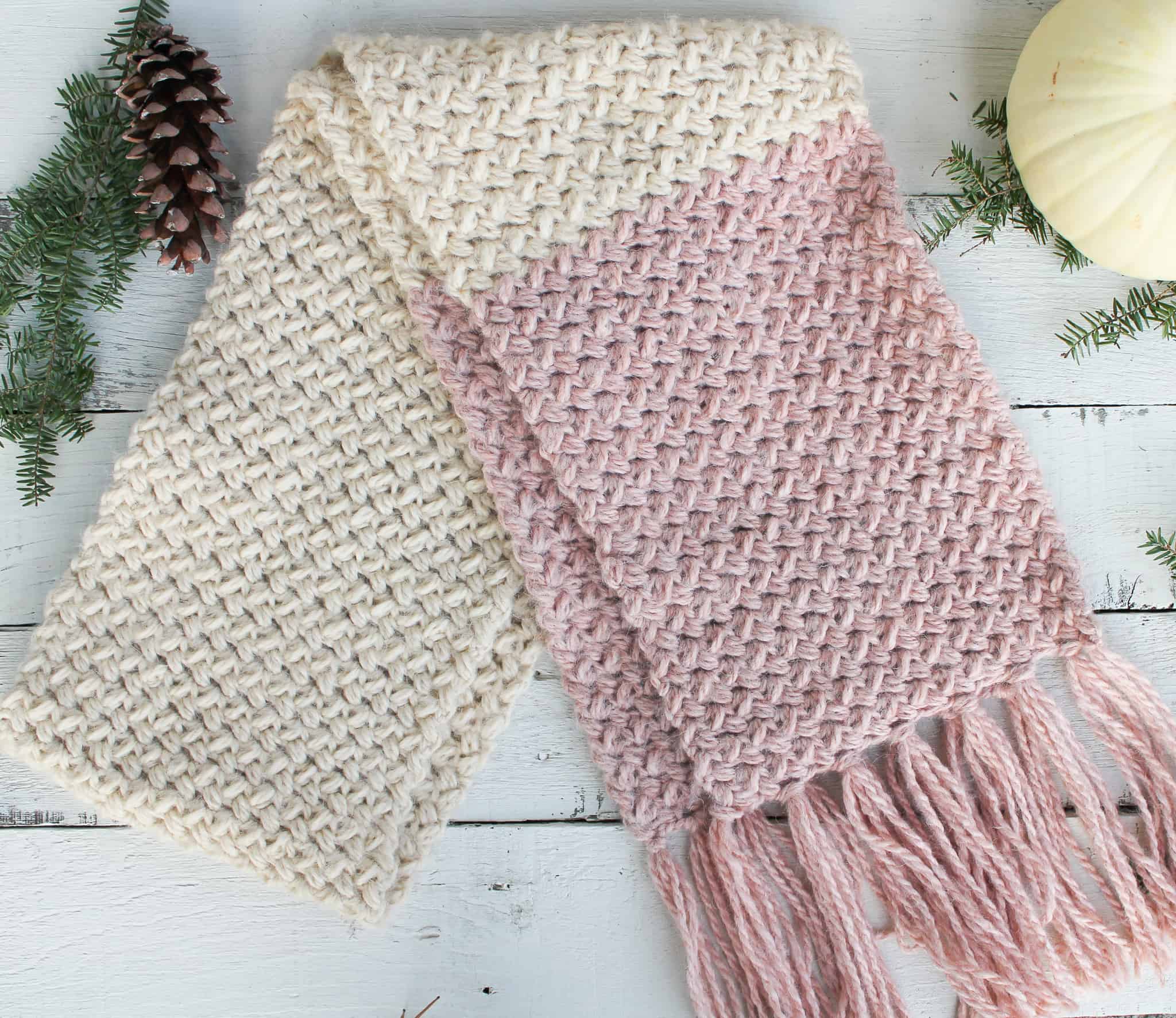 The bean stitch is another one of my favorite stitches. I've used it for blankets and washcloths. I even have a cozy pom pom hat pattern that would look great paired with this scarf.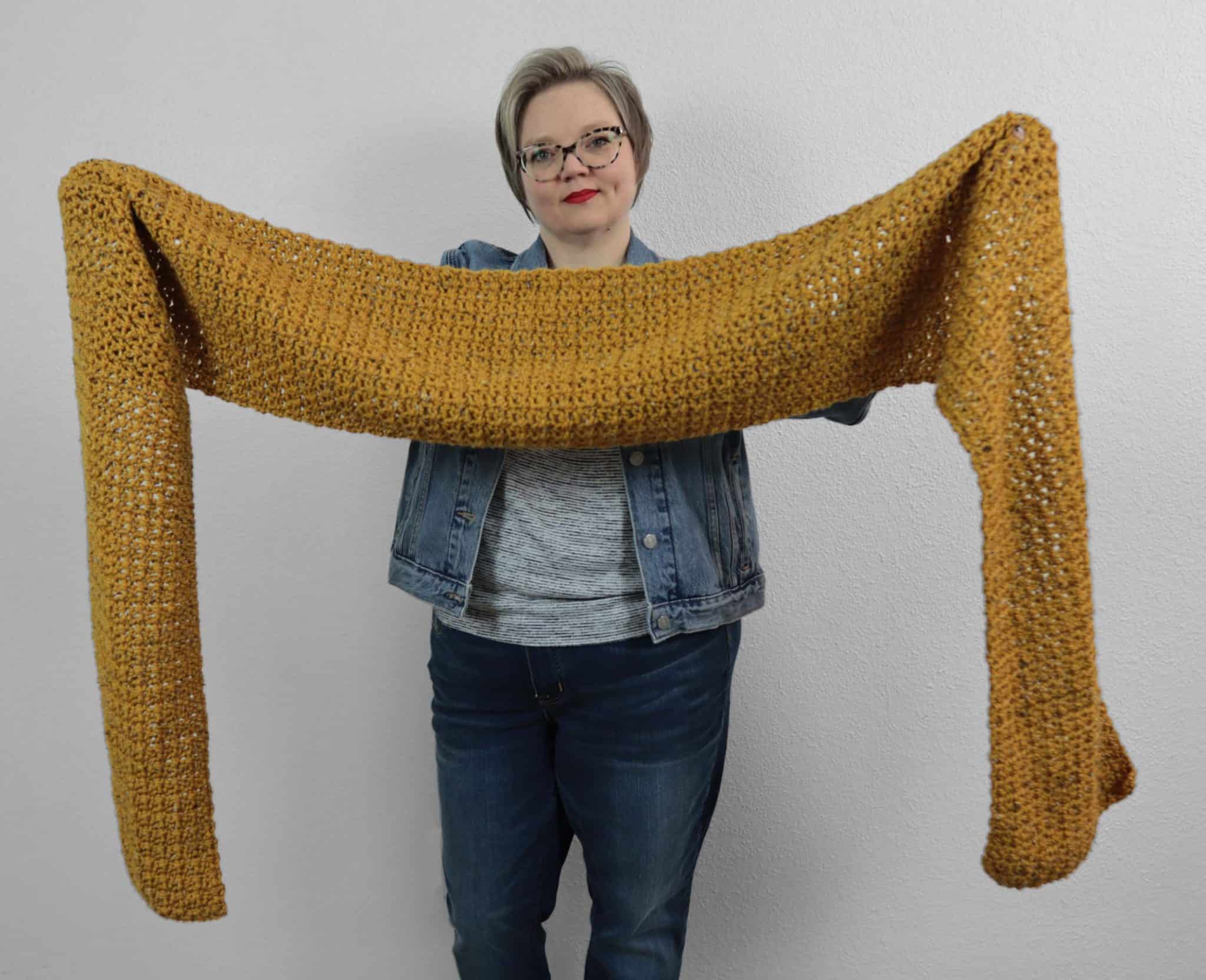 This pretty, extra large scarf uses two of the most simple crochet stitches there are. The chain stitch and the single crochet. After you make your foundation chain, all you'll need to know is the single crochet stitch. Easy as pie.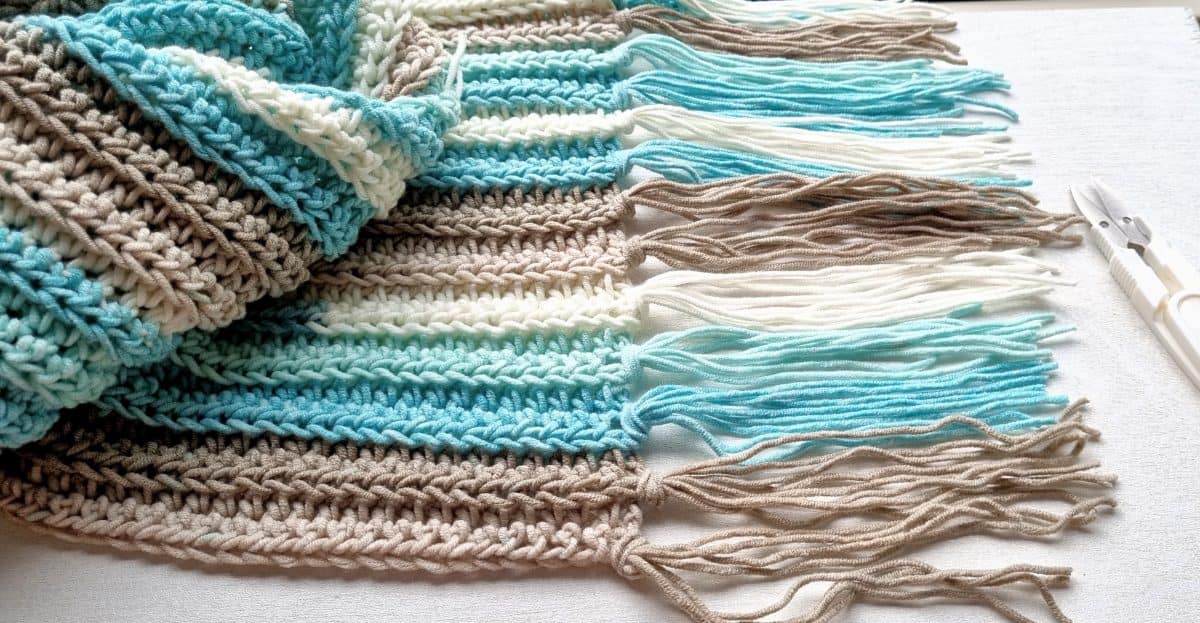 This scarf's claim to fame is its vertical rows. Rather than working back and forth in short rows, you'll start with a long chain and then work until you achieve the width you like.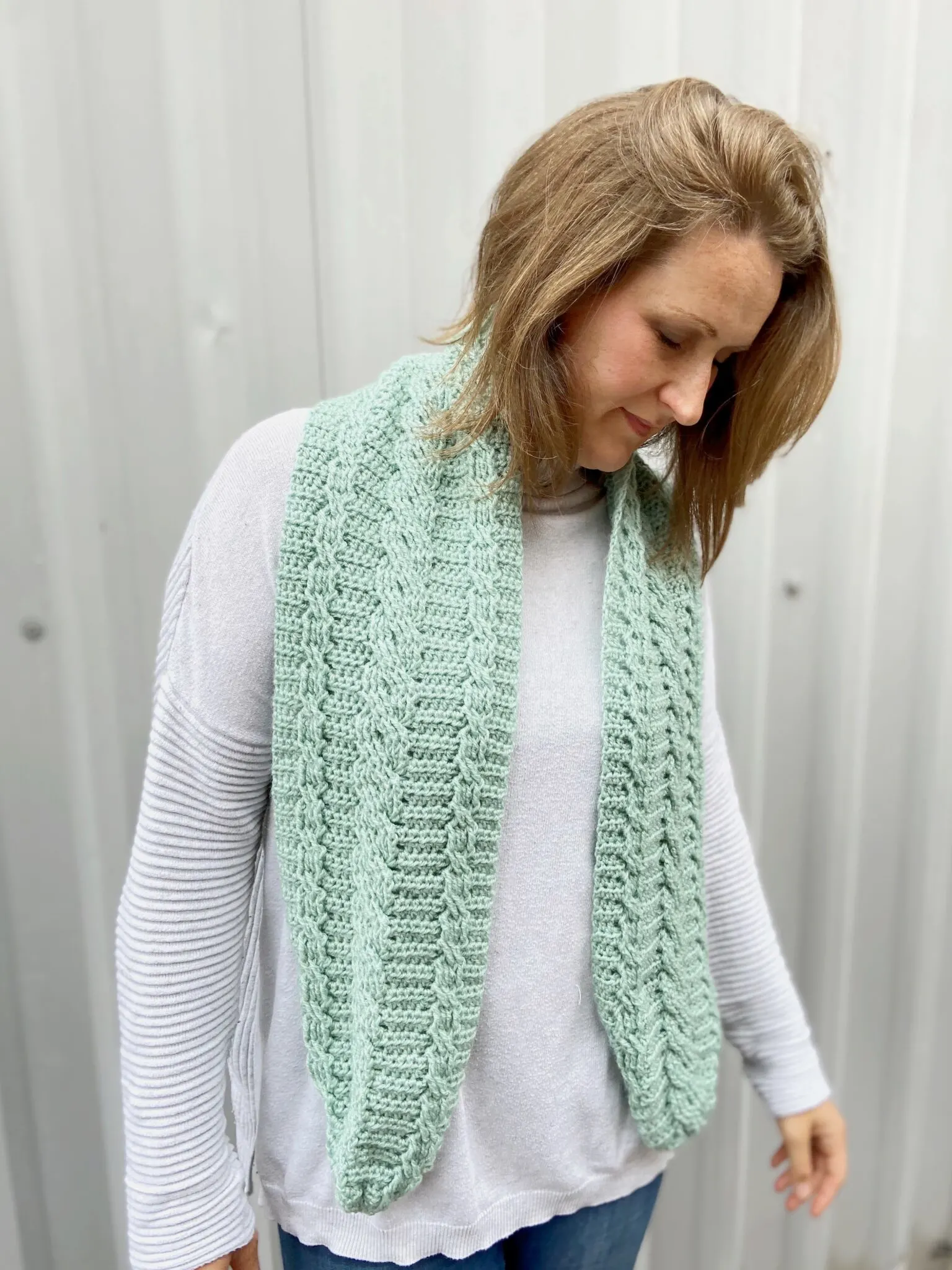 Looking for a scarf with a knitted look? This cabled crochet scarf is a beautiful option. It's intricate design will wow anyone who sees it, and it's a nice challenge if you're looking to level up your crochet skills.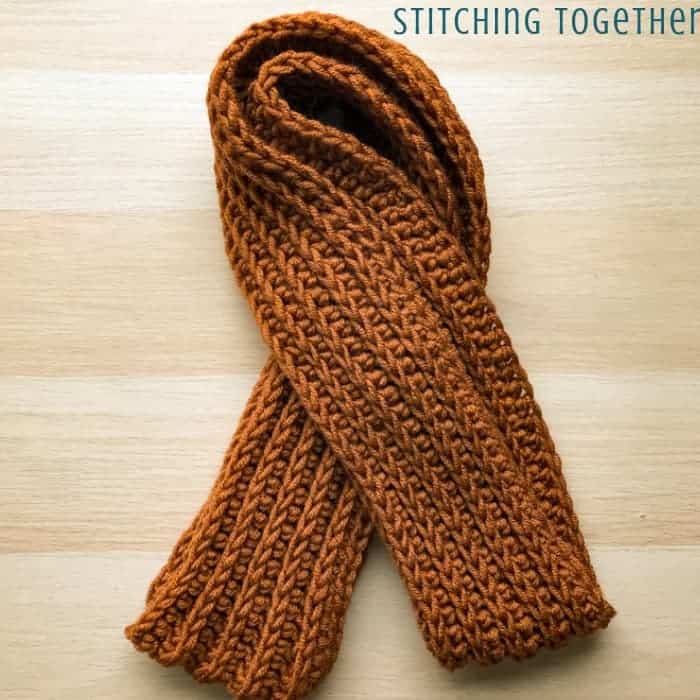 While most scarves are entirely unisex, this one was designed specifically for men. Make it in his favorite color and it's sure to be a go-to during those cold winter months.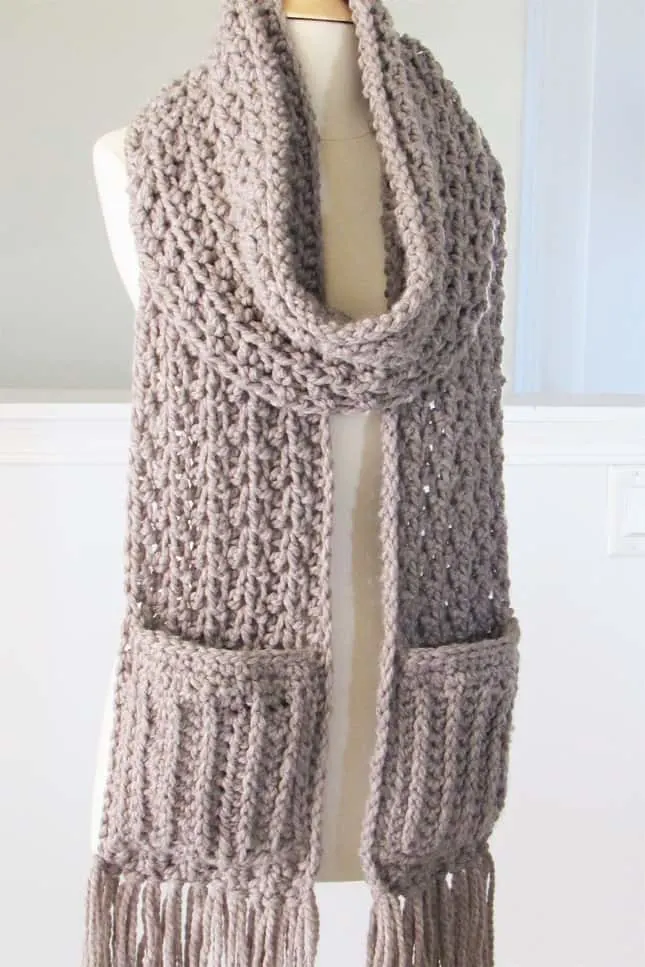 Everything has pockets these days – even wedding dresses. Why not add pockets to your scarf to help keep your hands warm, too? Cute and functional!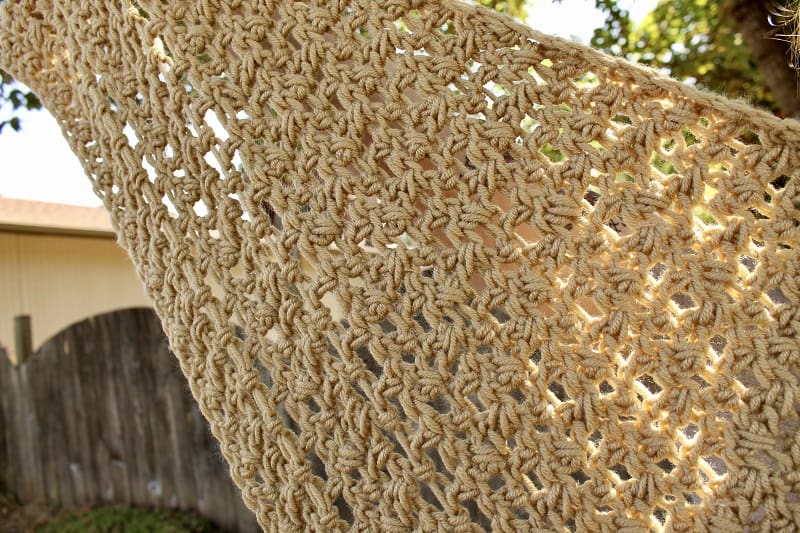 This chunky beauty is thick, squishy and beautiful. This pattern uses Color Made Easy Yarn (which is a chunky weight 5 yarn). I'd love to have one in several different colors!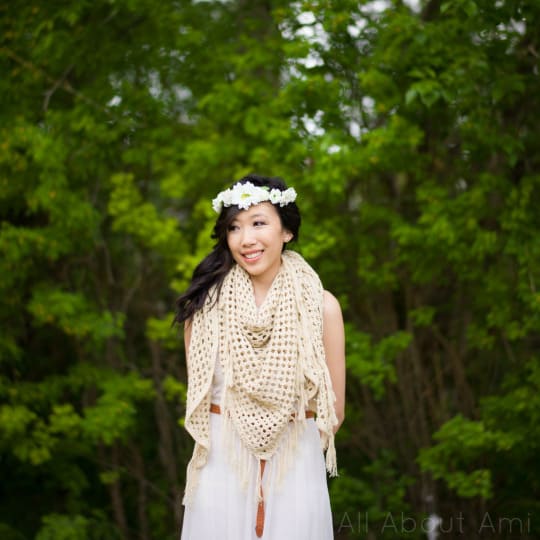 This scarf is perfect for those cool spring days when you don't quite need a sweater, but you'd like a little something in case there's a cool breeze. This beautiful shawl would be just right for an outdoor wedding. Beautiful and classy, it would be perfect paired with so many outfits!