How To Choose Yarn Colors For Crochet Projects (With Pictures)
The right colors add fun and visual interest to crocheted blankets. Learn how to choose yarn color combinations for crochet projects using the tips and tricks below.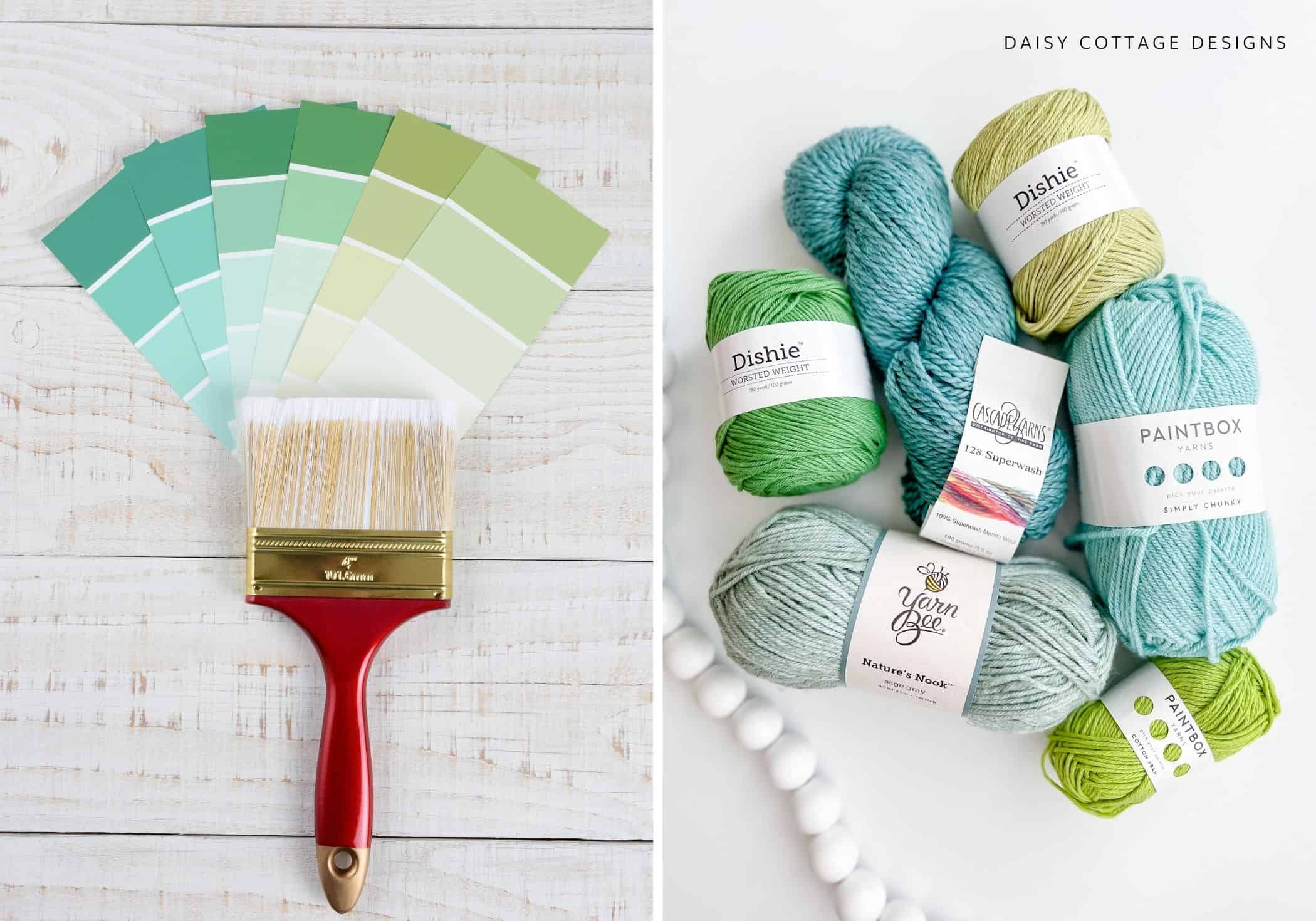 While we might have heard of color wheels, analogous colors, and tertiary colours, I think what we all want to do is be able to put different colors together for our next crochet project.
We don't want to have to rely on some complicated theory to pick a beautiful color combo, am I right?
Believe it or not, it's not as hard as you think to put together your own color palette.
I've never thought about all the in-depth color theories, and yet I hear things like this all the time:
"You have the most amazing colour combinations"
"I love the color choices of your afghans! I have a hard time putting colors together and yours always nails it. Thank you for sharing your talent."
"You come up with some great combinations"
"You have such an eye for lovely color combinations!"
So does this mean I have some special ability to pick the perfect colors for crochet blankets?
No way! If I can do it, so can you.
In this post, I'll share some of my helpful tips for for choosing colors of yarn. Whether you're looking for bright colors or something with more neutral colors, I'll help you out. I'll even share some ready-made color palettes in case you would rather have someone do the color work for you.
Your opinion is what matters.
First of all, let's clear something up. Regardless of what the colour wheel or color experts says, it matters what you think. You might not like trendy color combinations. You might like primary colors or earth tones.
You might think that lime green or yellow should never be used. You might gravitate towards orange and purple. Whatever looks the best to you is what you should use.
I gravitate towards turquoise and most of my projects incorporate one or more shade of blue. Do I challenge myself to step out of my comfort zone sometimes? Absolutely. Do I use turquoise in every baby blanket I make? Not quite.
Don't worry about going against the color theory if you're happy with your color selection. If you know what you like, count yourself as fortunate! Crochet what you like and boldly love the colors schemes you select.
How do you find the best color combination?
While some people love choosing colors and are confident in their choices, other people really don't enjoy putting colors together. I hear it all the time.
"It takes me forever to put together a color palette."
I don't even know if these cool hues go together!
How do you pick perfect yarn colors every time? I struggle.
If this is you, here are 5 ways that you can find a complementary color scheme for your next crochet project.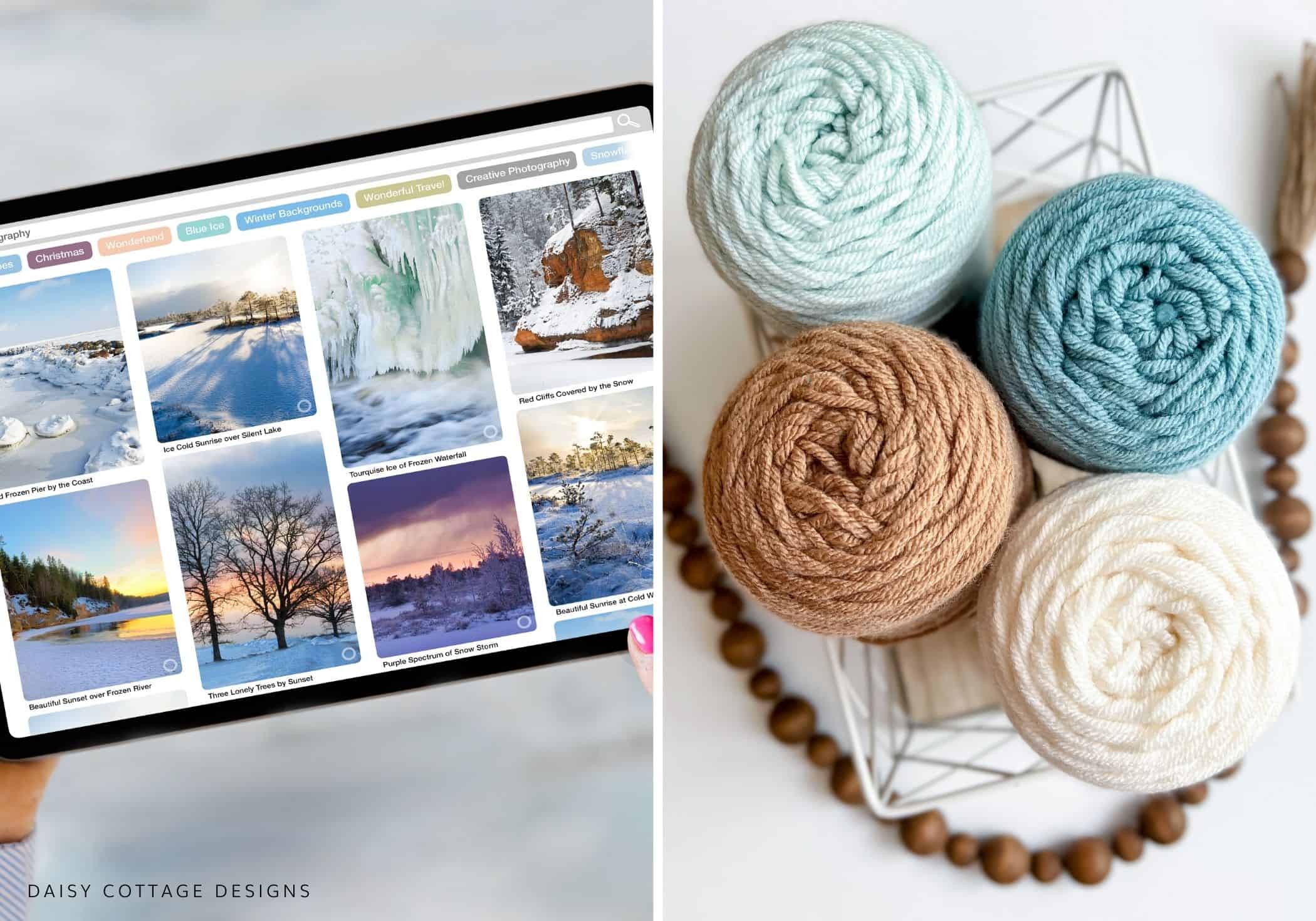 1. Head to Pinterest.
Pinterest is an excellent resource for colors. While you're on the site, try looking for something like "winter color palettes," "cotton candy color combinations," or "blue color palettes" and you'll have option after option.
Another thing to search on Pinterest is "wedding colors." Wedding colors are often trendy and put together into beautiful palettes. There will be a main color and several complimentary colors to choose from for your next project.
Once you find a color combination you like, save it to a Pinterest board or take a screenshot and then head to the yarn store to find similar hues.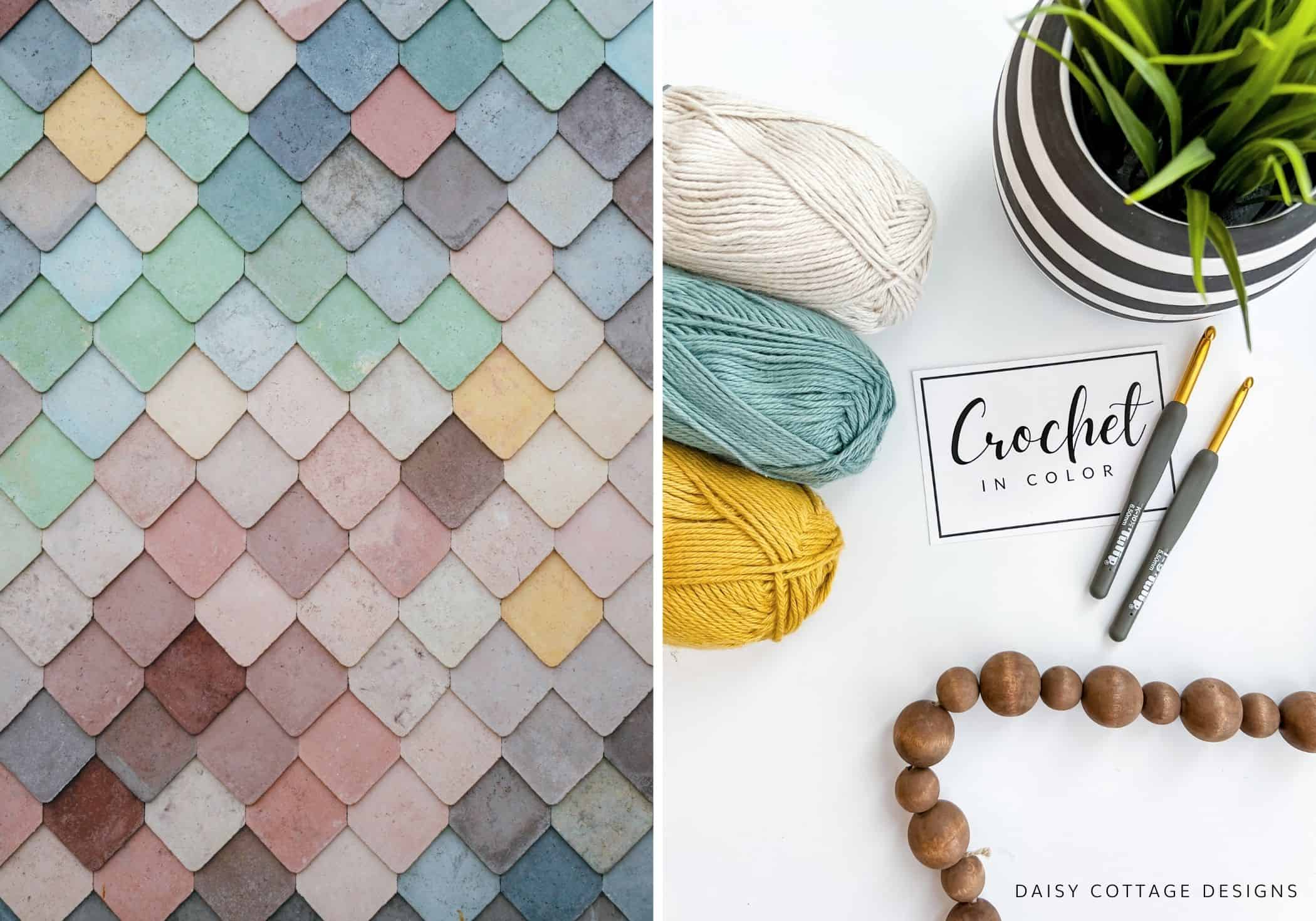 2. Use a Color Picker Website
Coolors.co is a fun website that will allow you to generate custom schemes or explore "trending palettes." Spend a few minutes or all day creating color palettes to have on hand when you're stuck.
This website also allows you to upload an image. From that, you can select a crochet color palette. Have a beautiful photo you took on your last vacation? Upload that to the website and pick colors you love from that photo.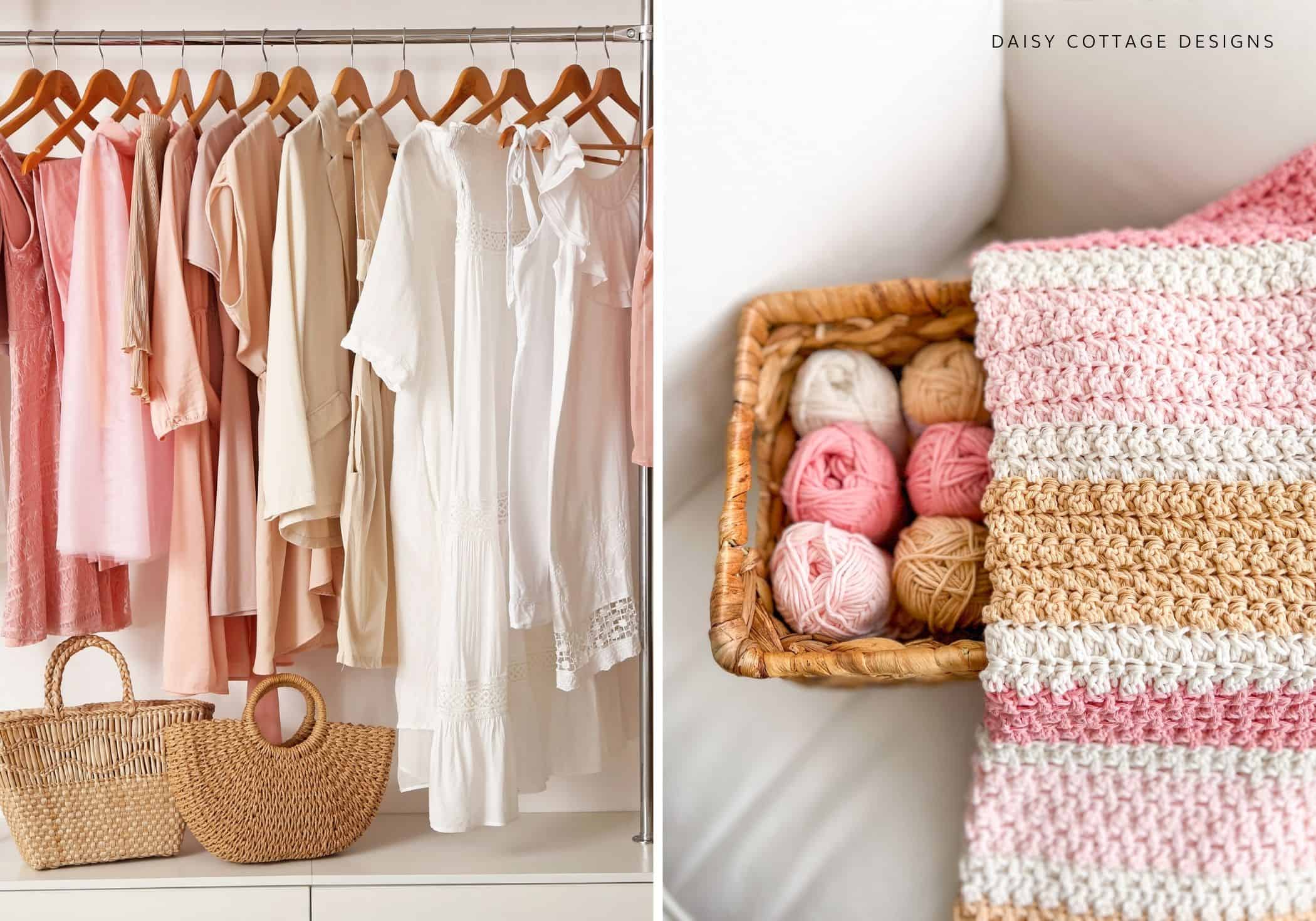 3. Look at your favorite clothing or decor websites.
Do you have a clothing brand that you love? I personally love the styles I find on bodenusa.com. In just a few minutes, I can scroll through the various sections of the website and gather several color palette ideas.
If I need something elegant, I'll look at the dresses. If I want a palette with more saturated colors, I'll look at the kids clothing or the bathing suits.
Home decor websites and catalogs are also a great place to pick crochet color combinations. The Pottery Barn and Kirklands websites have inspiration everywhere. Looking at pillows, artwork, and rugs will often provide you with a lot of color inspiration!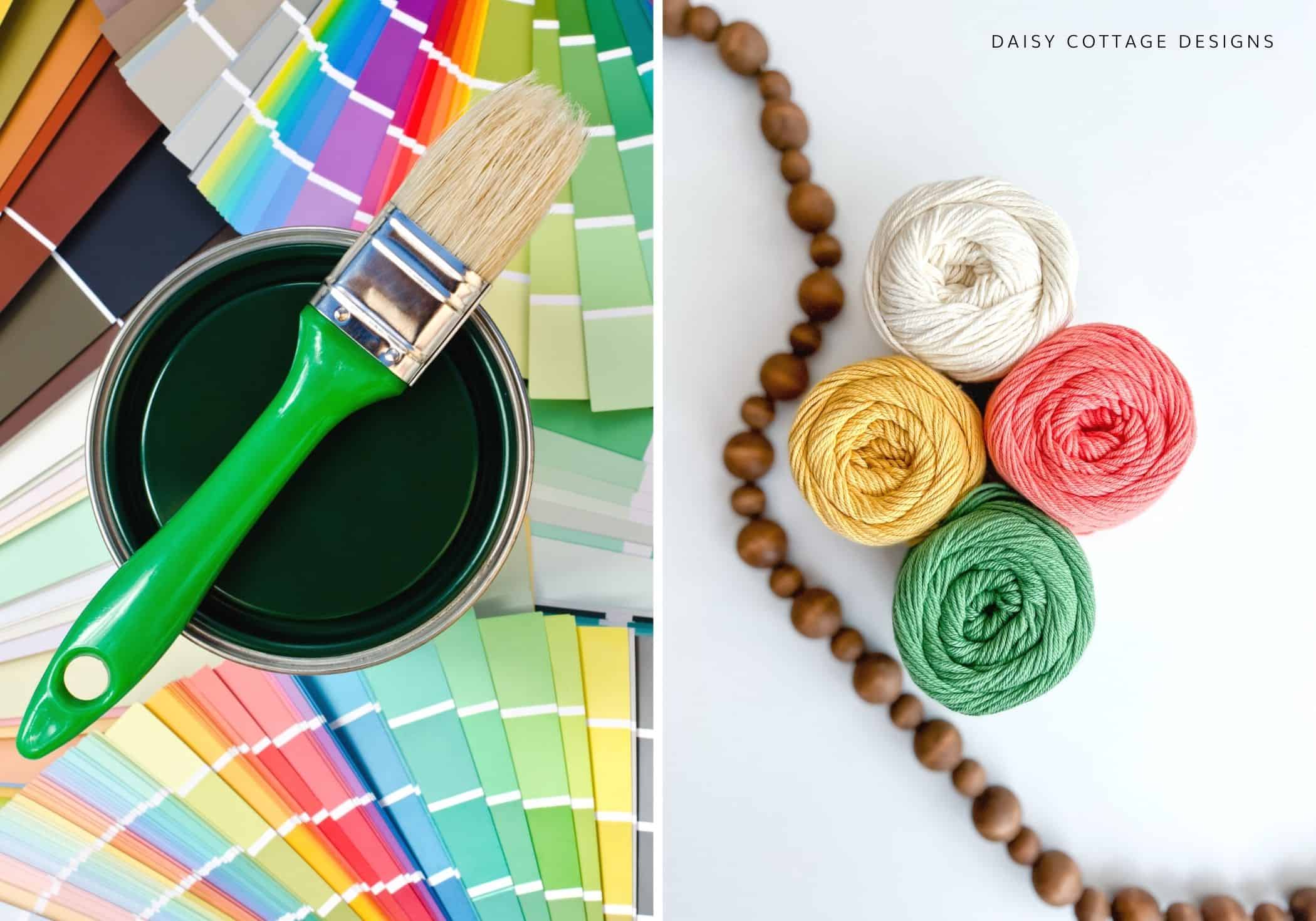 4. Go to the paint department of your local hardware store.
We've all seen the walls of paint sample cards at our local Lowes or Home Depot stores. Those are a treasure chest of color inspiration.
A lot of times the cards on the wall are monochrome as they feature several shades of blue, green, pink, etc. My recommendation is to see if any of those colors jump out to you. It's easy to manipulate the cards and line them up to see what color orders you like.
Another option is to look for the paint manufacturer brochures. Those usually have more variety and are a great way to find complimentary colors for your next crochet project.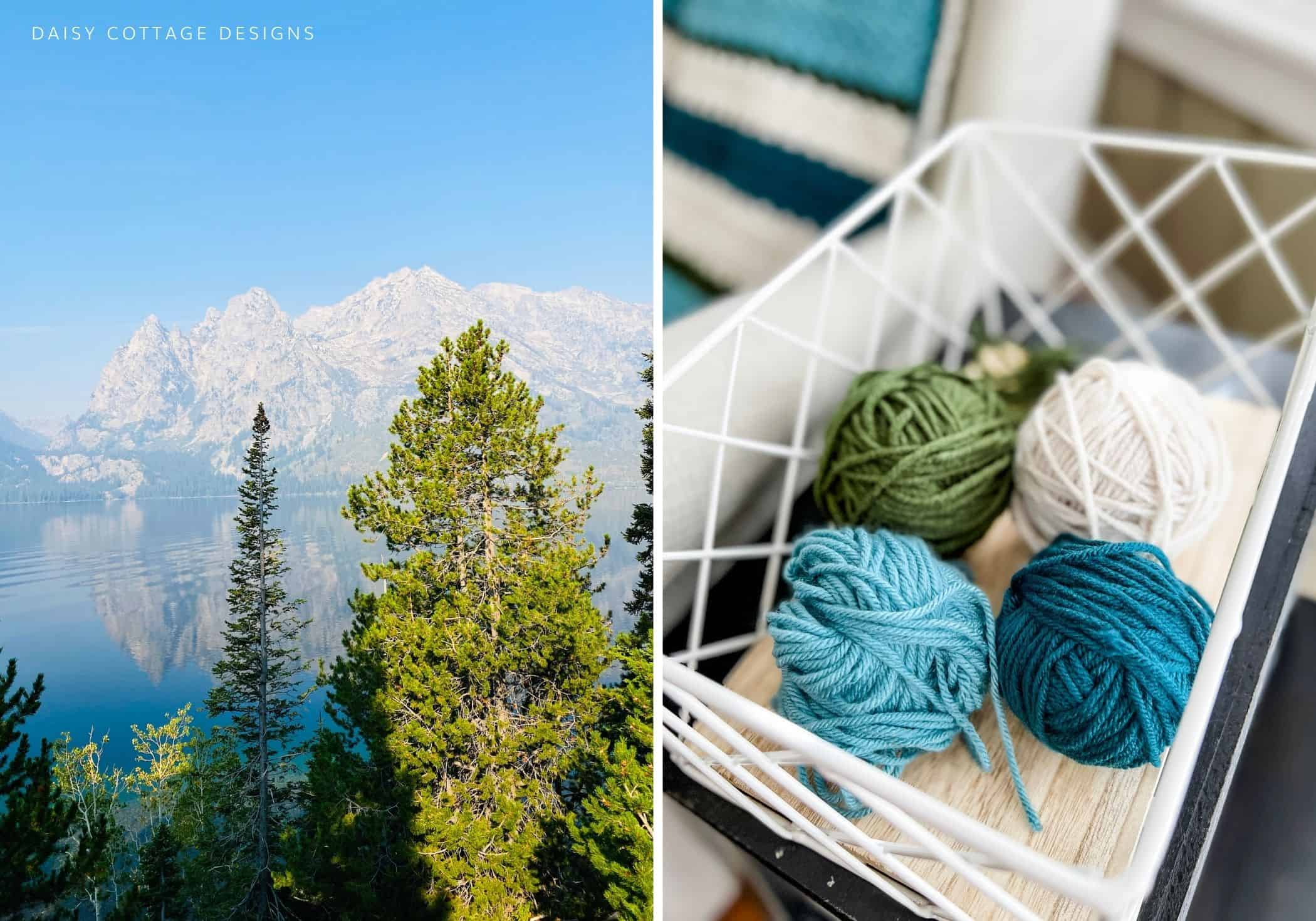 5. Look to nature!
Whether it's your sister's flower garden or the Grand Tetons (see my photo above), color inspiration is everywhere in nature. It's easy to pull a color palette from what we see around us.
Just today, I was noticing the beautiful crepe myrtle trees on our street. The deep magenta paired with a rich green could be the start of a gorgeous palette. Add in a neutral third color and you'd have a gorgeous color scheme.
Remember the suggestion to use a color selector website? Snap a picture of a beautiful scene and upload it to coolors.co to grab your favorite colors.
How do you know if colors go well together?
I think it's best to go with your instincts on this. While it's often the case that two colors don't look great together in isolation, sometimes all it takes to create a beautiful palette is adding in a third, neutral color like light gray, cream, or white.
Adding black or white between the stripes on a crochet project is often a great way to neutralize colors and make them pop! Plus, it has a nice way of tying everything together.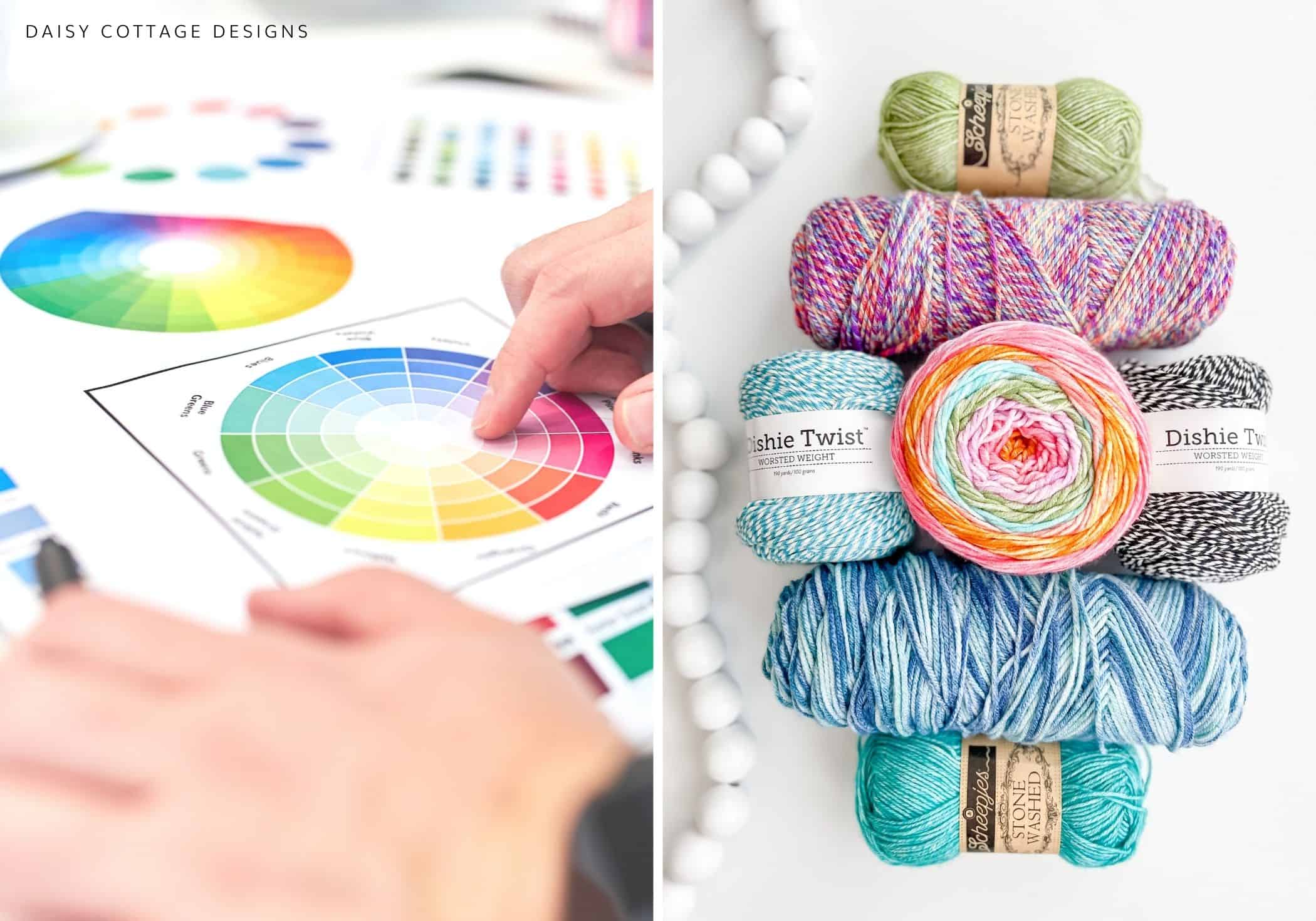 What colors pair well together?
While I don't rely on the color wheel much, there are many people who find it very helpful. Colors that are opposite each other on the color wheel are complementary colors and go well together.
The color wheel and color theory can get very in depth and overwhelming when all you want to do is pick the perfect color combination for a crochet project, but I found this article from Canva to be helpful.
If you want to get into the science behind colors, this is a fun place to start.
What do you call a yarn with different colors?
Want a yarn that does the color picking for you? Look for a self-striping or variegated yarns. These yarns are already feature perfectly selected colors that look fantastic together.
Lion Brand's Mandala yarns are a wonderful place to start with self-striping yarns. They come in a wide variety of hues.
I highly recommend using patterns that incorporate Moss Stitch with these yarns. Color changes are very subtle when using the moss stitch.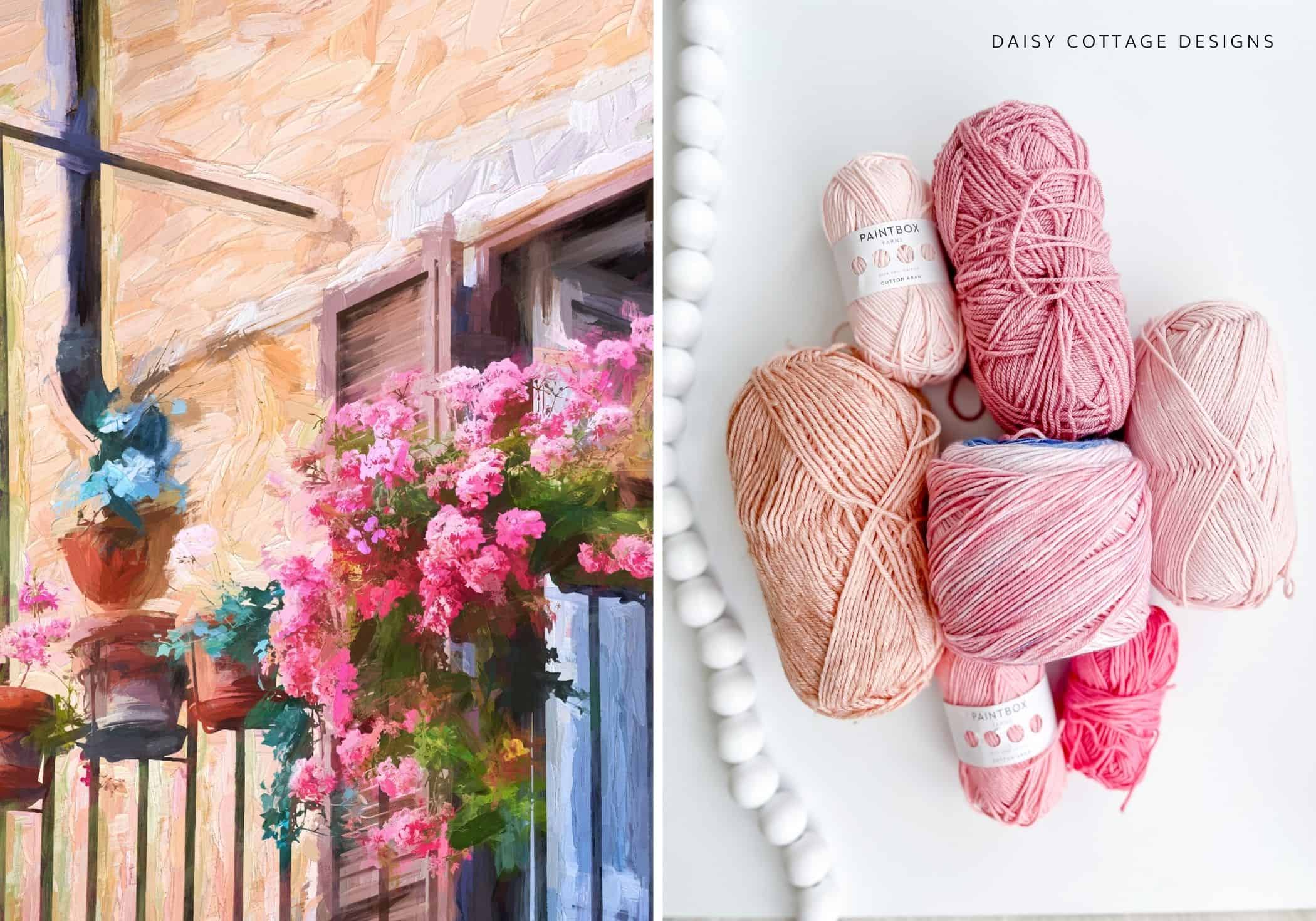 What yarn brands have a lot of color choices?
So you've used the suggestions here to pick the perfect color combination for your next crochet afghan! But now where do you find yarns that are just the right shade?
These brands have great color selections and I find myself purchasing these over and over again because I'm able to find just about any shade I want.
Paint Box Yarn Lines – Paintbox Yarns is available exclusively at lovecrafts.com. They have acrylic yarn in several different weights (worsted, dk, chunky), cotton yarn, a wool mix, and more. I have enjoyed every Paintbox yarn I've tried.

Depending on the line, this yarn comes in 25-63 beautiful shades. If you're looking for a wide array of yarn colors, this brand is a good one to check out.

Stylecraft Special – if you like a thinner yarn, this is an excellent choice. It comes in about 100 gorgeous shades and works up like a dream. There's a reason it's so popular among crocheters and knitters in the UK.

Hobby Lobby I Love This Yarn – This worsted weight acrylic yarn comes in 65 solid colors plus prints and variegated shades. It's soft, durable and washes well.

There are chunky, sport, and cotton options, but they do not come in as many shades.

KnitPicks Brava Yarn – This machine washable, acrylic yarn comes in 50 pretty hues and several different weights – chunky, worsted, sport, tc. It works up well and has a little more sheen than some of the other worsted weight yarns in this list.

The speckled and tweed variations are really beautiful, and add a little extra texture to your projects.

Crochet.com's Dishie Cotton – If you're looking for a cotton yarn that comes in a wide variety of colors, look no further. I use this for many of my dishcloths and washcloths and have really enjoyed playing with this yarn.

It also comes in variegated and twisted colors.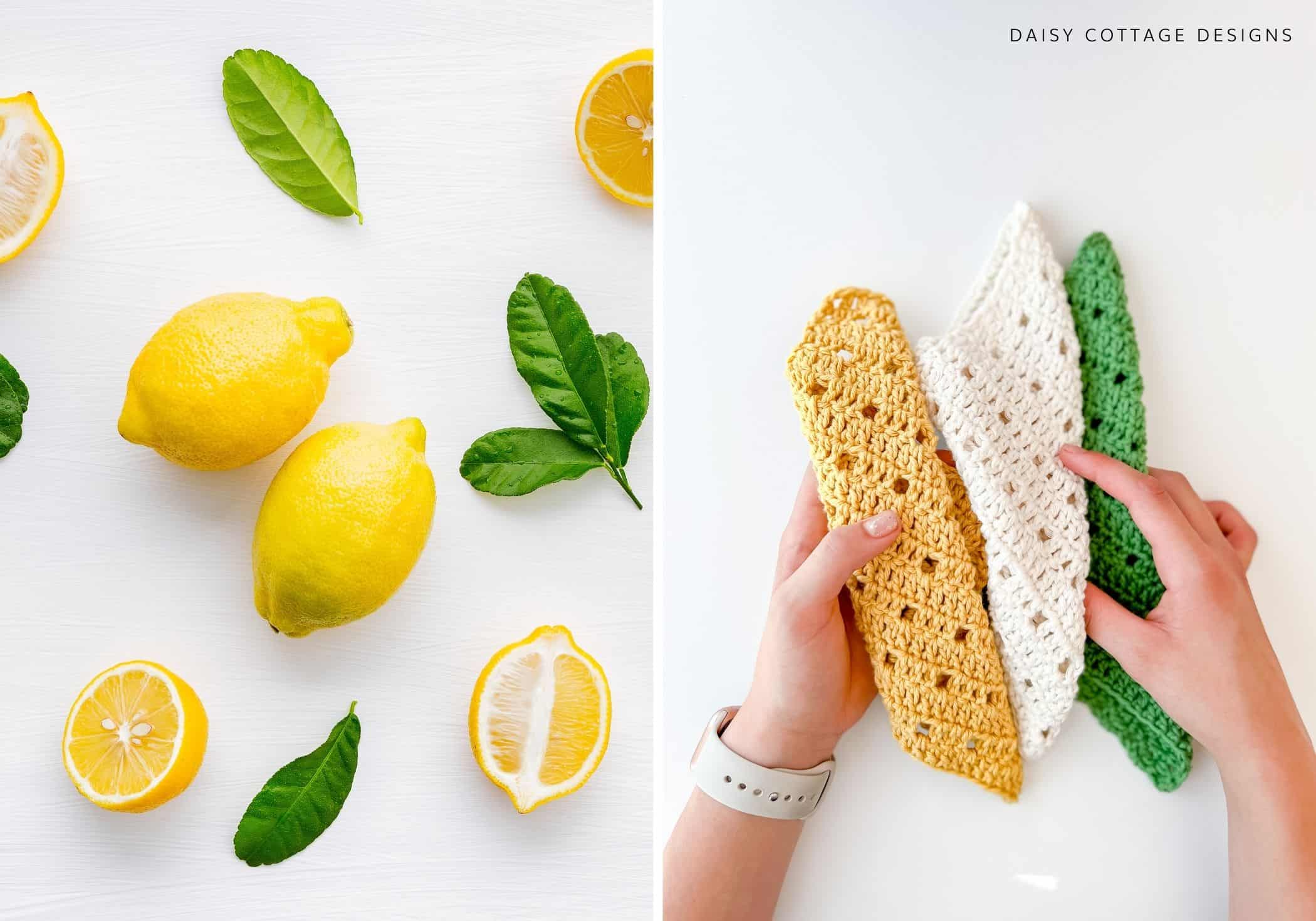 How do you fasten and join a new color in crochet?
You've decided to make a striped crochet blanket and you've chosen just the right colors. You've purchased your yarn and crocheted the first few rows.
But it's time to change colors. Now what?
You need to learn how to change colors the right way. The method in that post will guarantee your project doesn't unravel and will allow you to have neat edges – there's even a video to walk you through changing colors and weaving ends. 
Want ready-made color palettes?
If you prefer using color palettes that are already done for you, check out the these crochet color combination posts.
I've put together shades that I love and I've found the colors in several different yarn brands so you don't have to.