46 Free Flower Crochet Patterns
Who doesn't love free flower crochet patterns? Whether you're making a gift for Mom, or you're wanting to embellish a hat or bag that you just made, you're going to love these beautiful blooms! There's something in this list of free flower crochet patterns for everyone – even if you just want to brighten up your coffee table.
Flowers Pictured Above: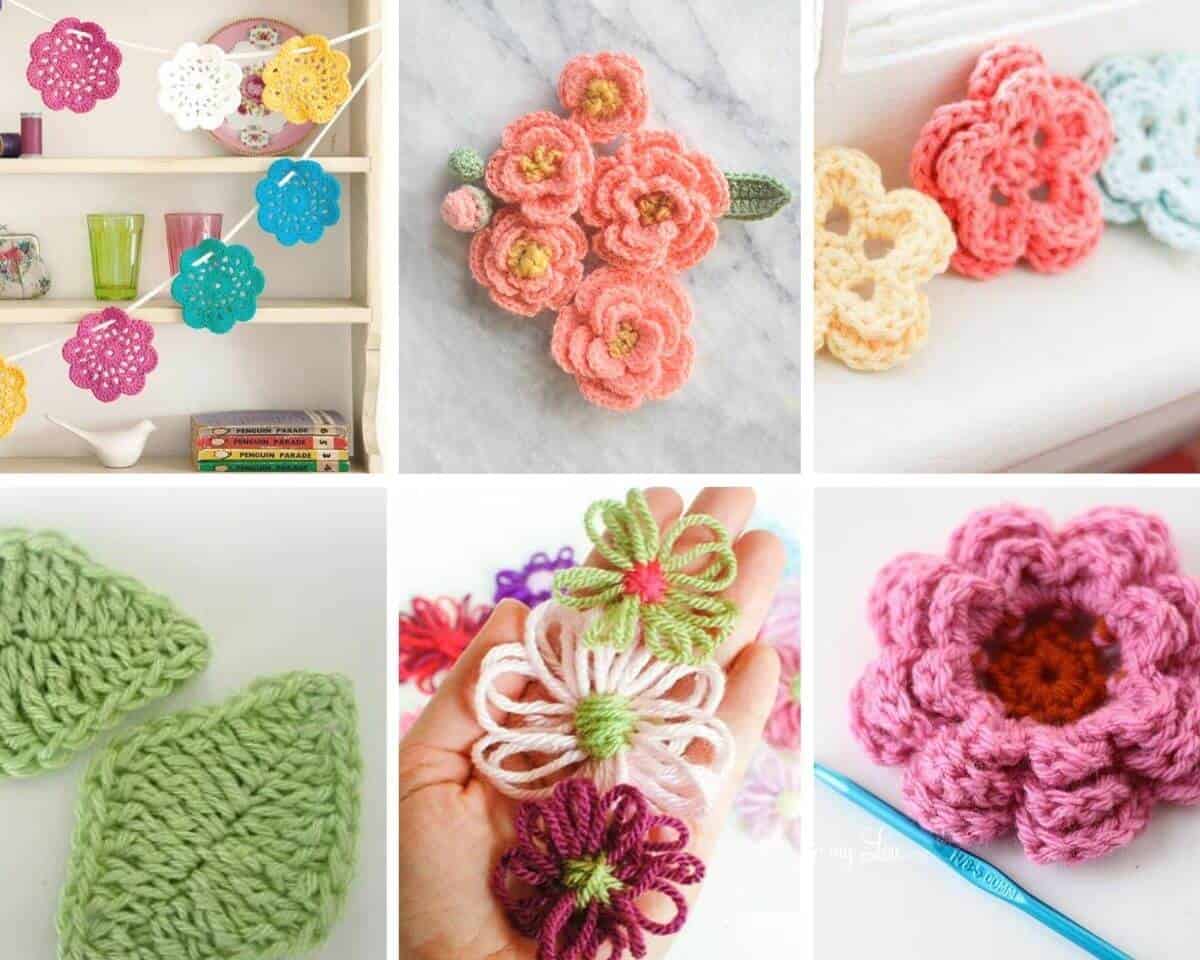 Flower Bunting Pattern – This bunting would look so beautiful in a little girls' nursery.
Tiny Peony Flower – This little flower, along with the little leaf, is just perfect!
5 Petal Crochet Flower Pattern – Quick and easy, these little flowers can brighten up any scarf, hat, or bag.
Simple Crochet Leaf -When you're making flowers, you know you're going to need to make some leaves. This is a great option.
Loom Flowers – So it might be a stretch to call this a crochet pattern, but there is one step that uses a crochet hook. They're just so adorable, I couldn't help but include this!
Crochet Flowers – This three-layer flower is puffy and beautiful. I'm definitely going to have to make a few of these soon.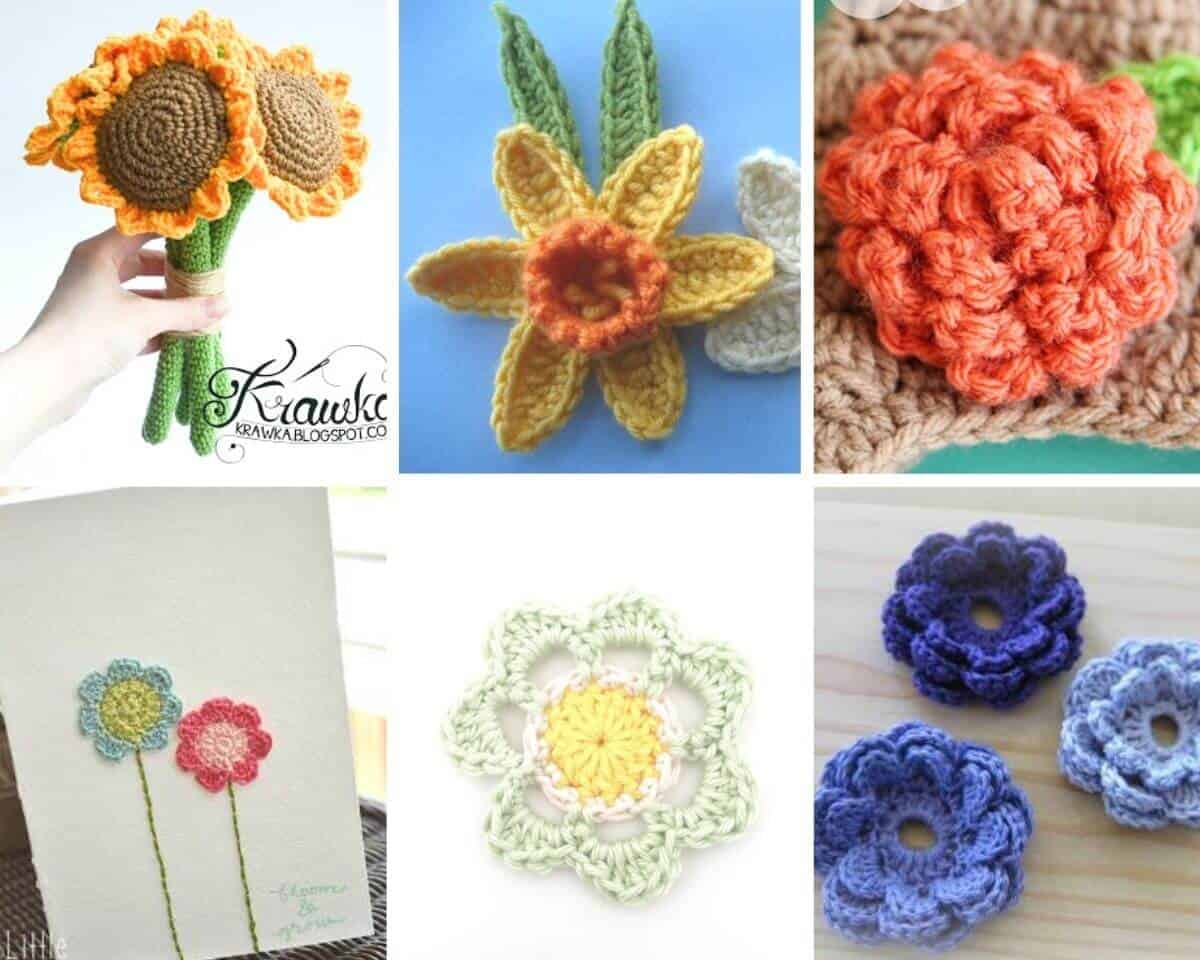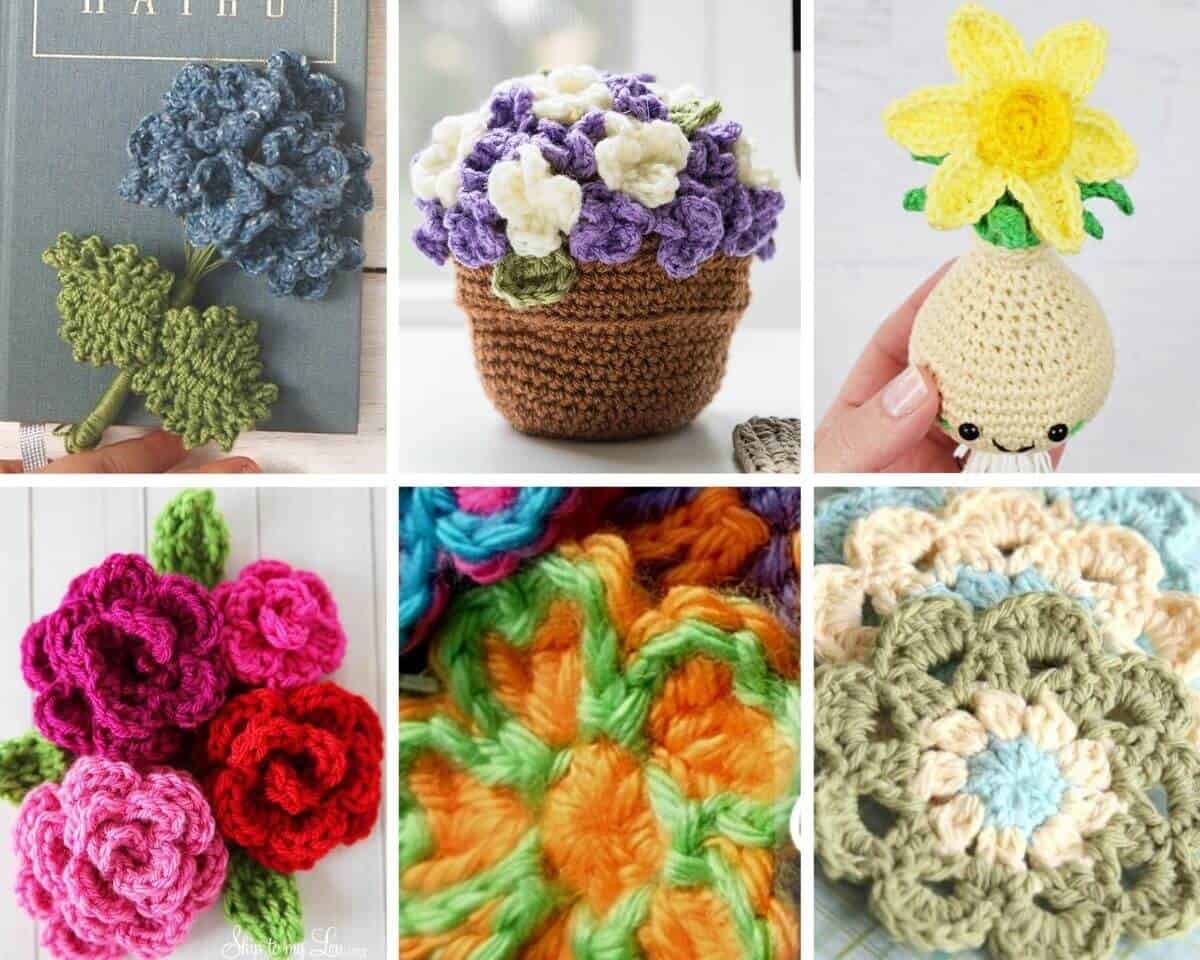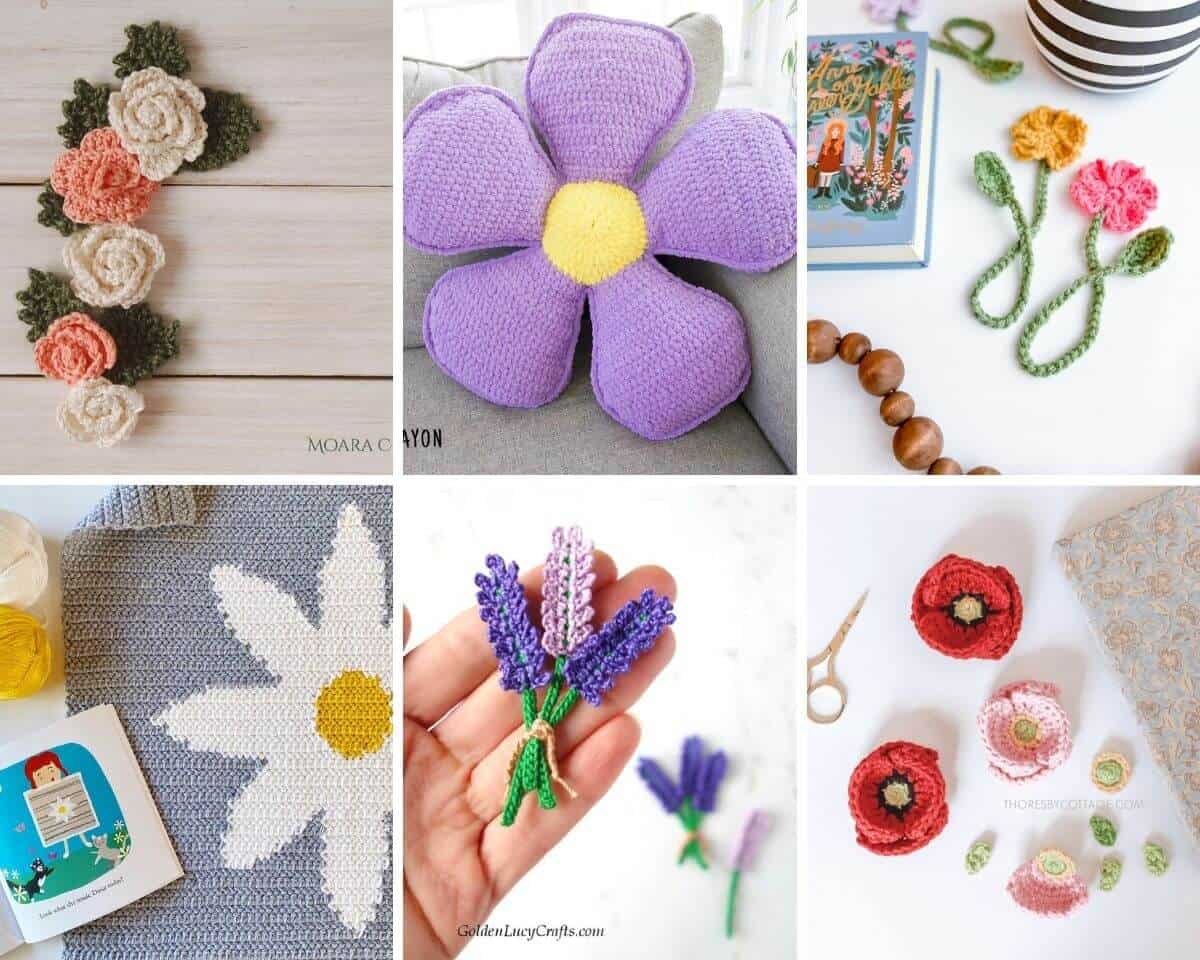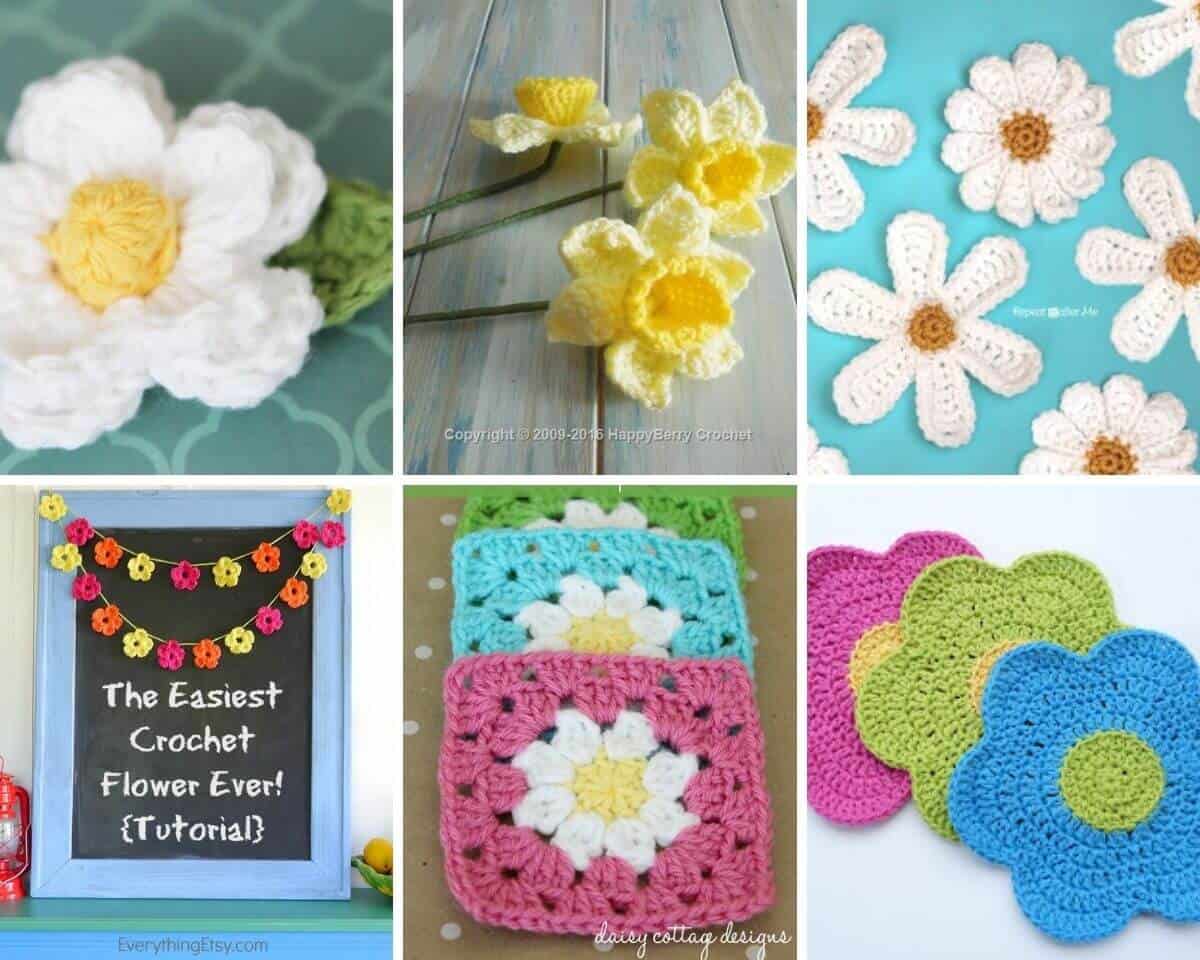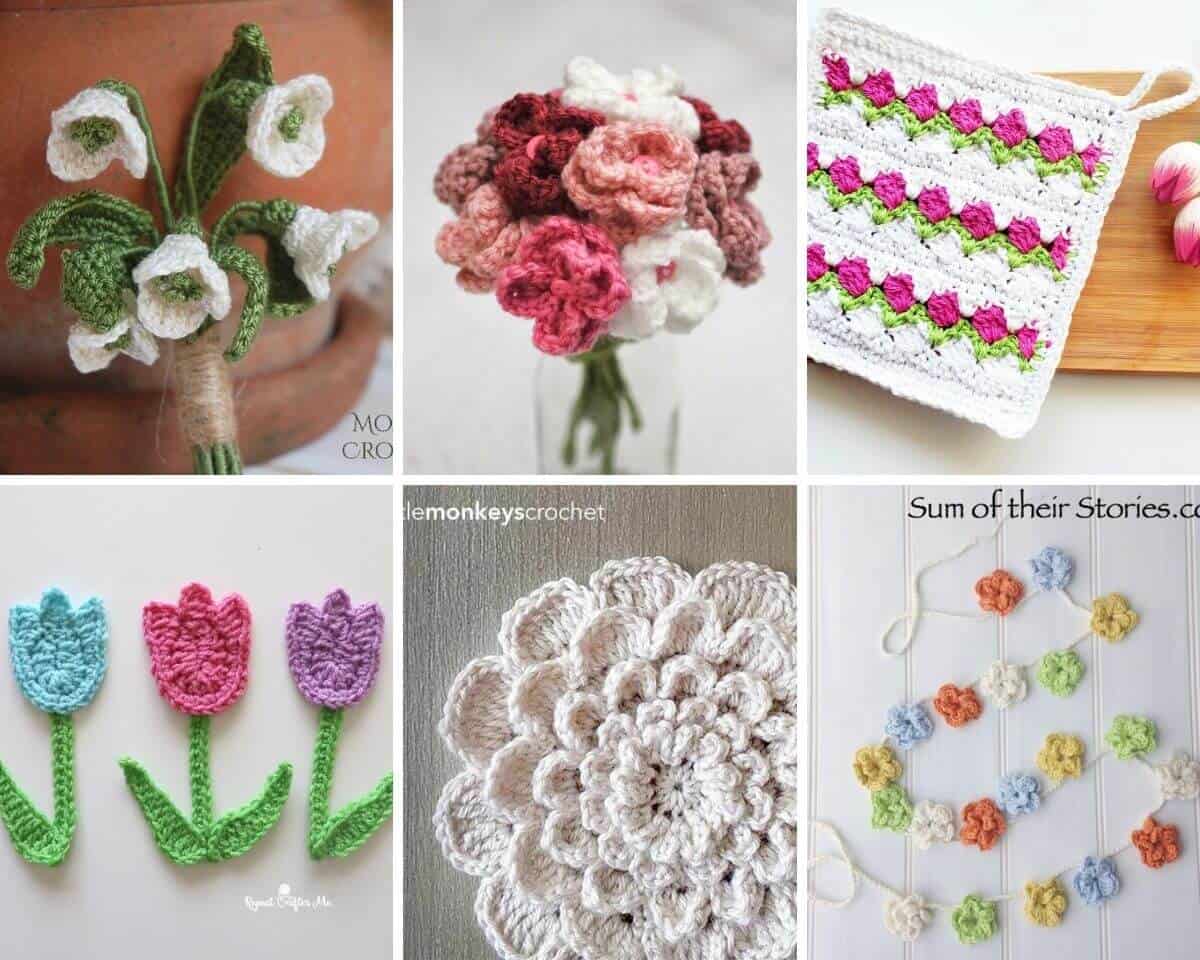 ---
Now let's answer some FAQ regarding crocheted flowers.
Are Crochet Flowers Hard?
They don't have to be! While there are some very intricate flowers, there are many simple flower patterns that are absolutely gorgeous. Just because a pattern is beautiful doesn't mean it's tough.
Many of the flowers listed above are super simple!
How Do You Make a Crochet Flower?
Crochet flowers are usually worked in the round. You'll start by working into a loop of chains or a magic ring, then you'll work your petals into those stitches.
Some flowers are long strips of stitches coiled together into a flower.
There are many fun ways to make flowers. Experiment with some in this collection and find a few that you love!
How Do You Make a Crochet Leaf?
While there are various ways to make leaves, here's a quick little pattern to get you started:
Basic Leaf Crochet Pattern:
Ch 10.
Row 1: hdc in the second ch. dc in the next 2 chains. tr in the next 3 chains. dc in the next 2 chains. hdc in the last chain. ch 2.
Don't turn your work. You will be working the other side of the leaf now.
Row 2: hdc in the first stitch (so you'll work the hdc in the bottom of the hdc you just made). dc in the next 2 stitches. tr in the next 3 stitches. dc in the next 2 stitches. hdc in the next. ch 2. sl st in the top of the hdc on the other side of the leaf. Cut yarn and weave ends.
---