Rainbow Ripple Baby Blanket Pattern (Written Instructions)
Looking for a beautiful rainbow baby blanket crochet pattern? Use this quick and easy rainbow ripple baby blanket pattern to make an adorable blanket in no time!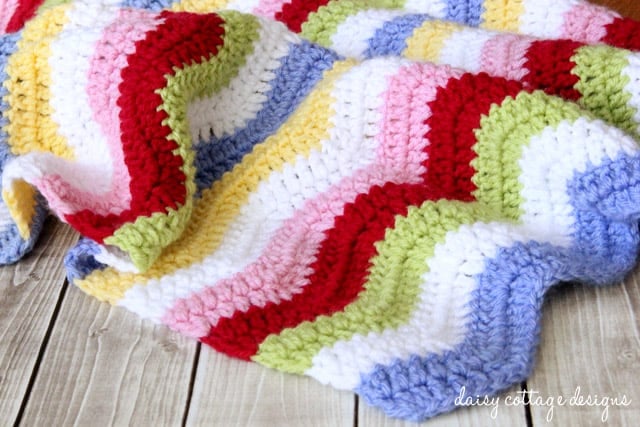 Chevron crochet patterns are some of my absolute favorite baby blankets. They're easy to memorize and can be customized in any colors imaginable. Matching a baby's room or throwing together a funky pattern is just what I love to do when I'm making a gift for a friend.
Recently, I made this rainbow ripple baby blanket. I love the way it turned out and wanted to share just how I made it with you!
Rainbow ripples are the perfect gift for a new baby, regardless of the gender. A variety of colors is perfect for any baby!
While ripple blankets may seem a little bit daunting at first glance, they're actually easier than they look and perfect for beginners.
Materials:
I/9 Crochet Hook (though you can adjust hook size based on your tension)
Hobby Lobby "I Love This Yarn!" in Pink and White
Vanna's Choice in Bluebell (this is Vanna's Choice Baby) and Lime
Note: I did mix yarn brands to come up with the perfect color combination. If you're not comfortable doing that, find similar colors in any worsted weight yarn. Yardage is approximately 800-1000 yards.
Impeccable Loops and Threads in Butterscotch and Cherry.
Scissors
Tapestry Needle for weaving ends
Pattern Notes:
Finished size is approximately 27″ wide and 30″ long.
This pattern is worked through both loops
You will be working into the chain at the end of each row
Gauge is not important for this project
dc2tog is the same thing as a double crochet decrease
NOTE: If your rows aren't lining up OR if you're running out of room at the end of Row 2, please check out this brief video tutorial to answer your questions.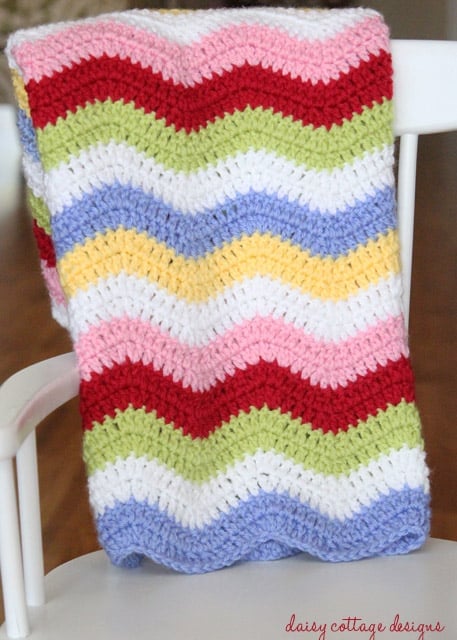 Fantastic Rainbow Ripple Baby Blanket Pattern Instructions:
ch 100.
Row 1: dc in the third chain from the hook. Dc in the next 4 stitches. Dc2tog, dc 2 tog. Dc in the next 4 stitches. *Work 2 dc into the next 2 stitches. Dc in the next 4 stitches. Dc2tog, dc2tog. Dc in the next 4 stitches.* End with 2 dc in the last chain. Ch 2, turn.
Row 2: dc in the first st (your ch 2 and your first dc are worked in the same stitch) and in the next 4 stitches. dc2tog, dc2tog. Dc in the next 4 stitches. *Work 2 dc into the next 2 stitches. dc in the next 4 stitches. dc2tog, dc2tog. dc in the next 4 stitches.* End with 2 dc in the last stitch. Ch 2, turn.
NOTE: you will have 2 dc in the first and last stitch of each row (ch 2 counts as dc).
At the end of every two rows, you will cut your yarn and join a new color yarn. For the rest of the blanket, you will continue repeating row two until you have 56 rows (or really, you could keep going as long as you wanted).
Learn how to change colors and weave ends if you're not comfortable with this yet. It's easier than you think!
I did a repeating stripe pattern for this blanket. It's two rows of each color in the following order:
Bluebell
White
Lime
Cherry
Pink
White
Butterscotch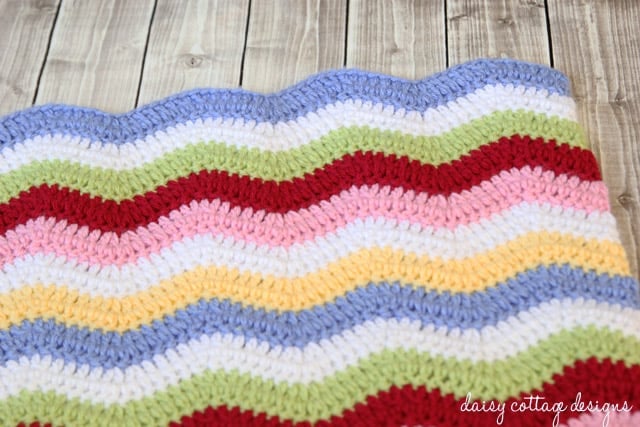 I hope you enjoy the repetitive nature of the pattern. To me, a ripple is the perfect pattern to make while you relax – watching a show, listening to an audiobook, or chatting with your family. It's not mindless in the sense that every single stitch is the same, but it's easy to learn and quick to memorize.
Yarn Substitutions:
Any worsted weight yarn will work perfectly for this pattern. If you want great stitch definition and a cooler blanket for warmer climates, I recommend using 100% cotton yarn. Feel free to use as many different colours as you'd like.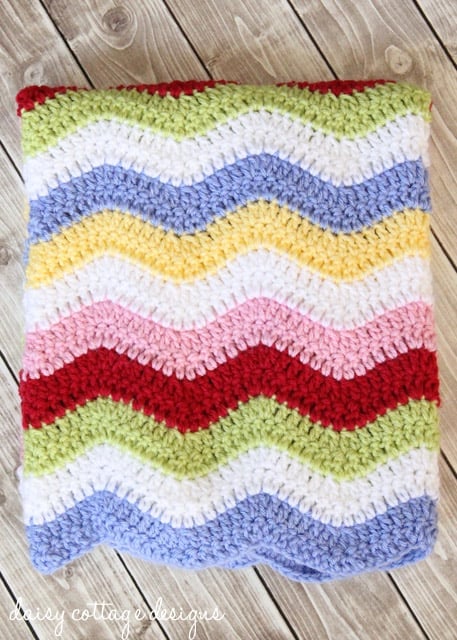 How Many Chains for a Ripple Crochet Blanket?
This particular pattern has a starting chain of 100.
The multiple for this pattern is 14+2. Chain any multiple of 14 (28, 140, etc) to reach the length you want and then add 2 additional chains.
Other Free Patterns Using Ripple Stitches:
Classic Ripple – one of the most popular patterns on the Daisy Cottage Designs blog
Zig Zag Crochet Pattern – a fun twist on the ripple stitch… it uses the herringbone double crochet for added texture.
Chevron Baby Blanket – a little more sharp version of the ripple stitch. Still easy and beautiful!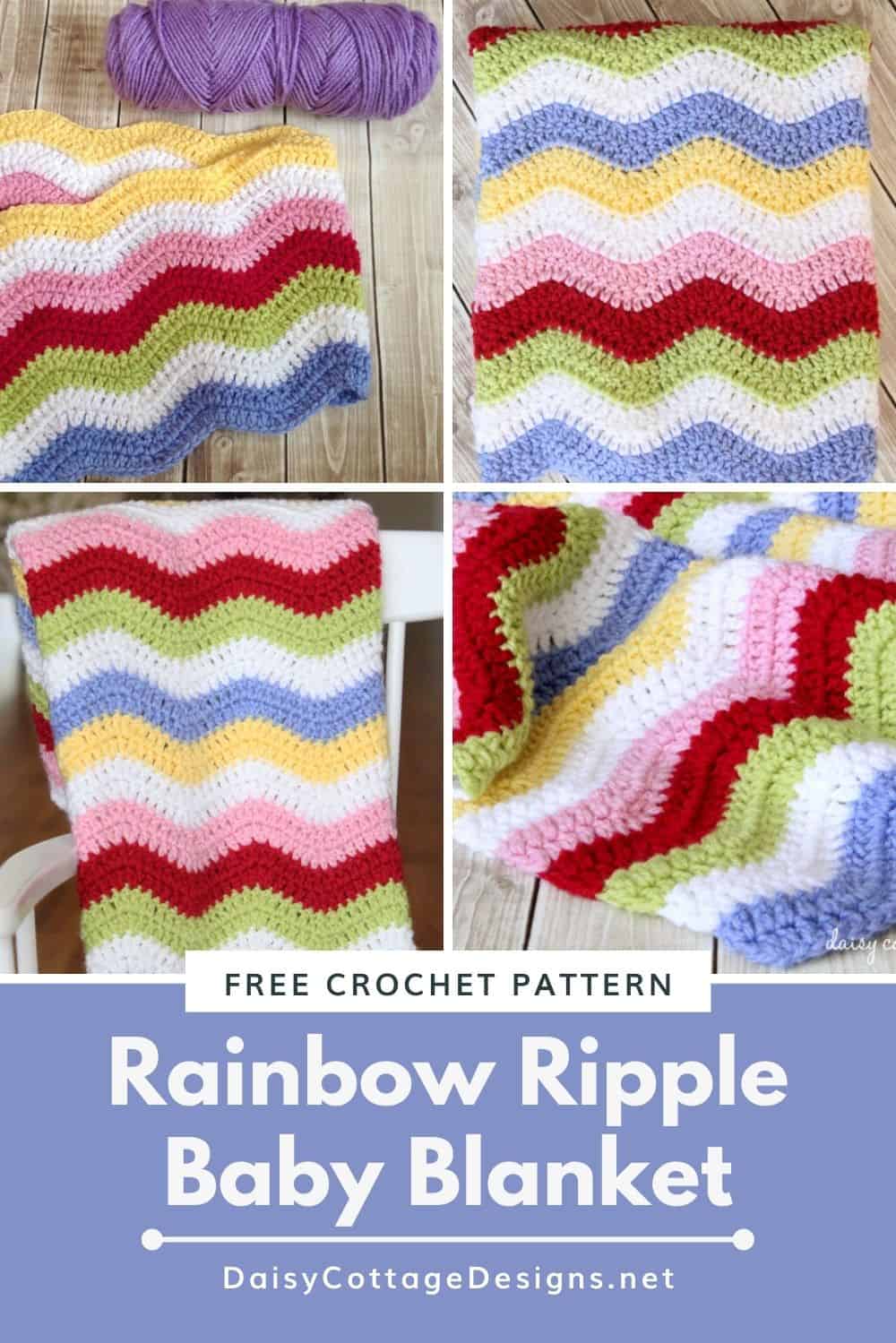 Share Your Work!
If you make this rippling rainbow blanket, I'd love it if you'd share your results with me. Snap a picture and share it on Instagram or Facebook, but be sure to tag me (@DaisyCottageDesigns).
It always puts a smile on my face to see how people are using the Daisy Cottage Designs crochet patterns "in real life."