Super Easy Two-Color Blanket Crochet Pattern (FREE!)
By
Lauren
on November 11, 2023
Have you ever wanted to make a cozy, textured blanket that's both simple to crochet and looks great in any room? I've got just the pattern for you! This two color crochet blanket pattern is perfect for beginners and experienced crocheters alike, and I wouldn't be surprised if it becomes your new go-to project. The full pattern is in this post!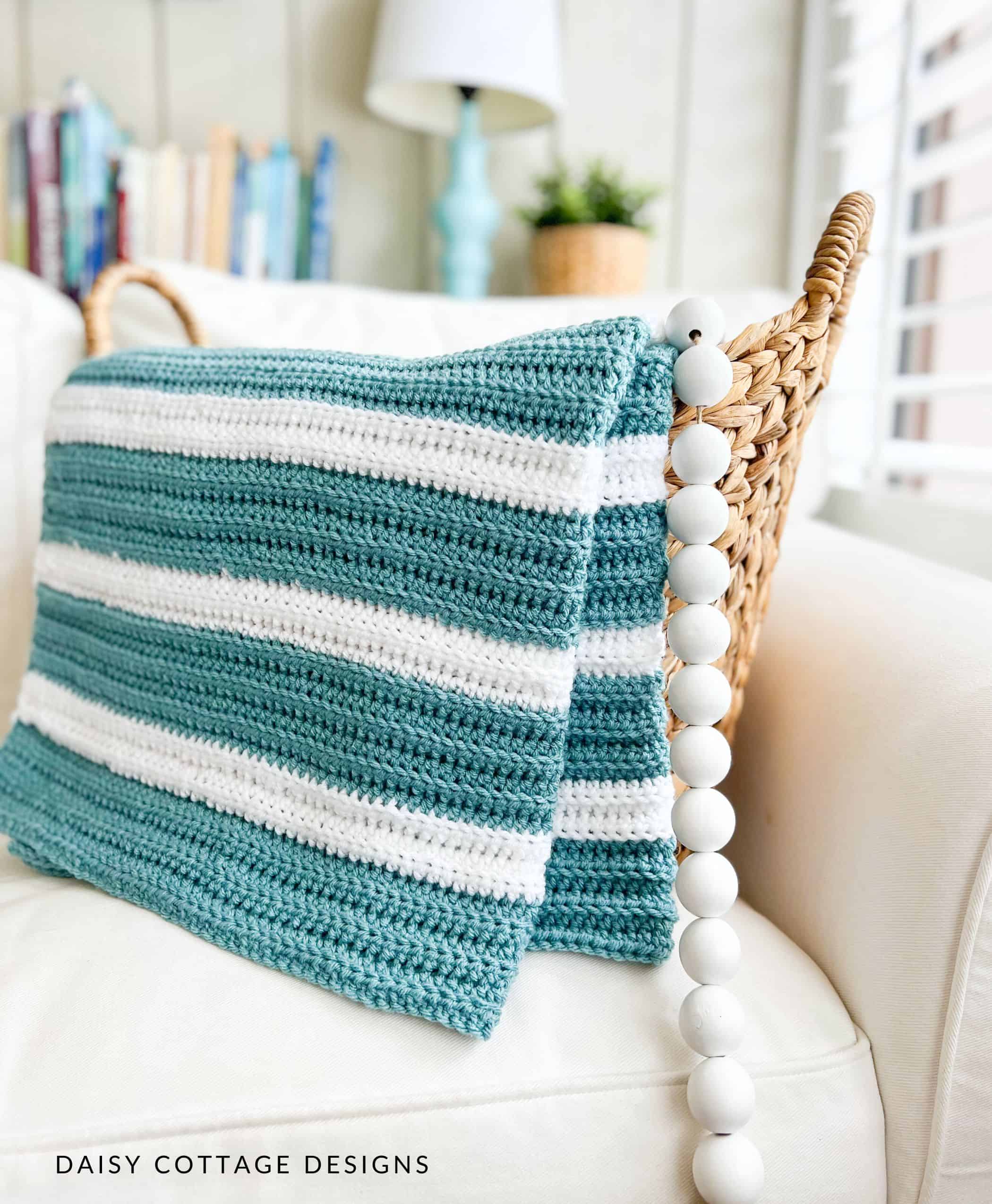 The best part about this pattern is that it uses basic crochet stitches to create a soft and snuggly blanket with a beautiful texture. Plus, the two-color design adds an extra touch of visual interest, making it a great addition to any room – from nursery to living room. Whether you're looking to create a gift for a loved one or just want to add a cozy touch to your own space, this blanket will make a great crochet project.
Choosing the perfect color combinations for my crochet afghan patterns is one of my favorite parts of crocheting! You can let your creativity flow and experiment with different colors that complement each other or go for bold and contrasting shades. It's always fun to watch the colors come together as your beautiful blanket grows. And if you don't want to pick out a color palette for this great project, you can absolutely make this cozy blanket in a solid color.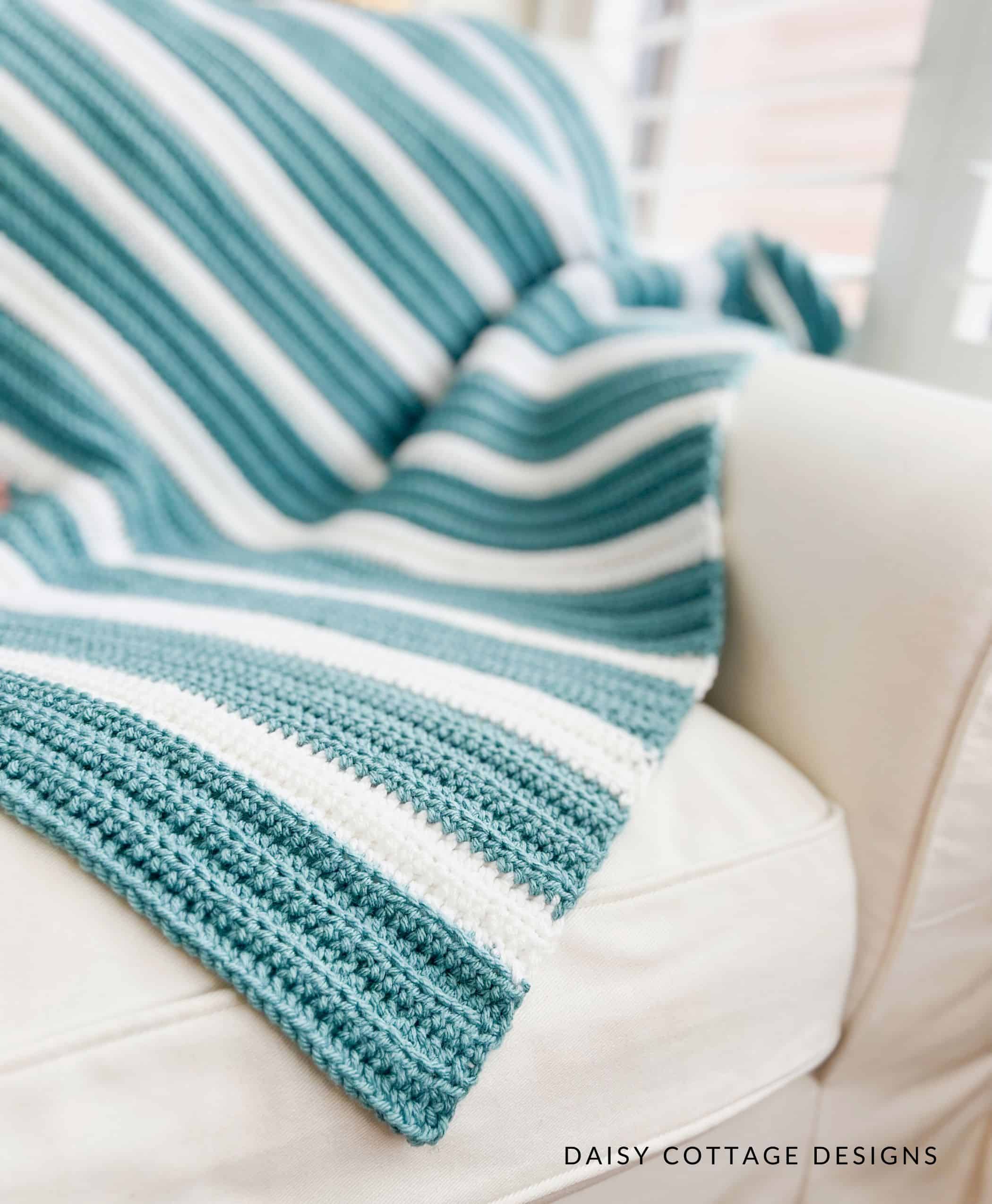 So grab your crochet hook and some yarn, and let's get started! With just a few easy-to-follow steps, you'll have a gorgeous half-double crochet blanket that you'll be proud to show off. Trust me, once you finish this project, you'll be hooked and eager to start your next one.
Wondering about the skill level of this free crochet pattern? Even a beginner will be able to make this simple blanket. It uses easy crochet stitches and even if you have never had to switch colors before, I have a video that will walk you through the process.
For this blanket, I chose a worsted weight yarn. Don't worry, if you'd rather use a chunky yarn or even a bulky yarn it will totally work. Just keep in mind that your blanket will turn into a larger project if you use the same stitch counts.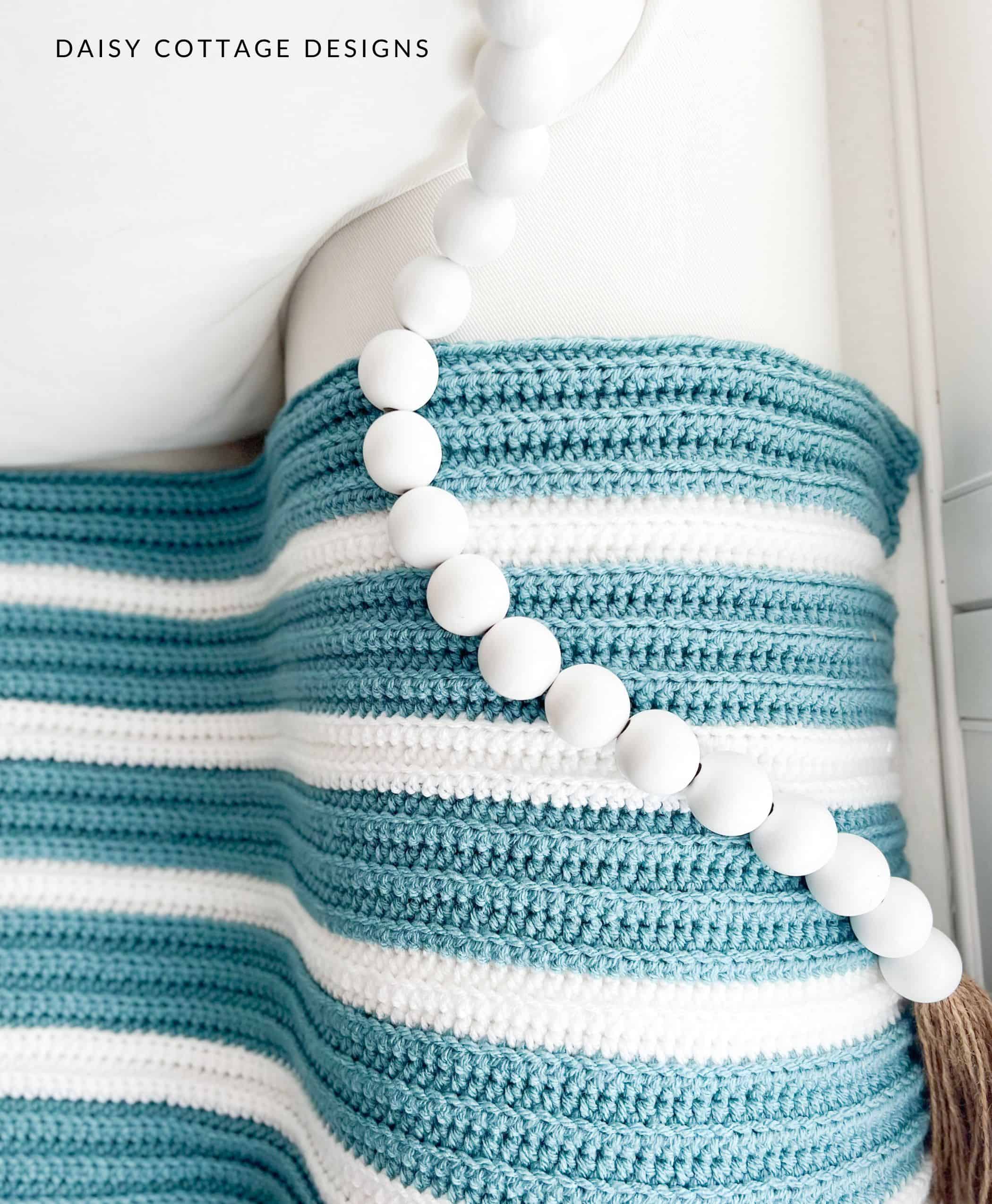 The ad-free PDF is available in my Etsy shop!
Materials:
J/10/6.5 mm Crochet Hook
Approximately 865 yards of worsted weight acrylic yarn (but, any yarn will work!)
I used Hobby Lobby's I Love This Yarn in the shades Sea Blue and White
Tapestry Needle & Scissors
Pattern Notes:
As shown, this blanket measures 31×34 in. Instructions are given for several different sizes at the end of the pattern
You do NOT work into the turning chain at the end of each row
The body of this pattern is worked in the back loop only (blo).
Gauge is not important for this project.
If you're a visual learner, there's a video tutorial for this stitch here.
Special Stitch
HDC in the BLO (half double crochet in the back loop only): Yarn over, insert hook under the back loop only. Pull up a loop. Yarn over, pull yarn through all three loops on your hook. If you need a visual, you can find the video tutorial here.
Working in the back loop only (BLO) gives this blanket a unique look. Working the first and last stitches of each row under both loops will make your blanket a little more sturdy and less stretchy along the edges.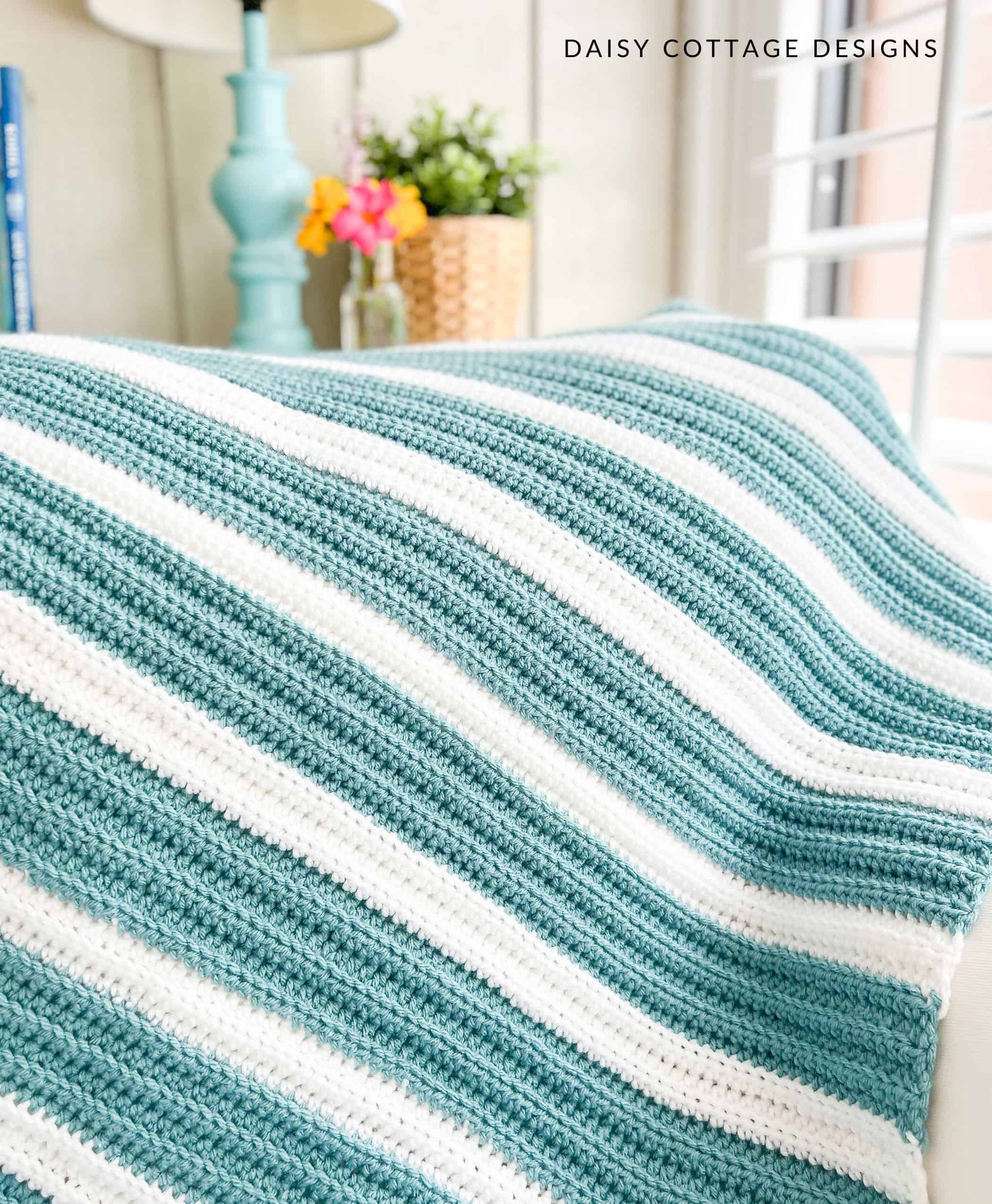 Easy Two Color Crochet Afghan Pattern
Chain 113.
Row 1: hdc in the second ch and in each chain across. Ch 1, turn.
The ch 1 does not count as a stitch.
Row 2: hdc under both loops of the first stitch. Hdc in the blo across to the next to last stitch. Hdc under both loops in the last stitch.
Repeat row 2 for a total of 87 rows.
For the stripe pattern, I alternated between 6 rows of Sea Blue and 3 rows of White.
If this is your first time making a striped blanket, you'll want to read this post on changing colors and weaving ends.
Does this 2 color blanket pattern have a border?
As some of you may, I'm a big fan of leaving blankets without a border. I feel like borderless crochet afghans have a more modern look.
That said, I know many people like to finish their crochet blankets with a border. If that's the case for you, you'll enjoy this collection of crochet borders. It might take an extra skein of yarn, but your blanket will have a unique design!
If I were going to add a border, I would use the following pattern as I feel this easy pattern needs a border with simple stitches:
Round 1: single crochet evenly around the entire blanket, working 3 sc in each corner.
Round 2: hdc evenly around the entire blanket, working 3 hdc in each corner.
Round 3: sc evenly around the entire blanket, working 3 sc in each corner.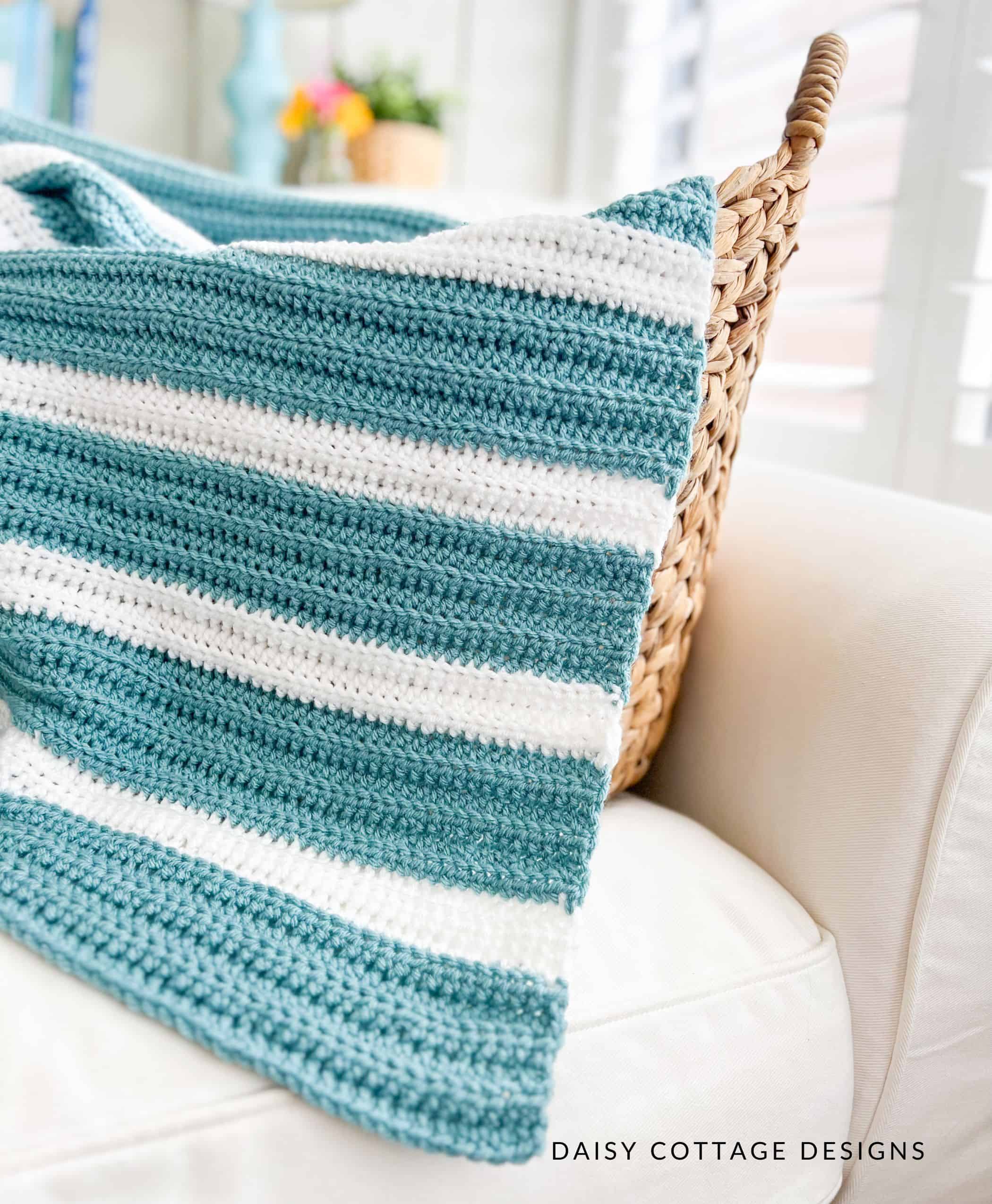 Adjusting the Size of this Blanket
Adjusting the size of this striped blanket is simple. Simply chain until you reach the width you want and work the stripe pattern until you reach the length you want.
I do recommend that you begin and end 2 color crochet patterns with the same color as it gives your blanket a more polished look.
Don't want to come up with the size yourself? Check out this chart for some common blanket sizes: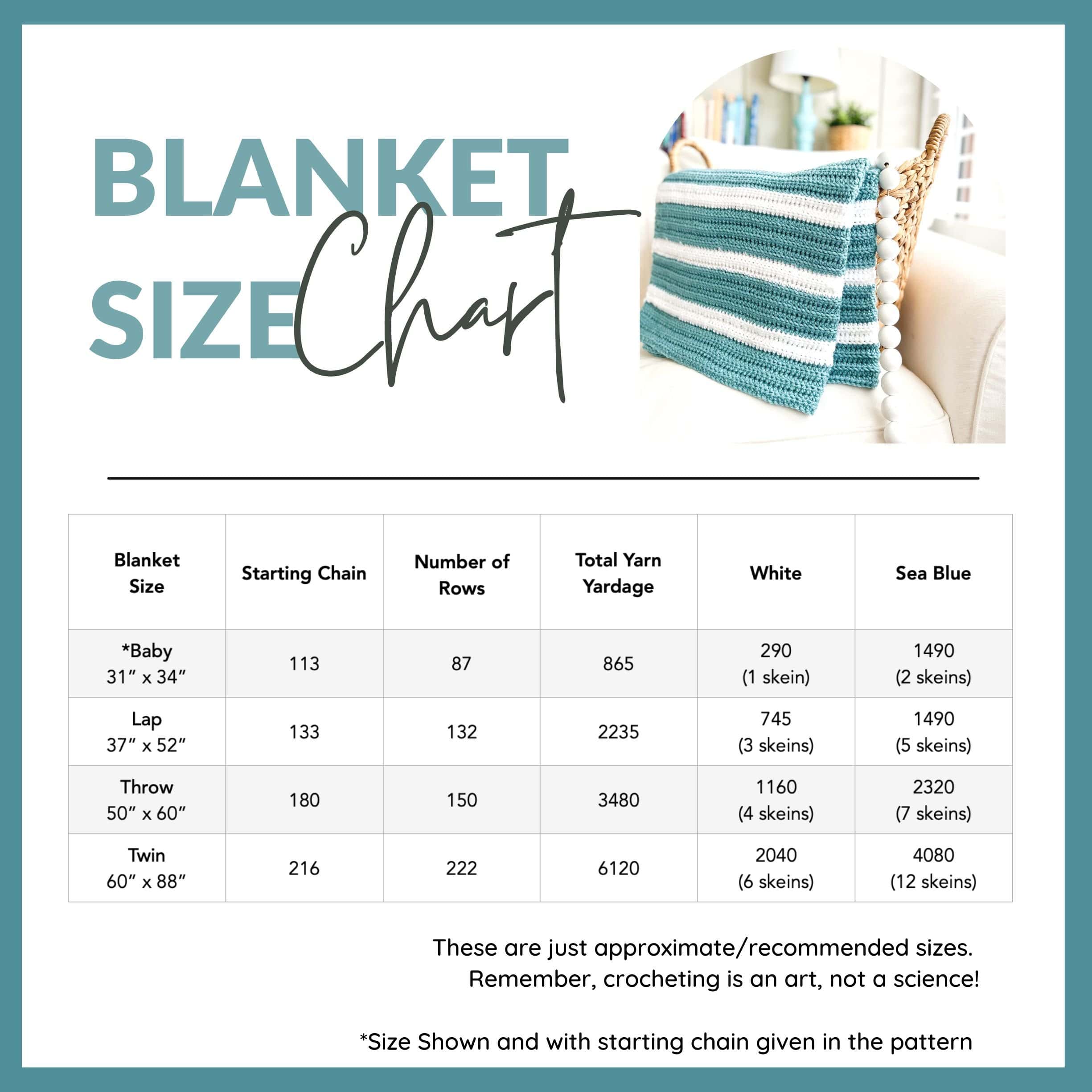 Thank you for checking out this beautiful two-color crochet blanket pattern! I hope you'll love crocheting it and that it brings warmth and coziness to your home or the home of someone you love. With its soft texture and classic design, it's the perfect addition to any room. And the best part is, it's a great project for crocheters of all skill levels.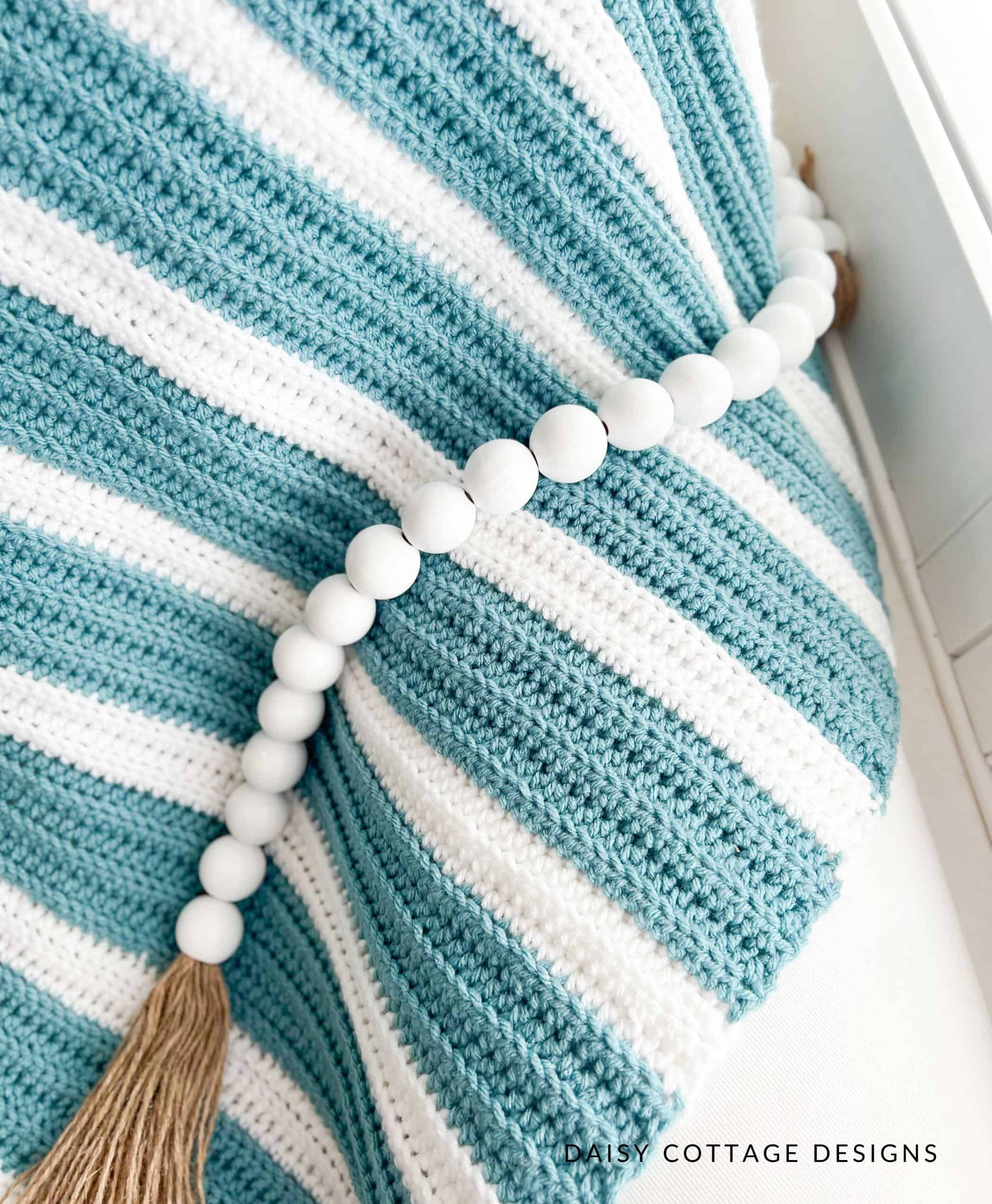 If you enjoyed this pattern, I encourage you to share your finished work on social media and tag me so I can see your beautiful creations. If you're looking for more free crochet patterns, be sure to check out my free patterns page where you'll find just under 70 patterns for everything from blankets and hats to hats and washcloths. Most of my patterns include written instructions as well as video tutorials!