The Cozy Spring Color Palette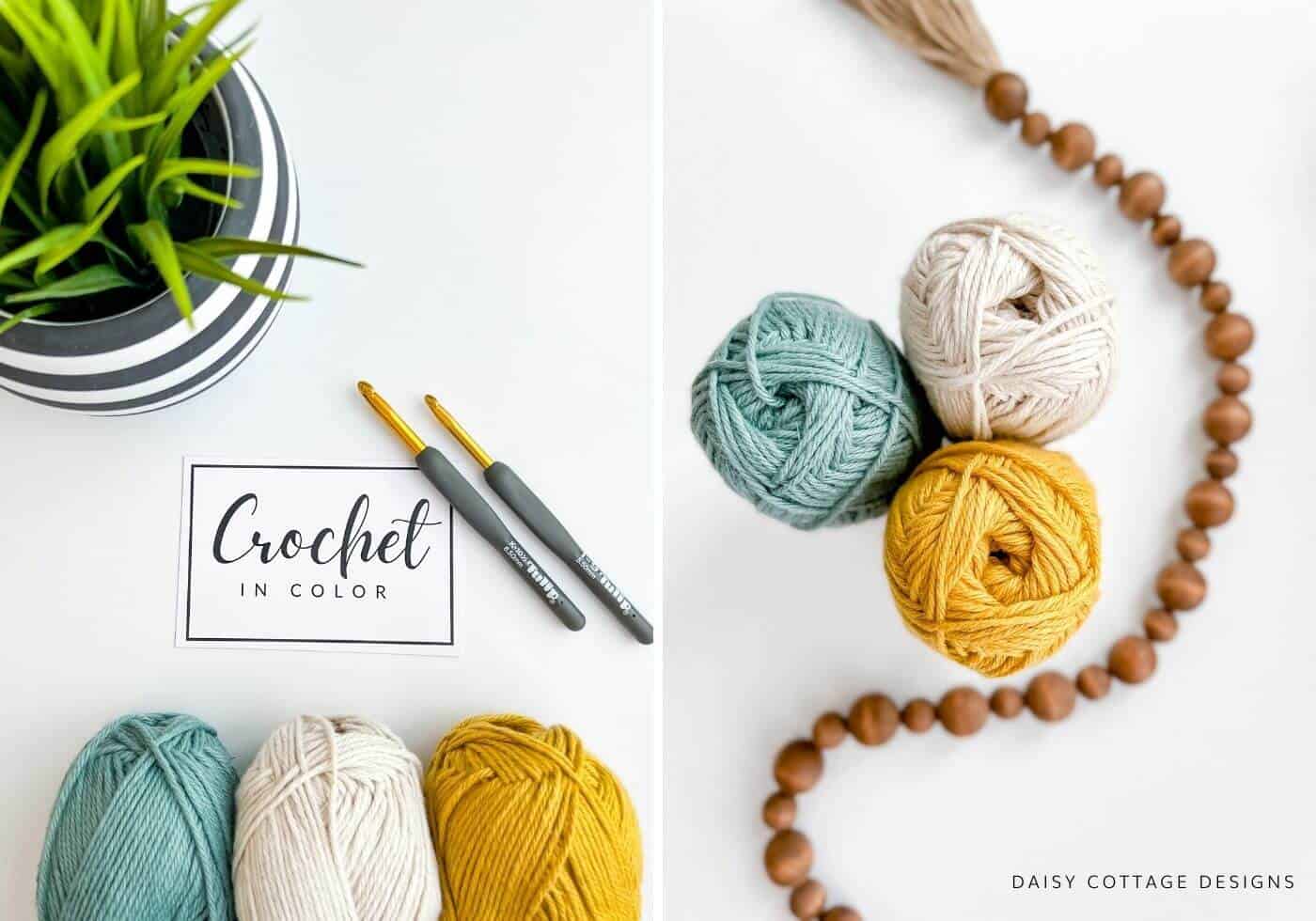 It's been awhile since I've shared a new Crochet Color Palette. I've been putting them together, but haven't made the time to take photos and search for similar colorways in other yarn brands.
This palette features two of my favorite colors – mustard and teal!
In my opinion, you can't go wrong with either of these hues. Throw a cream or white between them and – voila! The perfect palette.
This color combination for crochet works for every season. But since it's spring, I'm calling it the Cozy Spring Palette! It doesn't feature the traditional spring pastels, but it's perfect for this season of new beginnings.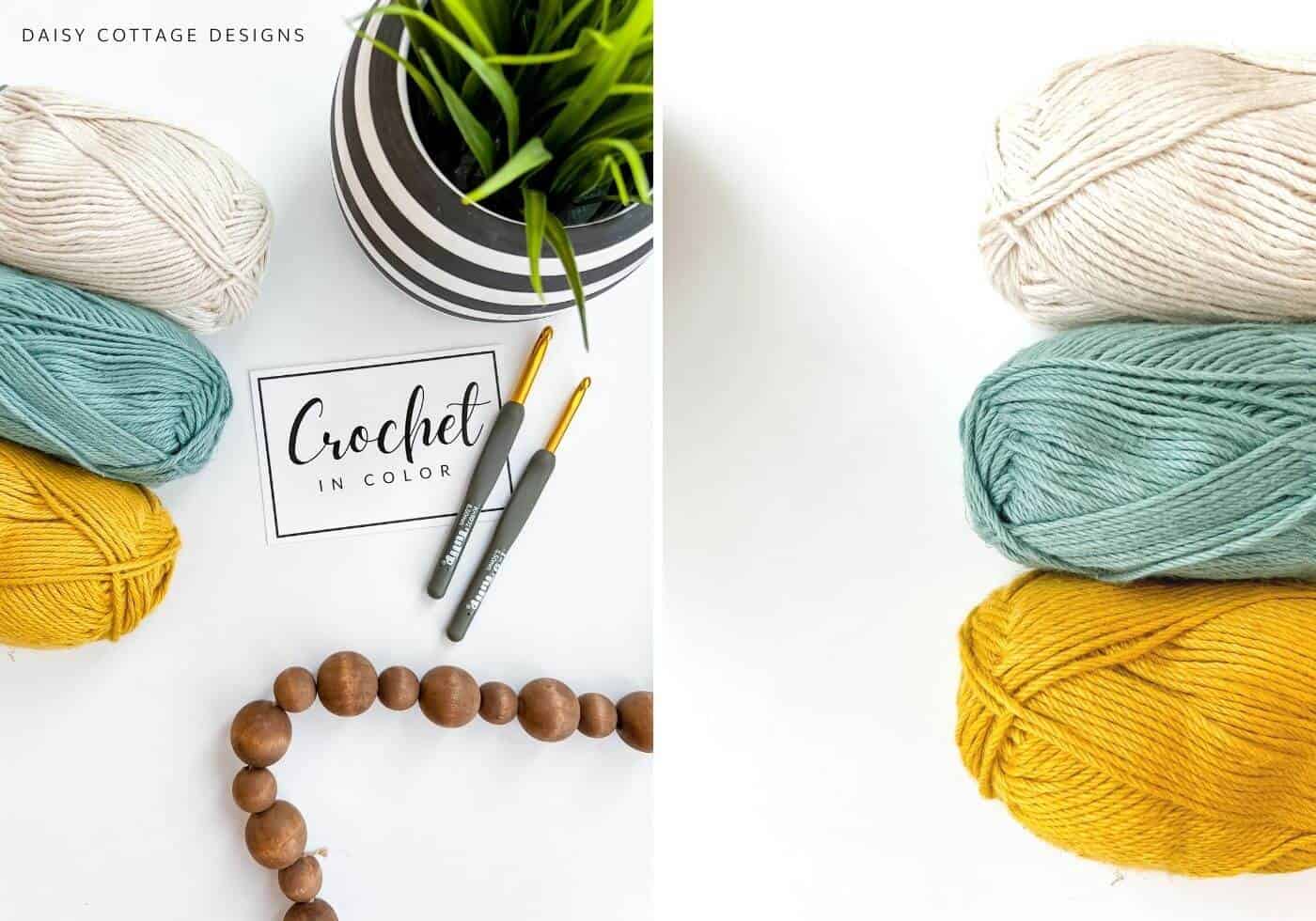 If you want to make it even brighter, swap out the ecru shade for a pure white
What Yarn is shown?
The photos above feature Yarn Bee's Cotton Et Lin. in the following shades:
Ok… can we stop and talk for 30 seconds about who in the world approved the name SULPHUR?! Not the most appealing title for this beautiful shade.
What is this yarn good for?
The Cot Et Lin. yarn is versatile! It's great for any of the following and MANY more crochet projects.
If you're looking for a different fiber, check out the other options down below.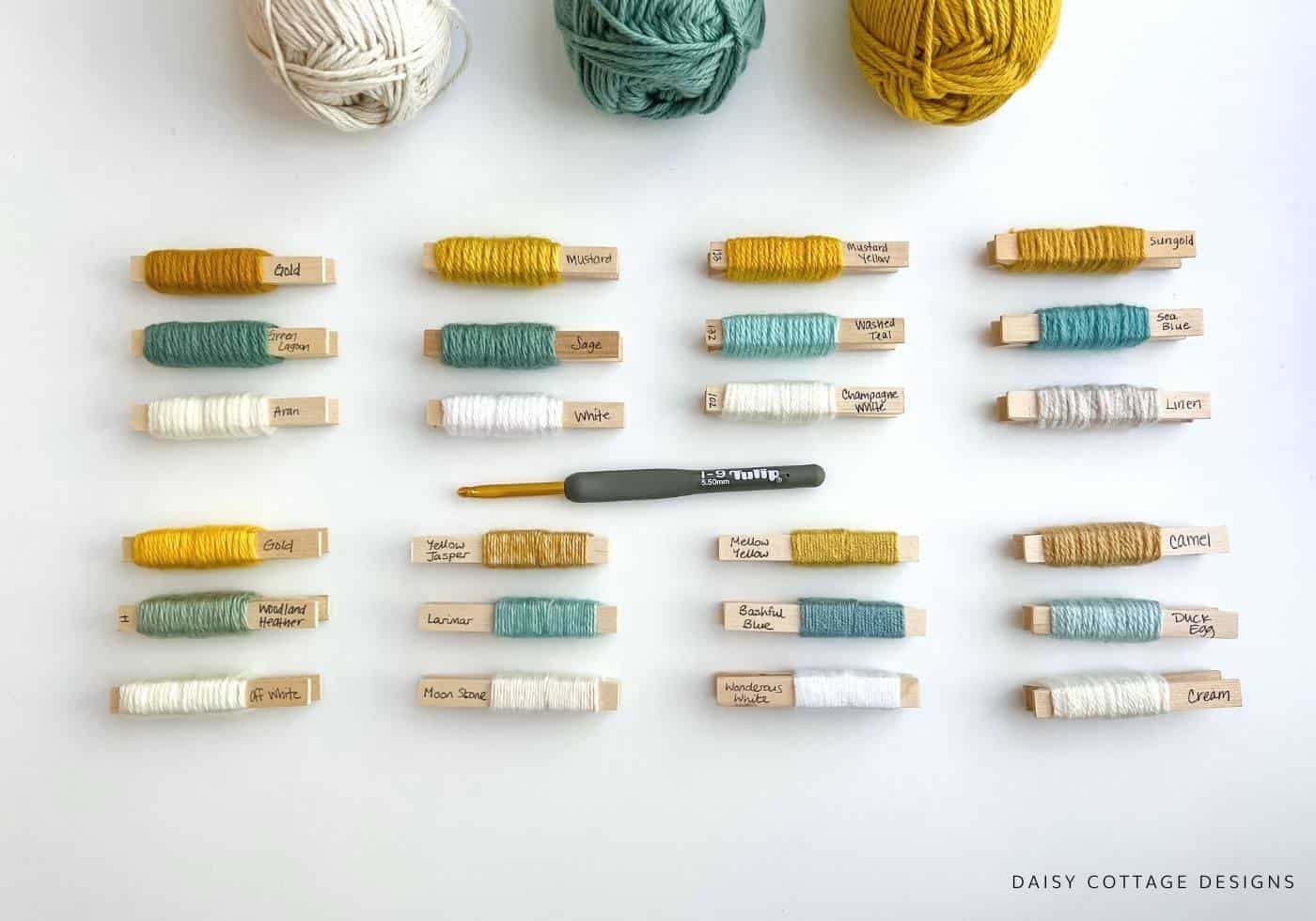 I went searching and found 8 other brands that have similar shades available. Obviously, some of them are closer matches than others. I'll give you the details on each brand below.
If your favorite brand isn't listed, just go shopping and match them up the best you can!
Let's get into the details:
As you can see, some options have a great match for one or two of the colors and the third isn't as good. Regardless, any of these combos are gorgeous palettes for your next make!
The list below corresponds with the photos above (right to left, top to bottom).
They're not listed in any preferential order.
Vanna's Choice – Worsted
Loops & Threads – Worsted
Paintbox Yarns – Various Weights
Caron Simply Soft – Worsted
Scheepjes Stone Washed – DK & Worsted (worsted linked below)
Stylecraft Naturals – DK Weight
Stylecraft Special – DK and Worsted
Hobby Lobby I Love This Yarn – Worsted
Stripe Pattern Ideas
Wondering how to lay out these colors? Here are some ideas.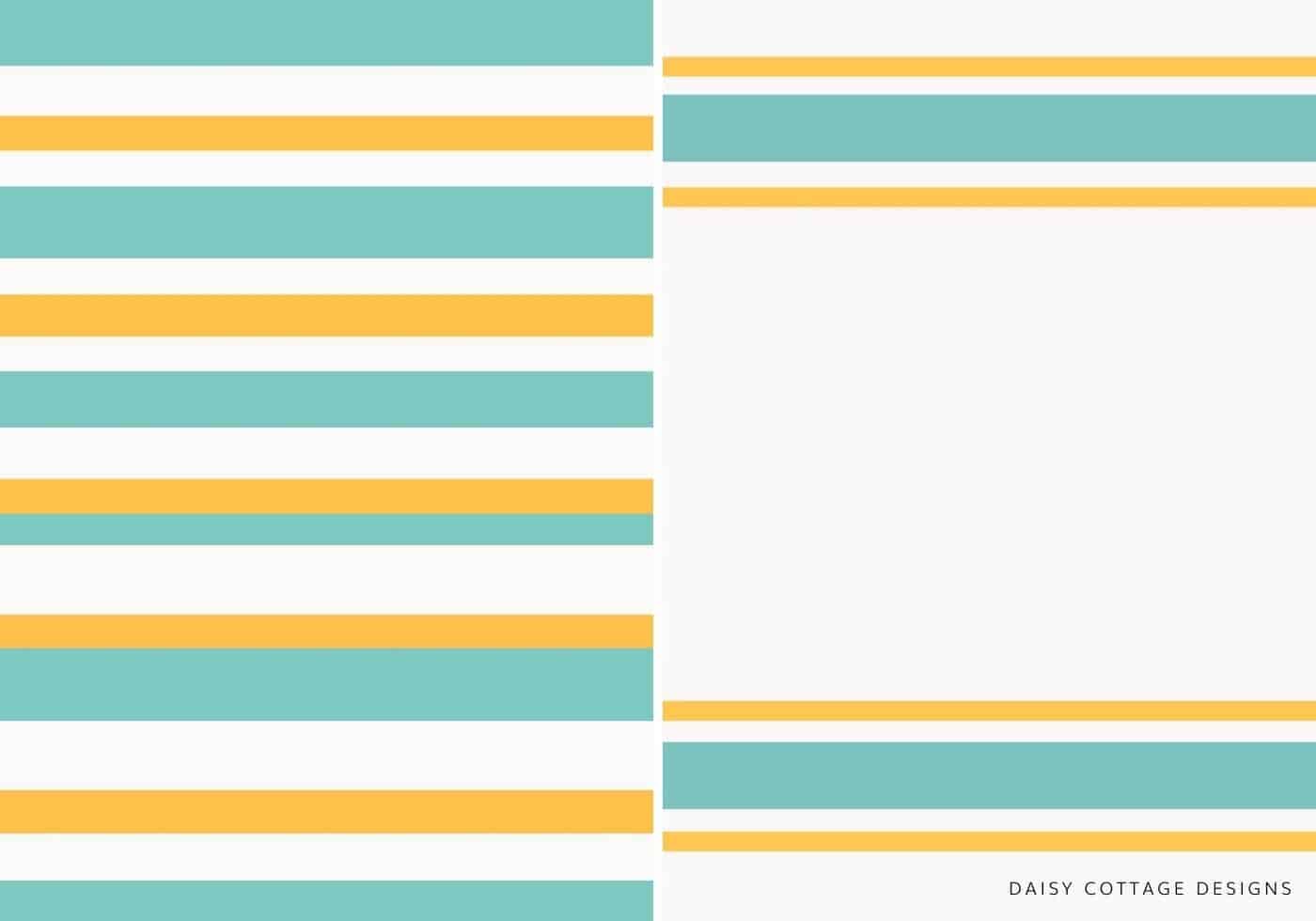 Random Stripes – a fun way to add visual interest to a project.
Stripes on the Ends – great when you're in a hurry but you don't want to have a solid colored blanket. You get the striped look, but you don't have many ends to weave.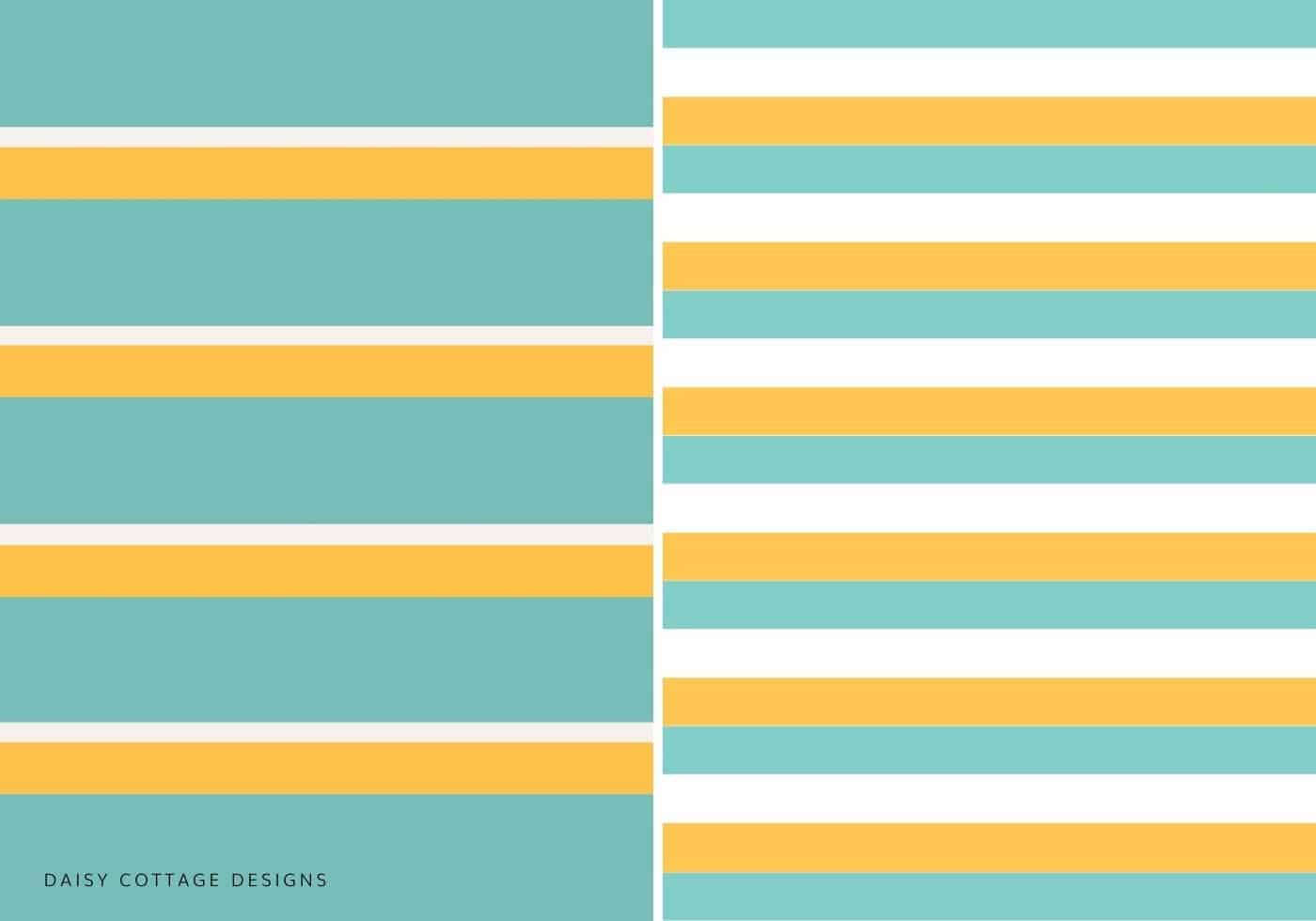 Mixed Width Repeat – by varying the width the stripes and then repeating them, you get a visually appealing stripe pattern.
Classic Repeat – All stripes are the same width and repeated in the same order.
Recommended Patterns