Round Ripple Baby Blanket
By
Lauren
on December 17, 2014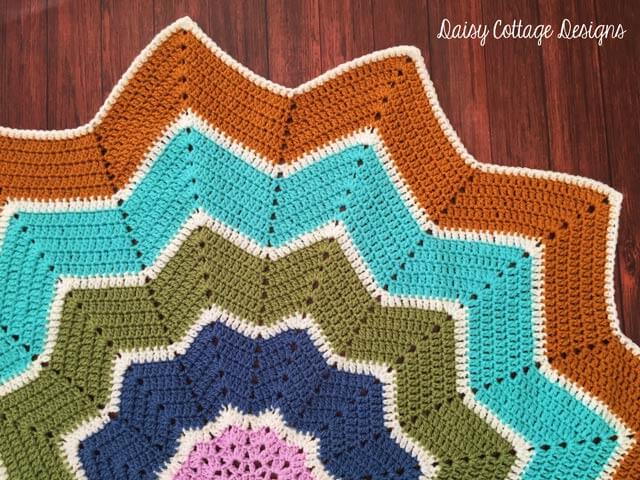 While I know this isn't one of the best images you've seen come across my blog, it represents one of my favorite projects. I absolutely love this blanket. The star blanket, as you know, is one of my favorites to make. This one is extra special, though, because I made it for my 2.5 year old, Caroline.
Caroline is a funny, opinionated girl with great taste. Honestly, if you ask my 4 year old and my 2 year old to get dressed, my two year old almost always matches better than her older sister (Riley is a mathematical minded girl who's as smart as can be… she's got some great traits about her. Matching simply isn't one of them). Caroline was adamant from the start of this blanket that I include the orange-ish brown color that I ended with. She kept asking me to add it to her blanket and I was hesitant.
Finally she convinced me and I put it in. I couldn't believe how it tied everything together and made the blanket look great. Glad I took advice from my toddler. That little girl is cuddled up with this blanket right now taking her afternoon nap. I hope she treasures it for a lifetime.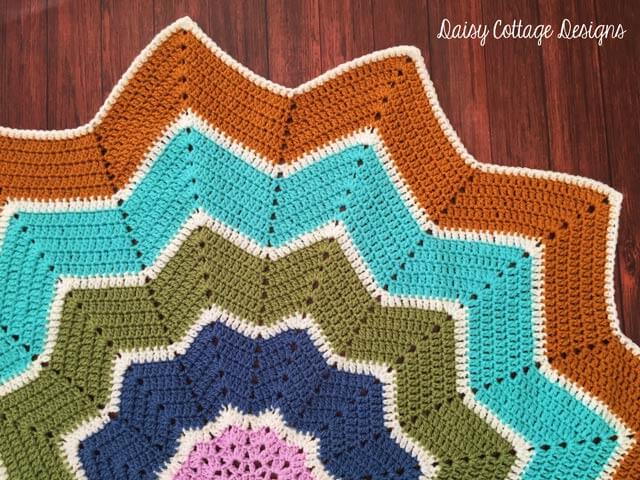 Enough of the mushy mom stuff. Here are the details of the blanket.
I used this pattern. It's available for free on Ravelry.com. If you don't like having to sign up  to get the free pattern, I'm sorry; but, I promise, having a Ravelry account is well worth it. It's free and believe me, it's an excellent resource.
I used Stylecraft Special DK Yarn in the following colors (starting from the center):
Clemantis
Denim
Meadow
Turquoise
Gold
There are five rounds of each color separated by one round of cream.
I used the h hook from my Clover Amour set for this blanket.
The final cream round is hdc. I worked three hdc in each ch 2 space from the previous round (this will make more sense once you look at the pattern).
I've got another round ripple blanket on my hook for my 4.5 year old, too. I'm working on it between orders. I look forward to sharing it with you, too. The colors are super fun!