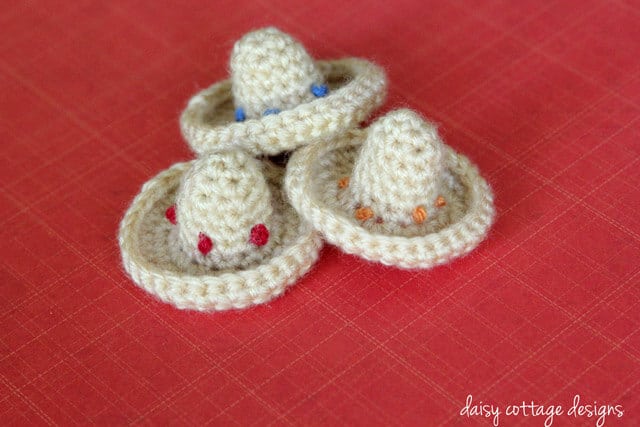 With May right around the corner, it's time to start thinking of Cinco de Mayo. In honor of the holiday, I've got a little crochet pattern for you: adorable mini sombreros. Attach them to a key chain, strap them onto your chihuahua (yes, I've gotten pictures from DCD fans who have done this), string them on a bunting, or use them as table decorations at your next fiesta.
If you're having a party tonight and don't have table decorations yet, you've still got plenty of time – these little cuties are super quick.
Materials:

small amount of worsted weight yarn (I used Vanna's Choice in beige)
tiny amounts of contrasting yarn in red, blue and green.
Tapestry needle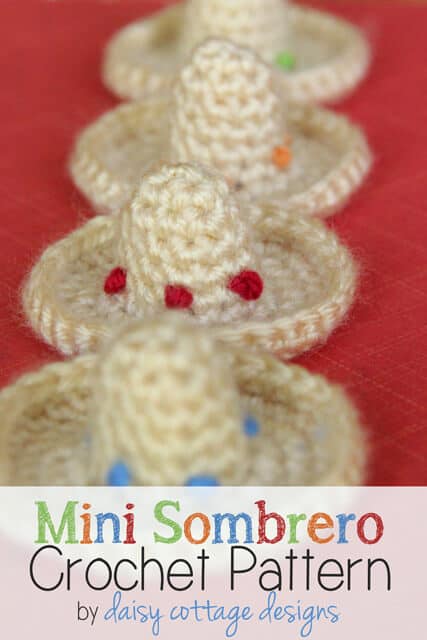 Pattern Notes
You'll be working in spiral. There are no slip stitches or chains at the ends of the rounds.
You may want to mark the first stitch of each round as you go. It's easy to lose your spot on such a little pattern.
Sombrero Pattern:
ch 2.
Round 1: 4 sc in the first chain . (4)
Round 2: 2 sc in each stitch (8)
Round 3: *2 c in the first st, 1 sc in the next* around. (12)
Rounds 4-7: *sc in each stitch. (12)
Round 8: 2 sc in each stitch. (24)
Round 9: *2 sc in the first st, 1 sc in the next two stitches* around. (32)
Rounds 10 & 11: sc in each stitch around. Sl st in the first stitch of the round. Cut yarn and weave ends. (32)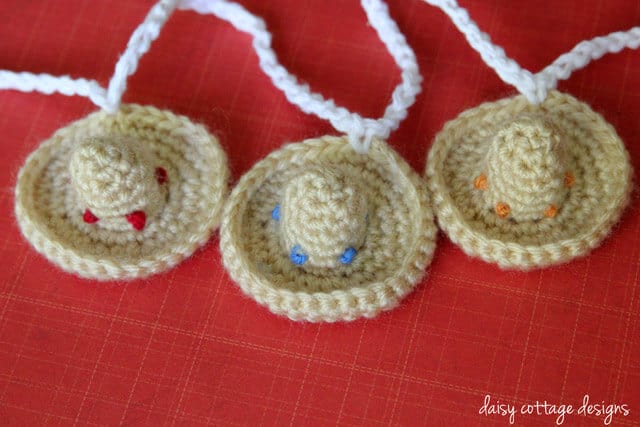 Embroidery: 
Using colorful yarn and a tapestry needle, make French knots around the hat. If you're not sure how to make French notes, here's a tutorial.