How to Wash a Crochet Blanket (Two Methods)
Washing a crochet blanket can be a little bit tricky. Learn how to safely care for your crochet projects with these two safe methods.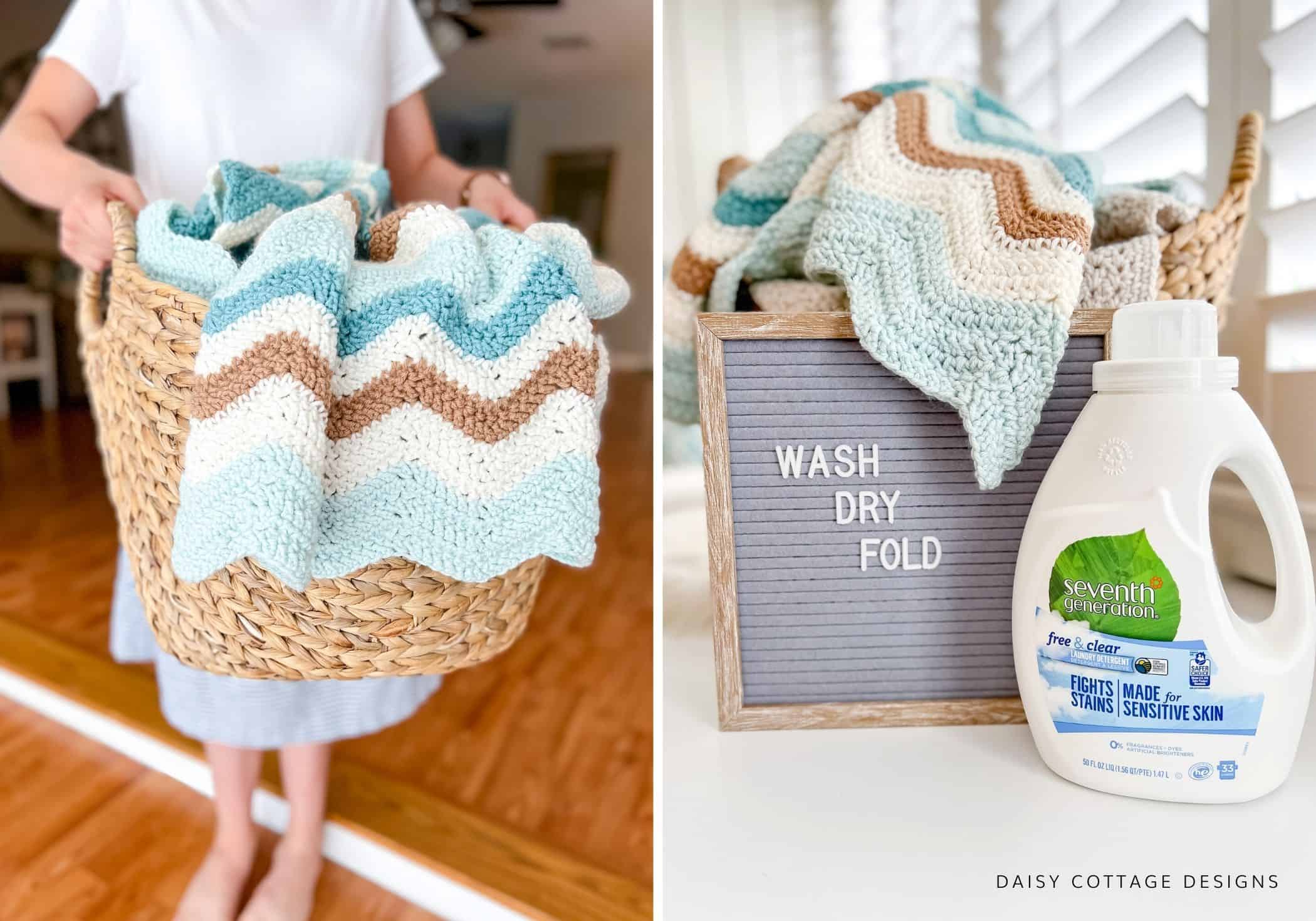 So you've made or received a crochet blanket and you want to wash it. It's a scary thought! The first time I went to wash one of my crocheted items, I thought for sure it would fall apart.
Don't worry, that won't happen if you do it correctly and treat them with special care!
There are a couple of simple ways to wash a crochet blanket that won't tear the yarn out of its stitches.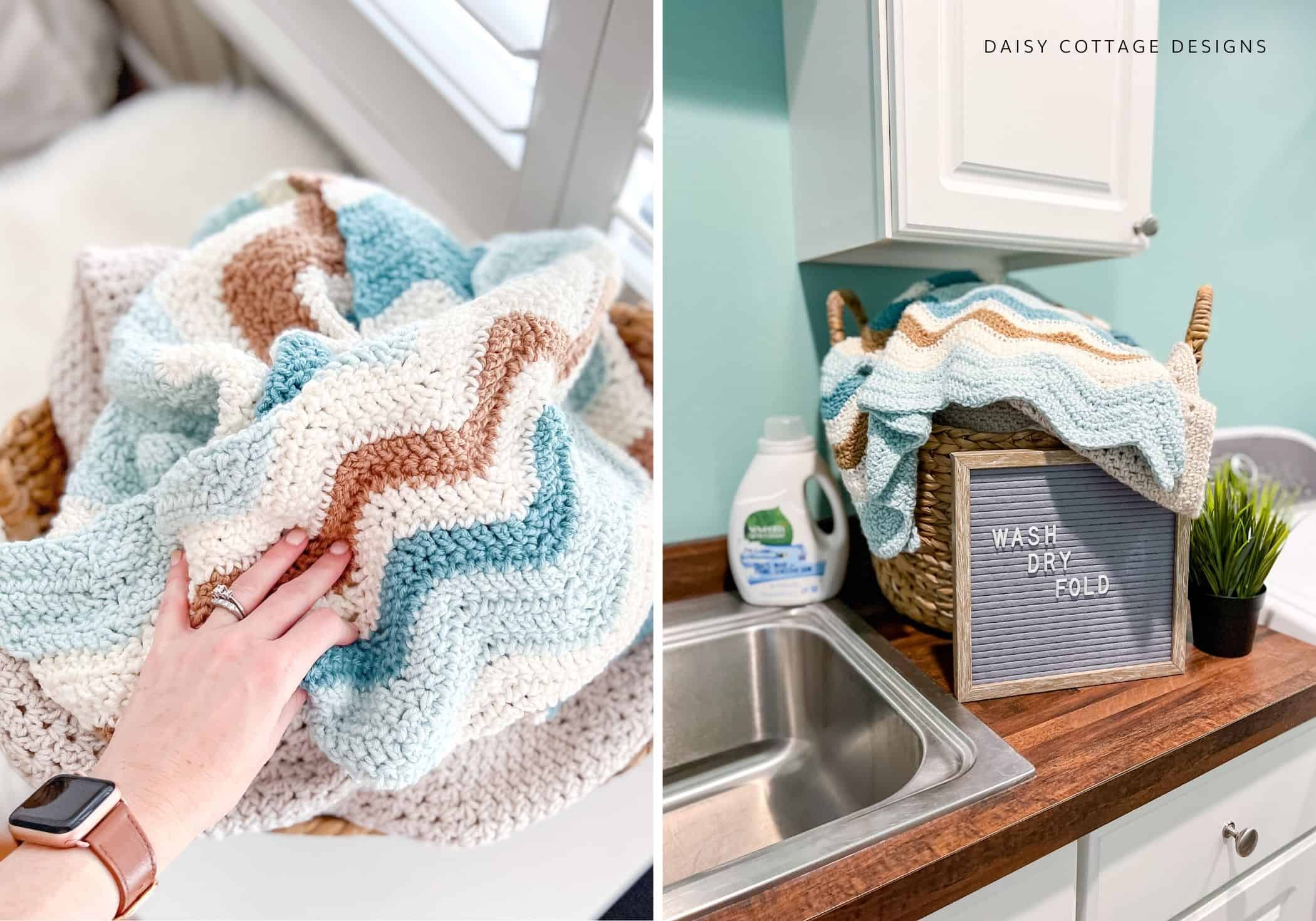 Wash the Crochet Blanket by Hand
The first way to wash a crocheted blanket is by hand washing it. Whether you made the blanket yourself or received it as a gift, follow these steps. In my opinion, it's the best way to wash delicate items like crochet gifts.
Follow washing instructions on the yarn packaging! If you made the blanket by hand, the wrapper on the yarn will tell you how it should be treated. Each brand specifies how you should go about washing and cleaning your finished crocheted project. You will find that most yarns CAN be washed in a washing machine, but it's often safer to wash by hand. It is not recommended to wash wool in the washer, the yarn will be a mess when you remove it. Find your label (if there is one) and follow the care instructions.
Fill a large bucket or basin halfway with cool water. Leave enough space in the container for the blanket to fit in without sloshing water out of it.
Mix in gentle shampoo. I recommend using a couple of teaspoons of baby shampoo or gentle soap into the water. Mix it together with a spoon or with your hands. You won't necessarily see suds, but make sure it's all mixed in before moving to the next step. If you don't have gentle shampoo, mild laundry soap or detergent will work just fine.
Add your blanket to the water. Make sure the whole blanket is submerged by gently pressing it into the water. This will ensure that the soapy water gets into all of the crevices. Let the blanket soak for about an hour.
Rinse the blanket in cool water. Gently rinse under cool running water or in a tub of clean water to remove the soap.
Gently press out the excess water over a sink or tub. Don't twist the blanket too much, as you don't want to warp it in any way. Squeeze it just enough to get excess dripping water out, then lay it somewhere to dry flat on its own.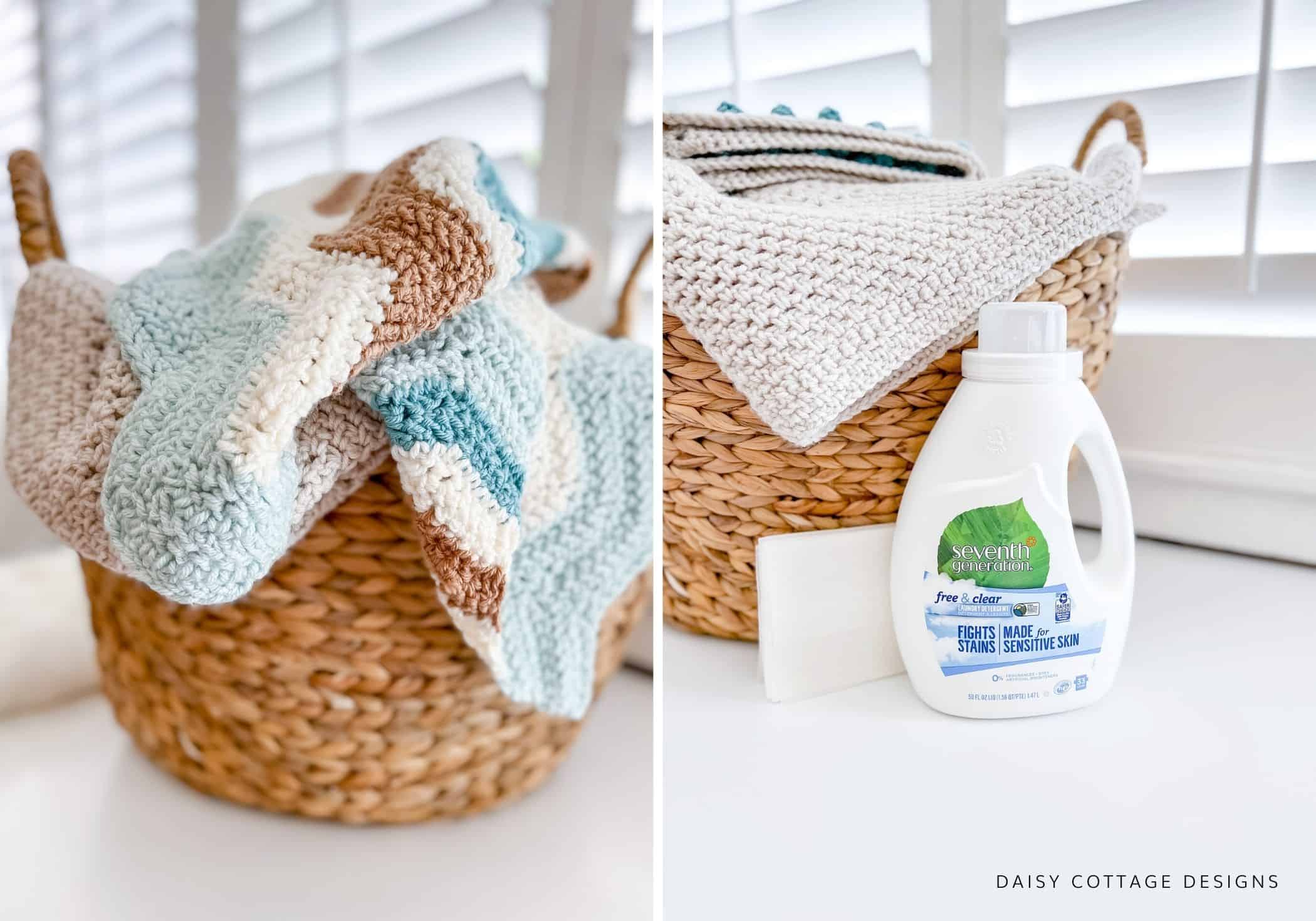 Wash the Crochet Blanket in the Washer
While this second way of washing isn't the top-recommended, it still works just fine as long as you use cool water and follow these simple steps. This method of washing is perfect for those sweet babies who just can't go without their blankets all day long. It's a little bit faster, and as long as the yarn recommends it, the blanket will still be in good shape.
Follow washing instructions on the yarn packaging! Again, check the wrapper. Every label should tell you how to go about washing and cleaning your finished crocheted project. If you used acrylic yarn, odds are that it can be washed in the machine on a delicate cycle. If you received the blanket as a gift, ask the gift giver for any specific instructions. A wool crochet blanket should not go in the washer. Fabric softener is not recommended for crochet projects.
Use a washing machine bag. If you have one, place your crochet blanket into a delicates bag (otherwise known as a lingerie bag). These large, mesh bags are perfect for avoiding snags and excess wear to your delicate blanket. It will keep the handmade project safe during the cycle. It's important to note that you should wash the blanket with like colors, or by itself for the first time. I also wouldn't recommend washing it with your regular laundry to avoid snagging on snaps, buttons, zippers, and clasps.
Use minimal detergent. You won't need more than a quarter cup of laundry detergent in the washing machine with your blanket. Too much detergent can wear away at the yarn, and we don't want that. If you are able, use a mild detergent.
Use cold water and a gentle cycle. Before pressing start on your machine, make sure it is set on cold or cool and the spin speed is at the lowest setting possible. If you have a delicates option, select that as well. You don't want the blanket spinning in the washer for too long.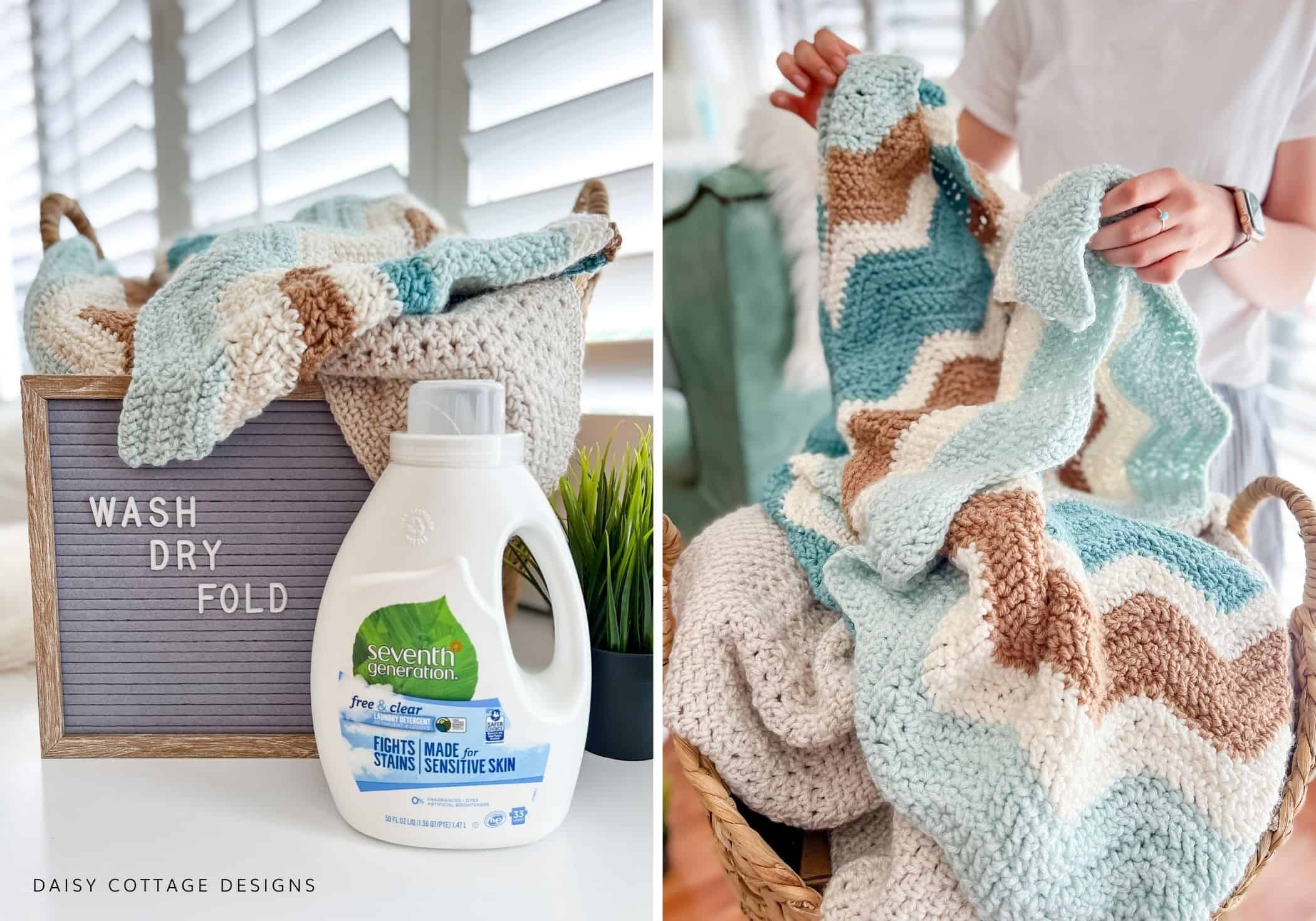 How to Dry a Crochet Blanket
Once your blanket is washed, whether by machine or hand, it's time to dry it. There are two main ways to dry your blanket, either in the dryer or by air.
I personally recommend opting for the air-dry method, just to decrease any pilling or wear to the blanket. Laying the blanket outside on a drying rack in direct sunlight is a fast and simple way to dry it. Be sure to clip the edges down so it doesn't blow away on a windy day. If you aren't able to set it outside, inside will do but it may take a full day or more to dry completely.
Instead of air drying your blanket, you may be able to tumble-dry it in a mesh laundry bag in the dryer. Set the dryer to low heat and only let the blanket stay in there as long as it needs to dry. Towards the end of the cycle, check on the blanket. If it is still damp, return it to the dryer for 5 to 10-minute increments or let it air dry the rest of the way.
I do use half a dryer sheet if my blanket is made from acrylic yarn to keep the static to a minimum.
Be sure to read any care instructions on the yarn label of your crochet items to see if your yarn does well in the dryer.
TWO NOTES OF CAUTION:
When drying synthetic fibers, be sure to keep the heat setting on low. You don't want your blankets to melt.
When dried in the dryer, cotton yarn may shrink more than other fibers. Blankets made from cotton will keep their shape better if they're air-dried.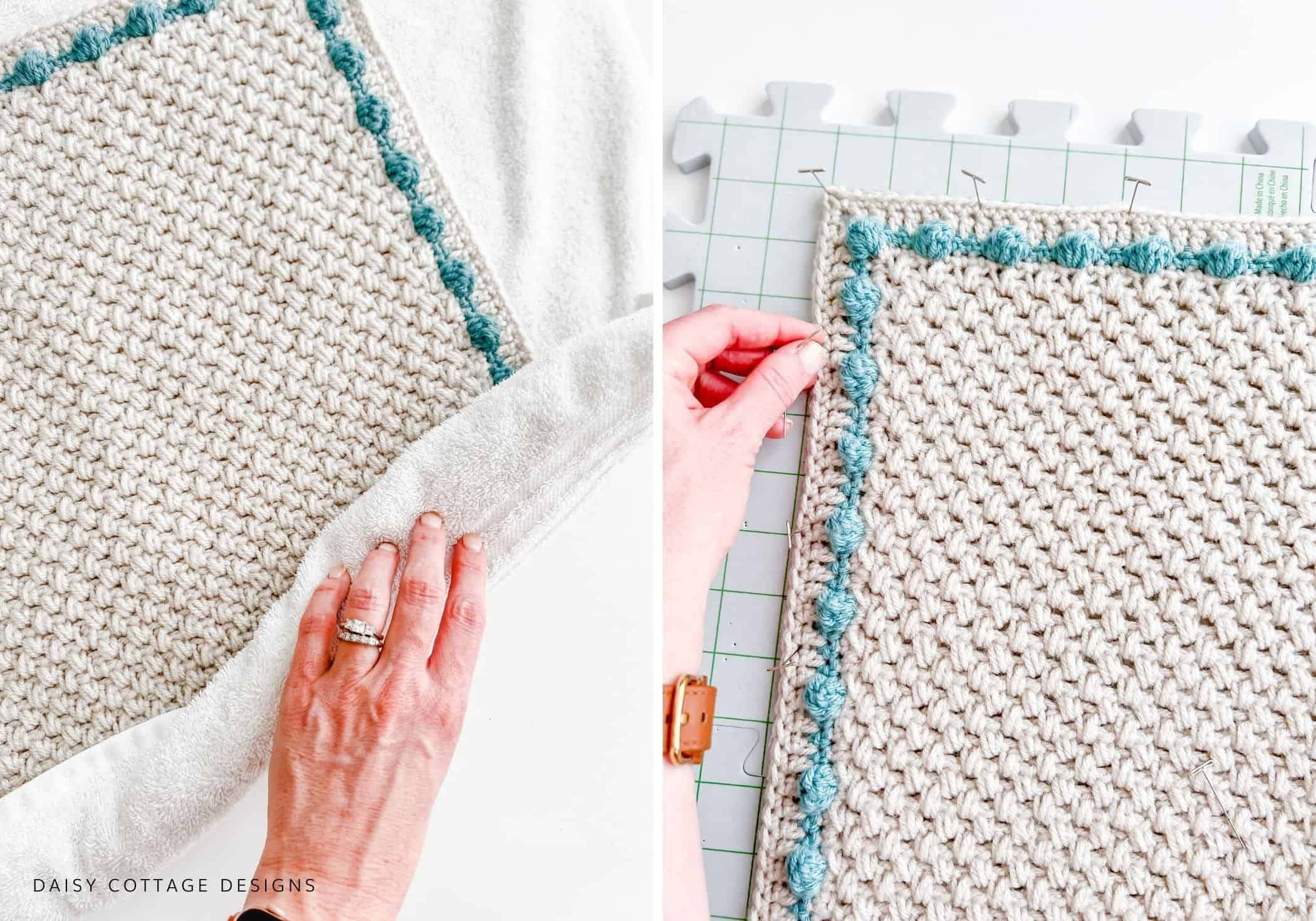 How to Block a Crochet Blanket After Washing
After you wash a crochet blanket, it's a good time to block your crochet project. This will help you combat any shrinkage or warping that took place during the washing process.
Absorb excess water with a towel. After washing and rinsing the crocheted blanket (either by hand or in the machine), roll the blanket in a towel to absorb any extra water.
Pin your blanket in place. Lay your project out on a set of blocking mats or some thick towels and manipulate the stitches until everything is lined up just right and pin it in place.
Allow the blanket to dry completely. After you've pinned your blanket in place, place it near a fan or use a blow dryer on low to speed the drying process along. The key is to leave your blanket in place until it is 100% dry.
I really like these blocking mats and these pins.
For large blankets, you'll need a few sets of blocking mats.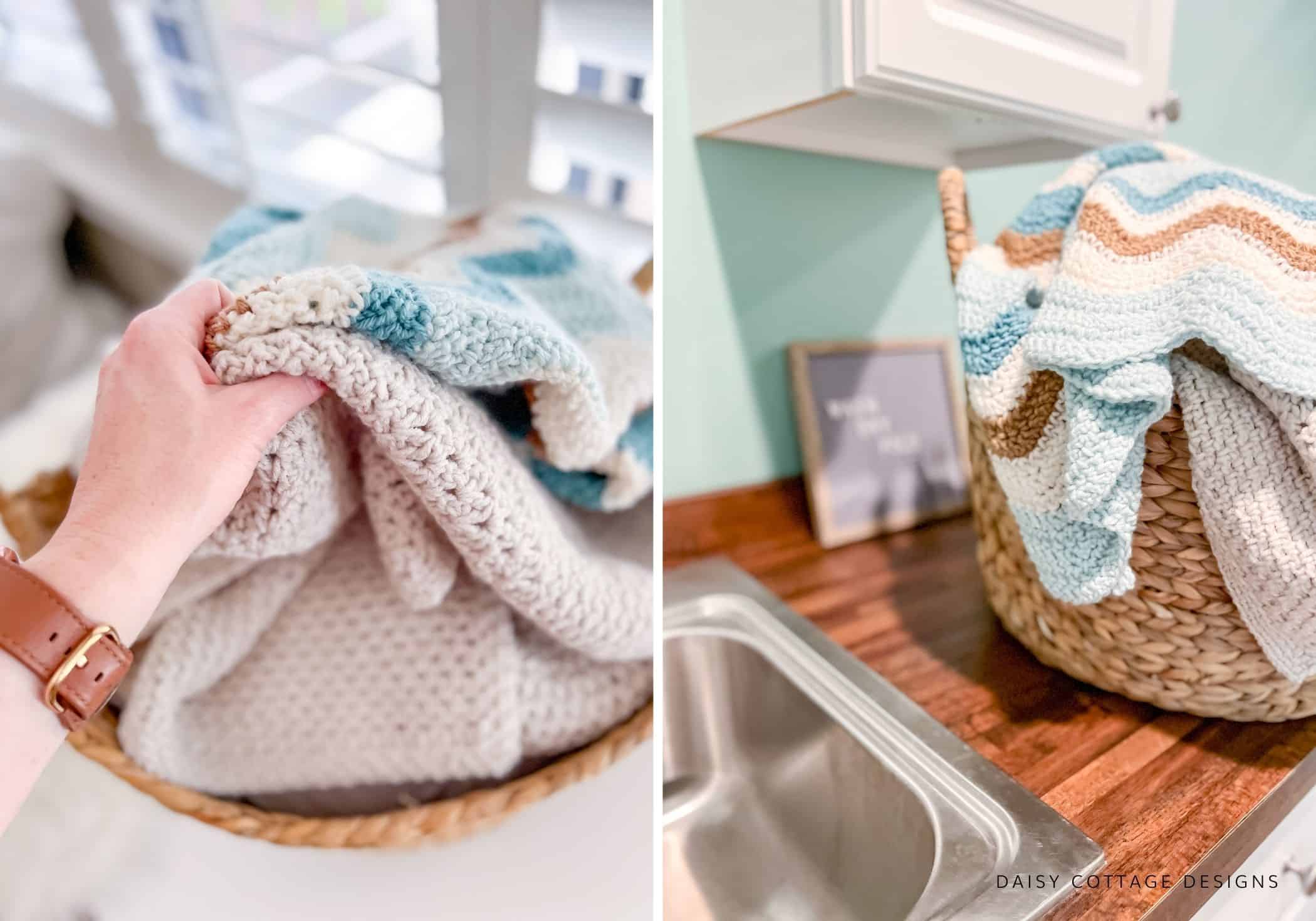 Looking for the Patterns in the Photos?
These easy-to-care-for blankets are available for free here on the blog:
Blanket Washing FAQ
Should I wash a crochet blanket before gifting it?
It's always a good idea to wash a blanket before giving it away, especially if it's for a baby. Blocking a blanket prior to giving it away will be sure everything looks perfect even after washing.
Does yarn shrink in the wash?
Depending on the fiber, it definitely can. Remember to always check the yarn label for washing instructions.

I've found that 100% cotton yarn shrinks more than most other yarns. I recommend air drying cotton blankets.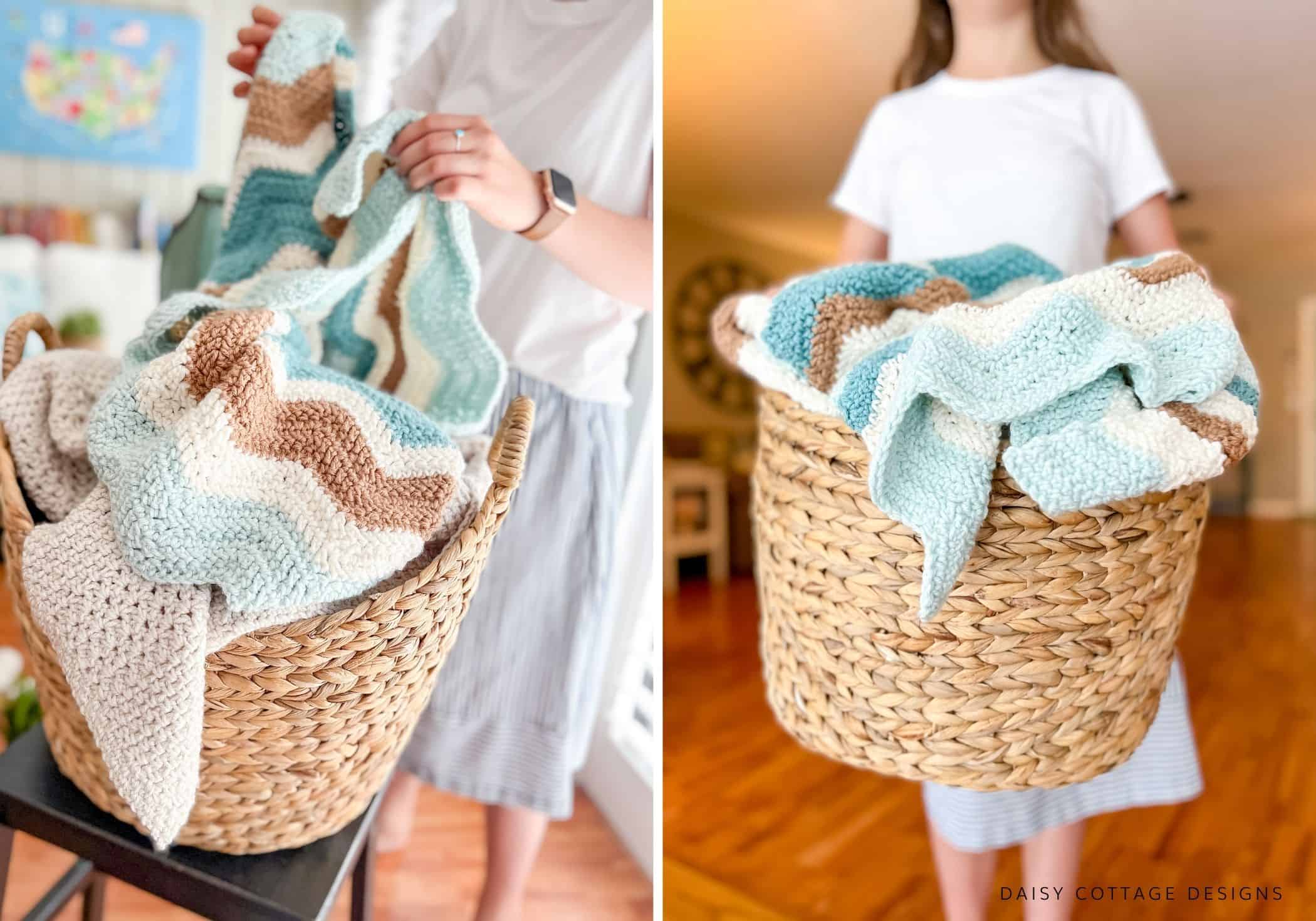 Summary
Now that you know how to wash your crochet projects without ruining them, you will be able to confidently create your pieces and gift them without fear of them falling apart. If you are still worried about this, choose the type of yarn based on the care instructions so you know that no one can destroy them.
I have made plenty baby blankets wondering if the parents will know how to properly care for the crochet piece. I always advise them to wash their handmade items with the above steps and nothing has fallen apart yet!