Fun & Easy Striped Beanie Crochet Pattern
Do you ever need a quick birthday gift and don't know what to make? I found myself in this predicament today. We have a birthday party later this month; I didn't know that an owl hat was the little girl's cup of tea, but I still wanted to make her something adorable. After perusing the Internet for some inspiration, I decided to make a simple, striped beanie with a big ol' flower.
You'll need three different colors of worsted weight yarn (I used some scraps of Vanna's Choice, Hobby Lobby's "I Love This Yarn!," and something I bought on clearance so long ago I can't remember what it is) and an I crochet hook to make this hat.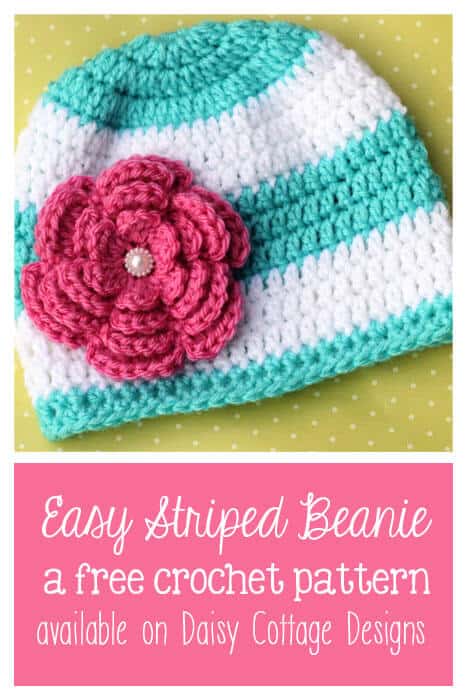 This hat fits kids with heads 18-20″ around.
Ch 2 does NOT count as the first stitch in this pattern!
Ch 2.
Round 1: 9 sc into the first chain. Sl st to the top of the first real sc (NOT into the slip stitch). Ch 2, turn. (9)
Round 2: 2 dc into each stitch. Sl st to the top of the first dc. Ch 2. (18)
Round 3: 2 dc into each stitch. Sl st to the top of the first dc. Ch 2. (36)
Round 4: *1 dc into the next stitch, 2 dc into the next stitch* around. Sl st to the top of the first dc. Cut yarn and weave ends. (54)
Round 5: Join second color using this method. Ch 2, dc in the same stitch and in each stitch around. Sl st to the top of the first dc. Ch 2. (54)
Round 6-7: dc into each stitch. Sl st to the top of the first dc. At the end of round 7, don't chain 2. Just cut yarn and weave ends. (54)
Round 8-10: Join first color yarn using the method linked above. Ch 2, dc in the same stitch and in each stitch around. Sl st to the top of rhe first dc. Ch 2. At the end of round 10, don't chain two. Just cut yarn and weave ends. (54)
Rounds 11 – 13: Join second color yarn using the method linked above. Ch 2, dc in the same stitch and in each stitch around. Sl st to the top of the first dc. Ch 2. At the end of round 12, don't chain two. Just cut yarn and weave ends. (54)
Rounds 14-15: Join first color yarn using the method linked above. Ch 1, hdc in the same stitch and in each stitch around. Sl st to the top of the first hdc. Ch 1. At the end of round 15, don't chain two. Just cut yarn and weave ends. (54)