Free Fall Printable | Always Be Thankful
School is back in session, and fall is right around the corner. This free fall printable is something that I created in hopes that fall will arrive in Florida just a little bit earlier than usual. In reality, we don't really get fall weather. I see all of the amazing fall "bucket lists," and I'm a little bit envious. I love the changing of leaves, cool air, and sweaters. Instead, we get humidity, 85˚ weather, and tshirts. I don't complain about the Florida climate too much, though; we never have to shovel heat off the driveway.
Download the free 5×7 printable here. 
Even though we don't get much of a fall, we do get Thanksgiving. Thanksgiving is my favorite holiday. Family, food, friends – it doesn't get much better. This Thanksgiving printable would look beautiful perched on your mantle (or in my case, piano) so print it out and enjoy it all fall!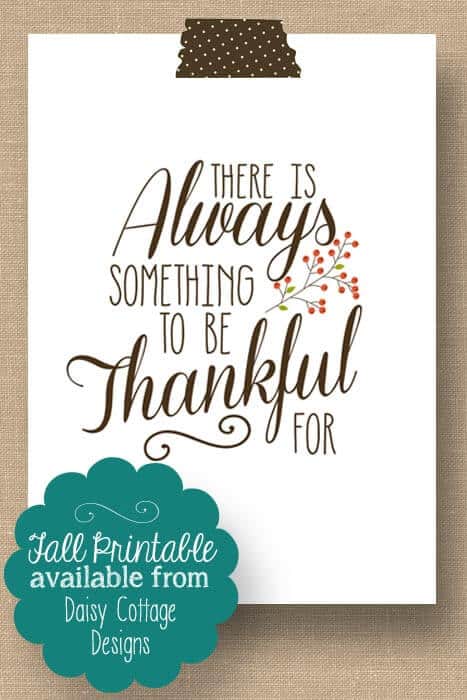 Thanksgiving was full of family traditions when I was growing up. I always snapped beans while watching the Macy's Thanksgiving Day Parade. After that, my mom and I would cook green beans and corn and make sweet potato casseroles (my mom's sweet potato casserole is the best). Then we'd head over to my aunt and uncle's house for a huge family gathering. After that, we'd head to church where we'd fellowship with our closest friends and sing songs of thanks to the Lord.
Our Thanksgivings now aren't much different except now we have the girls (and I have my own cooking assignments rather than helping my mom with hers). I'm really excited about this Thanksgiving. Riley is old enough to get into it, and I'm planning on doing a countdown leading up to the holiday. She's all about thanking the Lord for the blessings in her life so I'm confident she'll enjoy it.
It seems funny to be posting about Thanksgiving at the end of August, but it will be here before we know it!