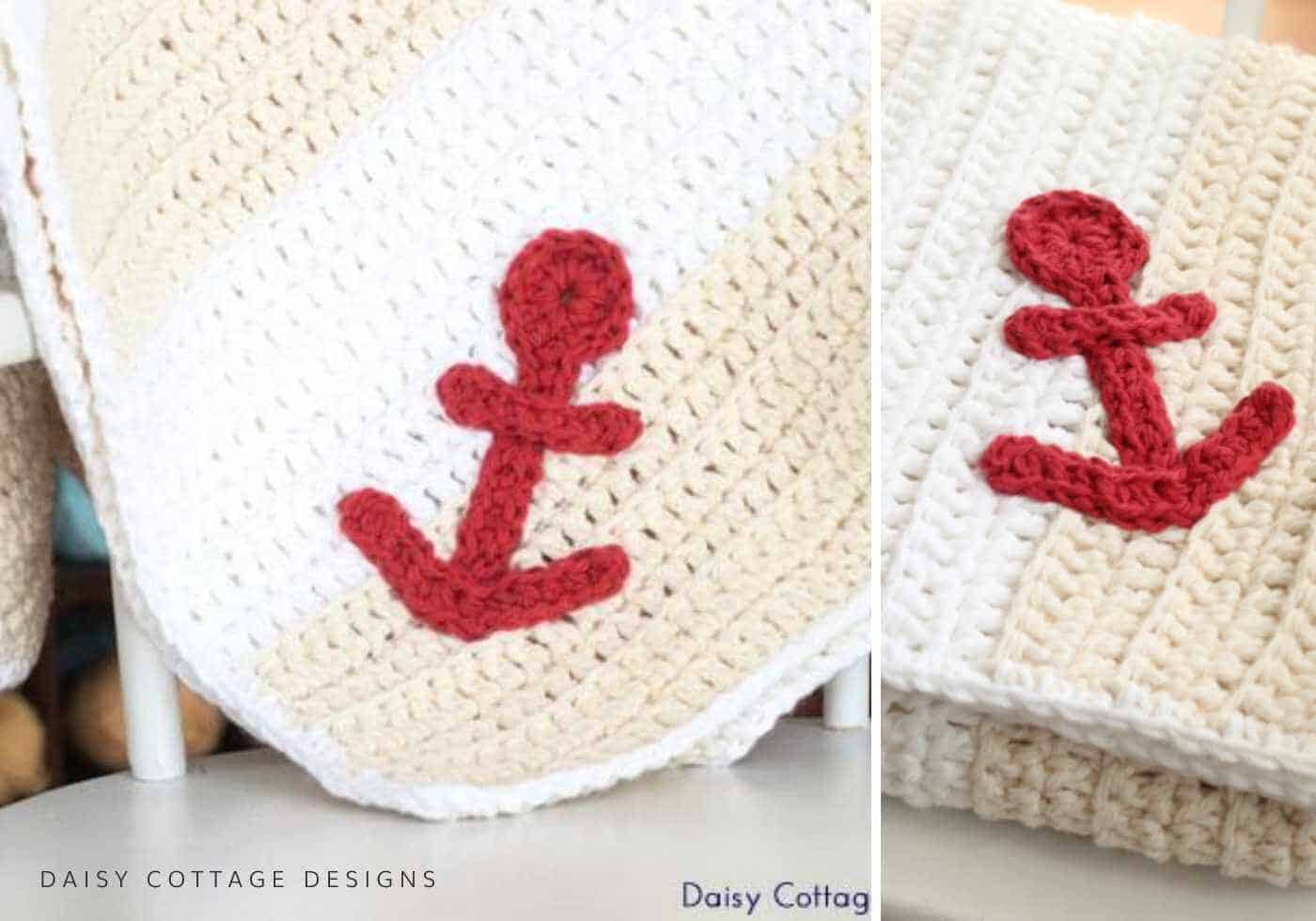 While I love intricate stitches and complicated patterns, sometimes it's nice to return to the basics and make a simple, relaxing baby blanket. This nautical crochet baby blanket is super simple to make and works up very quickly. Its subtle stripes and bold anchor make it the perfect addition to any nautical nursery.
I made this blanket using 100% cotton yarn. Living in Florida, using worsted acrylic yarn in the summer months just doesn't make sense – the poor baby would be sweltering. Cotton yarn also has a beautiful drape! Continue reading for the materials and the pattern!
Easy Nautical Crochet Baby Blanket Pattern
Don't have time to make this blanket now? Pin it for later!
Materials:
Pattern Notes:
This Nautical Baby Blanket Crochet Pattern is worked through the back loop only (BLO). If your'e unfamiliar with this method, check out these instructions.
Ch 2 counts as the first stitch of each row.
This blanket measures approximately 30×25 inches. It can be easily adjusted by change the number of chains you begin with.
Directions:
Working with Soft Ecru, chain 102.
Row 1: dc in the third stitch from hook and in each stitch across. Ch 2, turn. (100)
Row 2: The ch 2 counts as the first dc so you will skip the first stitch and dc in the second stitch and in each stitch across. Remember, you're working in the back loop only. Ch 2, turn. (100)
Row 3: dc in each stitch across. Ch 2, turn. (100)
Row 4-5: dc in each stitch across. Ch 2, turn. (100).
Row 6: dc in each stitch across. Cut yarn and weave ends. Join your next yarn color with a slip stitch. Ch 2, turn. (100)
Continue double crocheting back and forth and changing colors after every six rows. I used 6 rows of each color and did 8 blocks for a total of 48 rows.
Border Instructions:
When you have finished your stripes, use soft ecru and sc evenly around the entire blanket. Be sure to work 3 sc into each of the blanket's corners.
Add the Anchor:
When you've finished your blanket, head over to this post and make the anchor. Attach it to the bottom right corner of your blanket and you're all done!