Crochet Scrunchies (Free Crochet Pattern & Video)
Crochet scrunchies are a fun way to dress up a ponytail or messy bun. Learn how to crochet your own scrunchies with this free crochet pattern – there's a video tutorial, too!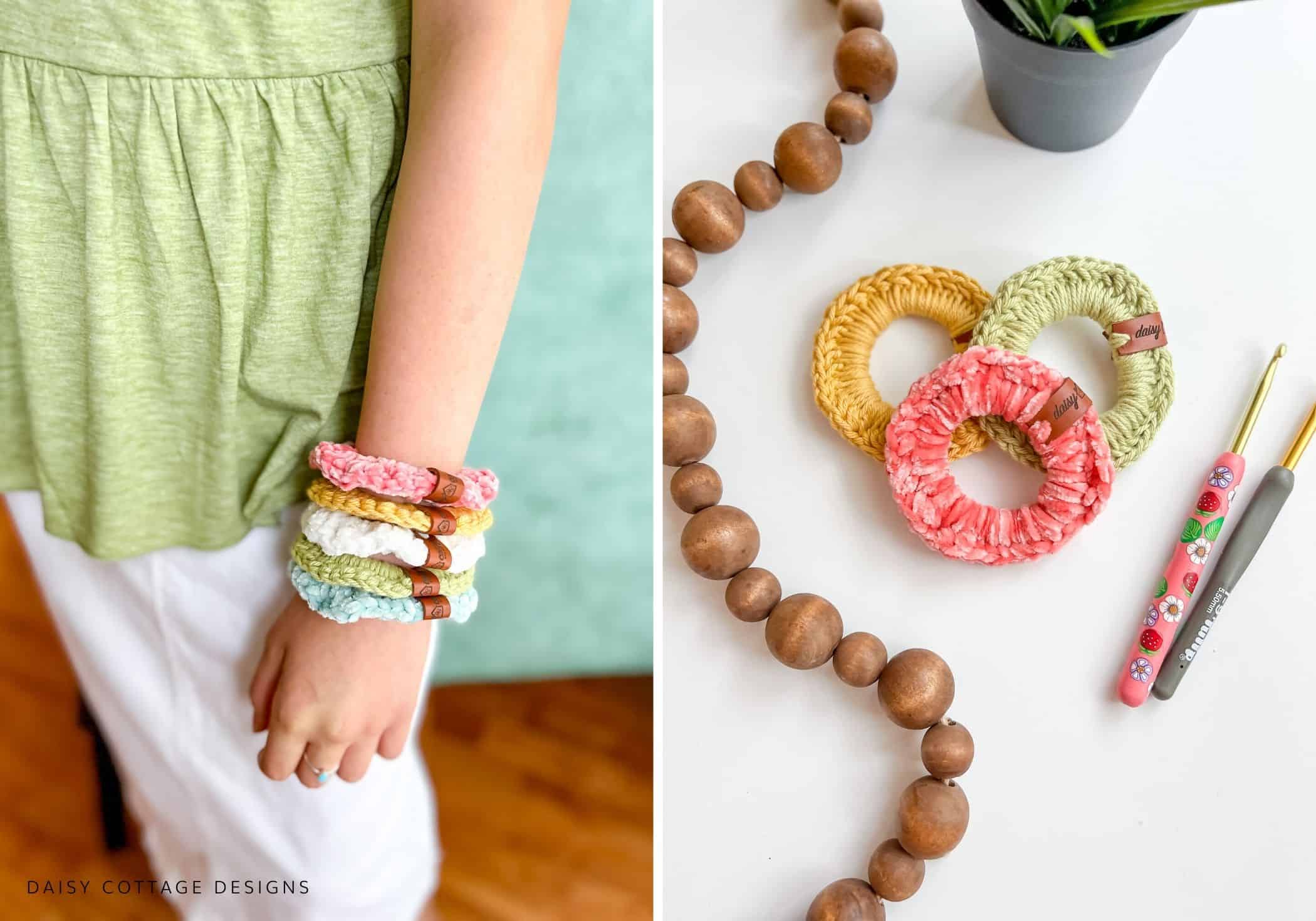 This past week, I decided it was way past time to crochet scrunchies for my three daughters. I'd been trying to decide how to use my stash of velvet yarn, and scrunchies ended up being the perfect project.
Scrunchies have definitely made a comeback. It always amazes me when I realize that I'm old enough to start seeing trends go in and out of style.
I think I've made about 15 in the past few days – my girls are going to give them to some of their friends as gifts and they've been enjoying wearing them on their wrists and in their hair.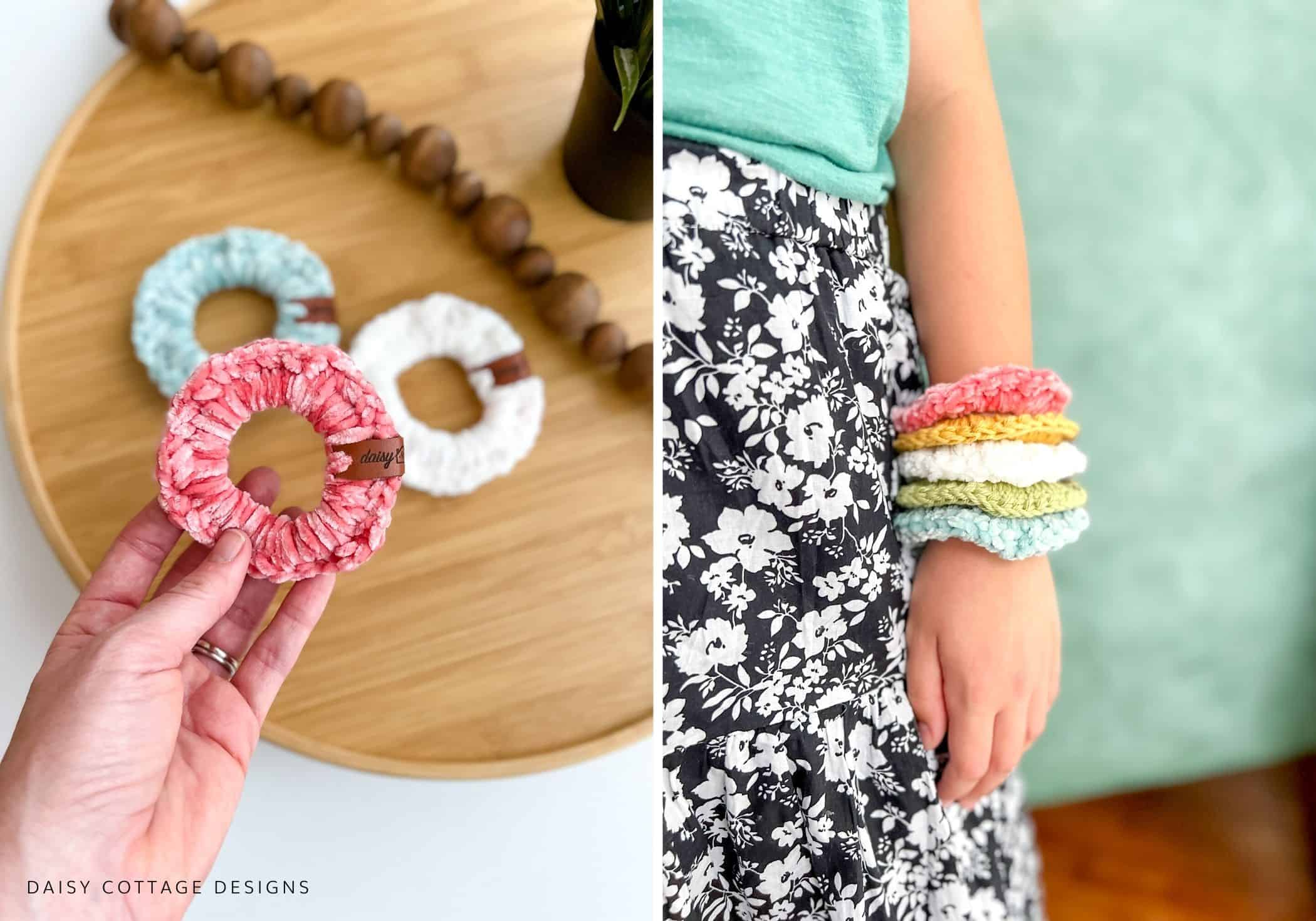 How do you crochet a simple scrunchie?
There are several methods for crocheting scrunchies. Some are worked flat and then seamed around an elastic band.
For other scrunchie patterns, you make a chain, loop it around the simple ponytail elastic, and work in rounds until you've encased the entire hair tie.
In the final method (like the pattern below), you work your stitches around the actual hair tie.
Regardless of which method you select, they're all great for beginners. But crocheters of any skill level will enjoy this pattern!
Are scrunchies better for hair?
Using a well-made scrunchie provides a little extra protection for the hair than using a regular elastic hair band. Be sure the yarn you select isn't rough to avoid any damage to the hair.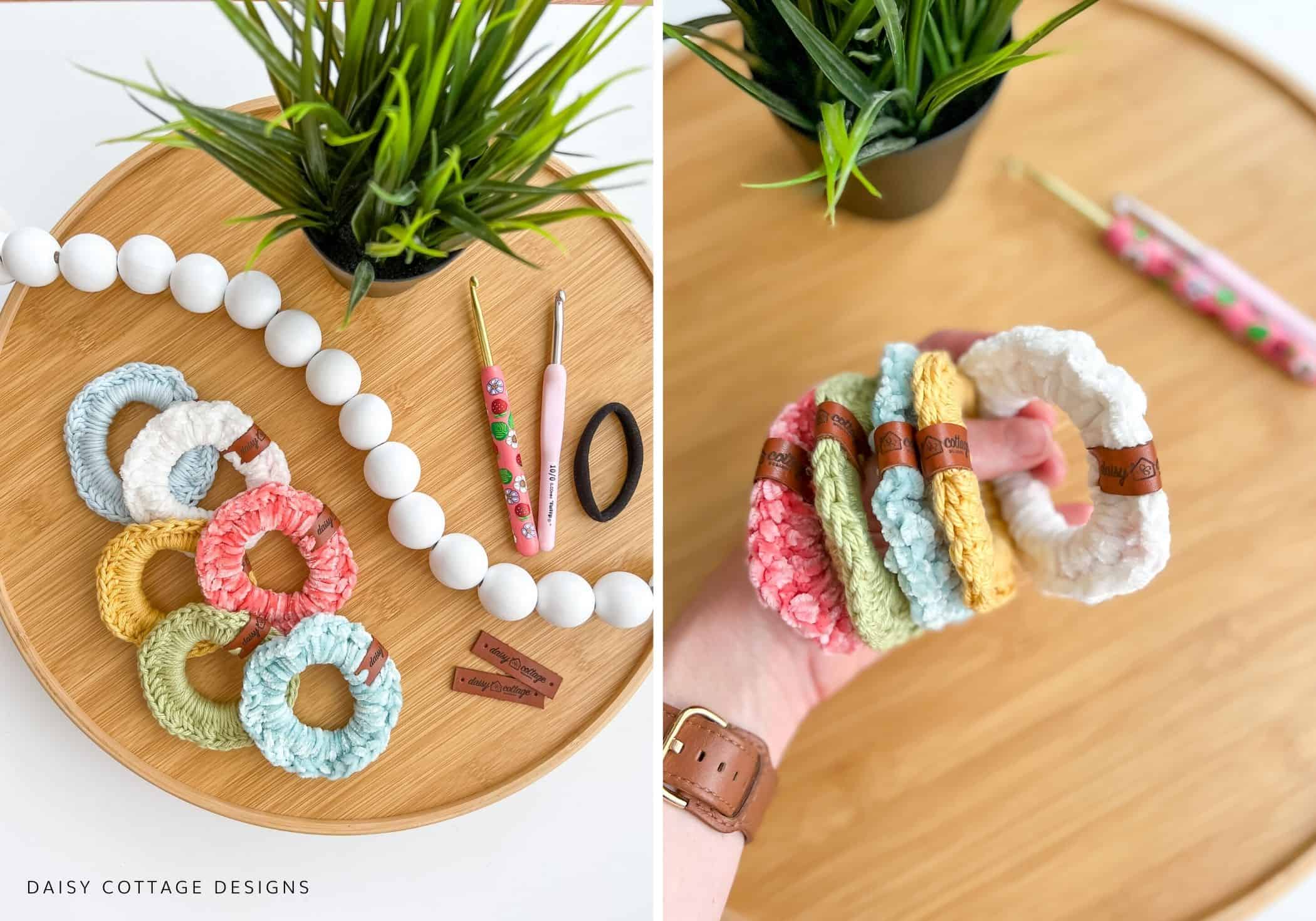 What yarn is best for scrunchies?
Velvet scrunchies are my absolute favorite. Not only does using velvet yarn create a gorgeous scrunchie, it's also super soft and easy on the hair. This is my favorite velvet yarn.
You might be wondering if you can use cotton yarn for scrunchies.
A soft cotton yarn is also a good option. These yarns tend to come in a variety of colors and are pretty durable.
In reality, any soft yarn will do. This easy crochet scrunchie pattern is a great way to use up leftover yarn from other projects.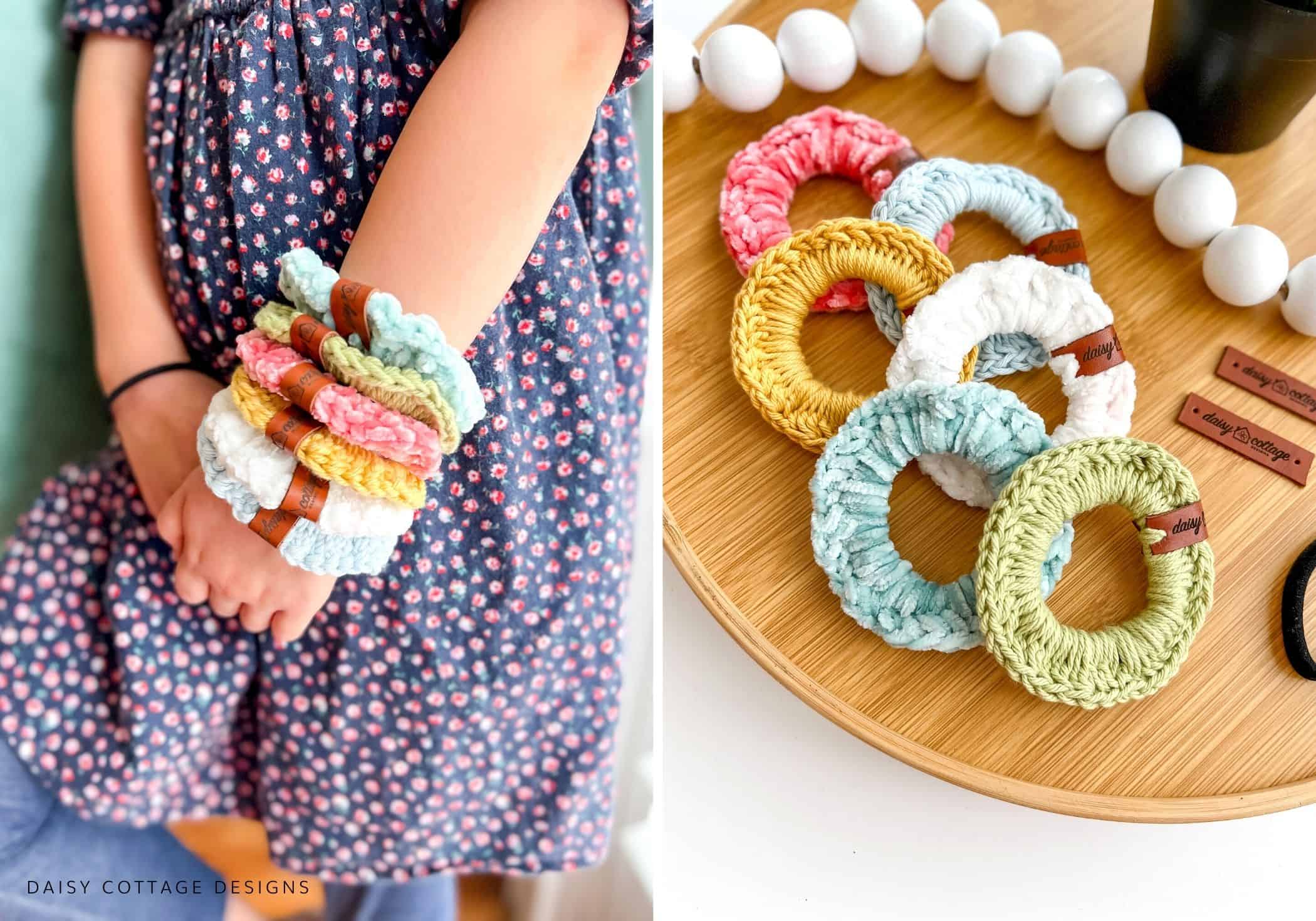 Is it hard to crochet with velvet yarn?
Making scrunchies with velvet yarn isn't difficult at all! If you've never worked with a velvet yarn before (I like Bernat Velvet yarn the best), this is great first project.
How much does it cost to make a scrunchie?
Crocheted scrunchies are very inexpensive to make. If you want to make them to sell, you can buy hair elastics in bulk on Amazon, and one skein of yarn makes a bunch of scrunchies!
They're also very, very quick to make – I can make one in about 6 minutes. Since they're inexpensive and quick to make, crochet scrunchies make fantastic items to sell at craft shows.
What Stitch do you use for crochet scrunchies?
As you'll see in the scrunchie crochet pattern below, I love using the dc2tog (double crochet cluster stitch) for scrunchies. But, experiment with other crochet stitches!
Simple double crochet stitches would also create an adorable hair accessory to dress up a simple ponytail. Treble crochet stitches would also look nice and make a more ruffled scrunchie.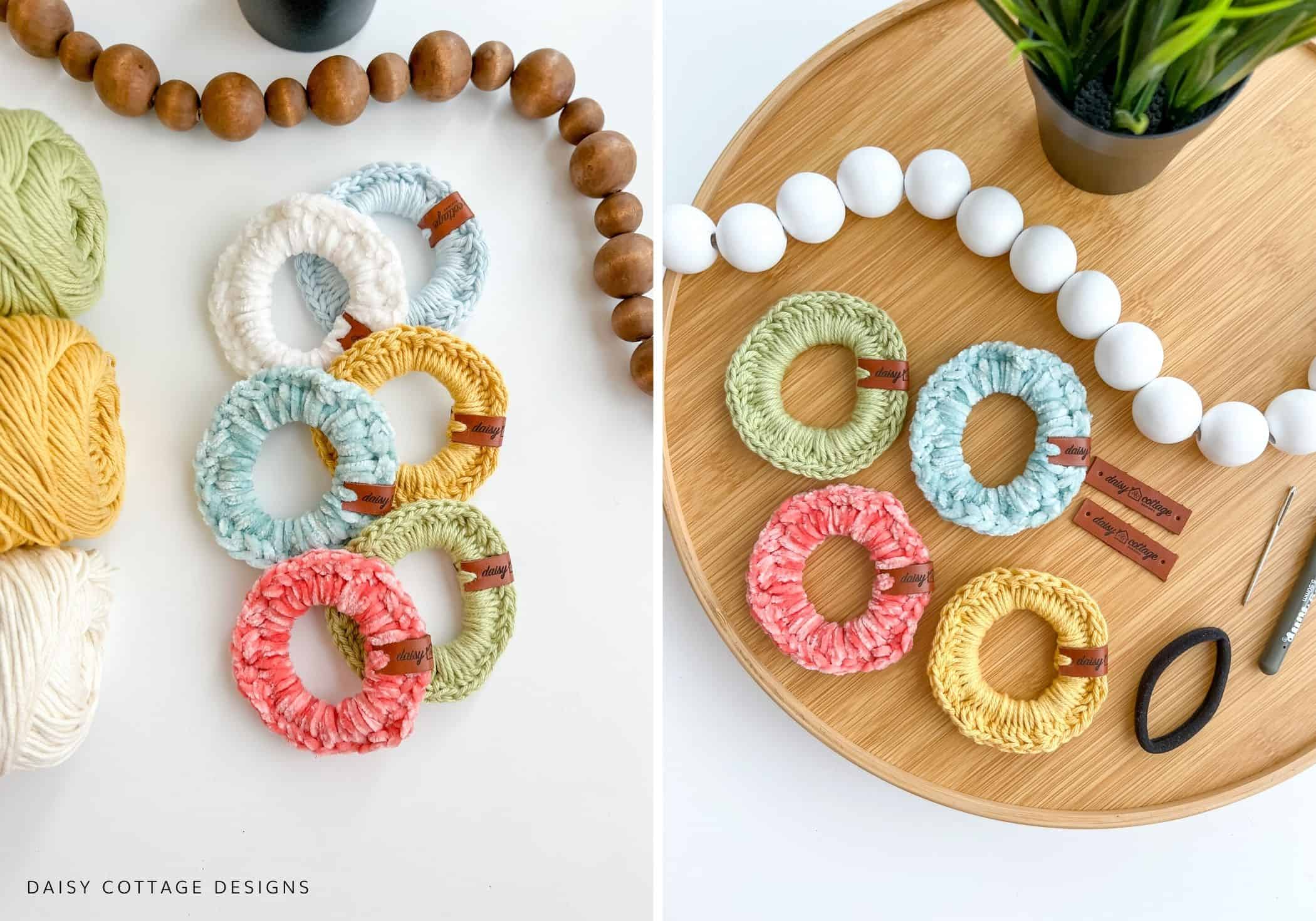 Free Scrunchie Crochet Pattern
Let's get started!
Materials:
I/9/5.50 mm hook
Elastic Hair Tie (I prefer Gimme Beauty Infinity Bands)
Approximately 20 yards or worsted weight yarn. I used the two yarns below. 
Dishie Cotton in the shades
Bernat Baby Velvet in the shades

Snowy White
Peach Blossom
Misty Green

Tapestry Needle & Scissors
Leather tags (optional)
Pattern Notes:
You'll be working around a hair elastic.
Fee free to experiment with different yarn! The thicker the yarn, the fuller the scrunchie.
Here's a YouTube Video that will walk you through how to make the pattern.
Special Stitch:
DC Cluster Stitch: Yarn over, insert hook into stitch, pull up a loop. Yarn over, pull through two loops. Yarn over, insert hook into the same stitch, pull up a loop. Yarn over, pull through 2 loops. Yarn over, pull through 3 loops.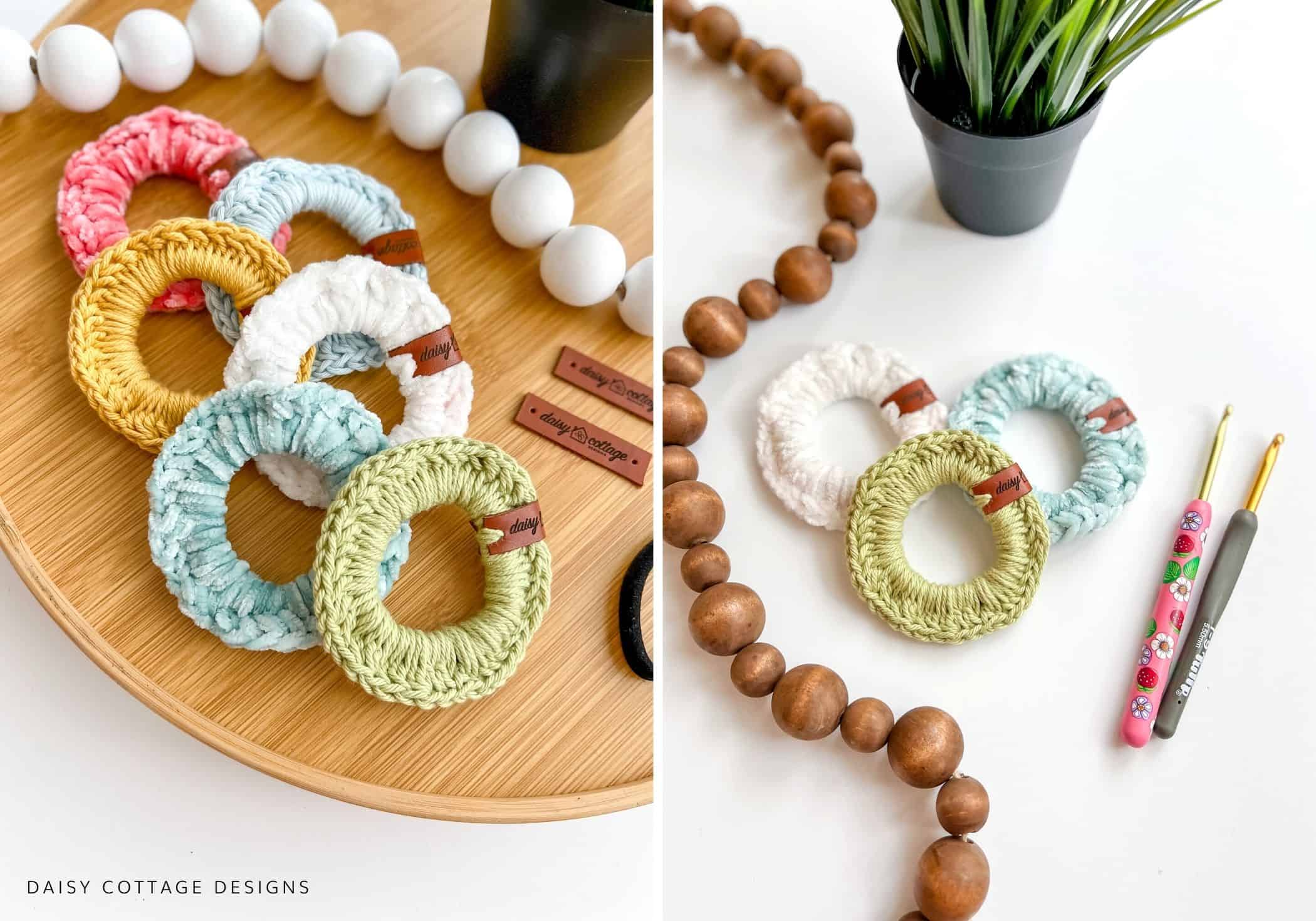 Instructions
If you prefer an ad-free, printable pattern, that's available here.
Start with a slip knot on your hook. Slip the hair elastic over the base hook and up onto the working yarn. (If this sounds confusing, the video tutorial will show you what to do!)
Ch 2 around the elastic.
Work 40 dc cluster stitches around the hair elastic.
If you need to work more (or even fewer) stitches for a fuller scrunchie, that is absolutely fine!
If you want to finish in a traditional way, sl st to the top of the first stitch to join. Cut yarn and weave ends.
I finish my scrunchies off a little bit differently (if you want to try this way, don't slip stitch at the end of your round). I show you exactly how I do it in the video. But, either way is just fine.
Please Share Your Work!
If you used this free pattern to make crochet hair scrunchies, I'd love it if you'd tag me in a photo on Instagram or my Facebook page. I love seeing your beautiful creations!
Please note: You're more than welcome to sell items that you make using this free crochet scrunchie pattern on Etsy, at craft fairs, or anywhere else you might sell your items – just be sure to take your own photos!