Wedding Crochet Patterns: 23 Free Crochet Patterns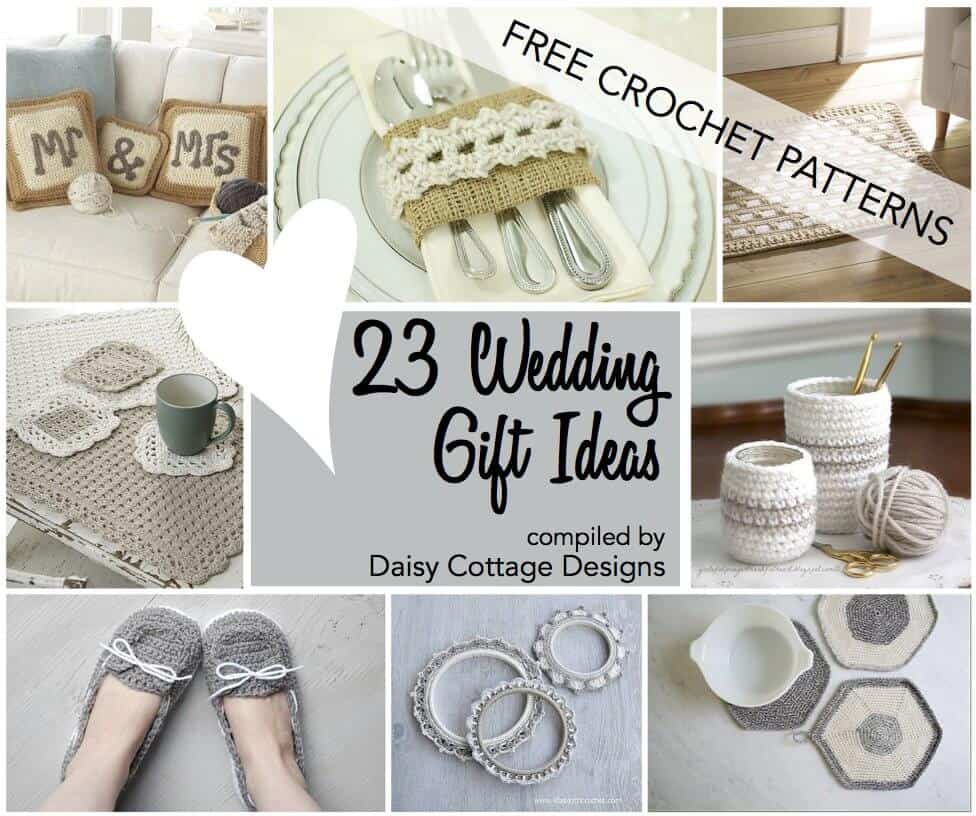 Wedding season is upon us, isn't it? I know I've been really busy making bridal shower invitations over in the Etsy shop. With that in mind, here's a roundup of 23 wedding crochet patterns. They make perfect crocheted wedding gifts, and you could also use them as bridal shower gifts. Best of all, they're all free crochet patterns.
Without further ado, let's get to those free wedding crochet patterns, shall we? From left to right and top to bottom:
Mr. & Mrs. Pillows by Joann Crafts: These crocheted pillows are way too cute! Who wouldn't adore receiving these as a wedding or shower gift? Definitely one of my favorites on this list!
Burlap and Crochet Place Settings by Petals to Picots: These burlap and and lace settings are so rustic, chic, and perfect for a couple setting up their new home. They're great for any season and neutral enough to complement most dishes.
Hearth & Home Rug by Red Heart. This contemporary rug from Red Heart is sure to catch everyone's eye. What new couple wouldn't want this crocheted wedding gift?
Placemat & Coaster by Red Hear: These coaster and placemat sets would make a newlywed's kitchen look oh-so-inviting. The color combination possibilities are endless for this wedding crochet pattern!
Crochet Cozy for Jars or Cans by Grateful Prayer and Thankful Heart: This is another one of those versatile free crochet patterns that can be adjusted depending on what type of jar or can you want to cover.
Women's Boat Slippers by Whistle and Ivy (and not pictured, Cozy Crocheted Slipper Boots by SMP Craft): Using these two free patterns, you can make crocheted slippers for the Mr. & Mrs.? What an adorable idea!
3 Crochet Borders around Embroidery Hoop by LillaBjorn: These delicate frames would be beautiful to display around a wedding photo. What better wedding gift than one that frames and focuses on the bride and groom's special day? Tatiana came up with three beautiful options.
Crocheted Set of Three Pot Holders by Purl Soho: These pot holders definitely make a great crochet wedding gift! I love useful, handmade gifts that can double as decorations!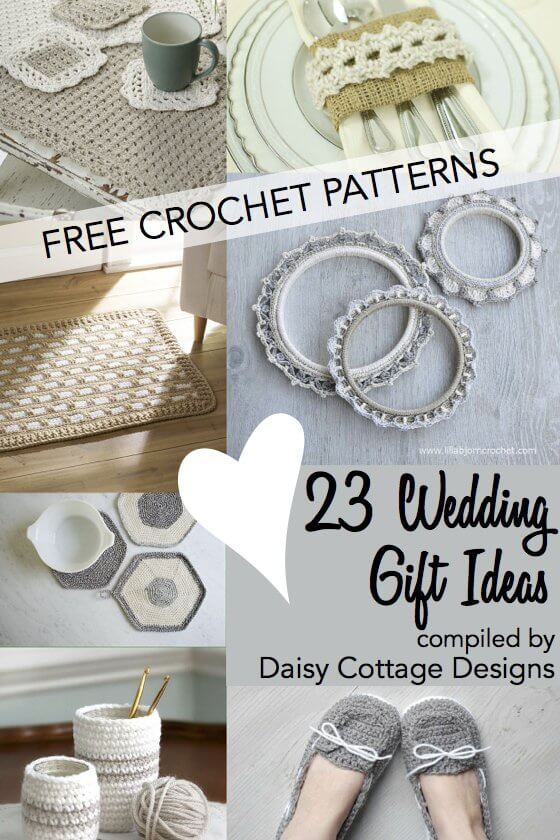 And while they didn't make it onto the collage, these wedding gift crochet patterns are just as beautiful.