Crochet Heart Pattern Collection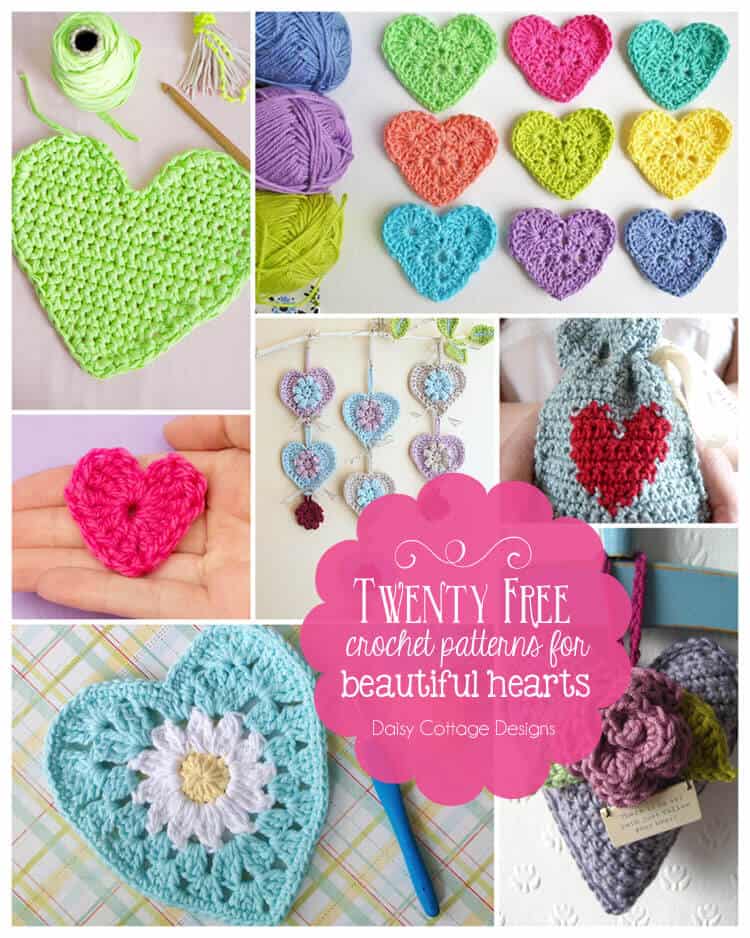 With Valentine's Day right around the corner, it's definitely time to start working on some free heart crochet patterns. Isn't it amazing how quickly each holiday can sneak up on us?  I'll get you started with a collection of 20 of my favorite free crochet heart pattern from around the web.
Pictured Patterns:
Chunky Heart Crochet Pattern from Lebinslustiger. This is a chunky and stiff crochet heart that could be easily decorated with glitter (she does this in her post). I think it would look adorable with a glitter monogram and a tassel.
Sweet Heart Crochet Pattern from My Rose Valley. I love this little granny heart. There are so many tiny heart patterns, but this one really stands out to me.
Easy Crochet Heart Pattern from Hopeful Honey. This little heart pattern is super simple and great if it's your first heart. Glue it to a card, attach it to an alligator clip – the possibilities are endless.
Crochet Hearts Wall Hanging from Creative Jewish Mom. Nothing says "I Love You!" like a crocheted heart wall hanging. I think this would look adorable hanging in just about anyone's home.
Valentine's Gift Bag from Little Doolally. Fill this little baggie with you sweetie's favorite candy and you've got a quick, easy Valentine's Day gift.
Granny Crochet Heart Pattern from Daisy Cottage Designs. I obviously love this pattern because it's mine, but I still think it's my favorite. The flower in the middle ads a sweet little touch. It makes a beautiful bunting, and you can turn it into a square by following these directions.
Rose Heart Hanger from Attic 24. This adorable sachet is so sweet and pretty. I'd love one hanging in my closet.
Didn't quiet get enough? Check out the rest of these beautiful patterns for more Valentine's Day options.