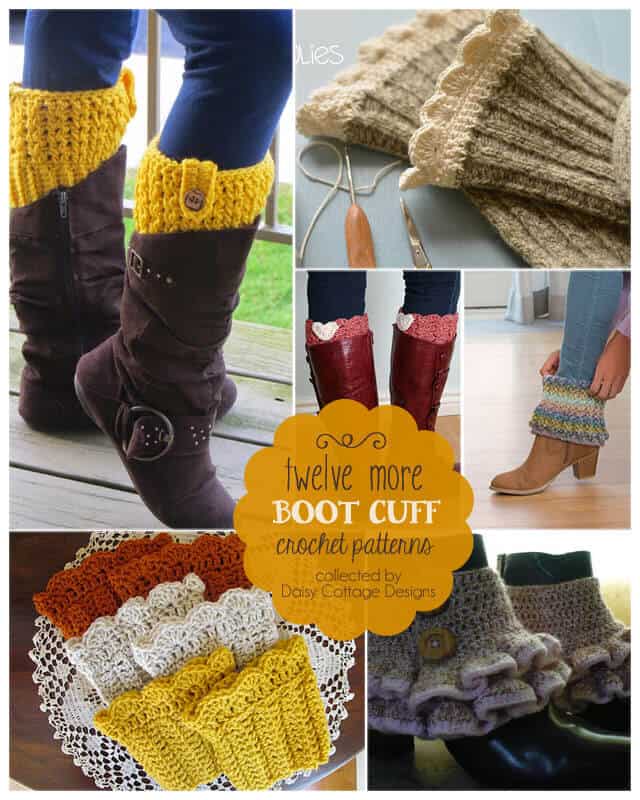 Since my last boot cuff roundup has been so wildly popular, I decided to share a few more free crochet boot cuff patterns with you. I know there's still some boot weather left in this season, so you might need a little more variety in your boot cuff collection. I love how this collection includes a few different styles – ruffles, scallops and more.
If you want something to pair with the adorable boot cuffs you're going to make, head over and check out these great scarf patterns. If you need a gift for a friend this winter, a boot cuff/scarf combo would be perfect!
Pictured Free Boot Cuff Crochet Patterns: 
Bailey Boot Cuffs Crochet Dreamz. I love the stitch she used, as well as the button accent. These are adorable and I think anybody would love sporting these crochet boot cuffs.
Crochet Sock Edging from Craft Foxes. Cut the bottom off a pair of socks and go to town on this adorable boot topper. Perfect for a last-minute gift or something to wear this afternoon. Plus, you could add this edging to many other projects.
I Heart Boot Cuffs from the Felted Button. These boot cuffs are absolutely perfect for Valentine's Day and any other day of the year. Super cute pattern from one of my favorite designers.
Warm Ribbed Boot Cuffs from Red Heart Yarns. Loving these striped boot cuffs. They're especially perfect for low-cut boots.
Boot Cuffs by Lori Kramer. Simple and girly, these boot cuffs are perfect for any girls in your life. My friend's 2.5 year old loves to rock her boots, and I think I need to make a tiny pair just for her.
Victorian Ruffled Spats from Examiner.com. These ruffle-y cuffs slide right down over your boots. They're adorable and different. Perfect for the girl who likes to be unique.
If you didn't get enough boot cuffs from my last post and above, here are 6 more beautiful boot cuff crochet patterns!