Pretty V-Stitch Blanket Crochet Pattern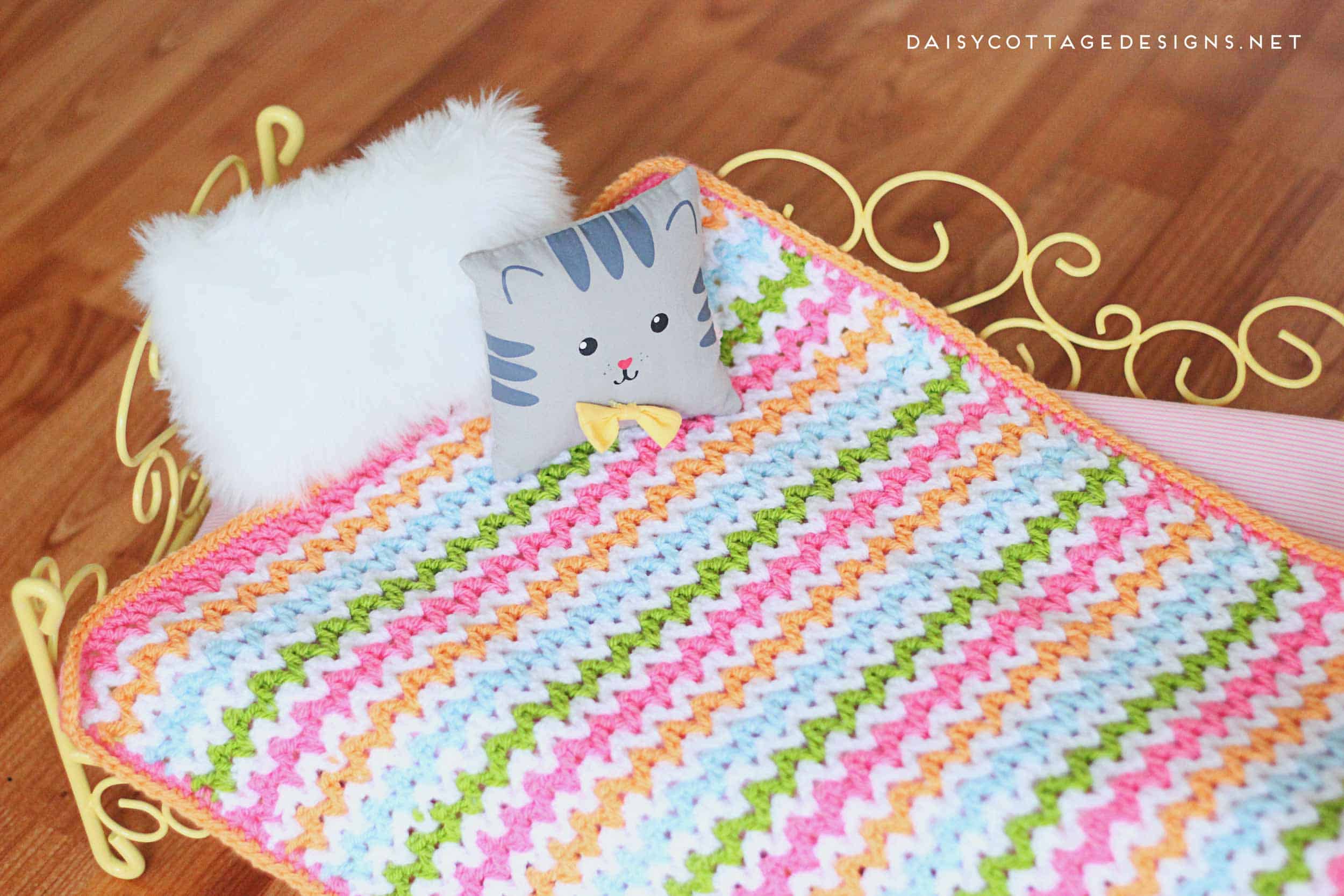 I've got a fun new free crochet blanket pattern for you today! It's what I like to call "crochet season" around here: you know, that brief time of the year when central Florida isn't unbearably hot. I hate to admit it, but when the weather is in the mid to upper 90s in September and sometimes even October, it's hard to get into the mood for making cozy hats and crochet blankets. Thankfully, it's starting to cool off and I've got a lot going on by way of designing and crocheting.
As the mom of three little girls, I sometimes feel like we have baby dolls coming out our ears I have heard that not all girls enjoy playing with baby dolls, but all three of mine definitely do. My kids love everything from American Girl Dolls to Madame Alexander dolls and everything between. Recently, they've been asking for blankets for their babies. In fact, they've tried to claim each of my recent projects.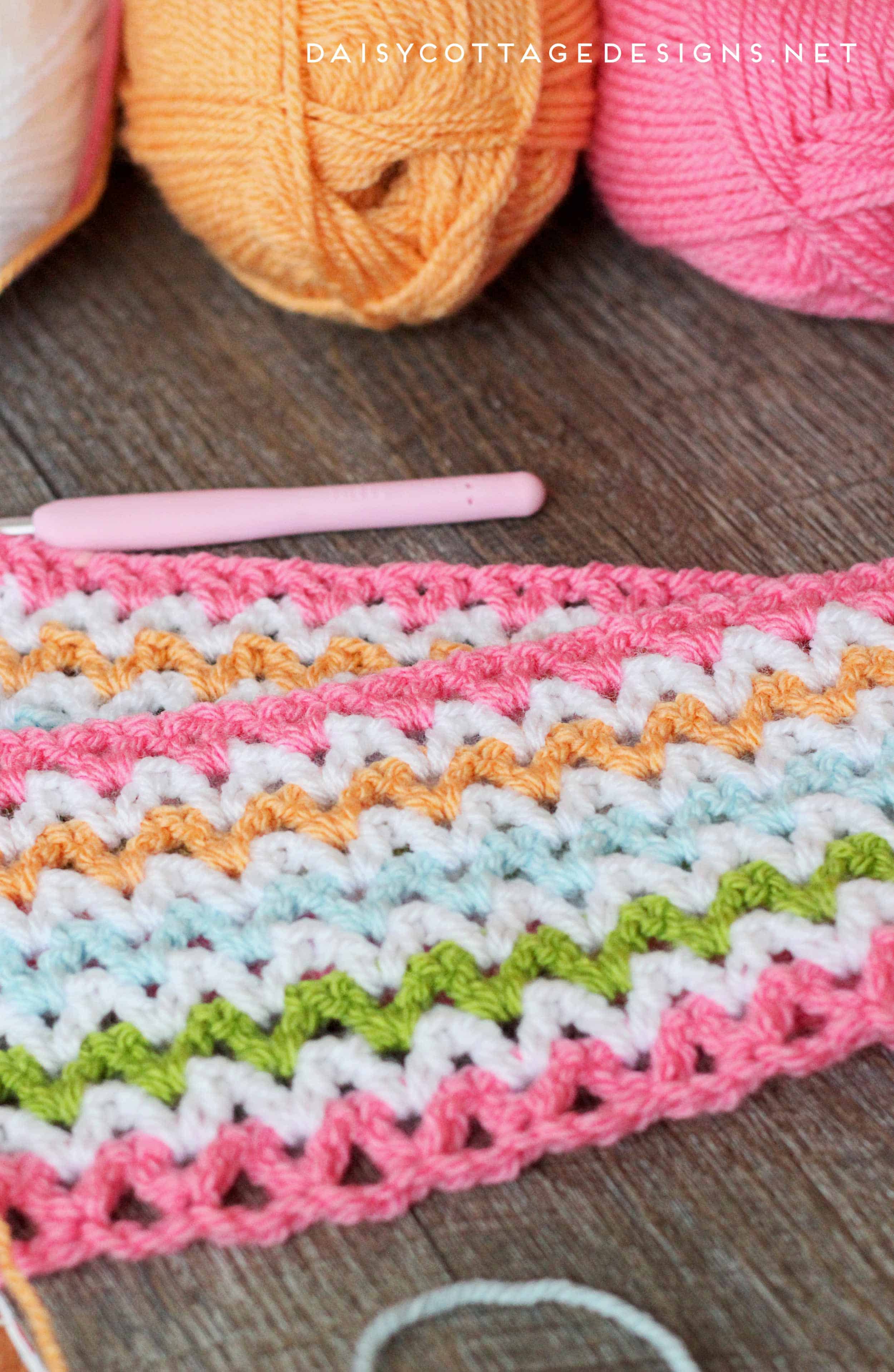 Yesterday, I finally sat down to get started on this project. I say started because I was only able to complete one of the three baby doll blankets that have been ordered by my girls.
I went with a simple v-stitch – mainly because it's quick and it's fun to play around with color using this stitch. I took a pillow from my girls' room and matched it as best I could using my Paintbox Yarn stash. I ended up using the shades Bubblegum Pink (250), Paper White (200), Lime Green (228), Seafoam Blue (231), and Melon Sorbet (216).
I posted some pictures over on Instagram and had a lot of people asking me for the pattern. Even though it's a simple one – as well as a common stitch –  I'll share all the details below.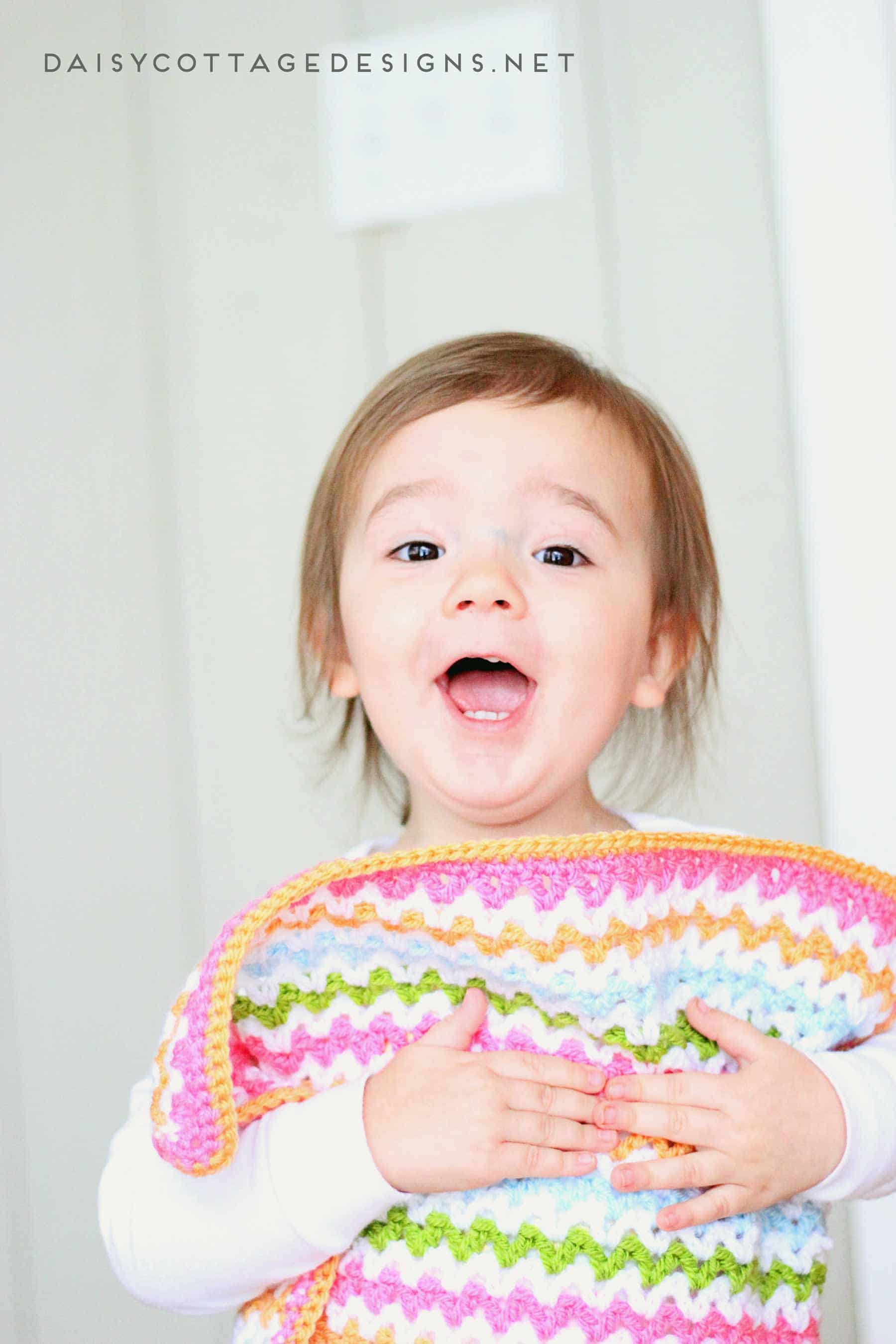 Easy V Stitch Baby Blanket Crochet Pattern
Materials
Worsted weight yarn in 5 shades. I used approximately 1 ounce (60 yards) of each color except white. I used approximately 2.5 oz (150 yards) of white yarn. The I used the following shades of Paintbox Simply Aran.
I crochet hook
Tapestry Needle & Scissors
Pattern Notes:
This pattern is worked in multiples of 3. You can make your chain as long as you like  and follow the pattern below.
If you follow my measurements, you'll end up with a doll or preemie blanket measuring 15.5" x 18.5" inches.
Abbreviations:
DC = Double Crochet
SC = Single Crochet
Sl st = slip stitch
Ch = chain
V-stitch = DC + chain 1 + DC all in the same stitch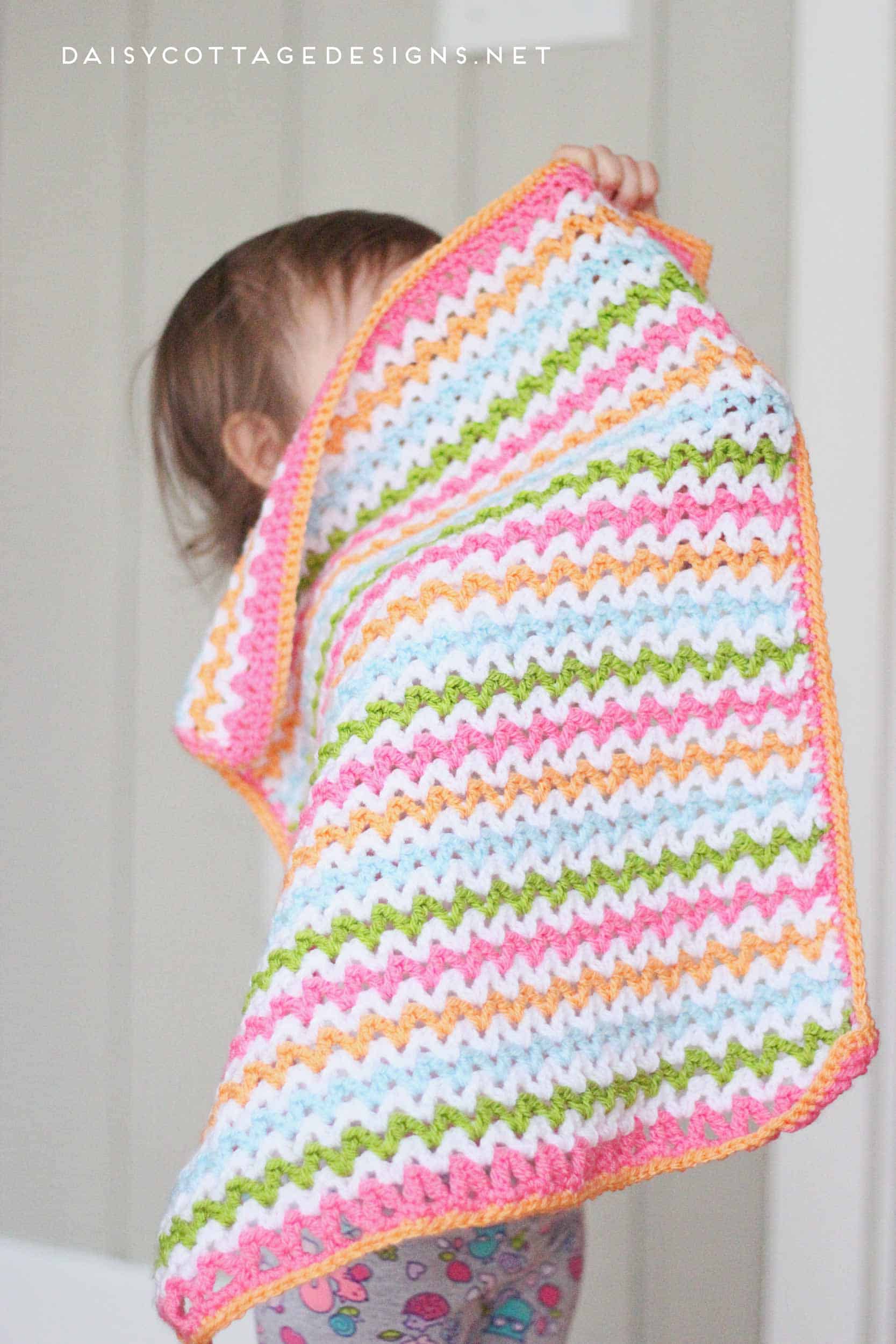 Ch 66. (or any multiple of 3)
Row 1: V-st in the fourth ch from hook, *sk 2 ch, V-st in next ch* across, dc in last ch (there will be one skipped chain between your last v-stitch and your last dc). Ch 2, turn.
Row 2: V-st in next V-st across, dc in the top of your turning ch. Ch 2, turn.
Repeat row 2 until you have a total of 41 rows.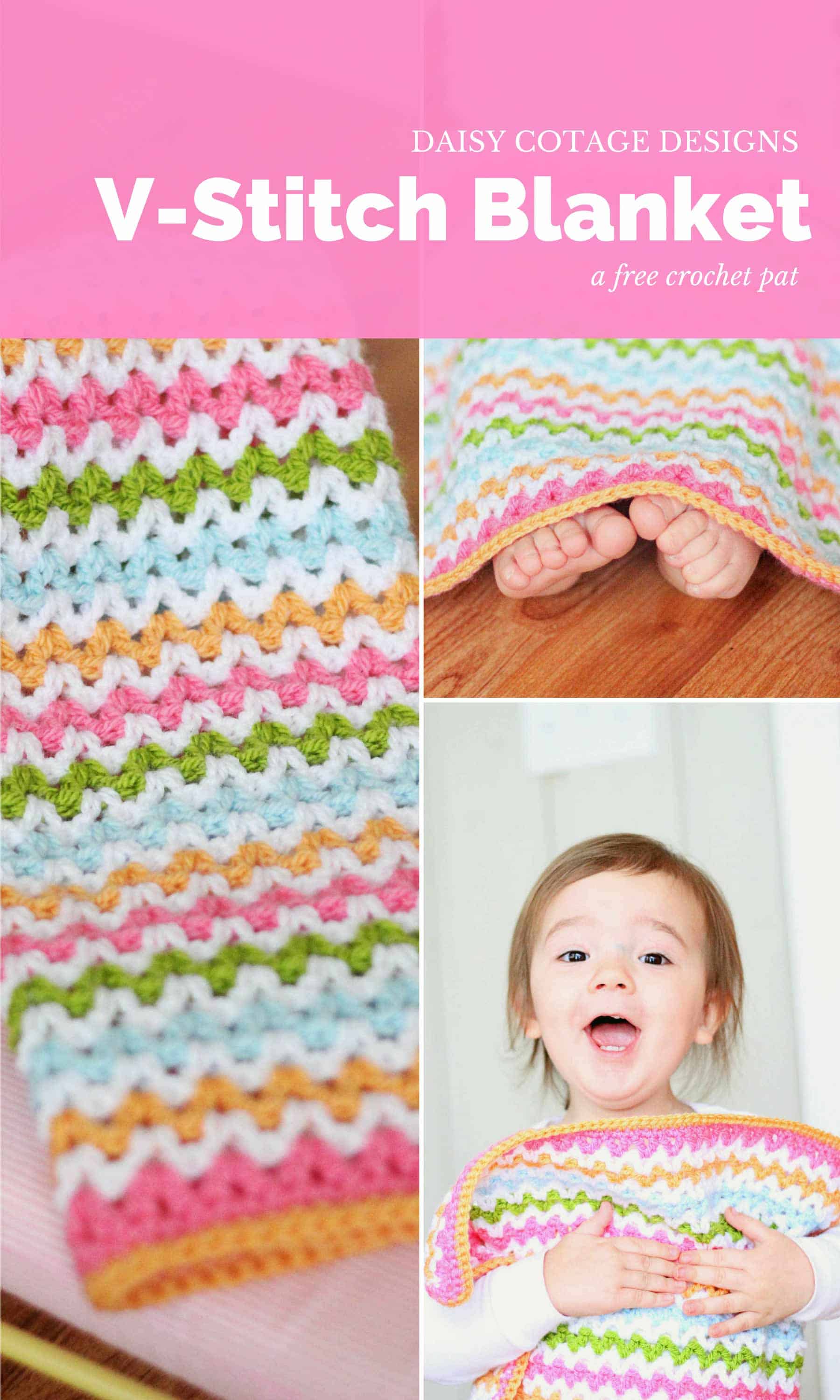 My Stripe pattern is like this:
Bubblegum Pink
Paper White
Lime Green
Paper White
Seafoam Blue
Paper White
Melon Sorbet
Paper White
On your final repeat of the pattern, end with one more row of Bubblegum Pink.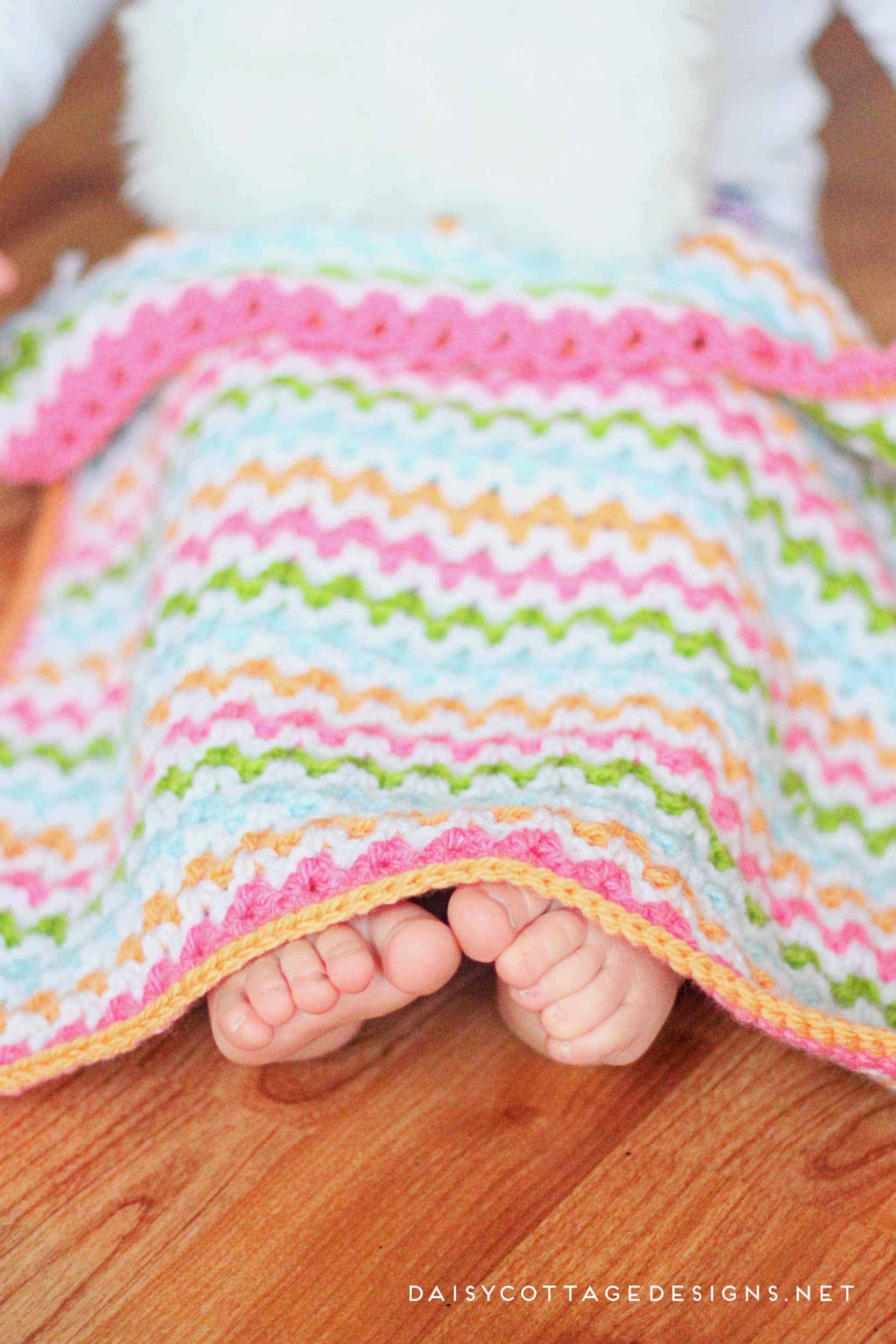 Border:
For the border, I did two simple rounds of single crochet.
Round 1: Using Bubblegum Pink, join yarn with a sl st and ch 1. sc evenly around working 3 sc in each corner. Sl st to the first stitch to join. Cut yarn and weave ends.
Round 2: Using Melon Sorbet, join yarn with a sl st and ch 1. sc evenly around working 3 sc in each corner. Sl st to join. Cut yarn and weave ends.