Back in 2006, my husband and I purchased our first (and current) home. Because we bought our home when the market was still very high, the house (which was still in all its 80s glory) didn't get much of a makeover. All we could afford at the time was a few cans of paint and some wall paper removal. Those things tremendously helped our house, but it still needed some TLC. Thankfully, my parents updated our bathrooms as a wedding gift – what a transformation!
Fast forward a few years. In 2010, we were able to switch out all of our flooring and do a few more updates to the house. In 2014/2015, we were able to remodel and add on about 1000 square feet. To some, it may sound like it would have been easier to sell and purchase something else, but we love our location (close to my parents and my husband's work) and our home so we decided to stay.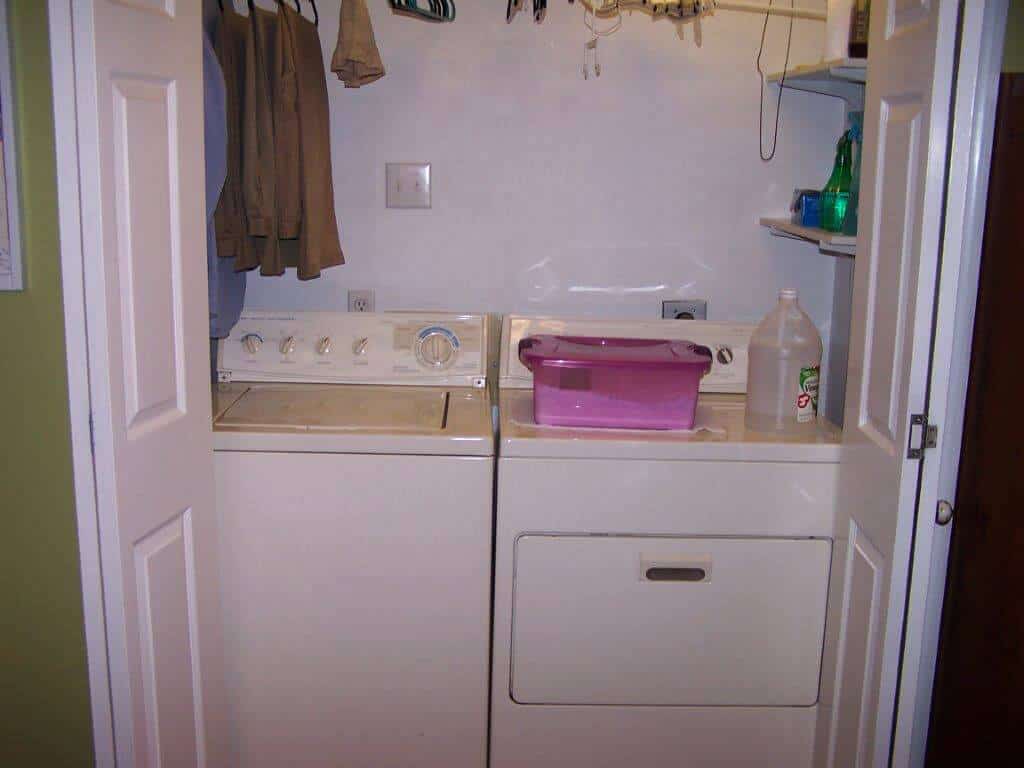 One of my favorite parts of the remodel/addition has been having a designated laundry room. For the first 8 years of our marriage, my laundry "closet" was in our kitchen. This wasn't the best set up for doing laundry for four people. If there were any interruptions, it was difficult to stop in the middle because the sorting or folding was right in the middle of the kitchen. Not good.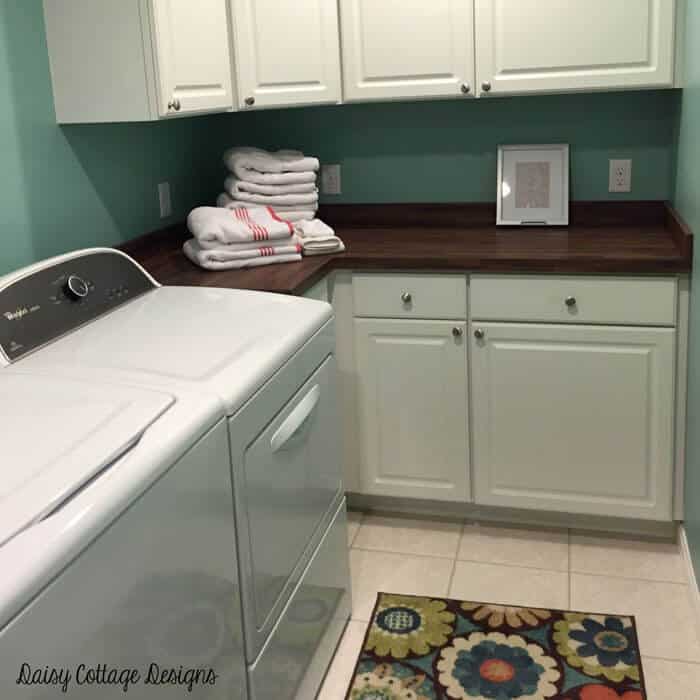 Thankfully, I went from what you see above to this beautiful room. While laundry still isn't my favorite task in the world, I have to admit, it's better when there's a beautiful space to work in. I've got lots of storage (that houses far more than laundry supplies), a great, big sink for chores and stain removal, and a large counter for sorting and folding.
Since our laundry room doesn't have any windows, I knew that I needed to brighten it up with white cabinets. Since we were trying to save money for other areas of our house, we ended up using in-stock cabinetry from Lowe's. I don't know that I would suggest this in a kitchen, but they seem plenty durable for a laundry room.
I also knew that I wanted a durable countertop. I'd seen so many beautiful butcher block counters on Pinterest, and they had me drooling. When it came right down to it, though, I fell in love with Wilsonart's Old Mill Oak Laminate. It's durable, easily maintained, and very well priced. This countertop has the look of wood without having to worry about moisture issues (we live in a very humid area) or seasoning. The SoftGrain finish gives it the look of a real wood. My husband and I couldn't be happier, and we've already received many compliments on it.
Laminate countertops have come a long way since I was a kid. No longer do they scream "I'm laminate," but they look stylish and beautiful. I now have to touch a beautiful counter to see if the counter is laminate, wood, granite, etc. It's difficult to tell with the eye only.
Wilsonart has so many options there's something for every kitchen, bathroom, and laundry room. You're able to order samples directly from their website. They come quickly and you can place them in your room to see which options work best. I considered Perla Piazza and White Carrara, but decided that the Old Mill Oak added a nice contrast in the room and made the white countertops and the turquoise walls really pop.
Additional Information:
Paint color – Sherwin Williams Hazel
Rug – Promise Kilbury Multi Rug from Overstock
*This post sponsored by Wilsonart. All opinions are my own!