Granny Purse Crochet Pattern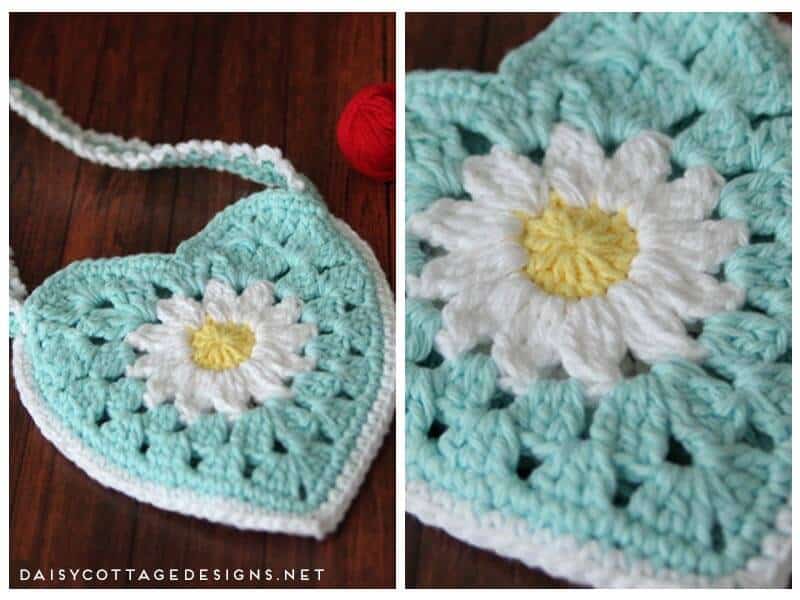 Since the granny heart has been so popular, I'm back with a granny crocheted purse made from the same free pattern. I'm still in the process of photographing and writing the pattern, so I haven't let my little girls know it's for them. I have a feeling I'm going to need to make another one so I don't have a fight on my hands.
My girls love purses and anything girly. Caroline has already tried to take over the market tote I made last weekend. It's hysterical to watch her try to haul the bag around since it's just about as big as she is. Keep reading to see the free pattern!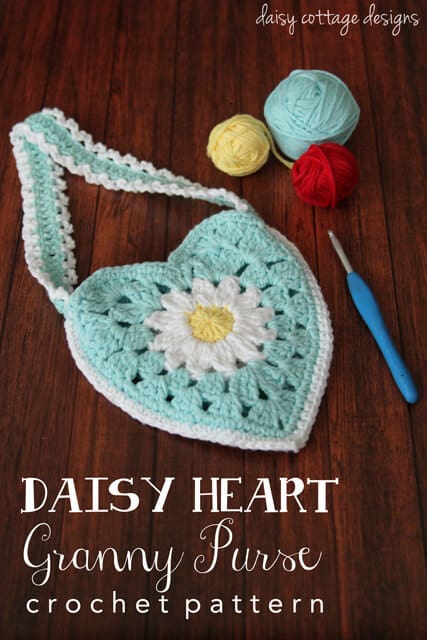 Want to make this granny purse crochet pattern for the little girls in your life? Your daughters and granddaughters would be thrilled to open up a gift only to find a heart purse made in their favorite colors.
Materials:
small amounts of worsted, 100% cotton yarn
H Crochet Hook
Directions: 
Step 1: Make two granny hearts using the pattern linked above. This shouldn't take you long at all. Once you get the hang of the crochet clusters, they're very easy.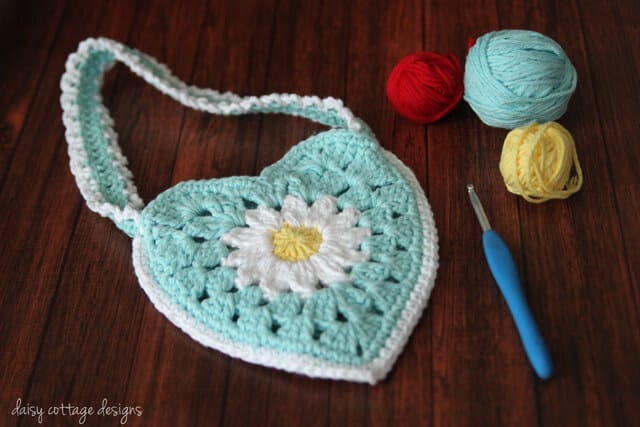 Step 2: Make your strap.
Leaving a long tail for sewing on, ch 60. dc in the third chain from hook and in each stitch across. (60, including chains)
Join white yarn with a slip stitch. ch 3, skip one stitch, sl st in the next. *ch3, skip one stitch, sl st in the next stitch* across. When you get to the end of the row, work two sc into the end of the row to get to the other side. Sl st in the first stitch. *ch 3, skip one stitch, sl st in the next stitch* across. Leave a long tail for sewing on the bag.
So, at this point you should have two granny hearts and your straps. Now it's time to assemble your purse!
Step 3: Place WRONG SIDES of your hearts together. From the dip in your heart, count over 10 stitches to the left. Join your white yarn with a sl st and sc evenly around the hearts to join them. Stop crocheting when you're 10 stitches from the dip on the other side of the heart. Weave your ends.
Step 4: Using the tails on your strap, sew the strap on to the inside of the pouch. There's really no right or wrong way to do this. Weave your ends to make things neat and tidy.