31 Thoughtful Gifts for Crocheters (From Yarn Winders to Stickers)
Crochet is more than just a craft. It's a hobby, a lifestyle, and a way to express creativity. Crocheters love to receive crochet-themed gifts for their birthdays, anniversaries, and other occasions.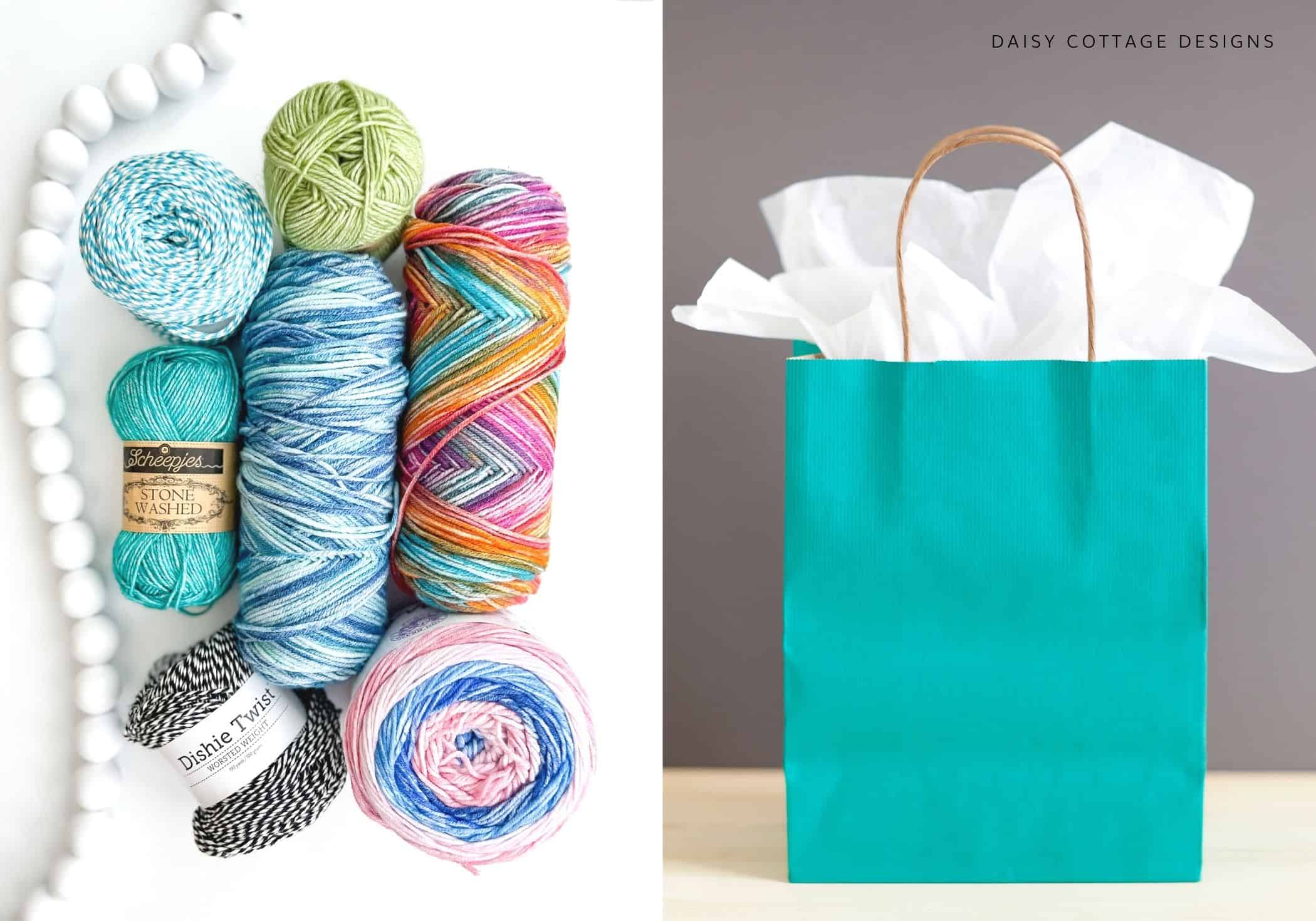 Purchasing gifts for friends and family can prove to be a tricky task! Sometimes you don't quite understand their hobbies and interests and it's difficult to find things they may like and use. If you have a friend or family member who loves to crochet, it's always a good idea to gift them items that they can use with their hobby.
The avid yarn lover is always open to unique gifts they can use with their craft! Here are some fun gift ideas for crocheters that are just right for birthdays, Mother's Day, or just because.
Maybe you're a crocheter and you you need to send this link to your husband or a friend so they have a good idea what to get you for your upcoming birthday.
Or, maybe your best friend is an avid crocheter and you have absolutely no idea what to purchase for her upcoming birthday because you're not part of the crochet world. Don't worry! I've got you covered. These are the best gifts you can purchase your crochet-loving friend.
Want to know how I know what crocheters want (besides the fact that I am a one?) I asked my crochet followers what they would love to receive and they gave me some wonderful ideas! I've also sprinkled in some of my own favorites that I know I'd love to receive for my birthday.
This post contains affiliate links.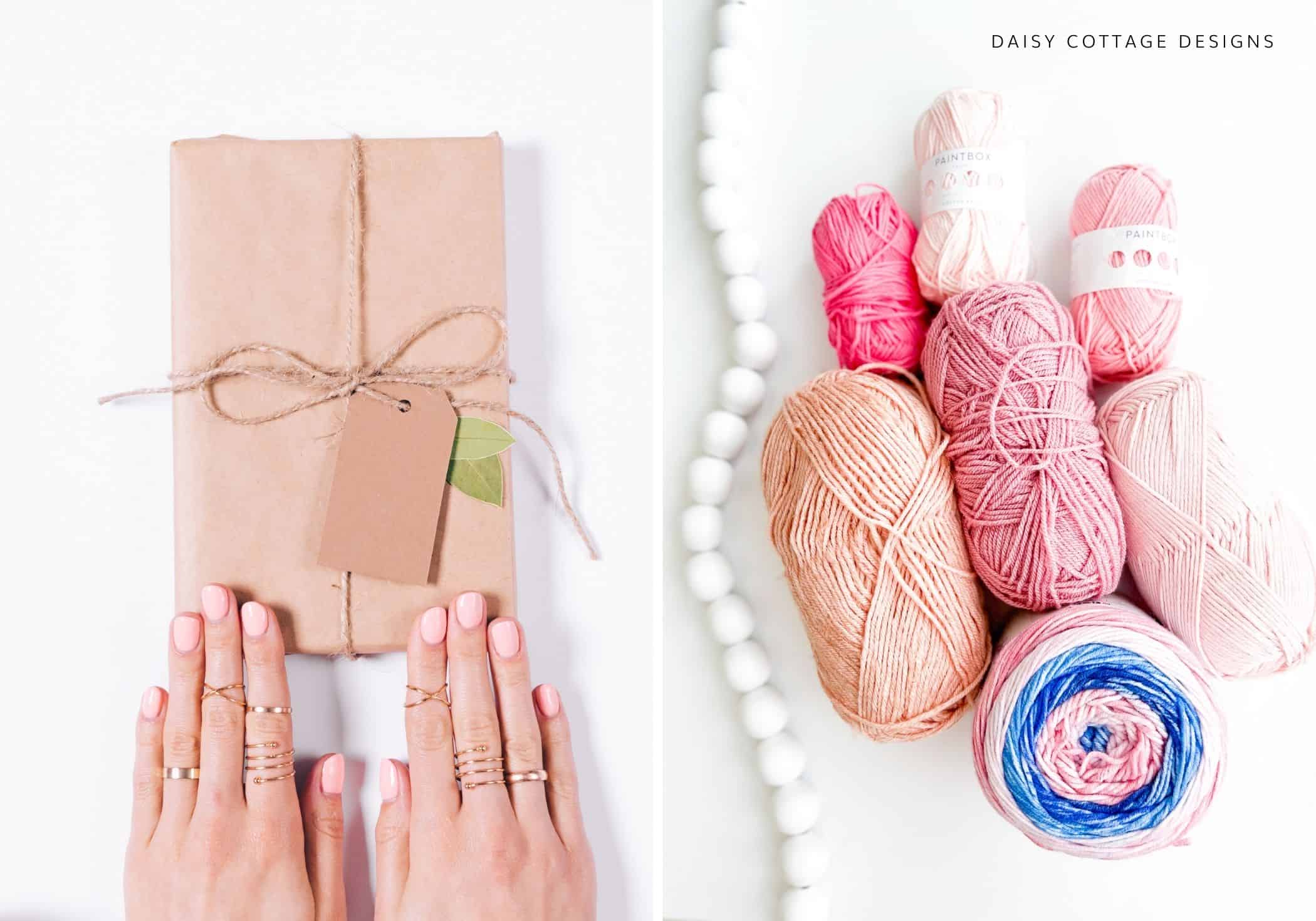 1. The perfect gift for many crocheters is "YARN!" (Most Requested!)
If you buy yarn, you can be pretty confident it's on every crocheter's want list.
When I asked my crochet followers (90,000 on Facebook and 24.9K on Instagram) what they'd love to receive as a gift, a shocking number of them said – YARN!
If you are out and about and see beautiful yarn, grab it. Your crochet-loving friend will appreciate receiving yarn because the price of yarn can get expensive.
Yarn is sold almost everywhere including your local craft stores, online, and large superstores like Walmart and Target. Many stores have sales, so take advantage. You might even see a cute crochet kit while you're out that might be fun to experiment with.
Select balls of yarn in several different colors that go well together. Not sure what to buy? Grab some worsted weight or bulky weight yarn in your friend's favorite color.
2. Unique & Ergonomic Crochet Hooks (A Very Close Second)
The typical crochet hook is very simple and not very ergonomic. Using them for long periods of time hurts the hands and becomes uncomfortable. Crochet hooks come in a variety of shapes and sizes and some are much more ergonomic than others.
Some of the most beautiful ergonomic crochet hooks are made by Furls Fiber Arts! They offer comfortable hooks in a variety of woods, metals, and resin. They have some really cool tie-dye patterns as well. All of their hooks come in different sizes and will last a long time!
Clover Amour Crochet Hooks have a thick and comfortable handle as well. I love using these for projects with a small stitch because my hand doesn't slip or move as much as with a simple metal hook.
Another comfortable crochet hook set is the Etimo line by Tulip and is sold on Amazon. These have a very sleek look and a very comfortable grip handle. This beautiful set of hooks also comes with a cute and sharp pair of scissors for cutting your yarn work. I find myself reaching for these hooks the most often.
Many high-end crochet hook sets come with a beautiful crochet hook case. This makes it the perfect gift for crocheters because it will also help them stay organized.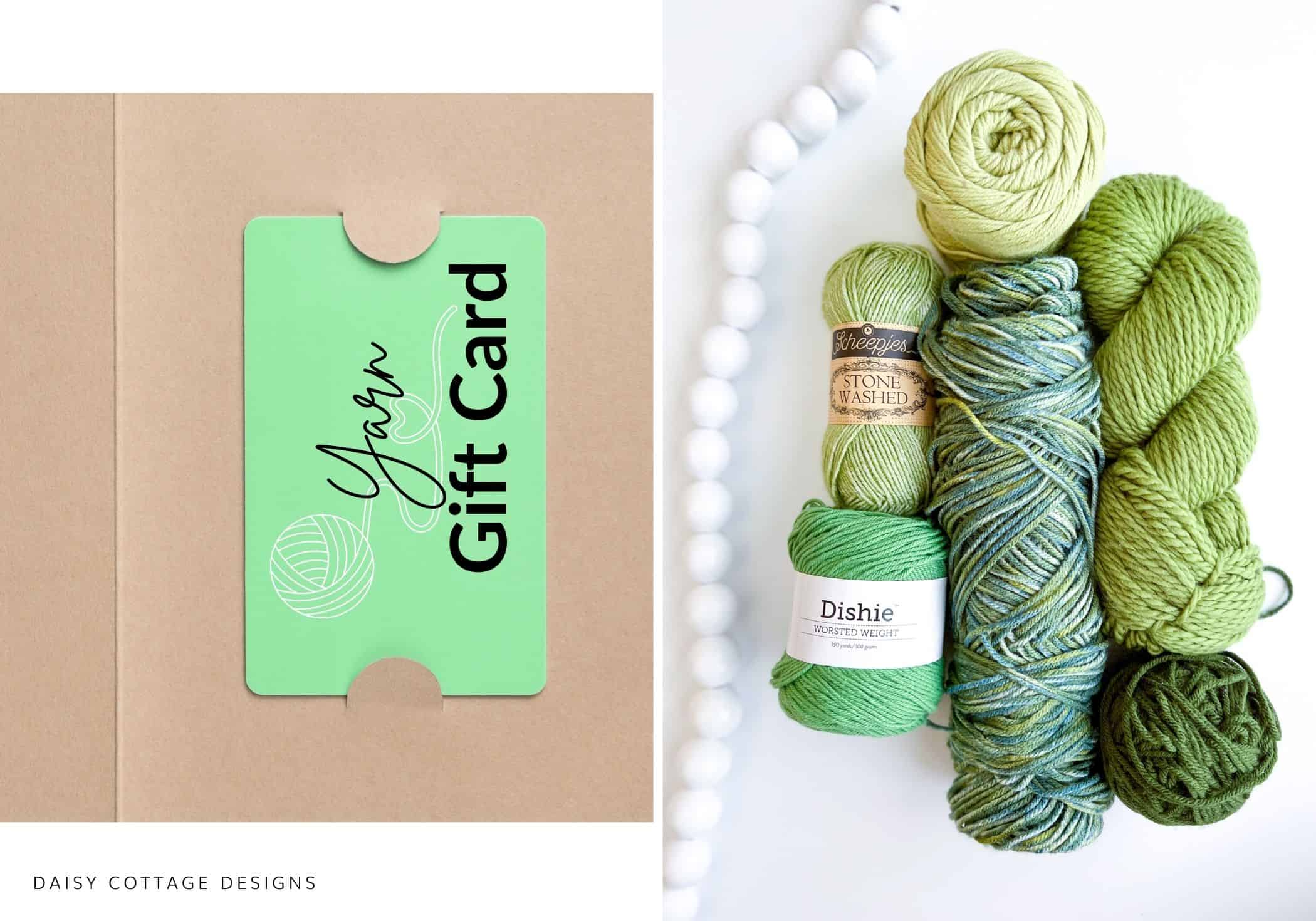 3. Gift Cards are perfect gifts for people who crochet! (Highly Requested)
The second most-requested gift was gift cards to yarn stores. This is one of the best gift ideas because it allows your crocheting friend to pick out her own crochet accessories and the yarn she wants to add to her yarn stash.
If you're looking for the best places to buy gift cards, I would recommend one of the following stores or websites:
Jo-Ann
Michael's
Hobby Lobby
Local Yarn Shop
Etsy gift cards for premium patterns is also a fun gift idea! Many crocheters use free crochet patterns most of the time, but it's always fun to splurge on print-friendly patterns.
I've heard some people say that gift cards "aren't personal." While I understand the thinking there, I personally LOVE getting gift cards and find they're great for last minute gifts.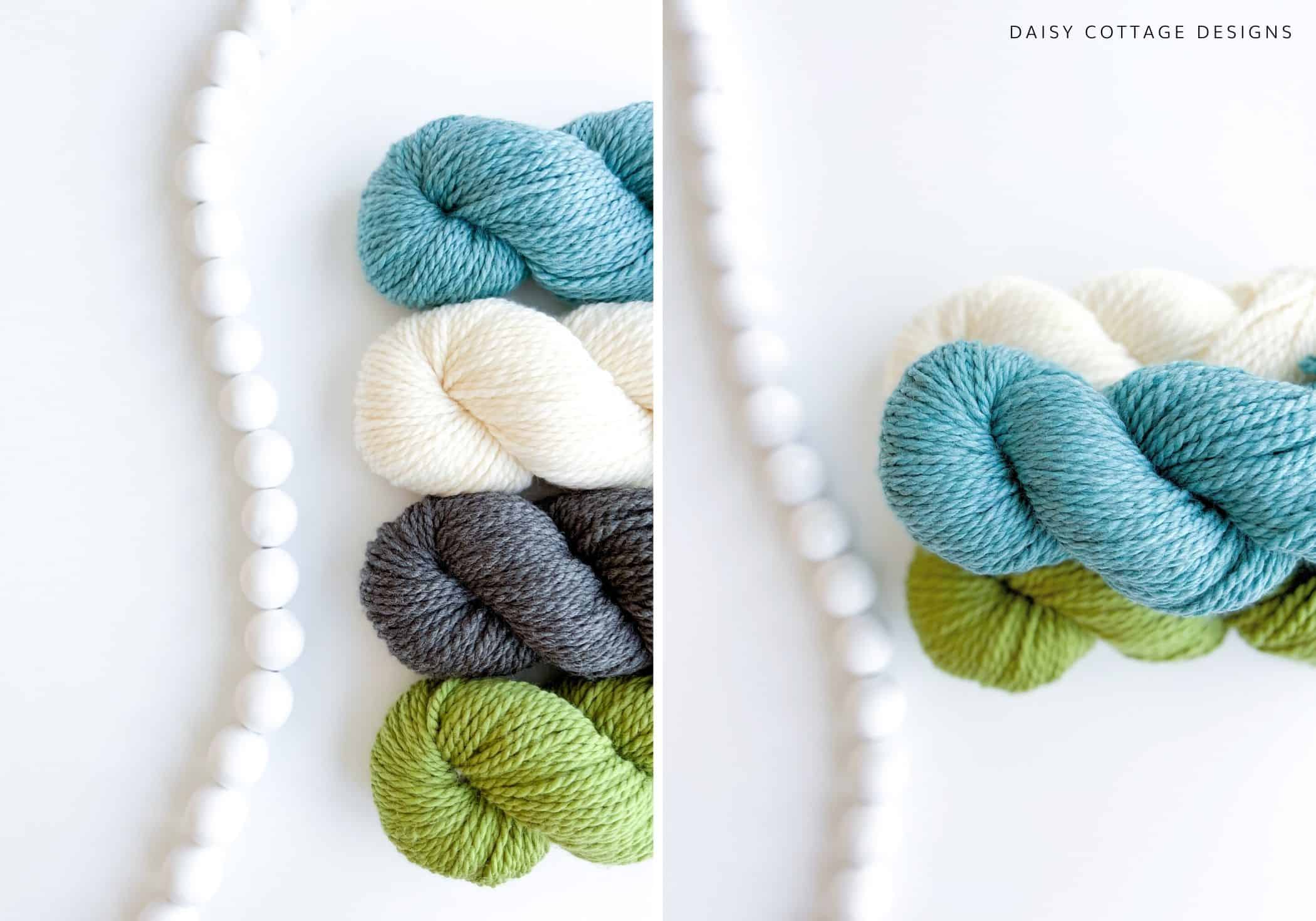 4. Specialty and High End Yarns (Fourth)
While most people didn't specify what type of yarn would make the perfect gift, some people specifically said they would love to receive really nice yarns they typically wouldn't purchase for themselves.
Hand-dyed yarns are beautiful but pricier than most yarns because they are handmade. If you'd like to surprise your crocheting friend, I recommend grabbing some yarn from a shop like Sewerella Yarn or Green Letter Day. I recommend following them on Instagram so you can see when they launch their new lines.
If you're looking for yarns you can grab online without having to wait for launches of new colorways, consider picking up some skeins of Cascade yarn.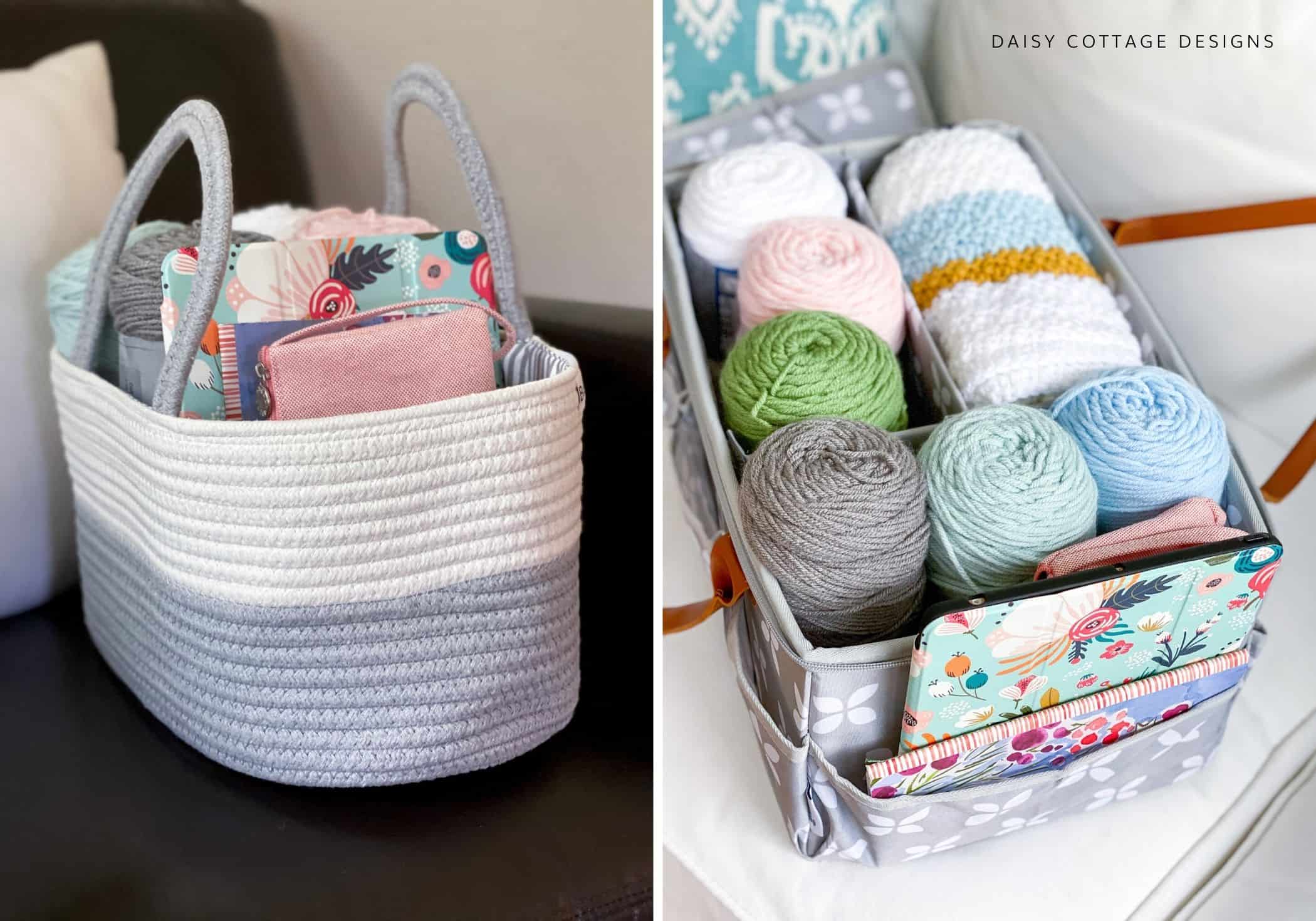 5. Yarn Totes and Yarn Storage
Quite a few people mentioned they'd love to receive yarn bags for storage.
Avid crocheters need something to carry their projects in. I have multiple bags to keep my projects in because I usually have a few projects going at once. This allows me to store each project separately in a project bag. Find cute bags online or in local stores that have big pockets and durable straps for travel.
While I have several totes, I find myself enjoying this one the most (shown on the right). It zips closed which is great for traveling, it has adjustable compartments, and the pockets on the side are perfect for storing notions.
I also like the smaller caddy on the left for projects that I'm only working on at home. It's available here.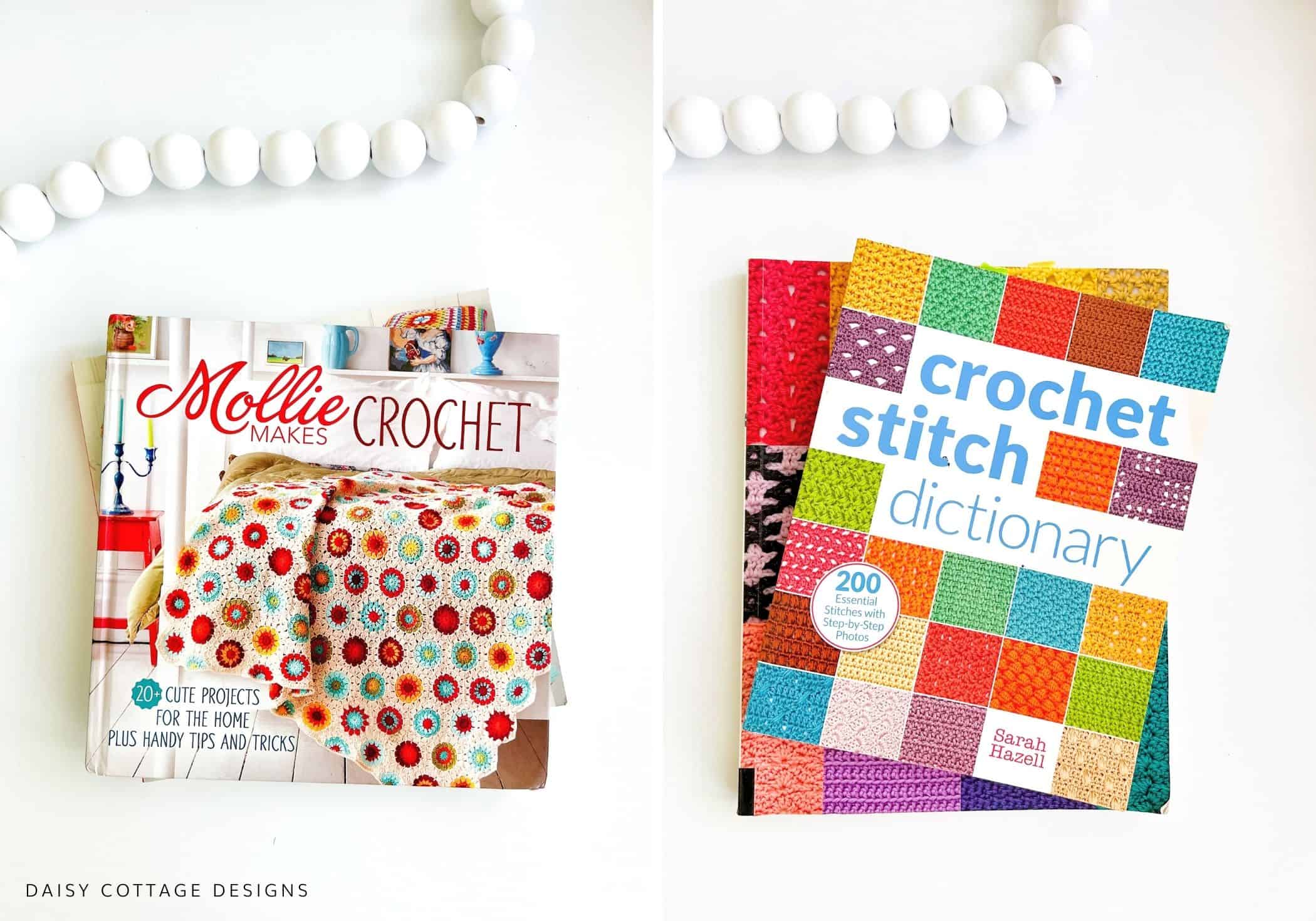 6. Crochet Books (Stitches or Patterns)
Crocheters are always looking for fun new stitches and patterns to try. There are some helpful books that every crocheter needs sitting on her shelves.
I have a collection sitting on my shelves that I reference on a regular basis. These are extremely helpful if your crocheting friend wants to dabble in designing.
Here are a few of my favorites. I have them all at home!
You might also want to grab a crochet notebook so your friend can take notes as she peruses and plans her next crochet project.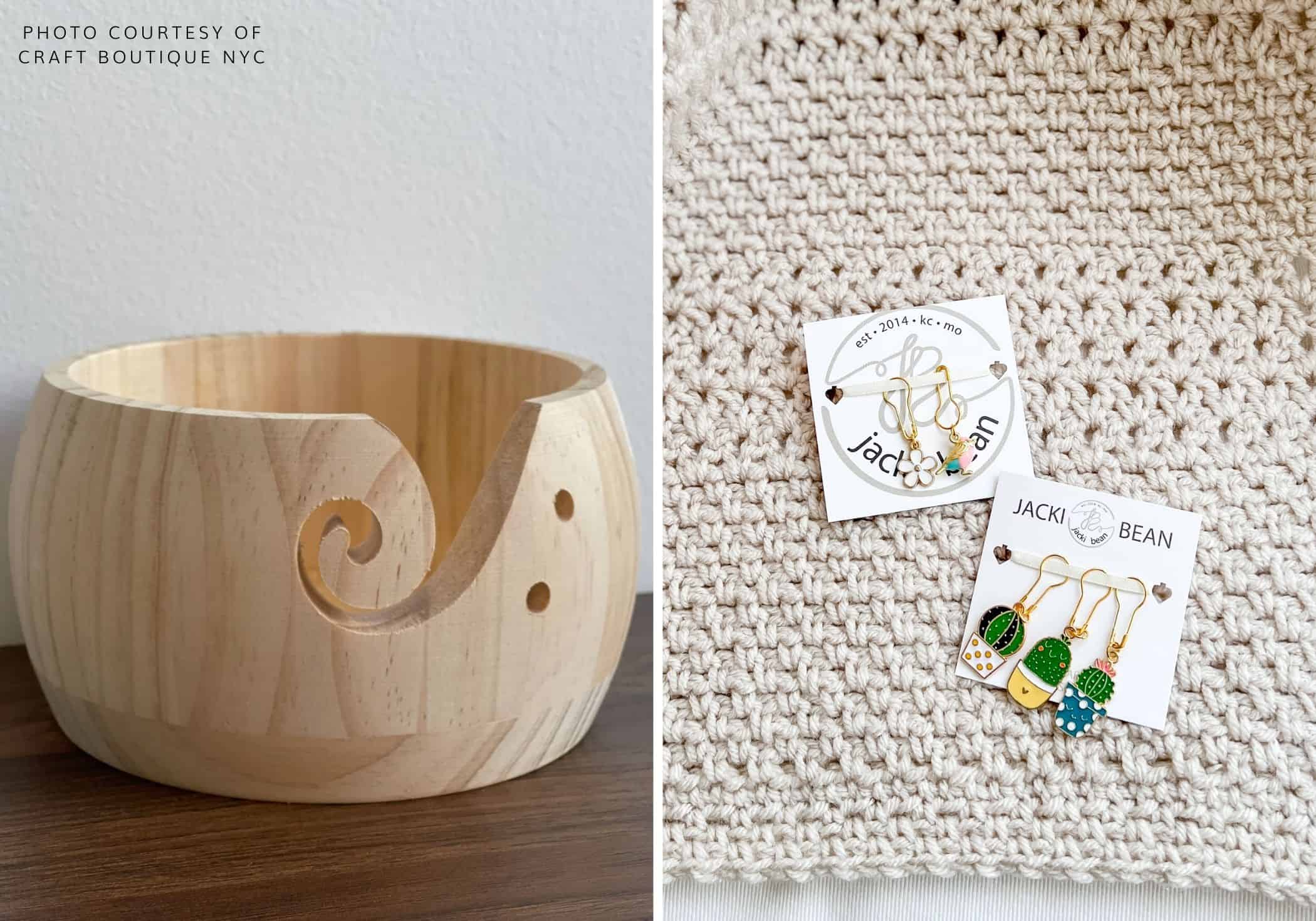 7. Yarn Bowls (Crocheter's Choice)
If you're not a crocheter, you're probably wondering what in the world a yarn bowl is. Basically, it's a small bowl that helps keep your yarn clean and untangled while you work.
Crocheters may not use them every day, but yarn bowls are very cute and make a great statement piece for the home office or living room. The idea is that the yarn sits in the bowl and unravels without rolling across the room. It's a great gift idea for friends and family members who love to crochet.
There are many makers on Etsy who sell beautiful bowls. You can find some of my favorites here in the Craft Boutique NYC shop.
8. Cute Stitch Markers
Another notion that many crocheters use on a regular basis is a stitch marker. It's possible to mark stitches with a lot of different things – a bobby pin, earring, and safety pin are all things that I've used in a pinch.
Several crocheters mentioned they'd love a nice set of stitch markers. If you're getting a gift, I'd go for something adorable like any of these from Jacki Bean.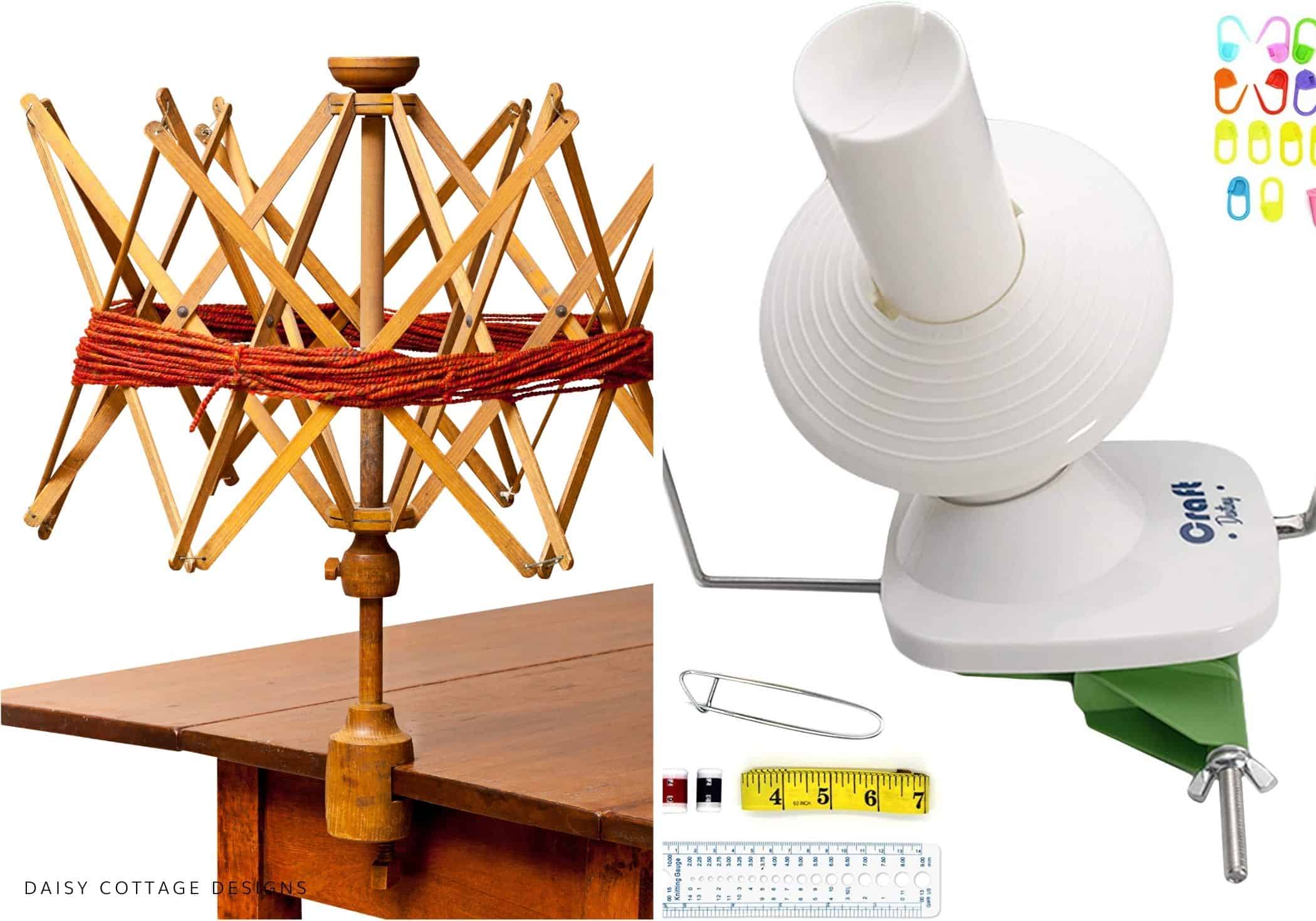 9. Yarn Ball Winder and/or Yarn Swift (Requested by Crocheters!)
Some skeins of yarn come in awkwardly woven bunches (also known as hanks) that get tangled up pretty easily. This gets frustrating while working on a large project, but a yarn winder and swift can help tremendously.
A winder works to unravel the skein and turn it into a neat ball of yarn for the crafter to use or store.
You can find them in specialty shops or on Amazon. I recommend this one from Crochet.com or this one from Amazon.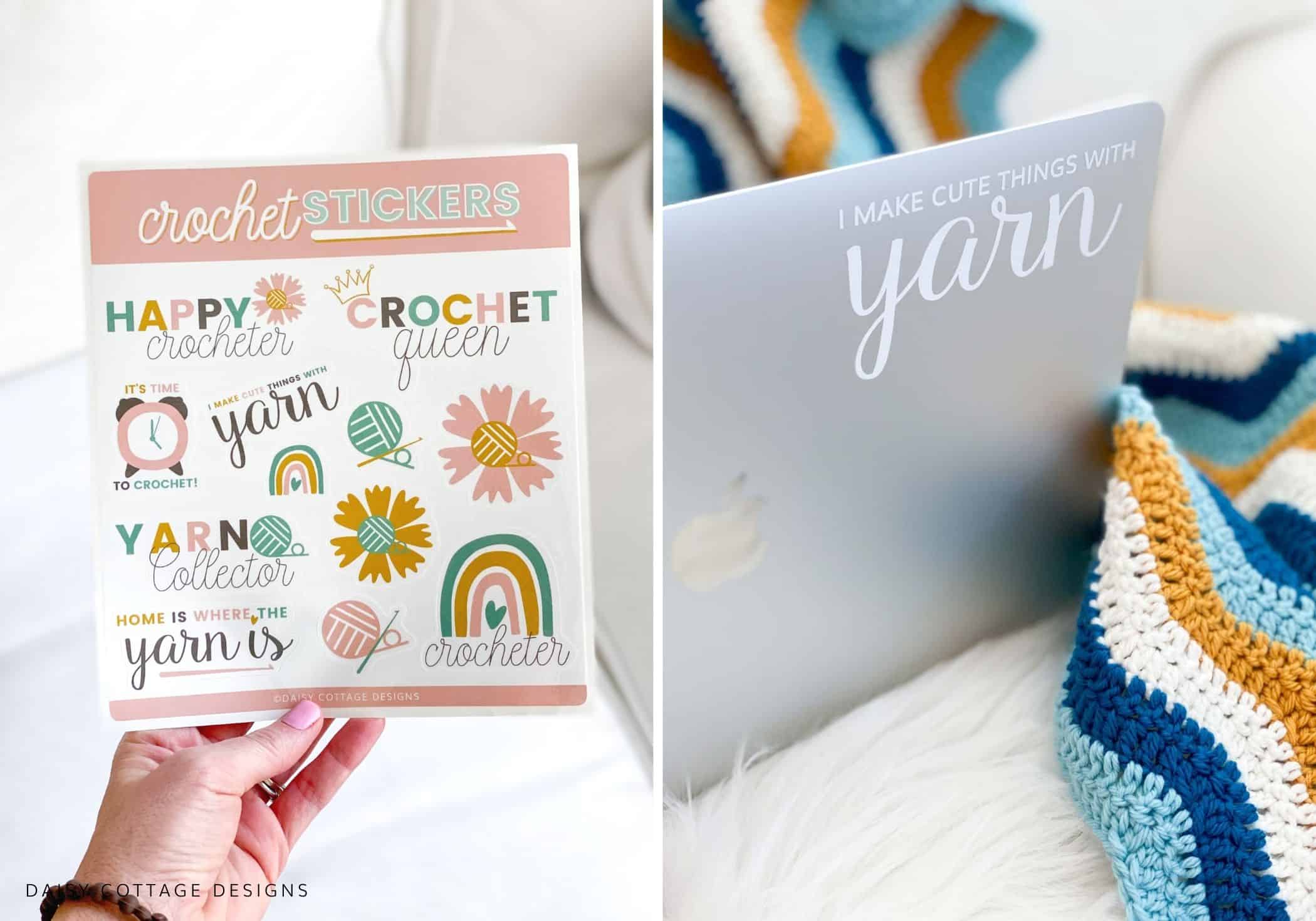 10. Fun Crochet Stickers & Decals
Everyone has a laptop or device they use these days, so one fantastic gift is fun stickers they can decorate with. These Crochet Stickers that I designed are a thoughtful gift to give to your crochet friend or family member. They come in a variety of beautiful colors and crochet enthusiasts will love them.
A Crafty Concept has also designed some adorable crochet stickers that any crocheter would enjoy. You can check out her collection on Etsy.
Some ideas for where these stickers might be placed:
metal tumbler
laptops
the back of your car
yarn organizer
desk
journal or notebook
funny mug
pattern books
other crochet items
I absolutely love decorating with these stickers!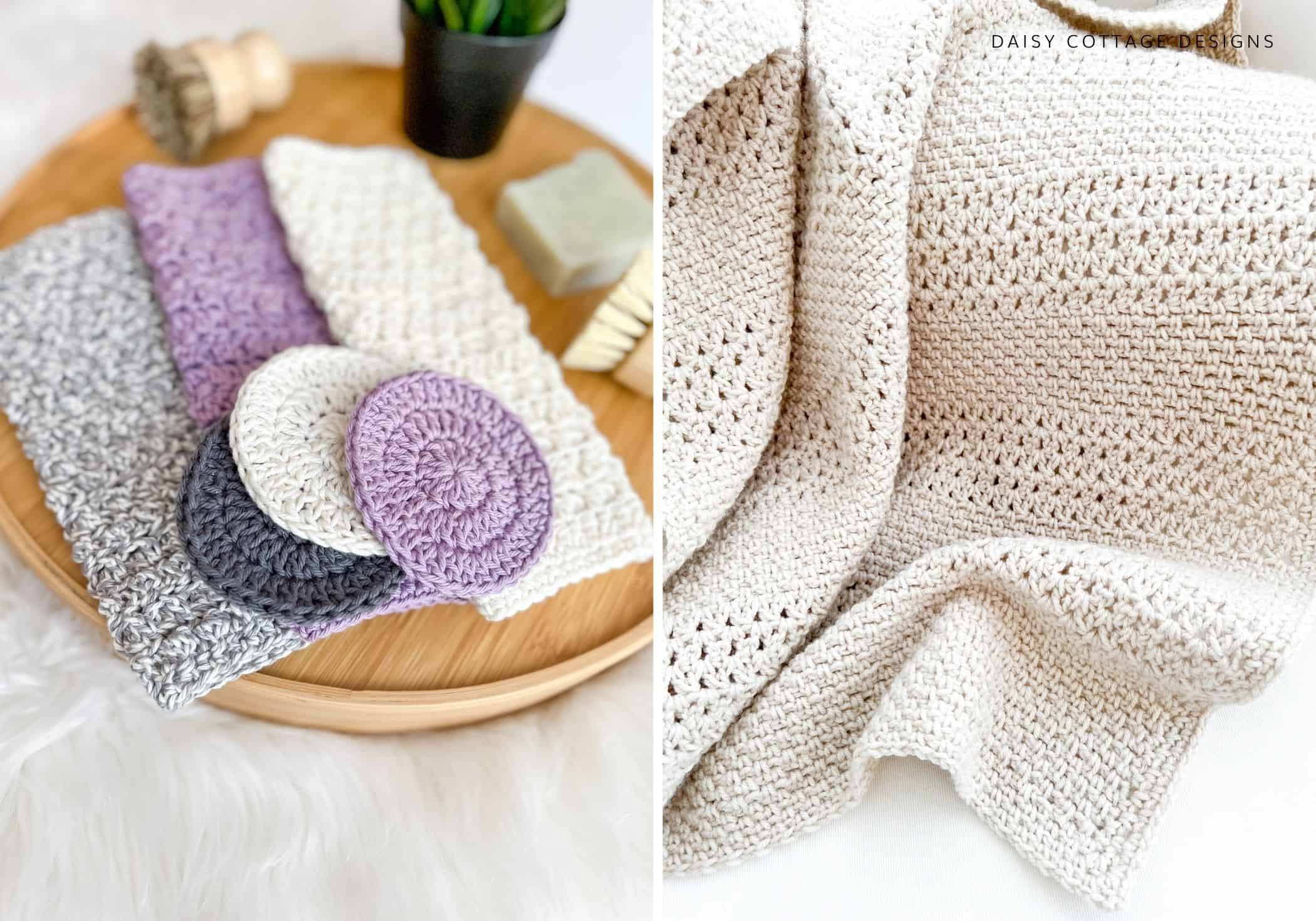 11. Handmade Gifts (Requested!)
If you are crafty yourself, try making something your friend can use with their hobby. This might include homemade stitch markers, a personalized canvas tote bag, or tags they can attach to their finished projects.
Believe it or not, many crocheters told me they would LOVE receiving crocheted items from someone else. While we might not think of it as the perfect gift idea, it's totally ok to give them a crochet throw blanket or a lovely spa set with a washcloth and face scrubbies.
It's rare that we crocheters sit down and take the time to make something for ourselves.
12. An Audiobook Subscription
Some crocheters don't like to watch anything on TV while they're working. Many love to listen to audiobooks. If you'd like the gift that keeps on giving, consider an audiobook or audiobook subscription like Audible.
Throw in a set of noise-canceling headphones and your gift is sure to be a favorite!
Other Fun Gifts for People Who Crochet
Some of these ideas make great stocking stuffers and amazing gifts for birthdays.
Yarn Snips or Scissors
Hand Cream for Rough Hands
Safety Eyes, Safety Noses, Amigurumi Supplies
Enamel Pins with Yarn or Crochet Symbols
Fun Tote Bag with a Crochet Saying
Crochet Mug
Pom Pom Maker
Crochet Keychain
Tapestry Needles
Wool Wash for Completed Projects
Measuring Tape
Novelty Buttons
Digital Stitch Counter
Fun Crochet T-Shirt or Sweatshirt
Blocking Mats & Pins
Neck Light Kit
Tassel Maker
Yarn Cutter Pendant
Crochet Course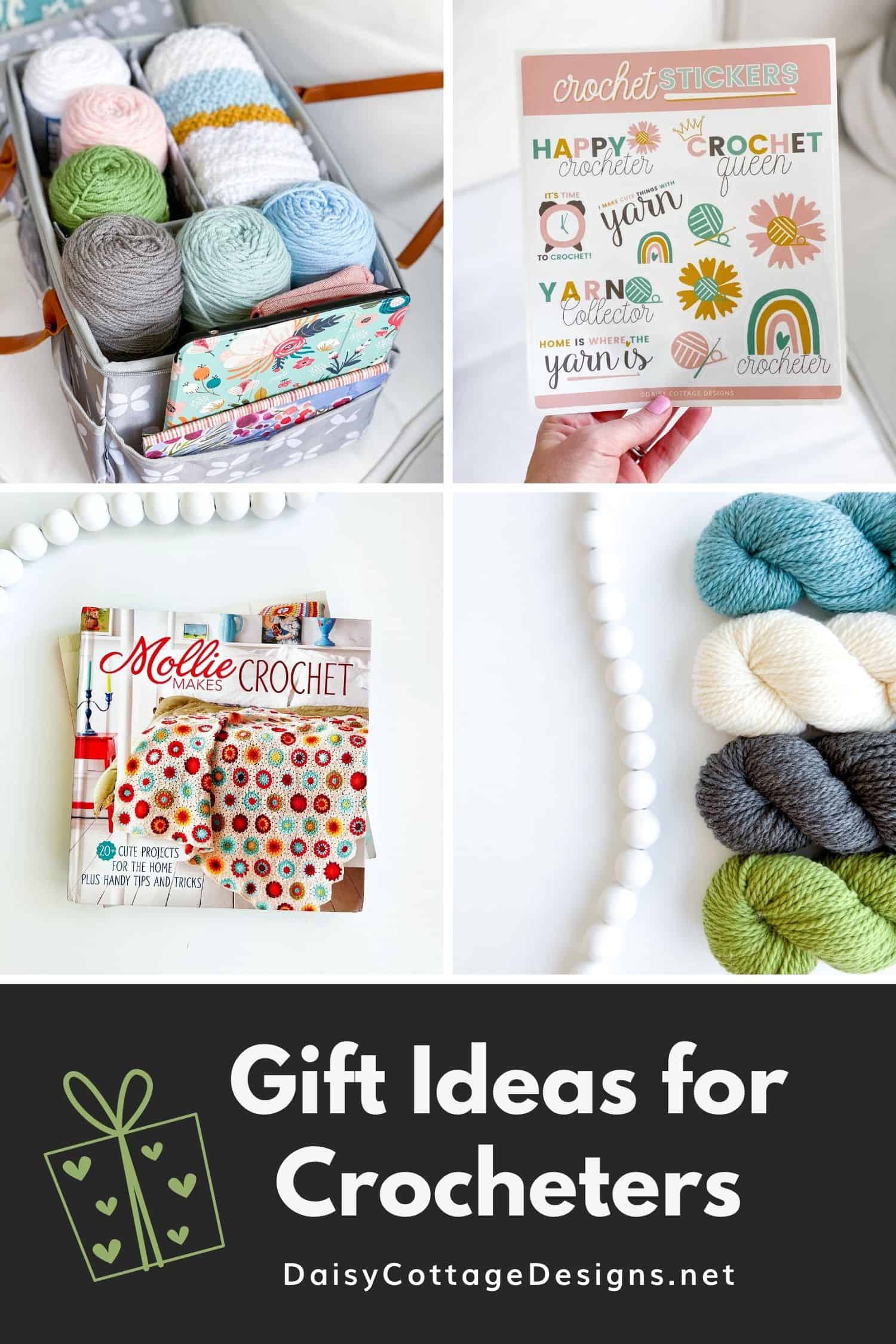 Whether you're looking for a Christmas gift or a birthday gift, I hope these ideas give you some fun ideas to buy as gifts for people who crochet. Regardless of what gift you choose, the special crocheter in your life will be thrilled that you were thinking of her.