Free Pattern: Cotton Face Scrubbies
Crochet face scrubbies are quick, easy projects that are fun to make. They make great gifts, but I'm pretty sure you'll want to keep them all for yourself. Toss them in the wash and use these eco-friendly pads time and time again.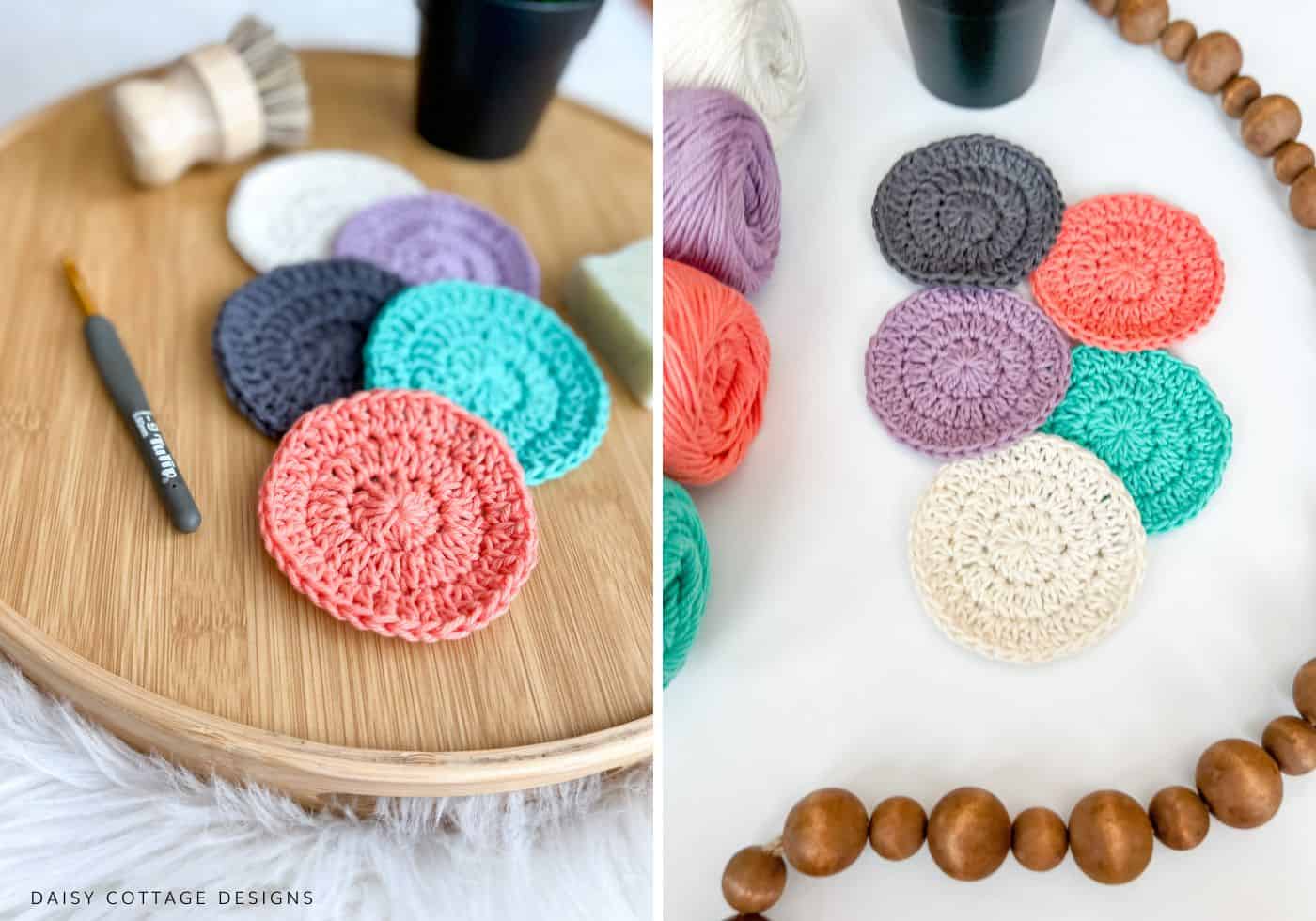 Crochet Face Washcloth Benefits
This beginner-friendly crochet project works up in 10 minutes or less. These little cloths make a great makeup remover. Not only that, they provide gentle exfoliation for your face.
They're also eco-friendly. As many people are looking to make the switch to more natural products, these crochet facial rounds are an excellent alternative.
What Yarn Should I Use?
For items like crochet face scrubbies and washcloths, you'll want to use a 100% cotton yarn or a cotton blend yarn. These fall into the same category as dishcloths and washcloths, and this post will let you know the best yarn to use for crochet dishcloths, washcloths, and face scrubbies.
Worsted weight cotton yarn is quite durable. You'll be able to toss these into the washer and dryer time and time again.
Just be sure to check your yarn label for your particular yarn's care instructions.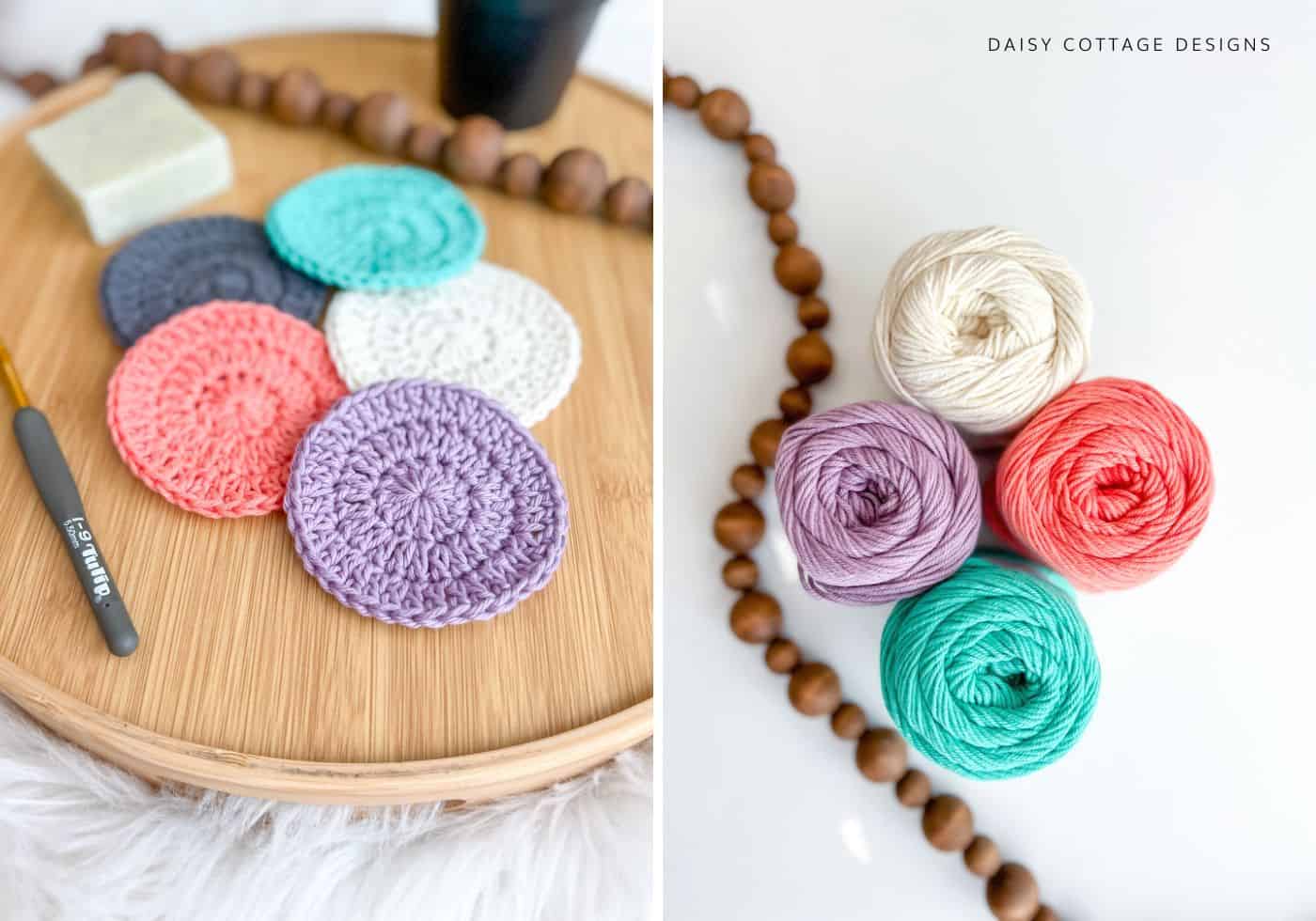 Looking for Specific Yarns?
Work Through Your Stash!
These crochet facial rounds don't take much yarn, so they're perfect for using up those little bits of yarn that are left at the end of a larger project.
Maybe you've made a crochet washcloth. Use the yarn left over to make a coordinating face scrubby.
Great for Craft Fairs and Etsy Shops
Small, quick crochet projects are perfect for selling. These crochet face scrubbies are no exception. Add an adorable label, take some cute pictures, and these are sure to be a hit in your shop or at that next art show.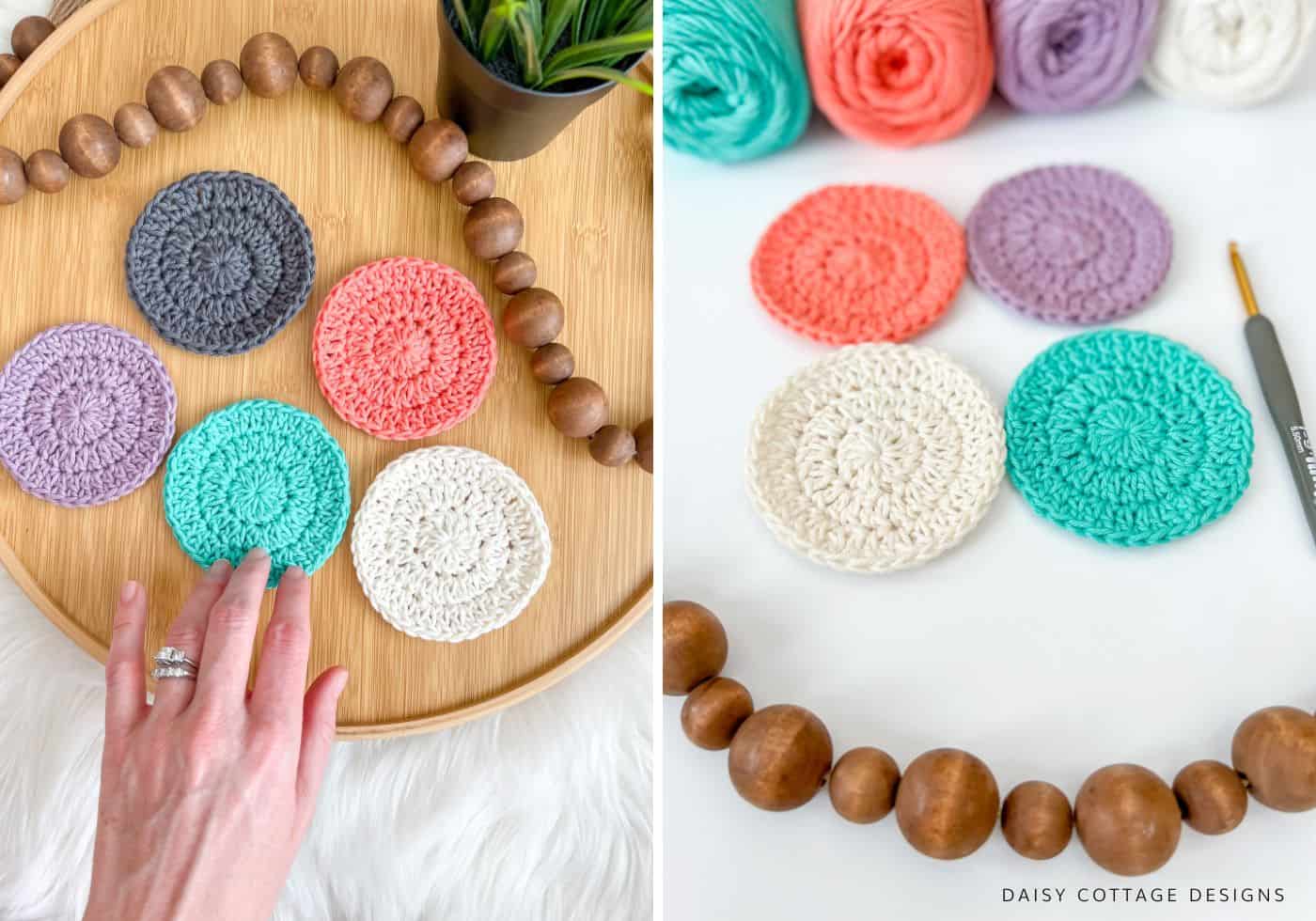 The Perfect Quick & Easy Gift Idea
Whether you need a quick gift for Mother's Day or you'd like to give your best friend a thoughtful gift, these will be perfect.
They work great as stand-alone gifts. Stack them up and add this cute little gift label to dress it up a little.
Want to add a little something extra? Include a bar of handmade soap and a couple Cottage Comfort washcloths.
Are These Facial Scrubbies Easy to Make?
Absolutely! Even if this is your first crochet project, you'll be able to make a set of these.
You won't need any special stitches to make this free crochet pattern and gauge isn't important at all. The tension of your stitch will only impact the size of your circle.
You only need to know 3 crochet stitches:
The Chain Stitch
The Classic Double Crochet
Slip Stitch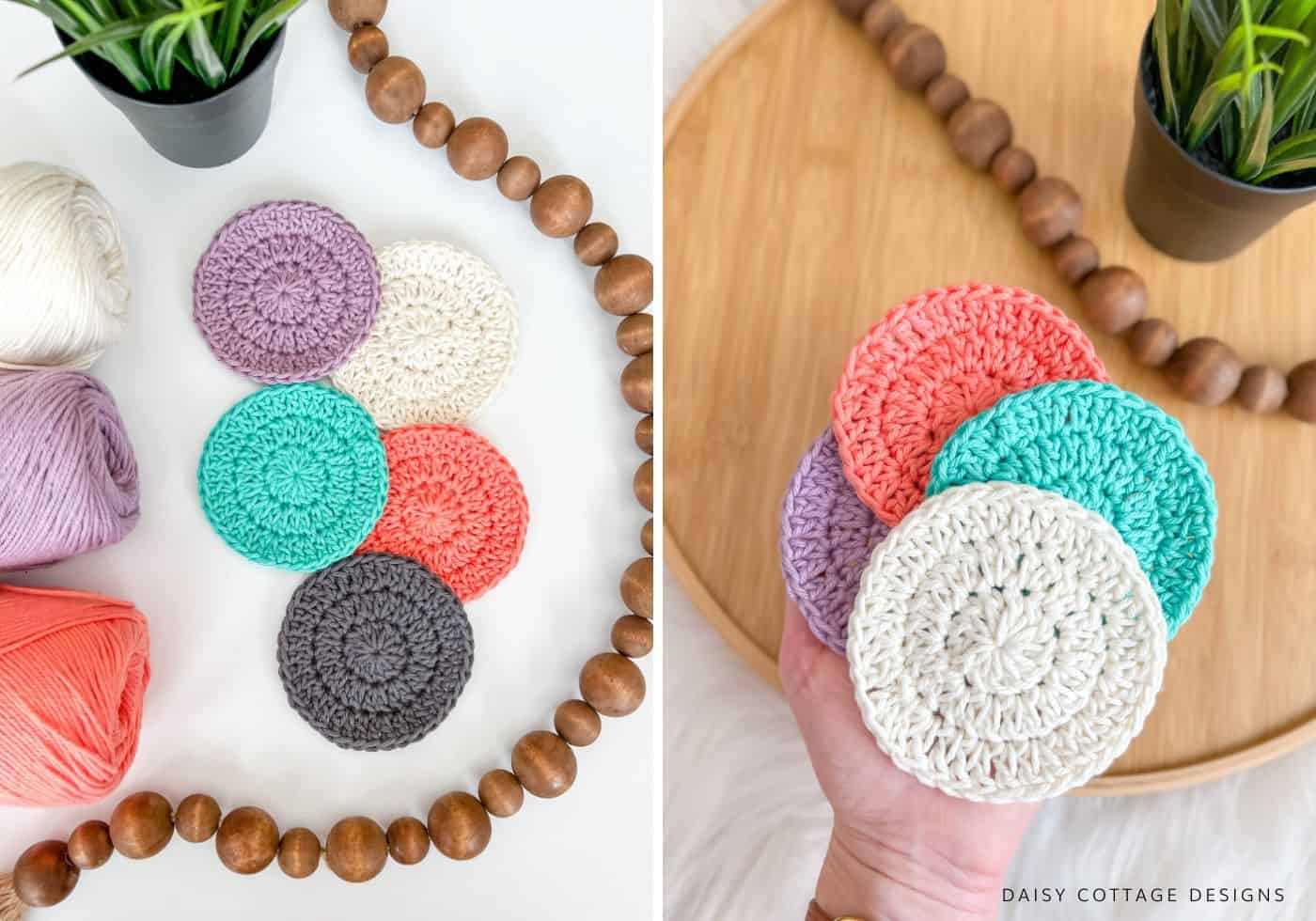 Crochet Face Scrubbie Pattern
Let's get started!
Prefer print-friendly patterns? Grab the ad-free PDF here.
Materials
Small amounts of worsted weight yarn
I'm using Dishie Yarn in the following shades

Swan
Verdigris
Conch
Lilac Mist
Ash

I/9 (5.50 mm) Crochet Hook – this one's my favorite
Tapestry Needle & Scissors
If you prefer an ad-free pdf, that's available here
Pattern Notes
Scrubbies will be approximately 3-4 inches in diameter, depending on what yarn you use and how tightly you crochet.
If you'd like a stiffer scrubby, use a smaller hook. If you'd like it more flexible, use a larger hook.
Chains do not count as a stitch
Instructions:
Ch 3. (alternatively, you could start with a magic ring and ch 2).
Round 1: work 12 dc into the third ch from the hook. Sl st to the top of the first dc to join.
Round 2: ch 2, work 2 dc into the first stitch (don't sk that first stitch). *2 dc in each stitch around.* Rather than joining now, you're going to work one extra stitch in the slip stitch where you joined the previous round (see photos below). Join in the top of the first DC. (25)
Round 3: ch 2. Work 2 DC into the first stitch. *1 DC in the next, 2 DC in the next* around. Work one extra stitch in the slip stitch where you joined the previous round. Join in the top of the first DC. (37)
Cut yarn and weave ends.
That's it – you've finished a scrubby.
If you want to make it a little "fancier," here are two options.
Optional Border
Add a border (could even be worked in a contrasting color)
Simply add this fourth round.
Round 4: ch 1. work 1 sc into the first stitch, *work 1 dc in the next two stitches, 2 dc in the next stitch* around. Work one extra sc st in the sl st where you joined the previous round. Join go the top of the first sc. (49)
Optional Drying Loop
Rather than cutting your yarn and weaving your ends at the end of round 3, chain until your you have a 3-4 inch chain. To make a loop, sl st into the last stitch of the round. Cut yarn and weave ends.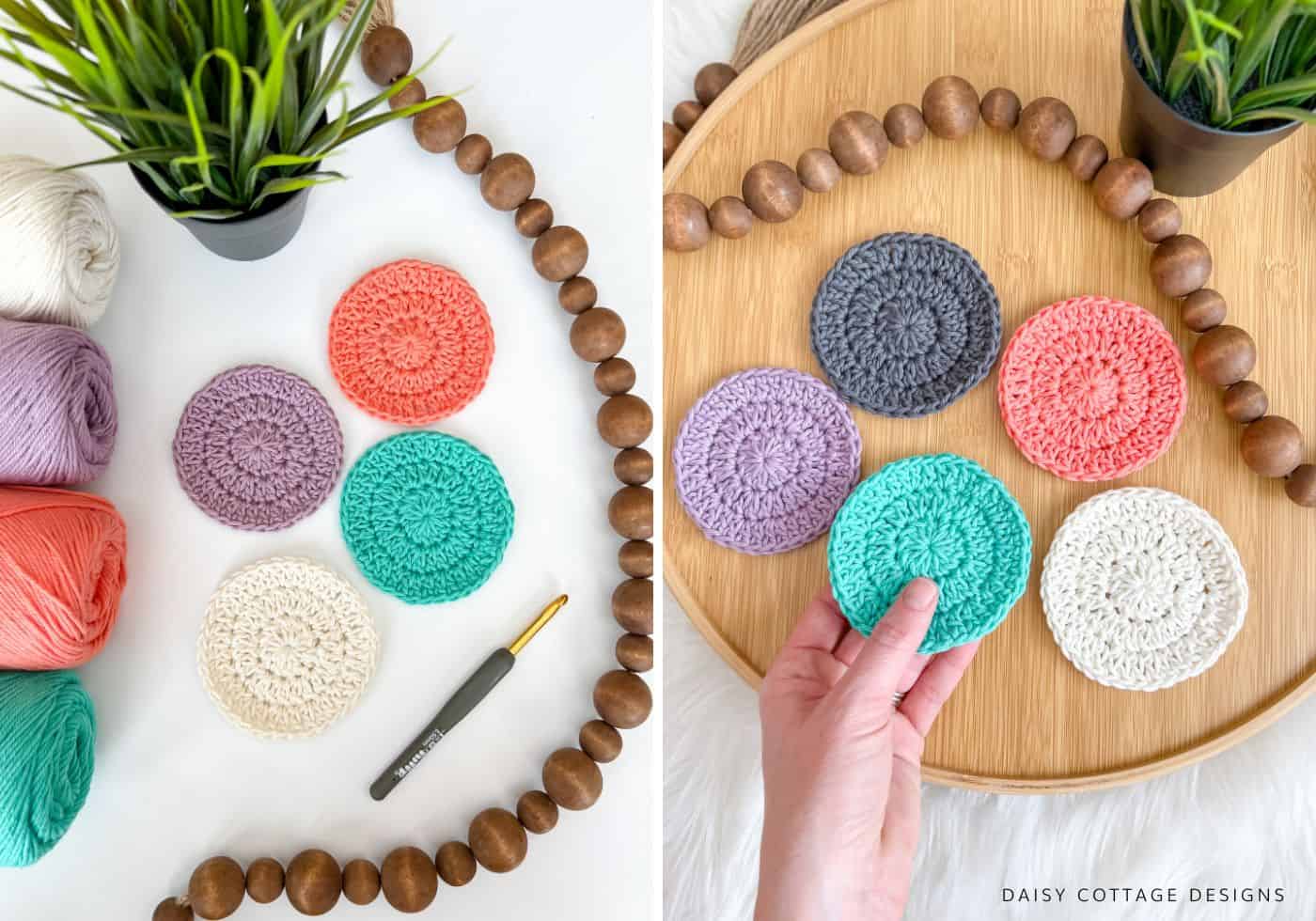 Want to Crochet More With Cotton Yarn?
I love using cotton yarn for everything from washcloths to baby blankets.
Try one of these patterns I've designed using 100% cotton yarn:
Did you love this pattern?
I'd be thrilled if you'd snap a photo and share what you make from this pattern on your social media channels. Be sure to tag me on Instagram and Facebook so I can check out your work.