Fall Blanket Crochet Pattern (The Pumpkin Spice Throw)
With a cluster double crochet stitch, this fall crochet blanket will become a go-to pattern for chilly autumn days. Throw it over the back of the couch or drape it over your shoulders. Make it any size you want with the easy size-adjustment instructions!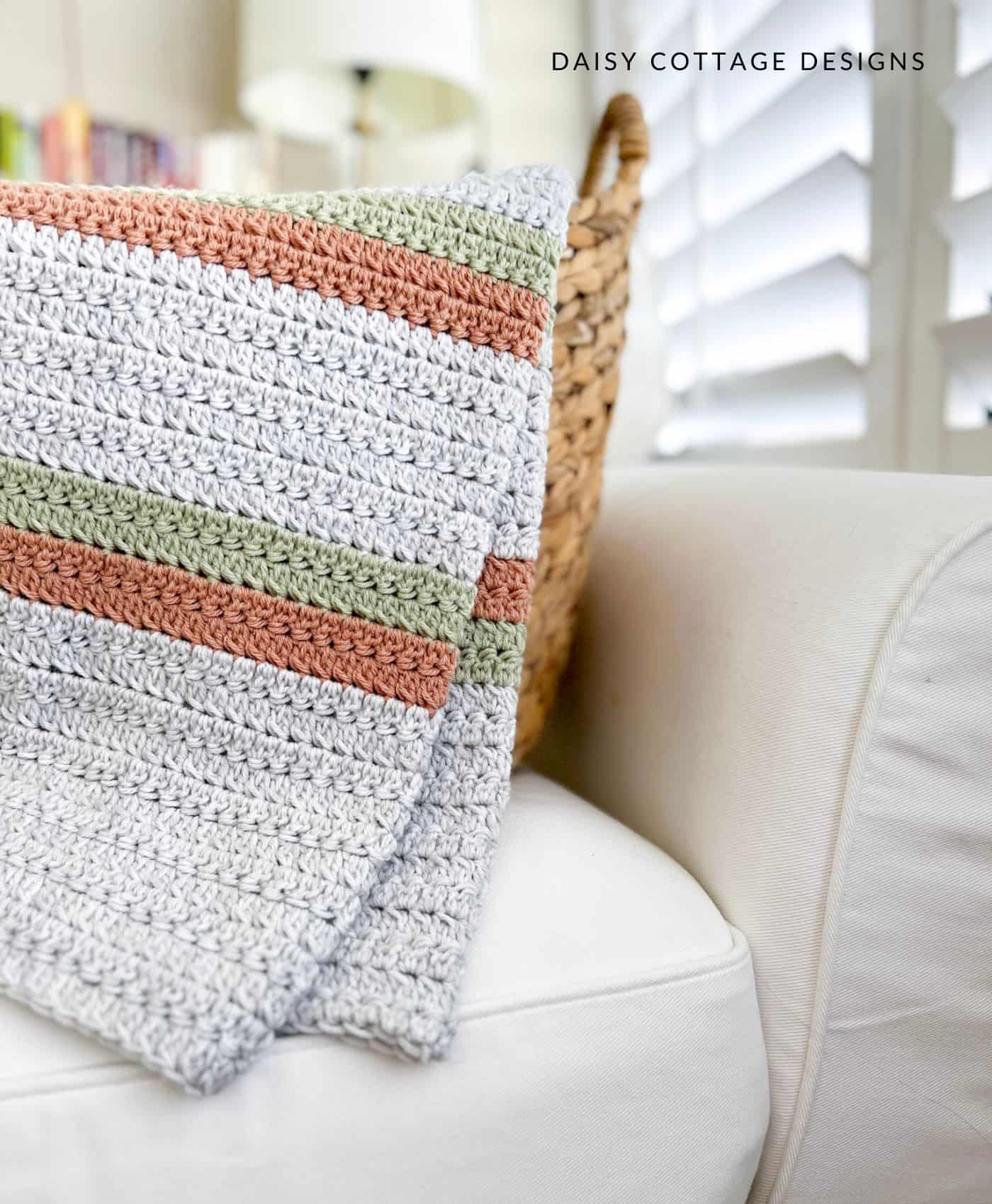 Cool fall days are some of the best days for crocheting. A cup of hot apple cider, soft yarn in beautiful fall colors, a pumpkin spice candle flickering beside you… You get the idea.
This easy fall blanket crochet pattern is sure to get you in the mood for all things fall – from pumpkins to hayrides. It's so easy to whip up!
The full blanket pattern is included below, or you can purchase the ad-free PDF over on Etsy.
If you're in the mood to make even more fall crochet patterns, check out this adorable pumpkin crochet pattern.
Prefer an ad-free pdf, you can purchase the pattern on Etsy.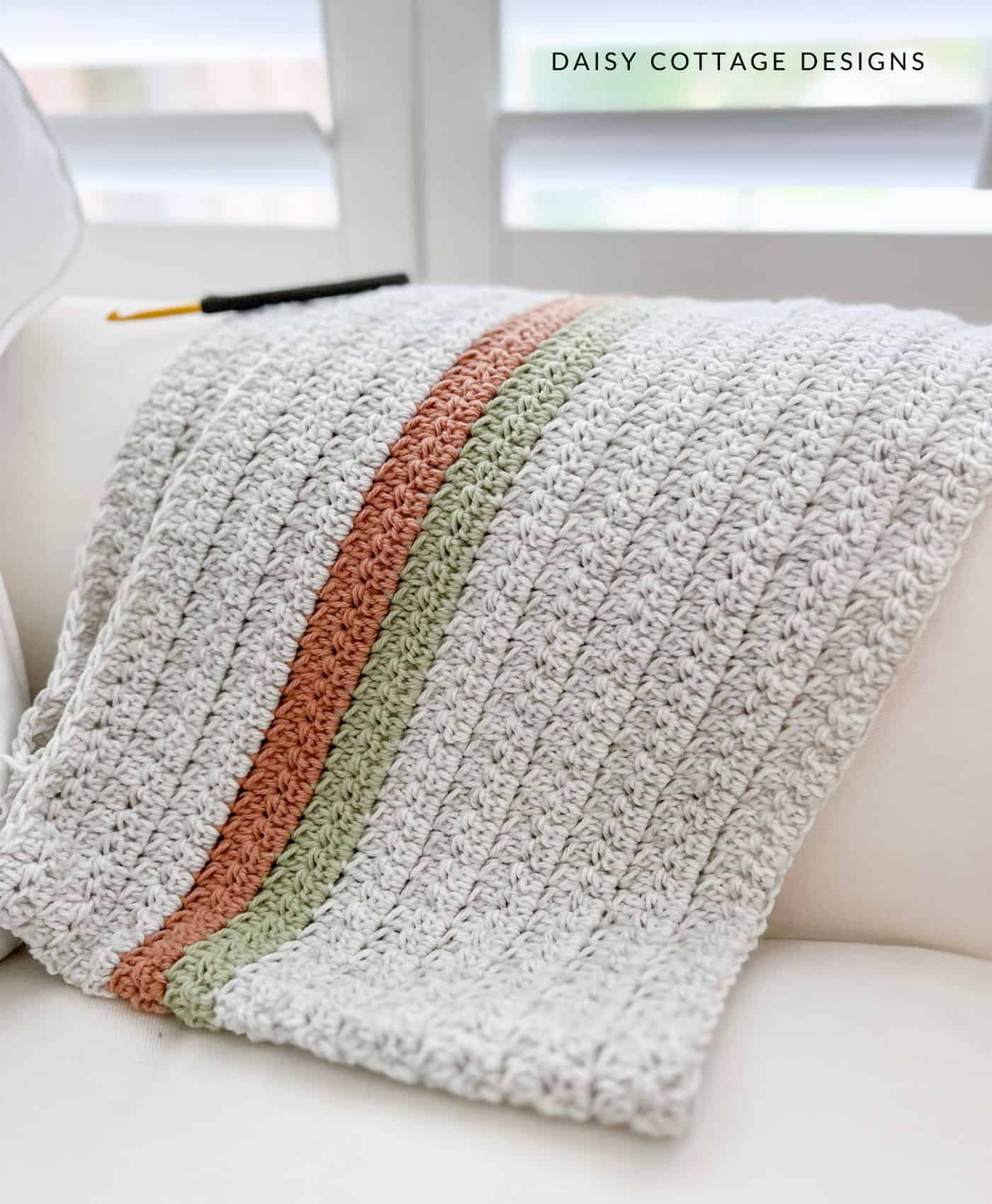 This Fall Blanket Uses An Easy Stitch Pattern
This beautiful pumpkin-inspired crochet blanket uses one of my favorite stitches and it's perfect for beginners!
The double crochet cluster stitch (also known as the dc2tog in one stitch). While it might sound a little bit intimidating, it's so easy. I know many people have used this stitch in their first-ever crochet projects!
It's a wonderful stitch to work on while you chill on the couch with your family.
I'll walk you through the stitch step-by-step – in writing and in a YouTube video.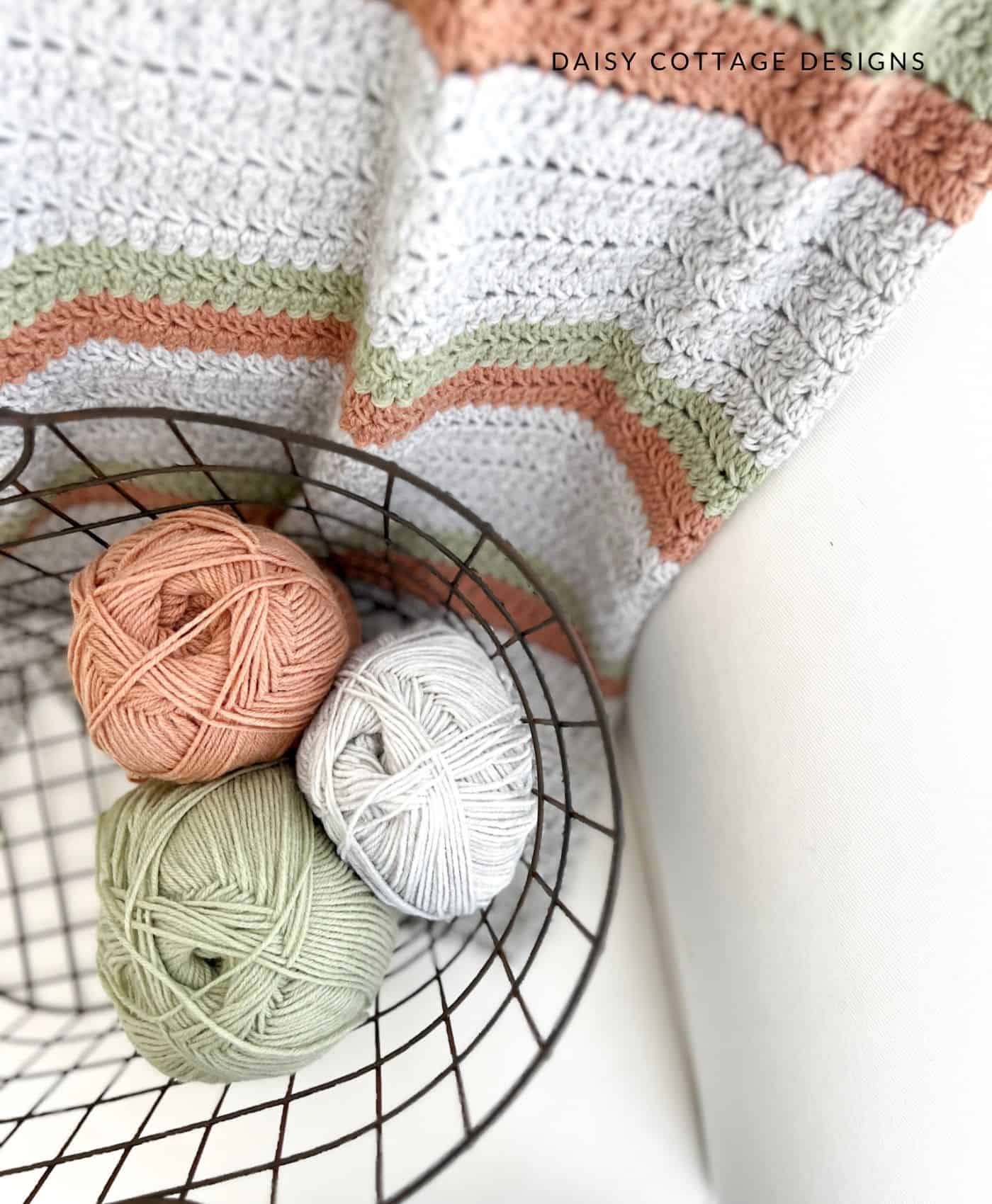 Fall Blanket Yarn Choices
When I went shopping for yarn, I wasn't planning on purchasing the yarn I used for this blanket. But, these colors kept jumping out at me because they're so perfect for fall – they reminded me of beautiful fall foliage.
I used Baby Bee Sweet Delight from Hobby Lobby in the following shades.
Flannel Marled
Green Light
Gingerbread
This is a light weight yarn, but a worsted weight yarn will work just as beautifully! You'll just need to go up a hook size and your blanket will be a bit bigger.
While these colors are what I consider the perfect colors for a fall afghan, you might have other colors in mind. That's part of the fun of crocheting! Pick your favorite hues and get to work!
Ready to get started on this fall blanket? Grab your supplies and let's get going!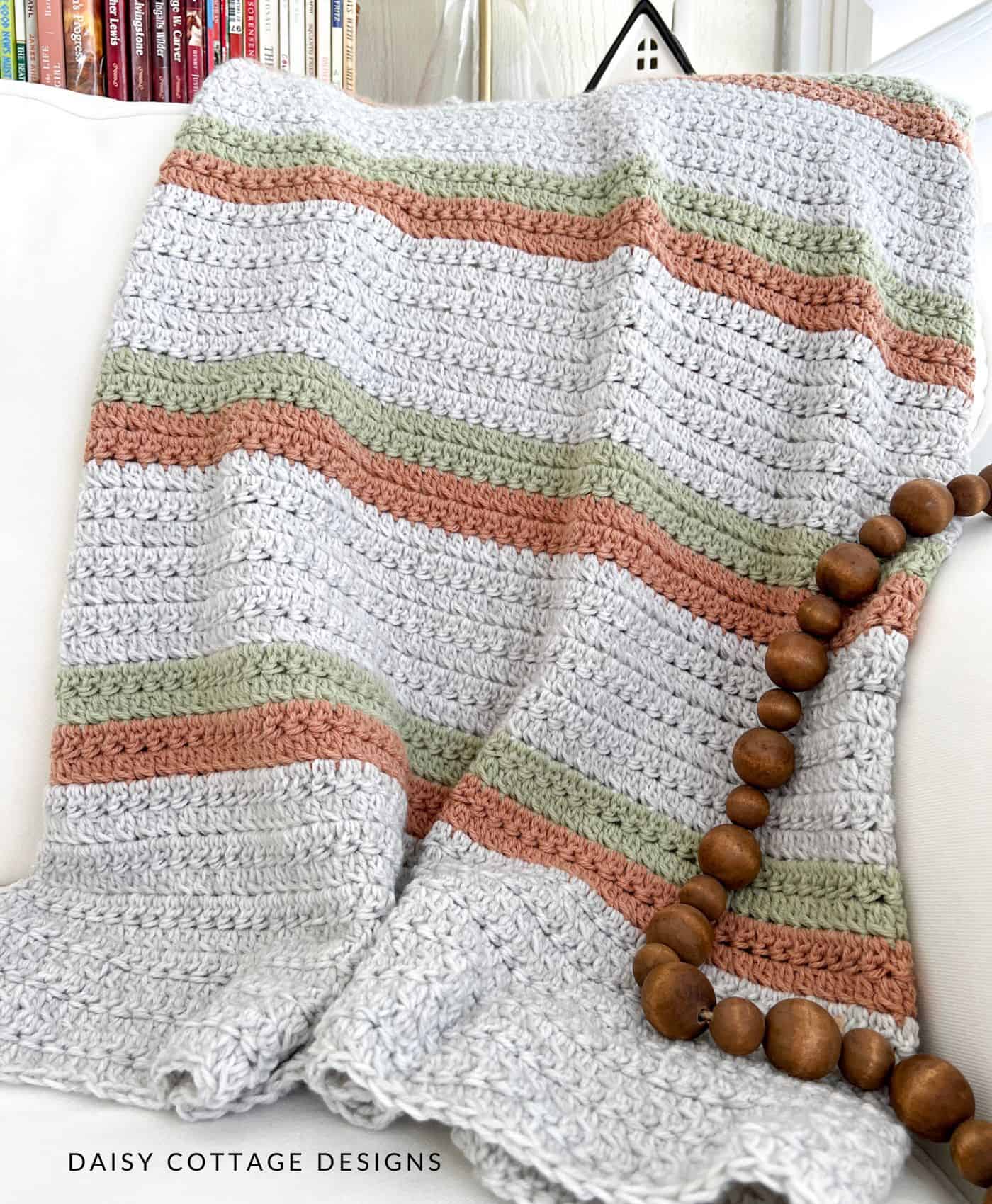 Pumpkin Spice Stripes Crochet Blanket Pattern
Materials:
I-9 (5.50 mm) Crochet Hook (Possibly a J-10 Hook if you know you chain tightly – there's a note about this at the start of the actual pattern)
3 Skeins Baby Bee Sweet Delight in the shade Flannel Marled
1 Skein each Baby Bee Sweet Delight in the shades Green Light and Gingerbread
If you're using a different yarn, you need approximately 1500 yards of light weight yarn. 
Gauge is not important for this project. 
Pattern Notes:
Finished blanket measures approximately 35×37 inches as written. Size Chart gives 3 additional sizes.
You do NOT work into the turning chain at the end of each row.
To make this blanket in a different size, just adjust your starting change. This stitch will work with any chain length.
Be sure to chain loosely!! The dc cluster is a wide stitch so a tight chain will cause ruffling. You might even want to go up a hook size or two for the chain.
Video tutorial available here.
Special Stitch:
Double Crochet Cluster (DC Cluster): yarn over, insert hook into stitch, pull up a loop. Yarn over, pull through two loops. Yarn over, insert hook into the same stitch, pull up a loop. Yarn over, pull through two loops. Yarn over, pull through remaining 3 loops.
I walk you through all the steps several times in this video.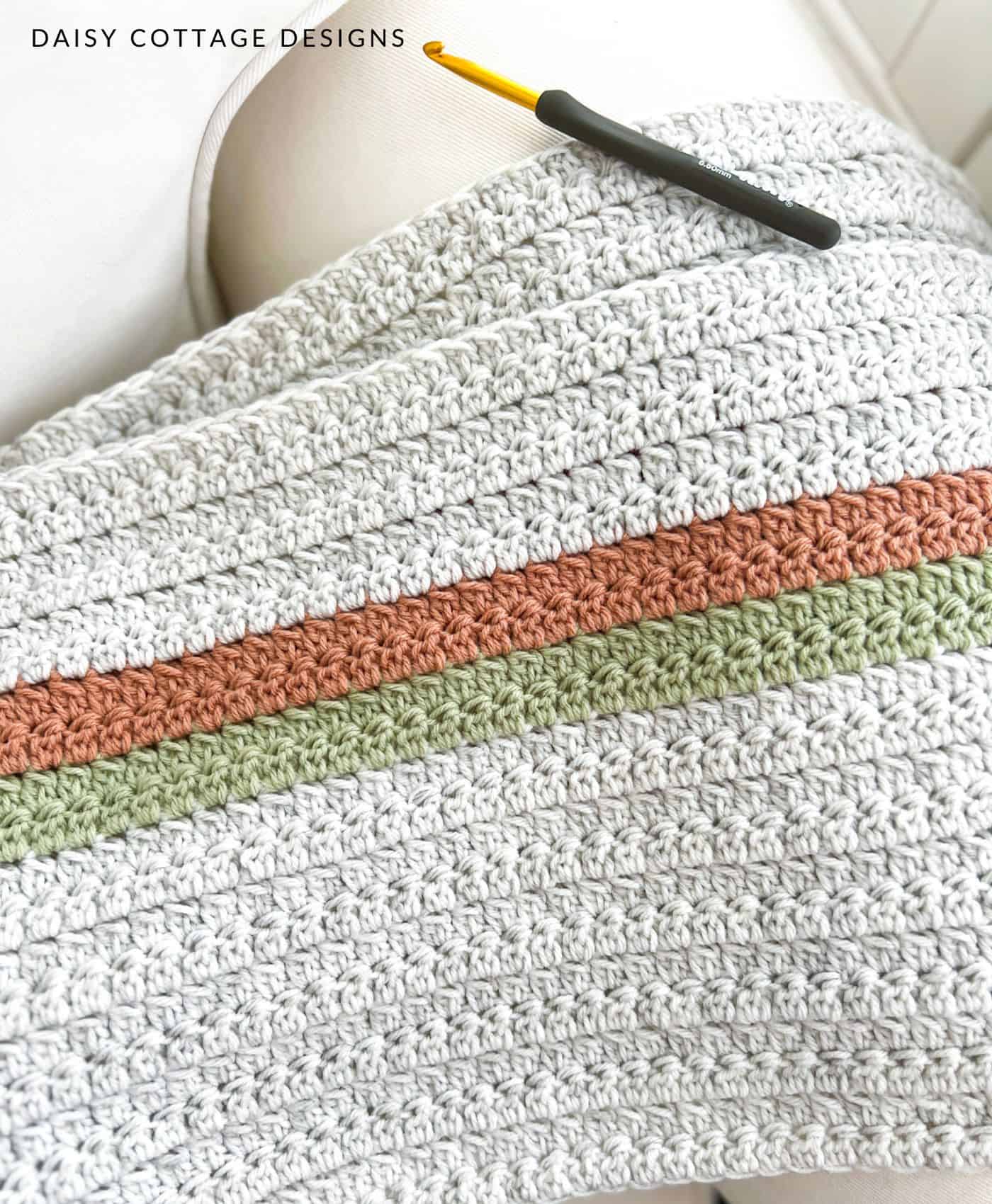 Directions
Loosely chain 92 with Flannel Marled
Note: if you crochet or chain tightly, size up to a J crochet hook. This should prevent any ruffling.
Row 1: dc cluster in the third chain from hook and in each stitch across. Ch 2, turn. (90 cluster stitches)
Row 2: dc cluster in the first stitch and in each stitch across. Do NOT work into the turning chain in this row or any other. Ch 2, turn.
Rows 3-72: Repeat row 2 using the stripe pattern below.
If this is your first time making a striped blanket, you'll want to read this post on changing colors and weaving ends.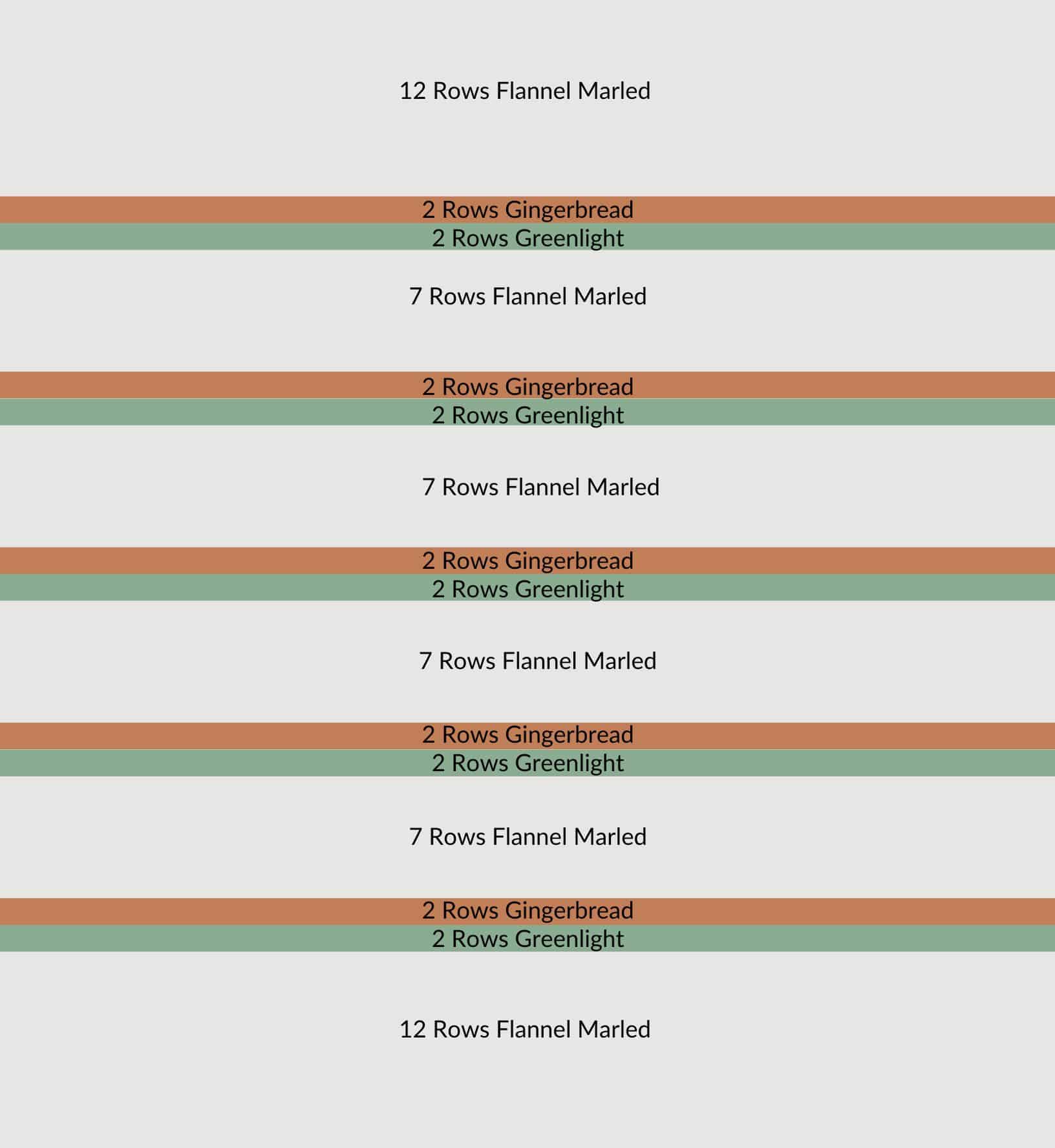 Adjusting the Size of this Fall Crochet Blanket
It's easy to make this blanket in any size you want! The chart below provides stitch counts and yarn yardage for several sizes. But, if the size you want isn't on the chart, remember that any chain length will work for this beautiful crochet stitch.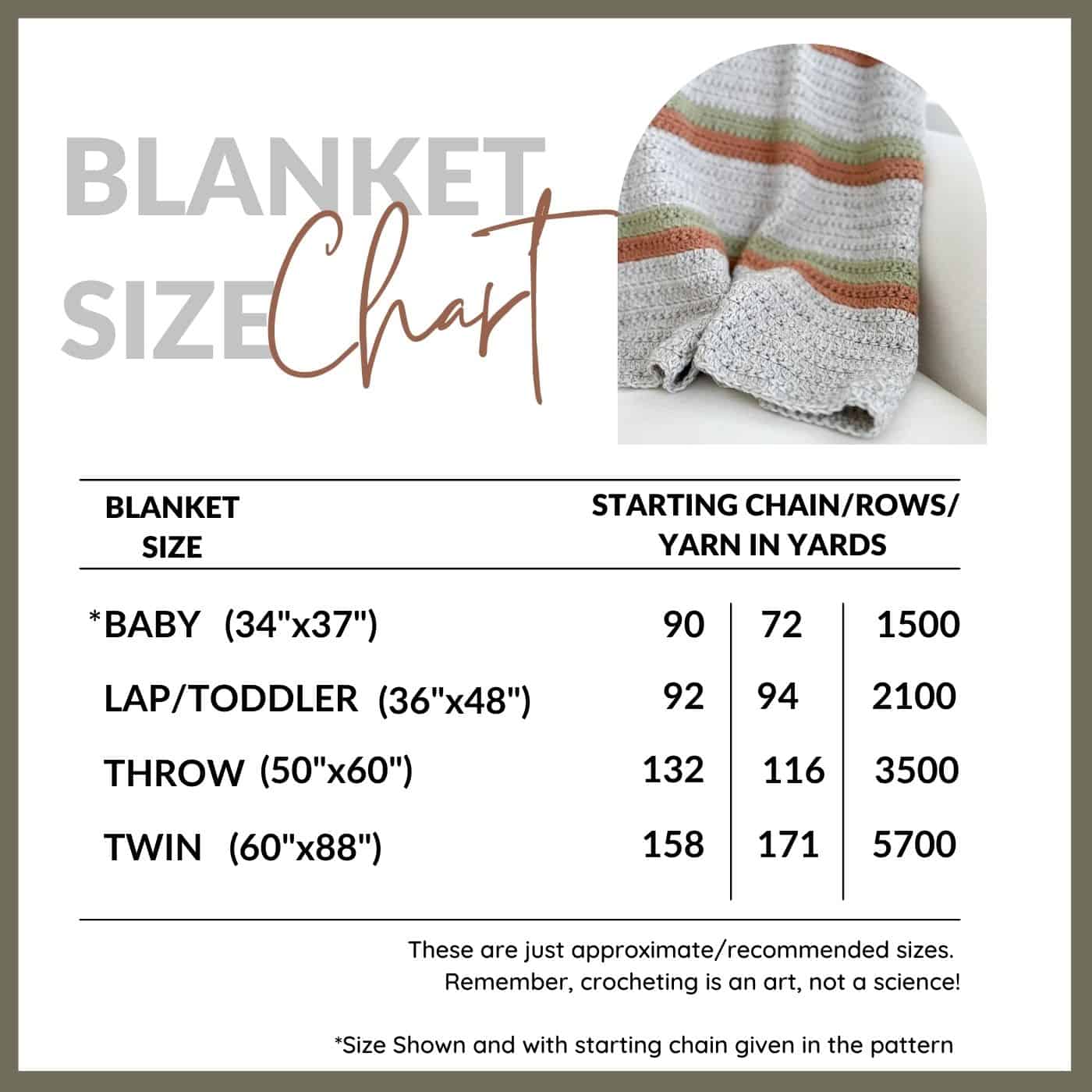 Share you work!
I'd love to see what you've made using this pattern. Snap a photo and share it with me on Instagram (I'm much more active there than I am on Facebook, but you're welcome to share it there, too).
You're welcome to sell items that you've made using this pattern (or any of my patterns), but please be sure to use your own photos.
Happy Crocheting, Friends!