Summer on the Green Blanket: A Double Crochet Chevron
When I find myself in a crochet slump, I always tend to go back to the basics. For me, that means making a simple ripple or chevron blanket using some of my favorite yarn.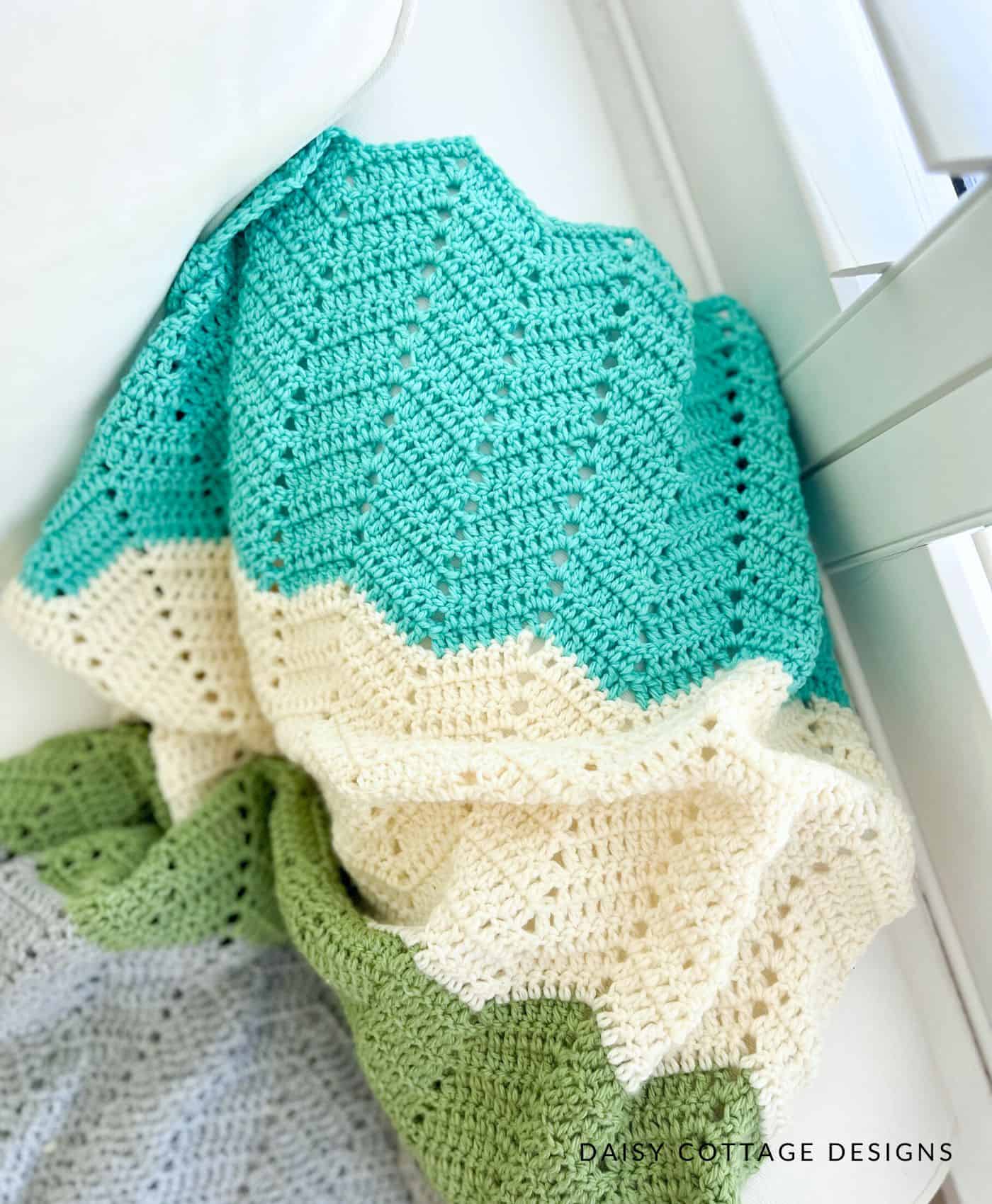 This year has been a busy one. Thankfully, most of the year has been full of good things. Regardless, I haven't had as much time for crocheting as I like.
To get my "cro-jo" back, I reached for bright colors and a comfortable, repetitive stitch. What do you find yourself reaching for when you need a pattern to get your crochet motivation flowing again?
You may already be familiar with my very popular "easy chevron blanket." This is essentially the same blanket with a different color pattern. I'm sharing the instructions here, too, so you can have the pattern and the color details all in one place.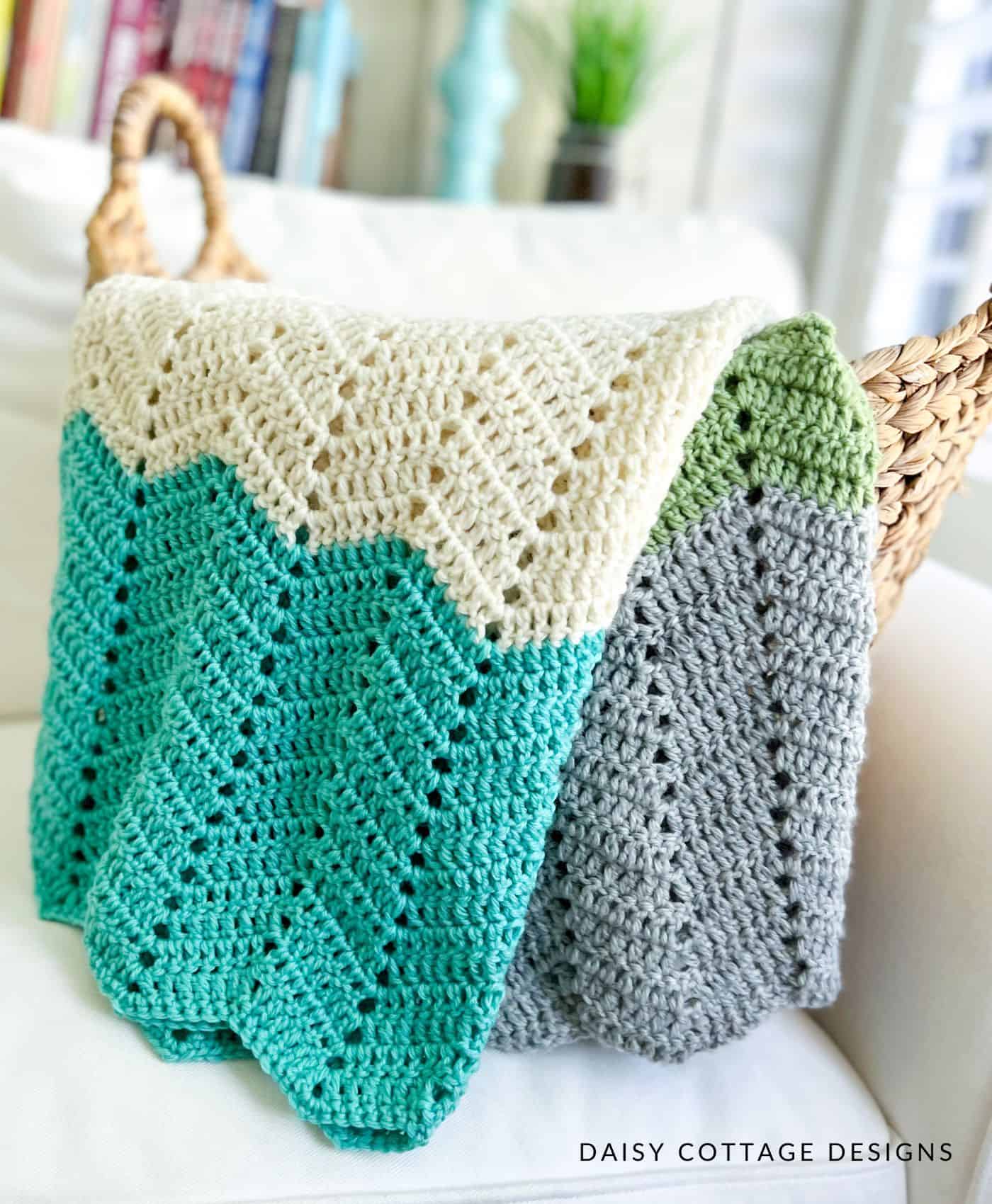 For this blanket, I used one of my favorite yarns – Cascade 220 Superwash Merino. It's a light worsted yarn that works up like a dream. I paired it with a larger hook to make sure my blanket had a really drapey, light-weight feel. If you crochet loosely, definitely go down a hook size from my instructions.
If you want to use a different yarn, feel free! Any worsted or light worsted yarn will work perfectly.
Click here to purchase the ad-free, print-friendly PDF version of this pattern.
Materials:
Approximately 1000 yards of worsted weight yarn (medium/4).
I used 1 skein eachCascade's 220 Superwash Merino in ice green, celery heather, silver heather, and cream. Each skein is 220 yds if you'd like to replace this yarn with one of your favorites
J/10 Crochet hook – use an I/9 hook if you crochet loosely
Tapestry Needle & Scissors for weaving ends
There is a YouTube video tutorial for this stitch.
Pattern Notes:
Instructions for adjusting the size of this blanket are given at the end of this post.
You will NOT work into the top of the turning chain in this pattern.
An optional border is linked below. Photos are shown without a border.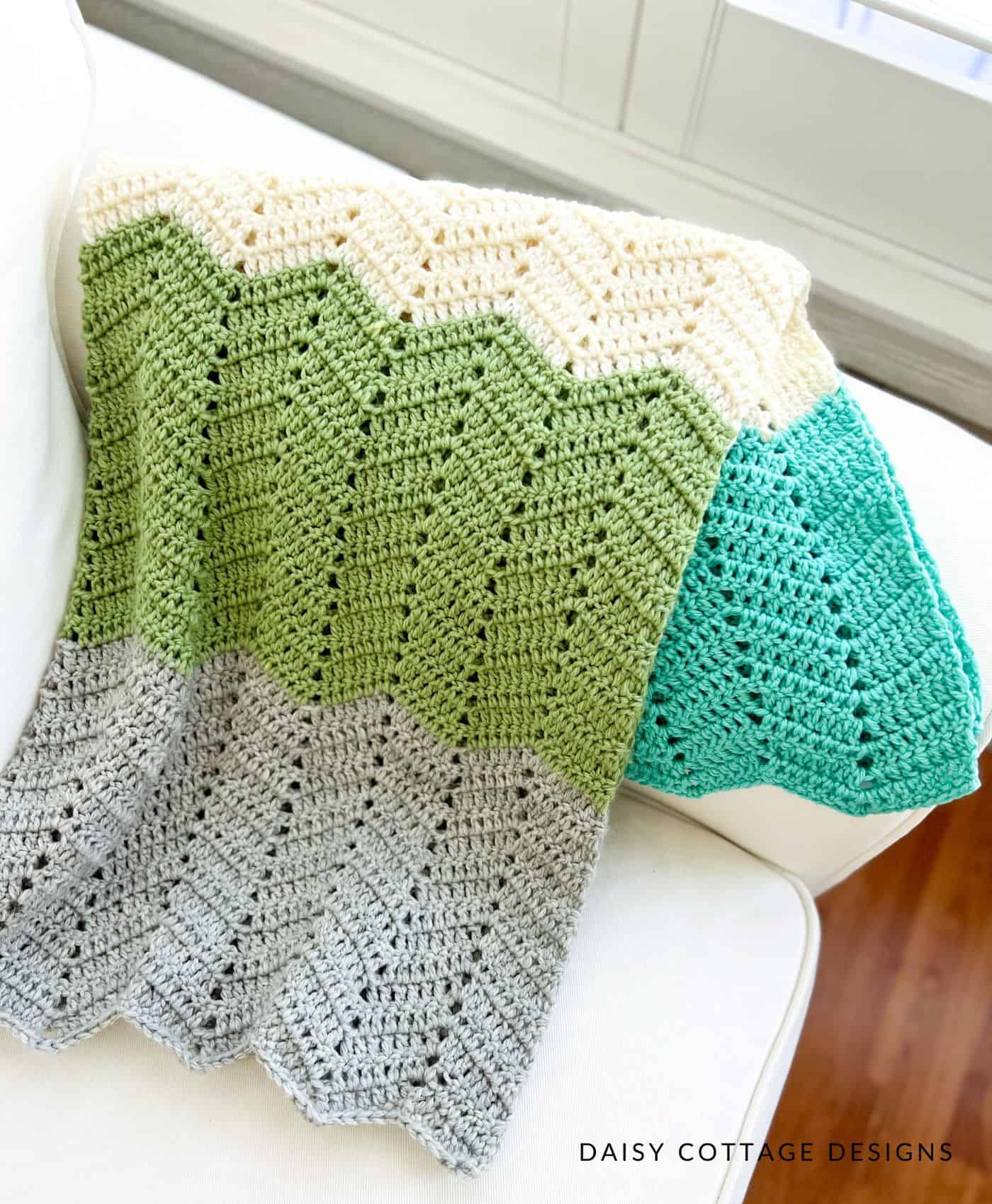 Using Silver Heather, chain 121.
Row 1: dc in the 3 chain from hook and in each of the next 5 chs *dc, ch 2, dc in the next ch. dc in the next 6 chs. sk next 2 chs, dc in the next 6 chs* across until 8 chains remain. dc, ch 2, dc in the next ch. dc in the next 5 ch. dc2tog in the last 2 chs. ch 2, turn.
Please watch this video tutorial if you need help with this stitch.
Row 2: Skip the first st, dc in the next 6 dc. *dc, ch 2, dc in the next ch-2 space. dc in the next 6 stitches. skip 2 dc. dc in the next 6 stitches* across to last ch-2 space. dc, ch 2, dc in the last ch-2 space. dc in the next 5 stitches. dc2tog. Ch 2 turn. YOU WILL NOT BE WORKING INTO THE TOP OF THE CH 2.
Rows 3 – 56: Repeat row 2.
To make a blanket like mine, crochet 14 rows of each color for a total of 56 rows. My colors are in the following order: silver heather, celery heather, cream, and ice green.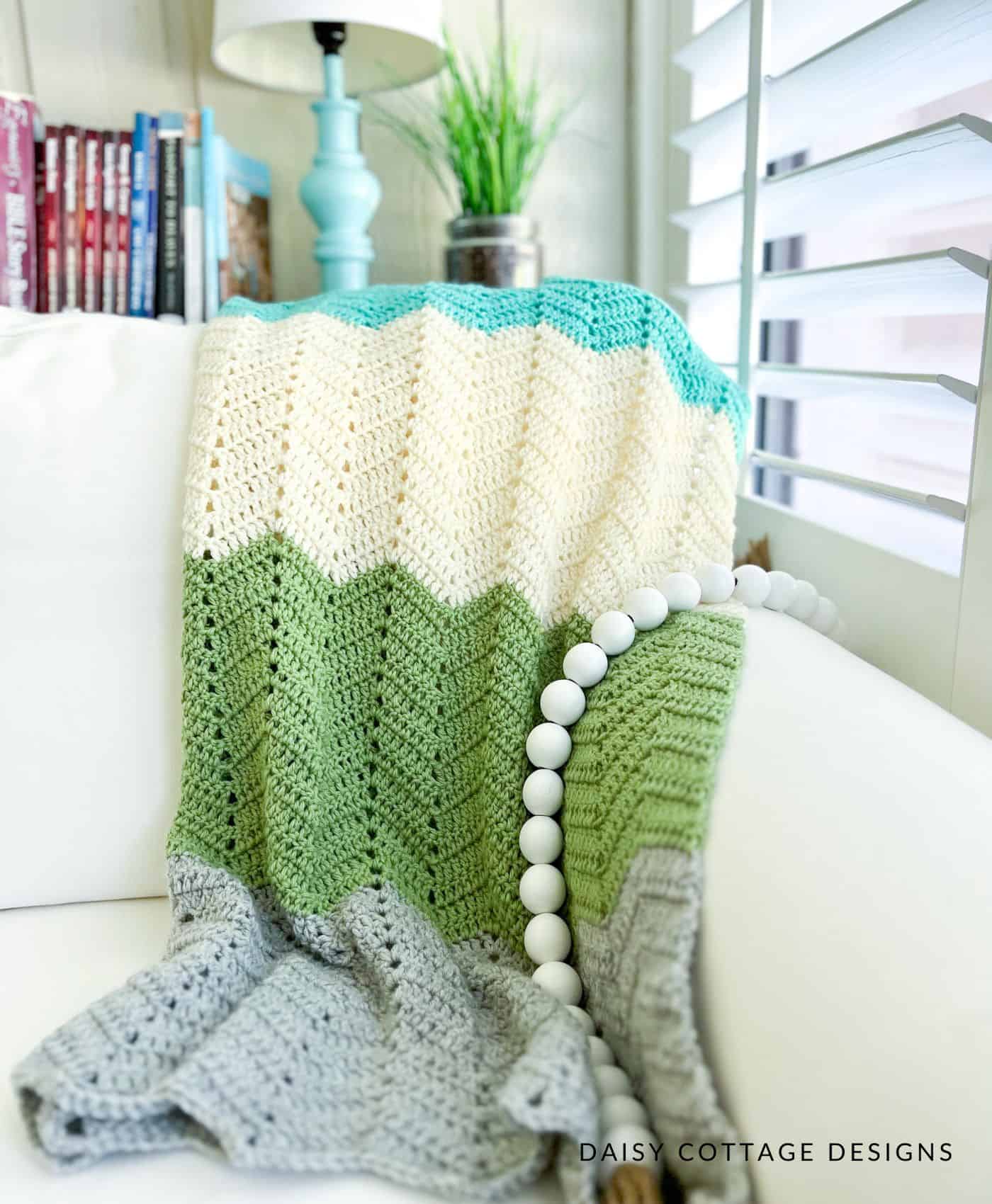 Adjusting the Size of The Blanket
To get started, calculate the size you want your finished blanket to be. Each chevron (up and down) is approximately 4 inches – this will depend on your tension and what size hook you use.
Your starting chain needs to be in multiples of 15 + 16.
So let's say you want your blanket to be approximately 60 inches. You'll need to have about 15 up and downs to make your blanket the correct width.
So you'd do the following math:
15 x 15 = 225
225+16 = 241
If you wanted your chevron afghan to be approximately 100 inches wide, you'd need to have about 25 ups and downs.
So you'd do the following math:
15 x 25 = 375
375 + 15 = 390
After you calculate your starting chain length, you'll follow the pattern exactly.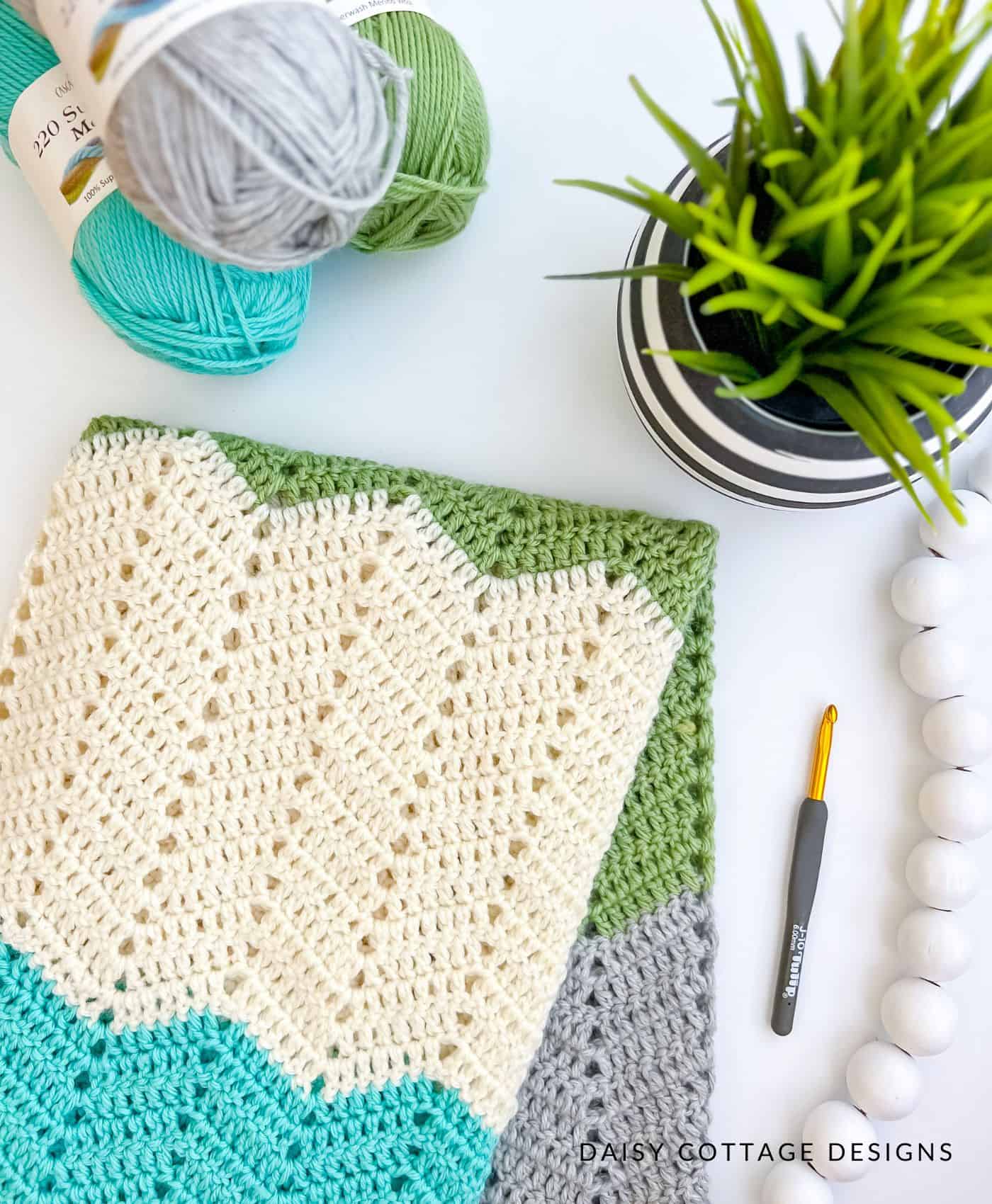 If you'd like to add an optional border, please see the instructions for that in my easy chevron blanket post.
Please Share Your Work!
If you used this free chevron pattern to make the perfect blanket, I'd love it if you'd tag me in a photo on Instagram or my Facebook page. I love seeing your beautiful creations!
Please note: You're more than welcome to sell items that you make using this pattern on Etsy, at craft fairs, or anywhere else you might sell your items – just be sure to take your own photos!