Chunky Chevron Crochet Blanket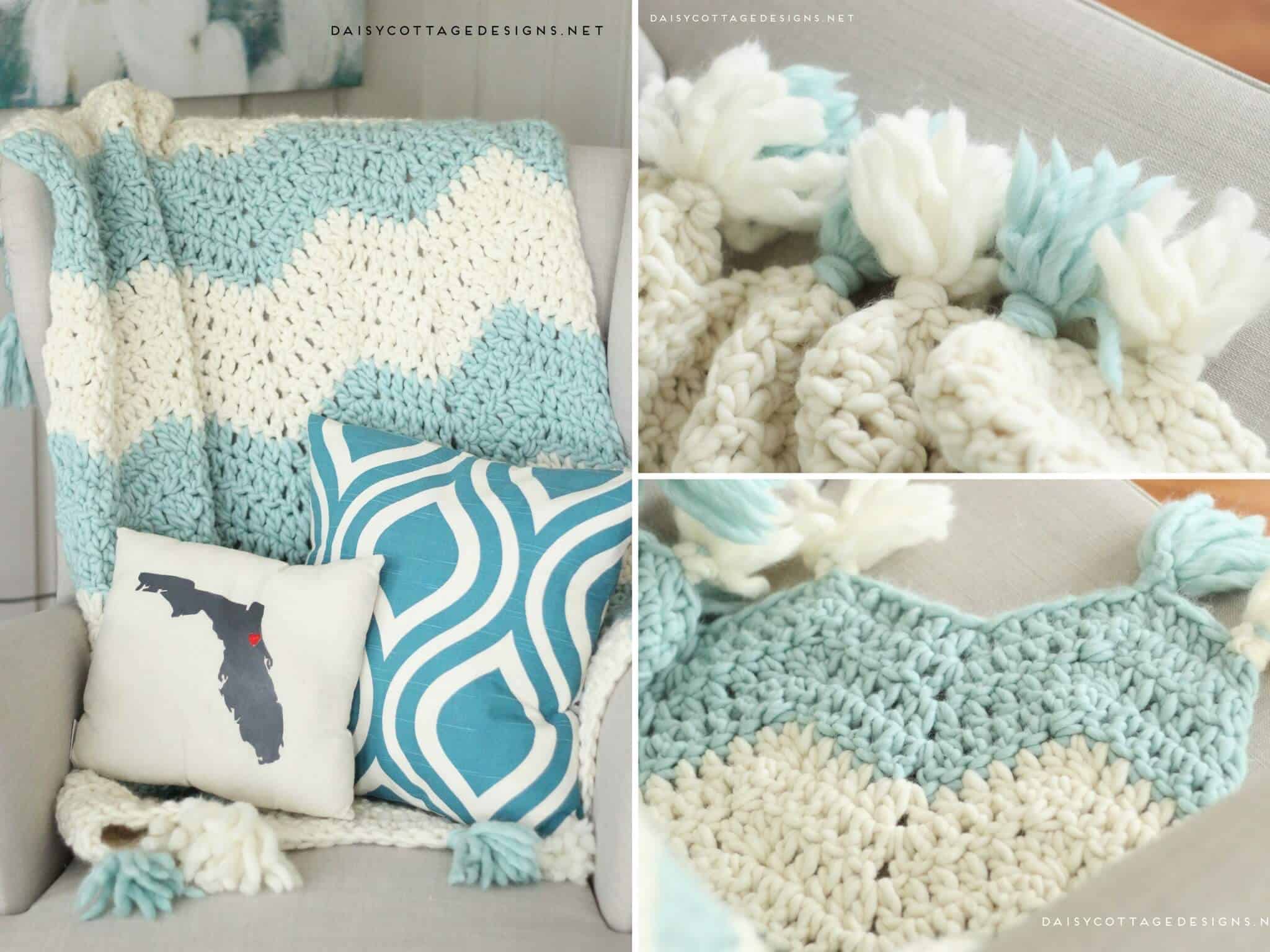 My husband and I have bee married for almost 12 years, and I have to be honest. This is the first afghan that I've made just for our home. I've had big plans for various projects, but I hadn't been able to find the time to make a large throw afghan for our living room until now.
There's a 15% off coupon code towards the end of this post so be sure to keep reading!
That's where "The Wool" from We Are Knitters came in. This chunky yarn (I would call this an extra bulky yarn and would compare it to a #6. ) works up faster than anything I've ever had the pleasure of working with. I'd say this throw-size throw blanket took me four hours, max – and that includes kiddo interruptions and the like.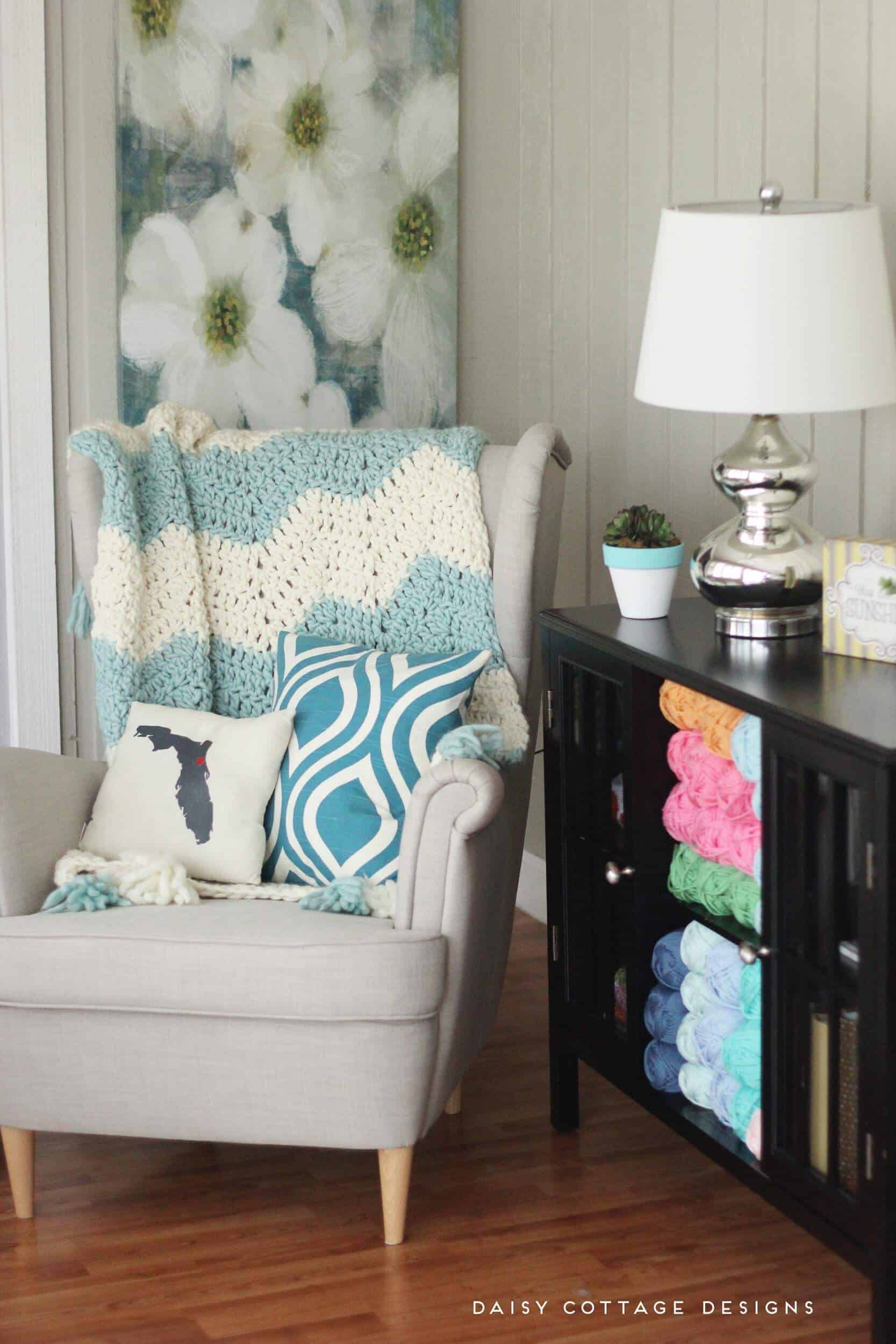 My kids have already enjoyed snuggling up underneath this cozy blanket and even my husband was impressed with the finished product. Even though it's warm and cozy, it isn't too hot for Florida weather.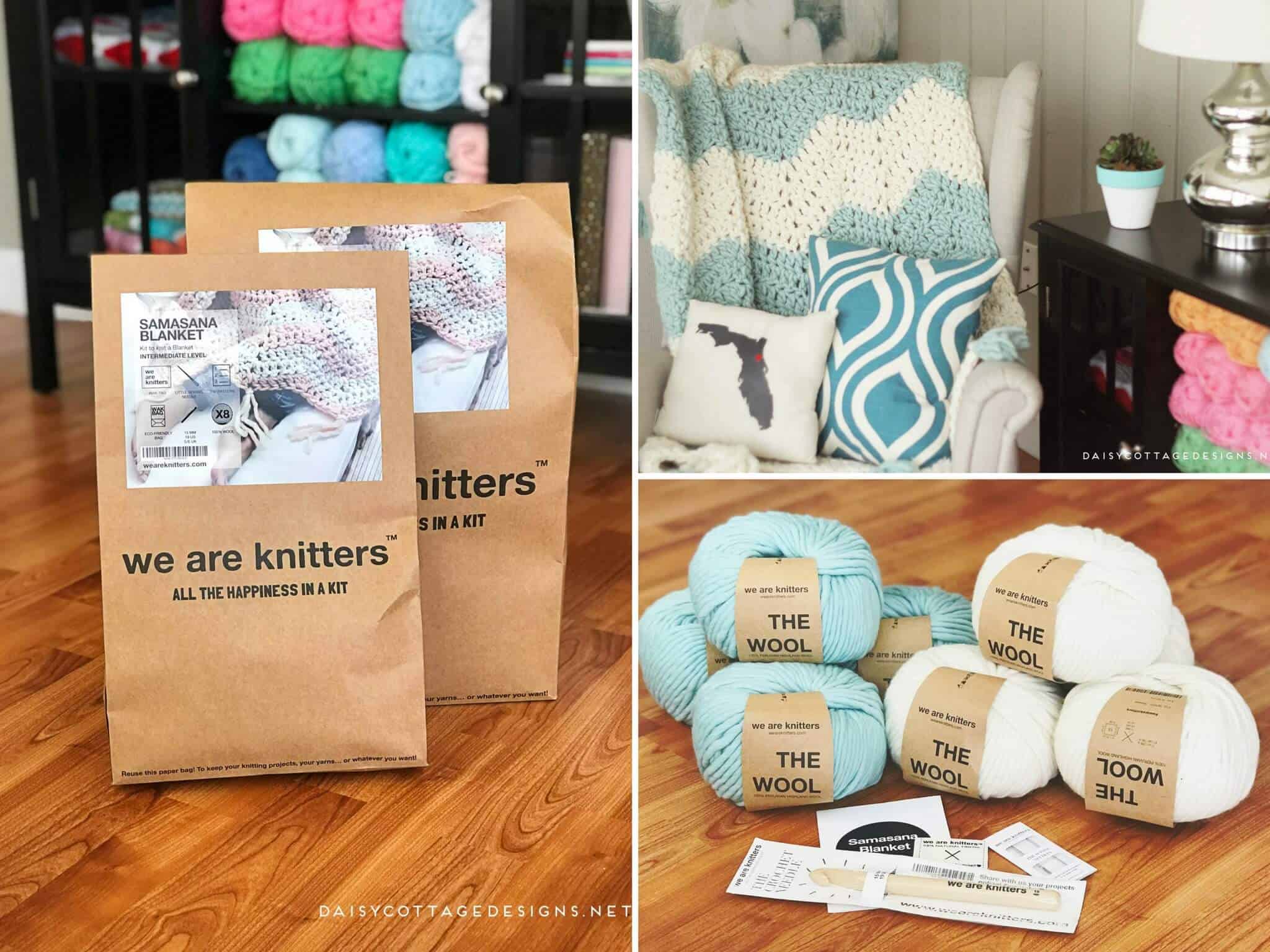 While I do offer some free chevron blanket crochet patterns here on the blog (you can find them here), for this project I decided to go with the Samasana Blanket Kit. This kit came with 8 skeins of yarn (4 in each of my color choices), a pattern, a wooden crochet hook, large-eyed needles, a label, and everything else you might need to make this blanket.
I selected the shades Natural and Aquamarine to go with our newly updated living room. Teal is one of my favorite colors, and I've got pops of it in my lamps, pillow shams, and more. The Samasana Blanket was the perfect way to complete the room.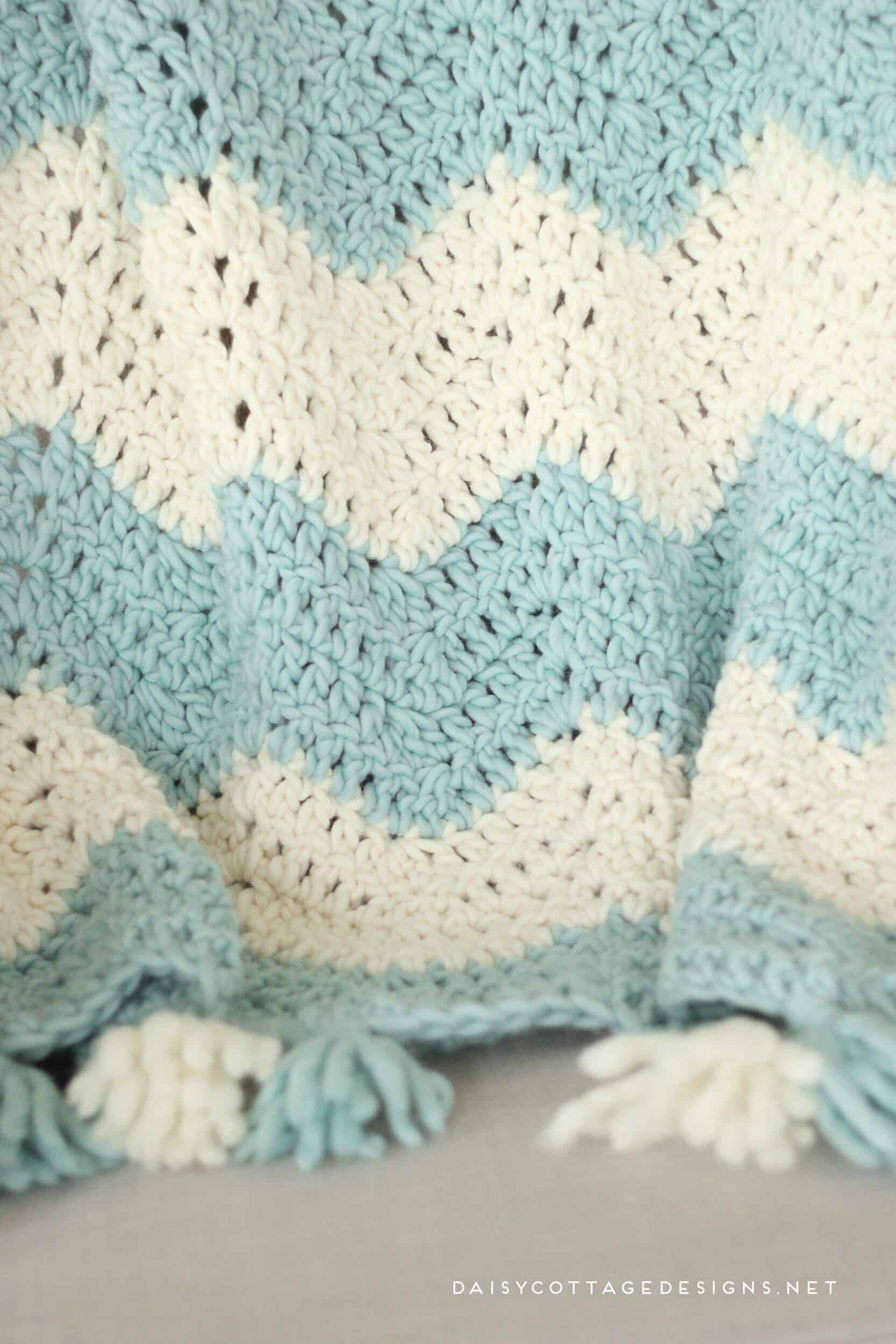 The texture of "The Wool" yarn is beautiful and smooth. Many yarns that we work with on a regular basis are made up of several strands twisted together. This yarn, however, is a single ply yarn. This creates a gorgeous, puffy texture that's beautiful to the touch and to the eyes. I was a little bit curious whether this yarn would be "split," as I like to call it, I was happy to find out that this yarn is a dream to work with! It's also soft to the touch unlike other wool yarns that I've worked with.
While you might be a little concerned with the $24.00 price point, it's actually good when compared to other in the same category. If you purchase 10 ball packs, you receive a discount.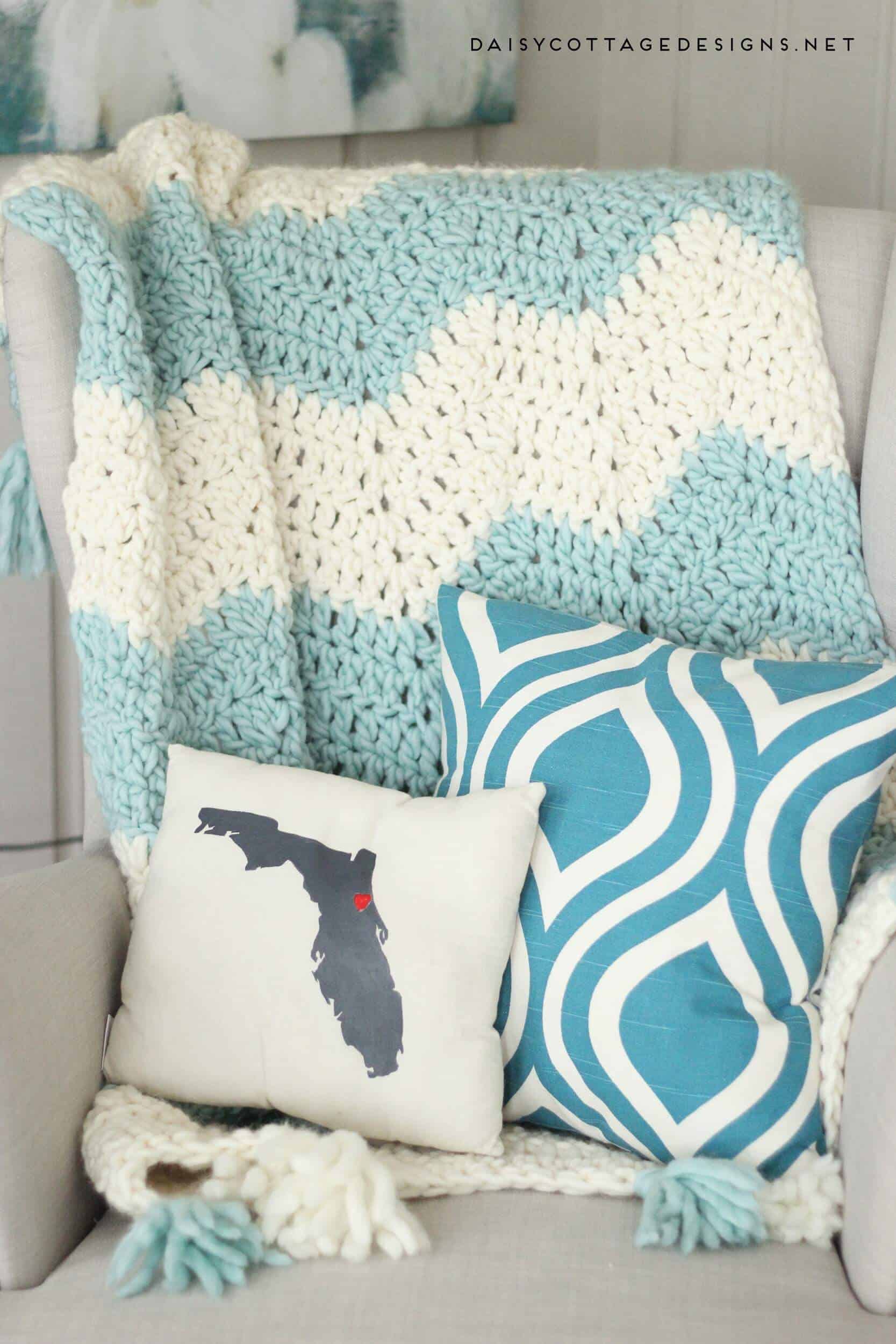 While We Are Knitters did send me the Samasana Blanket Kit to try and review for you, I haven't been compensated in any other way for this post. I do not make a commission on purchase you make from We Are Knitters.
The We Are Knitters crew, in hopes that you like what you see, has offered a 15% discount to Daisy Cottage Designs readers. Simply use the code WAKxDaisyCottage at checkout.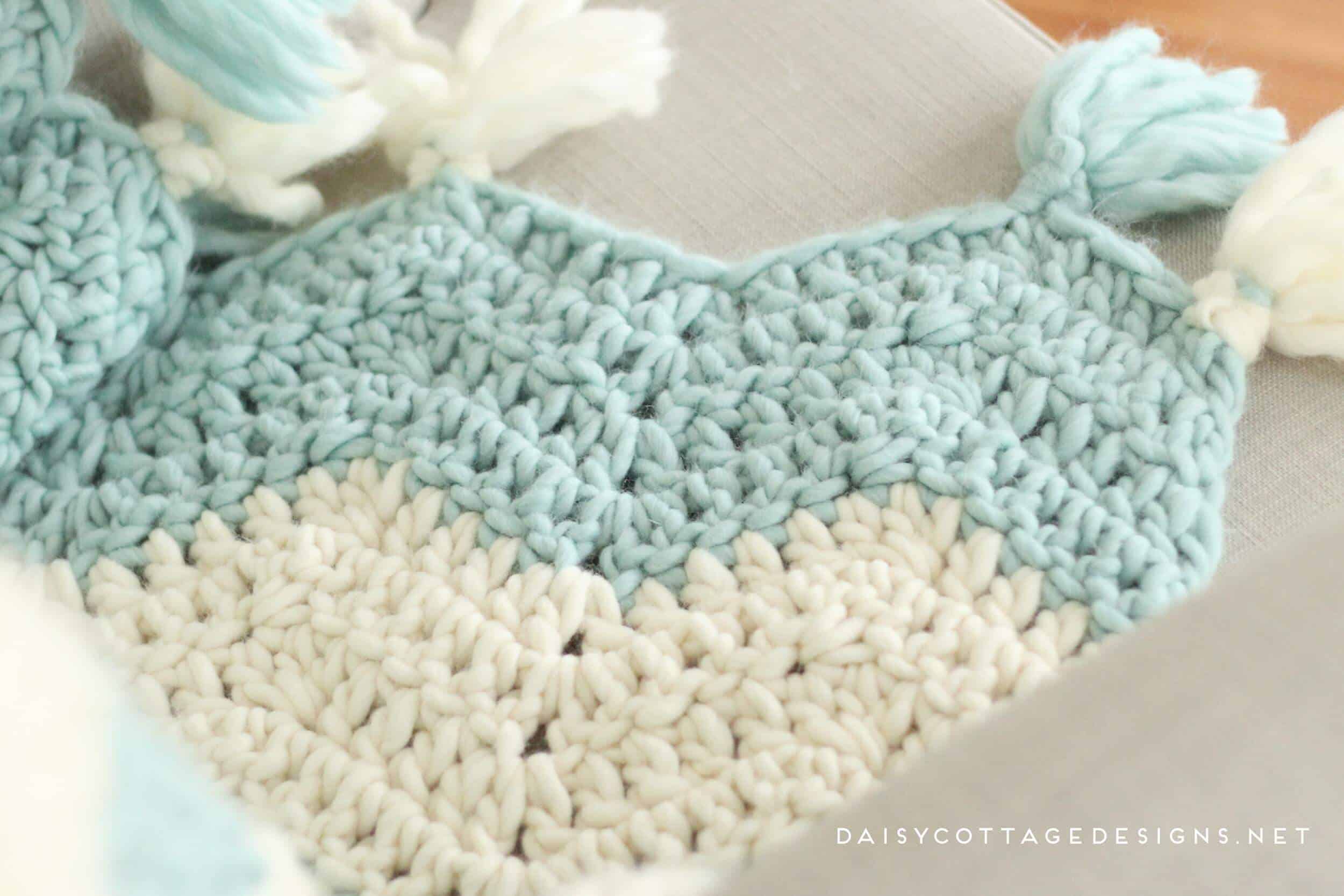 I can't wait to work with this yarn again, and already have plans to make blankets using this beautiful yarn for friends who are getting married. I also want to create a throw for our guest bedroom before we have guests come next time. When the time commitment is only 4 hours, it's an easy decision.